Matt Campbell has been pretty excited this offseason about four developments within the Iowa State program. First, they have their OL more or less set with all five starters from 2018 returning. The lineup they relied on down the stretch was solid and all returns but they also have potential upside if some of their higher upside young players can win spots held by veterans. At the very least, their developing youth can be depth that protects the lineup from injury derailing the season.
Second, they have pump fake Purdy, whom Campbell has been repeatedly telling people was operating an offense they made up midseason rather than a system tailored to his specific strengths. So we can probably expect to see a lot more stuff like this…
…that was sprinkled in last season. They had a few running plays for him last year, including the QB counter play they're using here to set up this nasty play-action toss for David Montgomery.
Thirdly, their tight end room is now stocked with good options that have shown some things on the field. One of the first things that Campbell did upon his arrival was to go out and try to stockpile TE prospects and if you look at his first class you'll see the names of a couple of guys that will figure there in 2019 (Dylan Soehner I had pegged for OL). Soehner figures to be the main ancillary that boosts the run game (their F position) while Charlie Kolar and Chase Allen will battle for the position that gets more targets in the passing game.
Fourthly, they got Campbell's longtime sidekick Tom Manning back after a stint with the Indianapolis Colts where he worked with TE Eric Ebron in 2018 and Campbell will delegate more of the offense to him and rely on his experience to try and make the most of their collection of TEs this coming year.
Eric Ebron with the Colts
If you want to guess at how Manning might utilize Iowa State's abundance of TEs in 2019 the most obvious starting point is to check out how he utilized Ebron last year with the Colts. The former Detroit Lion TE saw his targets go way up working with the Colts and Andrew Luck, going from 86 to 110. He only had 6.8 yards per target but he caught 13 TDs (after catching four for the hapless Lions).
They usually had him in one of two primary alignments. First, the normal flex trips alignment that you see quite a bit from teams with west coast passing concepts in their offense:
From that alignment he can run the stick route on "y-stick," the dig route on "levels," and also of course the dig/deeper cross on "y-cross." In college you'll see teams use a slot receiver there pretty often but it's nice to have such a possession-oriented position be manned by a guy that can hold up getting hit 8-14 times a game by the linebackers and safeties that line up in that area of the field. The other slot positions are also nice places to stash a 240+ pound possession receiver, but the trips alignment is often the most common.
The other alignment is typically known as "y-iso."
That's just the boundary "X" position where college teams typically put their best outside receiver. If you look around at the top five X receivers in the Big 12 from 2018 you can start to understand why you'd put a big TE there:
Antoine Wesley: 6-4, 206. 88 catches, 1410 yards, nine TDs.
Hakeem Butler: 6-5, 227. 60 catches, 1318 yards, 10 TDs.
CeeDee Lamb: 6-2, 190. 65 catches, 1158 yards, 11 TDs.
Collin Johnson: 6-6, 220. 68 catches, 958 yards, 7 TDs.
Tyron Johnson: 6-1, 193. 53 catches, 845 yards, 7 TDs.
Wesley, Butler, and Johnson were all ultra-tall and long freaks that could bully smaller DBs and beat them for jump balls. Lamb and Johnson were more traditionally sized guys but if you watched them, or at least Lamb, he did a lot of his best work catching contested balls as well.
The boundary WR spot and the flex trips slot spot are both positions where it's hard to get separation for long because there's closer proximity to the ball. "Open" typically means there's a brief window where the ball can fit it, but because of that proximity even the weaker-armed QBs can often fit the ball into those windows. So if you have good timing and chemistry between the QB and those closer-ranged targets then you can cause real problems.
Having a big body there who can get open with a smart or quick move and then post-up the DB can cause big problems for the defense that don't have easy answers. The Y-iso formation in particular is almost like the nub trips set that teams often use which puts three traditional receivers to the field opposite a TE, but now you can get the best of both worlds. For instance:
What if the flexed TE is running a fade or an out while the offense is running a counter play at the defense on the boundary? Most defenses would like to adjust to that by having the free safety play near the box to help as an extra man against the run. It's convenient because he's closer to the action than the strong safety who's typically aligned away from the box to make sure that combos and throws into space out wide don't generate touchdowns. Teams typically put their best run-supporting safety at free/boundary safety to involve him in actions like these, which is why the also tend to put their best/most physical corner on the boundary as well, to free up that safety so he doesn't have to play over the top.
But here there's a problem, because that TE has a lot of space to utilize to create a window for the QB and to body up that CB. He has room to get outside on a fade and if the CB is careful to stay on top of that then the out, comeback, and hitch become easy pickings. So perhaps the defense opts to play cover 2 over the boundary? Keeping the FS over the top and using the CB to help in the run fit. Well…
Now at the point of attack you have a CB responsible for beating a block by a TE on the perimeter in order to prevent the RB from winning to the sideline. Or maybe worse if that CB is a bad run defender, the TE ignores him entirely and makes sure that the will linebacker can't get over while leaving the CB to make an open field tackle on the edge against the RB.
There's a lot of things a college offense like Iowa State can do with flex TEs to create mismatches in the passing game AND the running game assuming the flex TEs can run good routes, utilize their size when the ball is in the air, and consistently bring it in. As bad as what I just mentioned looks, it gets worse when you start adding motion and tempo. The Cyclones showed just a little of what that can look like last year.
Who's flexing?
That Iowa State would use a flex TE heavily and that they may even use him for vertical RPOs like they did with Butler at times a year ago is obvious enough. The Cyclone WR room for 2019 consists of a pair of smaller, speed guys in Tarique Milton (5-10, 170) and Deshaunte Jones (5-10, 175) and then Arkansas transfer La'Michael Pettway (6-2, 219). Pettway is more of a big body outside guy, but given how much they're talking up their TEs it seems just as likely that they'll lean on Chase Allen or Charlie Kolar as much or more than running out three receiver sets.
Allen hasn't shown his full potential yet as a Cyclone because he keeps getting injured. But he's healthy now and here's what he's shown when he is on the field: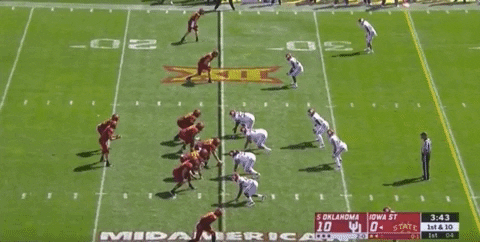 At 6-5/250 with those kinds of quicks, that's pretty much exactly what you're looking for in a flex TE. Then there's Charlie Kolar, who got more action a year ago and had 11 catches for 137 yards and three scores.
This guy is definitely in the 6-6/250 range as well and knows how to use that size to allow his impressive quickness to come to bear when moving around out in space. On this play, and a few other third and fourth downs over the course of the season, they're not just hitting him as an option in a progression but intentionally isolated him in a favorable spot to feed him the ball. That's going to be happening a lot more in 2019.
The question is not really "is there a worthy flex TE on the roster?" but "which legitimate option is going to win the job?" Keep in mind that last year's offense was primarily about Hakeem Butler. In the discussion over how they're going to replace his production, consider the increased number of schemes and opportunities that will now be directed towards these up and comers.
Flex spread endgame
I've written before that one of the scariest possible tactics for an opposing defense to face is what I often call the "dread-wing" formation. The best definition for the dread-wing is a set with four flexed receivers, an ancillary off the ball at FB/H-back/RB, and then a dual-threat QB behind center.
Texas utilized it at times last year, generally only when in greatest need such as against defenses of the caliber of TCU or Georgia, and it was high near unstoppable.
From this set you can run two-back, power run game concepts while spreading the defense out with four receivers, provided your QB is tough and able enough to execute those run concepts.
So now consider our diagram above if the Cyclones want to play with two or three TEs on the field with two or three WRs. They can play the 6-6/277 pound Dylan Soehner at their F position, put Kolar as the single-side WR in the y-iso set, and then flex Allen (H here) in position to help block on the opposite perimeter for Milton or Jones (Z) running a bubble screen:
Where are you shading numbers to defend this? How do you handle the Cyclones putting 250 pound, mobile blockers on the perimeter only to run a mobile QB with excellent play-fake and ball skills behind another 250+ pound mobile blocker in the box? The Cyclones experimented with schemes like this a year ago and they're only going to get deadlier with extra play-action, QB options, and trick plays attached while operated with even deadlier and more versatile personnel.
So that's what's ahead for Iowa State schematically in 2019. A hybrid offense that finally has the size and experience to bully opponents in the trenches when they play with nickel and dime packages and then the versatility and arsenal to spread them out and gash them if they play big to try and stop the run.