Ian Boyd:
Coach, last year with the new defensive coordinator, you brought a lot of pressure, finished 10th nationally in sacks, but gave up 32 and a half points per game. Will the approach on defense change this year in year two to something more conservative or will you guys run it back and look for different results in a different year?
Mike Gundy:
Our system is going to stay the same. Hopefully we can play it better. We need to be a more disciplined defensive football team. I think Coach [Jim] Knowles' second year will give him a better feel for this league. It's different in our conference, the willingness of head coaches and offensive coordinators trying to score every play, and I think Coach Knowles understands that maybe more so than last year. You kind of get into a groove in this league and figure it out, but we're going to run the same plays, hopefully we will be better at executing those plays.
The description of the Big 12 as a league where coaches and OCs are "willing to try and score every play" is about as good a descriptor as you'll find. Kareem Salama has called it "the wild, wild west" for the way teams are so click to shoot. It's been that way for a while now, almost as though Madden gamers took over at some point, and there's been no impetus to move back with Oklahoma winning four consecutive titles while scoring 50 per game and playing hardly a lick of defense.
But Iowa State may be changing things. Their inverted Tampa 2 defense is designed to prevent opponents from being able to score on every play and aims to force teams to try and earn their way down the field the hard way. Here's the list of teams that are at least rumored to be planning on basing around a dime defensive structure that accomplishes similar goals.
Iowa State, Texas, Baylor, Oklahoma State
And then West Virginia, Texas Tech, and Oklahoma are likely as not to be employing similar strategies, at least at times. TCU does their own thing but they've been dabbling in the IT2 and their LB corps is built out of converted safeties anyways so it amounts to something similar. Kansas has also dabbled in that look and could lean in deeper this coming year. Kansas State, it was revealed yesterday, has moved nickel Walter Neil, Jr to cornerback and have Johnny Durham at the nickel last I heard. That'll be interesting to watch…good luck K-State. Durham is pretty good in coverage but he's not a very physical player.
Everyone is making moves to try and counter the "we can score on every play" philosophy. Some will find some success, others won't. Here are some of the keys to this dynamic.
Key 1: If you flood the field with DBs, you put the emphasis on the box and the run game.
Unless the offense is going to force the ball down the field anyways and try to flood it with routes, the upshot of IT2 tactics or dime defenses is that offenses will need either to run the ball more or look to create matchups to throw underneath. It's often a smart move against the better RPO teams to force them to run the football and score with consistent gains on the ground. You'd better be able to hold up though when it's 5-on-5 up front between your 4-1 or 3-2 box and their OL.
Conversely, on offense if you're facing this tactic you need to have a plan and the patience/toughness to pound away at a team with body blows or else spread the defense out further with 5-wide sets, in which case you need to be ready to protect with only five. In either event, the action moves back to the box, who can protect and who can rush the passer? This is why more teams that recruit at an elite level should be employing the dime tactics, just as the smart move in previous years was for blueblood programs to embrace tempo rather than complaining.
Key 2: The optionality and greater disguise possible on D puts more impetus on smart QB play.
Dime defenses can play a lot of games with the offense, showing a loaded box before dropping into something really conservative like IT2, or showing IT2 but then either triggering hard on the run or bringing blitzes or late movement into the box. The goal is to play a lot of defenders that can credibly execute a lot of roles, if you do that then offense cannot use deductive reasoning to quickly figure out where the holes will be after the snap.
That means that the OL needs to know how to block a lot of different pressures and the QB needs to be a film rat who can work out what defenses are showing him and find tells or else get through post-snap reads quickly. Or he could be a tremendous athlete that's hard to tackle, like Kyler Murray or Vince Young, who could negate disguises and pressures with sheer athleticism. That still works at the college level although it can get iffy against elite or NFL defenses.
Everyone wants to start the hotshot freshman QB, and some of them are pretty well versed in spread QB tactics from their HS days, but you win games with guys that know how to execute the right plays at the right times and that will be increasingly true as defenses up their disguise and variety game.
Key 3: If either defense is effective at stopping the big play, it comes down to who can execute ball control tactics.
Who can create matchups in their dropback passing game to move the chains? Who can run the football consistently enough to sustain scoring drives? Who can convert in the red zone after the D bends between the 20s?
It's not like all the spread or Air Raid teams are bad in this regard. You'll seldom find a more situationally precise offense than the 2017 Oklahoma Sooners. But many of them punch hard because they rely on throwing and landing haymakers, not because they're good at throwing body shots and controlling the fight.
So who benefits from these shifts? Teams that can win in the box on either side of the ball, teams with depth, and teams that have methods for creating matchups for possession receivers. Who loses? Teams that need to land big shots in the passing game to make their system work who lack the infrastructure or ball control weapons to consistently move the chains or finish in the red zone.
Naturally it was Iowa State that brought this shift under Matt Campbell. I don't know if this is how they conceived of it but it's notable that the team that prides itself on Midwestern identity and playing thick, sound players up front on both sides of the ball has been a driving force in this evolution. Their super experienced defensive front gives them a big leg up, check out this group: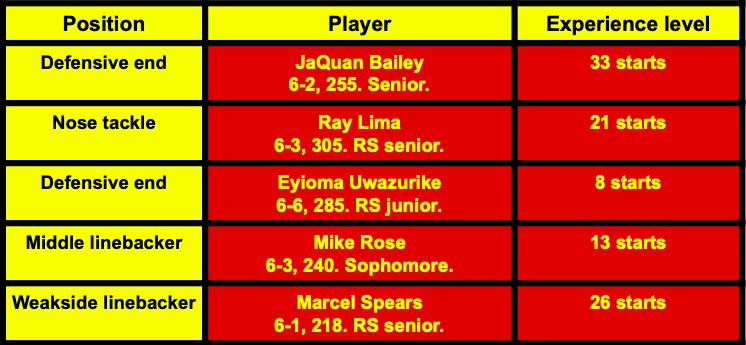 Their 12 personnel sets and ability to force teams into conventional looks that will concede play-action shots for PFPurdy also looms as a big advantage this season.
Tom Herman also picked up on this trend very quickly of course as it fits exactly into what he's trying to do at Texas. The Texas OL is quietly underrated heading into 2019 thanks to the lack of ink on LT Sam Cosmi and the overlooked addition of two-time All-ACC LG Parker Braun next to him. The Longhorns have guys who have started multiple college games in their careers and are third-year players (or older) at all five spots. The Texas defensive front is also in good shape, particularly at DL, and then backed by as many as five safeties that could start at most every other program in the league.
Our other main contender, Oklahoma, is also decently positioned to do damage in this climate. With Jalen Hurts, Kennedy Brooks, Trey Sermon, and a supremely talented if inexperienced OL they figure to be more run-oriented this season and will pick up yardage in chunks on the ground against anyone that can't beat blocks or close and tackle. Their ability on defense to force offenses to work their way down the field against the Sooner defensive front is in question though. I don't think that's even their plan, instead I expect them to use speed and movement up front to try and inflict TFLs and get off the field while relying on the safeties to clean up mistakes and the cornerbacks to hold up in coverage. I'm predicting a boom or bust unit in Norman this season.
If Texas and Iowa State are both as successful this season as I expect, this overall trend will likely be a defining feature to the season.