I have a few sneaking suspicions about the league this year that I don't think are ironclad yet. It's often easy for me to forget that teams change throughout the year. Iowa State always seems to improve, especially after adding young Matt Campbell recruits on offense into the mix. Texas is on an absolute roller coaster on defense, there's a chance they could finish out somewhere respectable but they were trash against Kansas.
Then there's often injuries to top playmakers in October in November that change the outcomes in the league. Everyone can get dinged up over the course of the season, but what often happens is that a guy who's forcing himself out there with a couple of hurts ends up getting hurt as a result of playing through something else. If Brock Purdy, Sam Ehlinger, Jalen Hurts, or Charlie Brewer went down given the way those four teams all have key games against each other down the stretch, it would probably dictate how the league fell out.
So who knows what will come next, but here's a few suspicions I have about the 2019 Big 12.
TCU's D…might be trash
There were warning signs this could happen.
Ty Summers: 46 tackles, 5.5 TFL, four sacks
LJ Collier: 42 tackles, 11.5 TFL, six sacks
Ben Banogu: 57 tackles, 18 TFL, 8.5 sacks
The Frogs technically lost like five or six starters/main contributors, but these three in particular always stood out because those were the main edge-rushers for the past two years other than Mat Boesen, who's also gone. Ben Banogu in particular was the best player player on the unit, and the main reason I didn't think it'd be a bigger issue to replace him was that I ignored TCU desperately signing transfer and JUCO DEs and believed Gary Patterson when he said Ochaun Mathis was going to be a superstar.
Mathis may become that but he hasn't had anything like a Banogu-type impact this season.
Beyond the busts and problems against K-State from last week, I have two examples of how vastly inferior TCU looks this year on the edge:
This is an unbalanced formation. All of the receivers are to the top of your screen so the second one from the sideline who lines up on the line of scrimmage is ineligible. This is a very common formation to run two-back zone-read from, which TCU seems situated to stop but….well.
Mathis has an open gap inside him so he has to crash down, leaving CB Jeff Gladney to force the edge and weak safety Vernon Scott to help make sure there are numbers to the ball. This one isn't Mathis' fault, instead I'd pinpoint Gladney getting taken for a ride by the TE arcing around and Vernon Scott getting juked to the ground by PFPurdy. Mostly Gladney, or else Gary Patterson by asking him to force the edge if this was a plausible outcome.
Example two: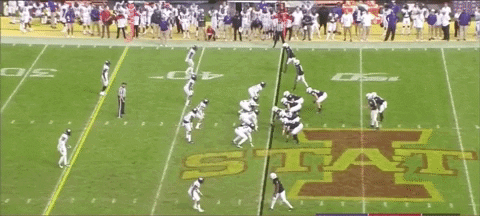 This time it's Shameik Blackshear at DE and he has a 3-technique DT inside of him in the B-gap, so he doesn't need to crash down he needs to contain. What he actually does is clearly look completely confused while BACKPEDALING at the snap. Consequently, PFPurdy gets like 18 yards without being touched by a Frog defender.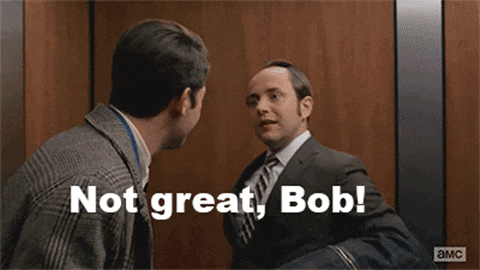 Blackshear would be the South Carolina transfer that could never crack the depth chart for the Gamecocks and ended up transferring to TCU last offseason. I wonder if assignment busts had anything to do with his struggle under Will Muschamp.
Now by adjusted stats, TCU looks about as firm as ever. They're currently no. 32 in SP+ on defense thanks to top 30 rushing and passing marks. Their IsoPPP (explosiveness) is iffy but overall they look okay by the numbers, but I have some doubts.
Against K-State they got beat by a few bad busts, against SMU they got beat as a result of having some busts after the offense yielded short fields, Iowa State pretty much did what they wanted. What if TCU has just been feasting on simpler gamelans from bad offenses to this point? What if Texas, Baylor, Oklahoma, Oklahoma State, and Texas Tech are all about to open up a can on these guys?
Defensive end is the tip of the spear for this defense and if TCU isn't great there then that sets a low ceiling for the overall unit. I think Mathis and Blackshear are both good athletes so it may not be hopeless, but they don't look good right now.
Does Baylor have the highest upside in the league?
Most of the year I've explored the downside to Baylor this season. What happens if they have a few key injuries down the stretch and lack depth on Rhule's young roster? What if one of these shots Charlie Brewer takes knocks him out for a game or two? How is this protection going to hold up against some of the better Ds coming down the line?
As they have passed multiple tests, even despite taking inevitable injuries at key spots, such as losing Connor Galvin (due back for Texas and OU though) and Clay Johnston, my mindset has been forced to change a little. How good might this team be if they have are relatively healthy from here on out?
The key to their offense is actually a familiar one, they can stress the deep field with multiple vertical threats.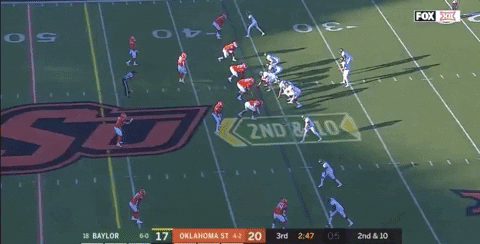 Let's go to the chalkboard for this one:
The Cowboys have press-man coverage on the X receiver, which I think might have been Tyquan Thornton. The Z is Denzel Mims, he's bracketed inside-out by the corner and free safety. The weak side LB takes the RB on the flat route, the sam linebacker helps the strong safety bracket H, which was RJ Sneed. That leaves the nickel in off man coverage on Josh Fleeks running a post route behind the dig by Sneed. The strong safety HAS to take that dig unless you're going to ask the sam linebacker to carry it really far upfield, tricky against a team with a QB that can scramble.
Kansas tried to handle some of Texas' empty formation stuff like that last week and Ehlinger had five scrambles that went for 71 yards. Brewer had already given OSU a few issues with the scramble as well…but where would you rather get beat?
The problem is that Baylor has multiple burners that can take the top of the defense. So when they're in a spread set like this, you can plan to bracket particular guys and then they can send the other guy you didn't bracket on a vertical route where he's isolated 1-on-1 against whoever you have left over after bracketing the other guys. I mean, look at how badly Fleeks burns that poor safety.
So if Baylor is bringing this with increasingly better protection as their OL gels and regains Galvin, we see increasing confidence from Sneed, Fleeks, and Thornton, and Charlie Brewer is healthy…how far can this team go? Perhaps to the Big 12 title game and perhaps further with luck.
********
Read about how Baylor won the conference in back to back years (2013 and 2014) by flooding the field with vertical threats in spread sets in my book: