It's easy to forget now that Baylor vs Oklahoma has really been the defining series of the 2010s in the Big 12.
The 2011 Heisman bid by RG3 was propelled by a home win against the Sooners.
Then the 2013 and 2014 Big 12 titles for Baylor came alongside a pair of shellackings administered to the Sooners.
In response to that, Bob Stoops hired Lincoln Riley and they overcame the Bears in 2015. Then Art Briles was exposed and fired and Baylor went into the dumpster for a stretch. However, there hasn't really been another series or rival to Oklahoma during this decade. Texas has given Oklahoma a lot of good games but only in 2018 did they actually really challenge them for the league title. For 2019, Texas is back in the mix and their own game with Baylor next week could be decisive pending the results of this week's road game at Iowa State and then this Baylor-OU battle in Waco.
Vegas has the Sooners -10, up until I saw Charlie Brewer float ducks last week in Ft. Worth I would have loved the Bears in this game. Now it looks like a fascinating matchup without an obvious leader. Here are some of the crucial points I see in this game.
Baylor health
In particular, Charlie Brewer and Connor Galvin. This is a very different team when those two are healthy because the Bears have a lot of weapons for attacking vertically in the passing game, particularly with their 3×1 dig-post play that uses the two slots to run that scheme so that the post is easily accessible for Brewer.
Here's how that looks against the Sooner defense though, particularly one that is aware of Brewer's iffy throwing and eager to test Galvin:
The free safety drops to help cover the post and the strong safety is dropping into the middle to fill that post zone before the H here can get there. There's the quick slant to Z but there's also Ronnie Perkins rushing inside of Galvin while Kenneth Murray comes off the edge. What tends to happen on this blitz is that even if the LG picks up Perkins, the center tracks with Neville Gallimore crossing his face and no one picks up the jack LB coming around.
If Baylor can't trust their OL to block OU's bear front pressures nor Brewer to be able to take the top off, then that leaves the other option, to try and bully OU.
The Bears have some big TEs of their own and Brewer has done a decent JT Barrett impersonation of late, mixing some runs with short passes. He knows where to go with the football and can still hit a lot of throws and run around even without a healthy enough arm to nail the timing and velocity on the deeper throws.
This isn't as dangerous of an offense when they're trying to run the ball rather than being able to attack teams with the passing game to Denzel Mims, Tyquan Thornton, and Josh Fleeks. But there are still options here, such as the option.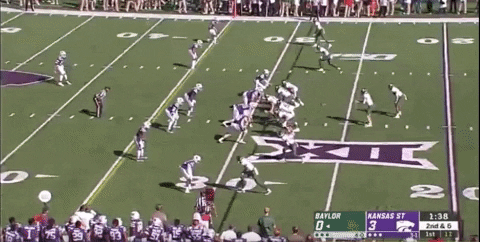 Teams have done well running the option on Oklahoma, particularly against Brendan Radley-Hiles. This is the "counter-option" where you line up and run what appears to be the downhill tight zone play but then instead leave the edge defender unblocked and the QB and RB run the option opposite the flow of the zone blocking OL.
I've also seen multiple teams run speed option with Radley as the unblocked defender to read, he tends to chase the pitch and trust someone else to tackle the QB, which sometimes works and sometimes doesn't. If there's a scheme in place to create an alley inside of Radley, you can't count on Radley to fill it as an adjuster.
Baylor has some of these schemes, they have zone and sweep-read plays, they have QB power, and they can run it all from 12 personnel while aiming to punish the same OU deficiencies at safety that Iowa State was preying on a week ago.
Of course if Galvin and Brewer are good to go they can also try and test Oklahoma deep, perhaps after a week's worth of lobbying the Big 12 officiating office for calls when the Sooners play their handsy variety of press coverage.
The power-option Sooners
I'm not shocked that Lincoln Riley was able to pivot this Oklahoma team into a power-option squad with deadly efficiency numbers, but that doesn't mean I'm not impressed. I wrote all offseason that QB run option and QB draw/scrambles would be the best way to make use of Jalen Hurts in this offense and that has borne out.
Check out how he's been used this year in comparison to some other B12 QBs and the all-time leader in run game workload.
I left in sack yardage for this because I wanted to emphasize the physical toll, it is worth noting though that sacks are probably worse for a QB's health. Also, it's always good to reflect on the ridiculous things that Optimus Klein did in purple and white.
Now, Klein was 6-5, 225, Jalen Hurts is 6-2, 220, Sam Ehlinger is 6-2, 227, and Charlie Brewer is 6-1, 206. What's more, Hurts had 19 and 22 carries in his last two games, Ehlinger had nine and 14, Brewer had 19 and 15. As things have been picking up, Ehlinger has started to see his numbers climb back up and he's probably healthier now than he's been for most of the year. Hurts has seemed indestructible at this point. Brewer has not held up as well, although he's still as dangerous running as he's been all year.
If this game is at all a contest of which QB is more effective running the football, obviously that doesn't bode particularly well for the Bears. Riley has drawn up some devastating schemes this year for unlocking Hurts' running prowess, including this beauty from last weekend:
That's basically the Lombardi "power sweep" play from a 1×3 spread set. Also notable, take note of the fact that Iowa State's normal middle safety Greg Eisworth played at $ in this play, ran his bum shoulder into contact, and limped away wincing when the play was still ongoing. Been wondering why Iowa State's run defense has been so vulnerable against OSU and OU the last two games? Yeah, wonder no longer and count on Texas to get after that.
The Bears really need their D to come through in a big way once more and it's possible that they might oblige. The main trick against Oklahoma is to defend their option run game and to do so from a way that doesn't expose you to getting gashed on POP passes to the TEs. Baylor has some answers: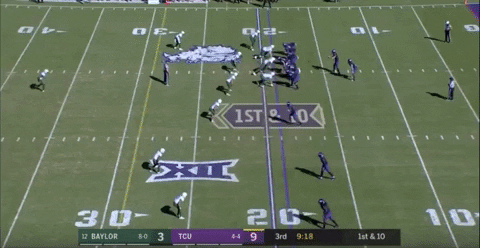 This is midline zone-read from TCU, leaving an inside DL unblocked while arcing the OT to cut off the linebacker. Baylor is in the Iowa State defensive front here but instead of playing inverted Tampa 2 it's either man or a cover 3 match call.
The DL stays calm and reads the play square, the MLB forces the ball back inside, and then they trust in team pursuit and a good take on by the MLB to keep the play contained where pursuit can get to it.
The Frogs didn't get much going on the ground against this look and removing sack yardage Max Duggan had 11 carries for 60 yards. Solid (some of that on scrambles) but a similar outing by Jalen Hurts wouldn't be the end of things in Waco.
Here's Baylor against power-read, a favorite OU call: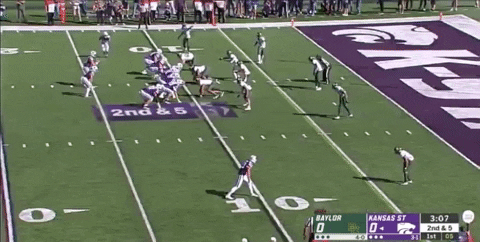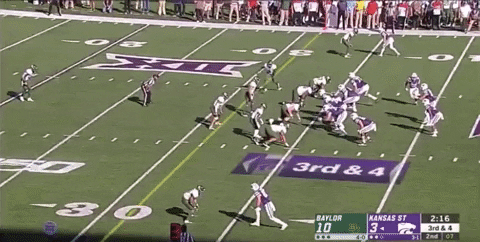 A couple of consistent themes:
-They are disciplined up front and play along the DL in a way that protects the linebackers. You'll struggle to find instances when opposing OL reach these LBs.
-The LBs recognize these plays and fast flow really hard to the ball. On the second clip Skylar Thompson tries to punish that in the cutback lane but the DL have that gap sound.
To me it seems very likely that Baylor will borrow from Texas' gameplan for the Sooners by playing a lot of man coverage and then trusting their front to find the ball. So against that power sweep scheme:
They'll be fast flowing at LB with sam LB Blake Lynch (6-3, 225) looking to force the play inside for mike LB Terrel Bernard (6-1, 220) and will LB Jordan Williams (5-11, 220). All of these guys are laterally quick and understand their fits in the scheme so they can play fast.
This is likely the best equipped defense yet to handle the Oklahoma offense. They've seen how everyone else handles the approach, they are sound and fast enough on the back end to get to the ball, and they can also mix in a lot of blitzes and drop eight calls to try and throw Jalen Hurts off in the passing game and perhaps pick him off.
The over/under on this game is 67.5, which feels high to me, I see a pair of defenses that will be eager to come into this game and get after what appears to be a pair of vulnerable QBs.
It's hard to bet against Oklahoma's knockout power athleticism with CeeDee Lamb, Kenneth Murray, and Jalen Hurts. However, if Brewer wasn't iffy looking of late I'd like the Bears as the more disciplined and complete team. This week we'll find out if Baylor is ready to make the most of their surprisingly good squad and favorable draw. If the Sooners win, and Texas does likewise in Ames, we'll get another huge showdown in Waco the following Saturday.
********
I broke down the 2011 Baylor victory over Oklahoma and the Sooners turnaround win in 2015 in my book, read it for the details!