As someone that watches a ton of recruiting film I have a fairly good idea of how people that follow a game at one level tend to evaluate players coming up from the lower levels. You try to watch for raw athleticism and skill from highlights or moments from games and you don't spend forever on a guy's context, typically relying on stats, because there are so many to wade through.
That's all fine, I'm not throwing any stones, I'm just here to offer some context I've noticed from having actually followed and broken down games from some of the top rated players in the upcoming draft.
I actually broke down Haason Reddick, Jabrill Peppers, and Christian McCaffrey (sort of) over at Football Study Hall. I also talked about Josh Allen, who will be a top target for QB-thirsty NFL teams in 2018. But here's just a few notes on some other guys that could have their name called tonight:
Deshaun Watson
Two things that are frequently lost in discussions about Watson and the context he played in at Clemson. First, his OL was never that good. This last unit was solid in pass protection, no doubt partly because left tackle Mitch Hyatt was then a sophomore rather than a true freshman like in 2015, but they were never imposing their will in the run game against better fronts.
Watson threw something like 70 passes trying to overcome the Pittsburgh Panthers because the Tigers were getting nowhere trying to run on Narduzzi's front.
On the other hand, Watson had one of the better supporting casts of skill players that we've seen this decade. With Mike Williams joining Hunter Renfrow and Jordan Leggett the Tigers had three guys on the field that most teams would need to double to ensure successfully covering on a third down. Williams and Leggett will be drafted with Watson and Renfrow probably has at least a chance at a cup of coffee in the league someday as well.
Alabama did all they could to try and match up with this skill talent and they couldn't do it.
Perhaps the most impressive thing about Watson this past year was his mastery of so many different skills for a spread QB. I'm currently working on radar charts to track the different QB skills that make a spread offense hum and will soon unveil one for every QB in the Big 12. In the meantime, here's what Watson's looks like:
Watson's chart is pretty boring, basically he's either very good or excellent at everything you'd want from a spread QB. He has effective range to throw to the far hash, he can be a featured runner in your run scheme, he's good when things break down, he's good when he has a clean pocket, and he knows how to make quick reads and good distributions in the option game.
The chart of what makes a great NFL QB is a bit different but I think the fact that Watson mastered so many different schematic philosophies AND played well from the pocket when it mattered bodes really well for his pro potential.
My concern is that his pocket passing came while working with a cast of receivers that were all enjoying favorable matchups because of each other's talent, the spread formations, and Watson's threat as a runner. Watson is going to have to be a good deal better at identifying matchups and delivering accurate balls to continue to be dominant in the NFL.
Mike Williams I think is more of a lock to be good in the NFL, he's huge, physical, and has great hands. Jordan Leggett was dominant at the college level but he's going to need to find some nasty within himself because he half-assed a lot of blocks last year. It's not even that he's a bad blocker, he just didn't always try that hard and sometimes he didn't try hard on crucial downs in key games.
OJ Howard
Howard has always been a puzzling guy. He played early at Alabama, no doubt in part because of his "five-star" talent, but he was never a big time component in their passing game. Instead he had to spend a lot of time learning to be an effective blocker at the H-back position that has often been a major part of the Alabama run game.
He was alright there, no one is drafting him for his blocking but he's a credible enough blocker to be all the more dangerous as a TE.
All of the reviews of Howard as a receiving TE are rave but there's a suspicious lack of evidence on film. His breakout playoff games over the last few years generally consisted of him doing his damage when left all alone in space because teams forgot that the Tide were featuring a 4.6-type runner at their TE position.
He was awesome at burning opponents that forgot he was out there but how will he be against NFL defenders that are game planning to take him away?
It's very possible that we're going to find out that OJ Howard is one of the most well-rounded and athletic tight ends to have come out of college in some time. If that's the case, we'll also have to conclude that Nick Saban totally wasted his four years in Tuscaloosa because Alabama didn't treat him that way in their passing attack.
Jake Butt
I'd feel a little bit better about drafting Jake Butt than OJ Howard, even despite his knee injury against Florida State. Despite his recent endorsement of Charmin, he's not soft as a blocker (though not exactly a beast either) and unlike OJ Howard he's spent his last few years developing the ability to run a variety of routes from a variety of alignments.
If you're looking for a guy to utilize as a matchup weapon who can reliably get open on big third downs, Jake Butt has been training under the best in the business (Jim Harbaugh) to be your man. OJ Howard has yet to demonstrate these skills because Alabama wanted to run the dang football. Michigan moved Butt all over the place and made him the foundation of their passing game, building out gameplans from the threat he could pose to opponents with his route running between the hash marks.
He destroyed Ohio State's Raekwon McMillan and now the Buckeyes are moving their nickel-backer to middle linebacker next season in the wake of the hurt Butt put on them.
TJ Watt
Watt was a really effective DE/OLB for Wisconsin last year but he was also the guy that they'd feature when attacking protection schemes, moving him all over the place to set him up with matchup wins against backs or other overmatched blockers.
I think guys that are good at the fundamentals but excel at attacking protections from a variety of angles are invaluable in the NFL and Watt might be the best in this regard on the board.
Patrick Mahomes
Mahomes is the most physically gifted QB we've ever seen in an Air Raid offense. Johnny was a bit faster but also smaller and with a weaker arm and less of a professional mindset to the game. Trevone Boykin had some similar physical attributes but not the same vision or steadiness from the pocket and he's kind of a doofus.
Mahomes is going to be punished for playing at Texas Tech, for playing in a system where he was throwing 50-60 times a game, for playing hurt much of the time with injuries incurred trying to carry a terrible team, and for years in which he was playing baseball rather than focusing on football.
All of those factors are going to mean that he'll probably need some time in the NFL to adapt to a different offensive philosophy and a different role, but it should still be noted that in terms of raw, physical ability he's the most talented QB in the draft and perhaps the most talented player overall.
If you watch his film from Tech you'll also notice that he has a very good idea of where everyone on the field is and makes quick decision and accurate throws as a result. That's what you worry about in the NFL, the ability to understand a system well enough to quickly process a picture on the field and be decisive, not whether a guy took snaps from under center or not. I think people will look back on Mahomes as the steal of the draft, even if he goes in the first round.
Here's a radar chart of his ability in the spread: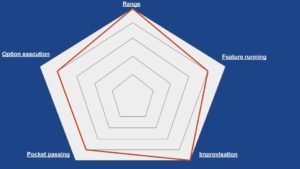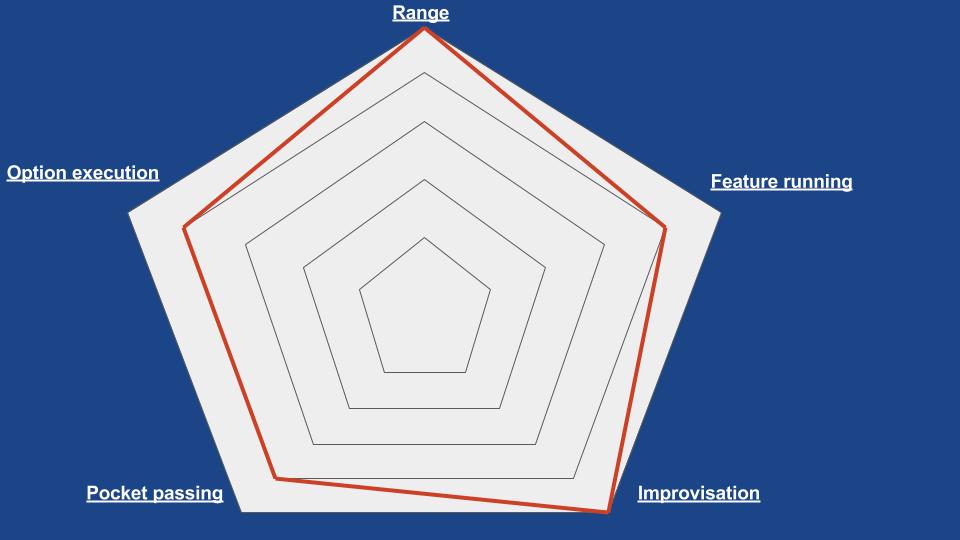 ***
Speaking of draft steals, this upcoming NBA draft should be pretty interesting as well. I read this book once per a recommendation by @Drryanpepper and was floored. It details the different teams and players involved in the 1984 NBA draft, which included the following selections:
Akeem Olajuwon
Sam Bowie
Michael Jordan
Sam Perkins
Charles Barkley
And then later John Stockton at 16th. Pretty big time draft, I definitely recommend revisiting the decision making that led to this order of selections: