Big 12 media days are continuing and I've been watching what I can from back home. Yesterday we talked about the big questions for the defense, here are my big questions for the offenses across the Big 12.
The offenses often carry the weight for winning games in this league, because few teams can count on their defenses to do much. Most of these teams are going to end up being good on offense but most of them need to be great to have a chance to compete in this league.
Oklahoma Sooners: Who's threatening deep?
The Sooners are in really good shape on offense overall thanks to the return of the entire OL, Baker Mayfield, and then FB Dmitri Flowers and TE Mark Andrews. I'll have more on their likely moves this season over at SB Nation but the big question is who will threaten to take the top off opposing coverage schemes?
Andrews can work the seams and attack safeties vertically but the Sooners need a receiver that can force a double team or punish a single team like Dede Westbrook did to match last year's amazing success. I've always like Jeffrey Mead, I'm curious to see if he can get there at last this coming season.
Oklahoma State: How do they maintain balance?
Most people are asking how Oklahoma State is going to get all of their WR talent on the field, but I don't think that's really a pressing concern in Stillwater. They can keep all of their guys fresh while always maintaining pressure across a defensive secondary with all of their talent.
Do you think Mike Gundy particularly cares if everyone gets as many numbers as they'd like? Probably not, what he cares about is whether he's getting production from each position from snap to snap. And he will, most likely. This is a concern for guys like Marcell Ateman and Chris Lacy, really solid players who are taking their last shots in OSU uniforms, not for the staff or the team in general.
The big question for the staff is how to maintain the quality of their run game and the blocking and versatility they got from their "cowboy backs" last year (the tight ends). I've been arguing for much of the offseason that we probably see a lot less double TE sets this coming year and more "spread-I" with an H-back and then a slot. The Cowboys' passing game has always been more dependent on the run game, much like Baylor, then the casual fan realizes due to their reliance on shotgun spread formations.
In reality this is a sort of Air Coryell offense, utilizing lots of vertical route combinations off play-action such as dig/post, double post, dig/go, etc. The Cowboys need to be able to threaten defenses with the run game and then block well in max protection to continue to do what they did last year.
K-State Wildcats: How to introduce strychnine into opposing teams' meal plans
It's possible we won't see Carlos Strickland get just a ton of action this season, especially given how effective Dominique Heath and Byron Pringle became down the stretch of the season. However, Jesse Ertz will start the year with a healthy shoulder and a better OL so there's at least a chance that the Wildcats make the passing game a place of much greater emphasis than a year ago.
K-State loves to beat zone coverage with their Y-stick concept which they tend to run with the Y-stick/option route simply running to wherever the chains are and then settling in open space: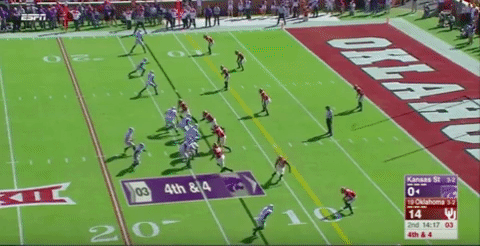 The ball goes weak side here because OU is playing man coverage. Then they have their rub routes for beating man coverage: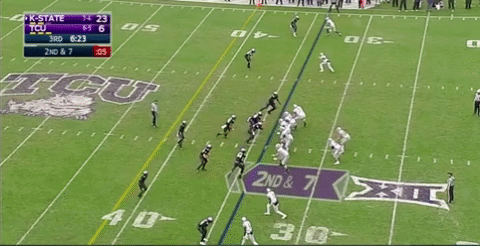 If they have all that clicking with these receivers that could be a much more lethal component to their offense then people are currently anticipating. Watch for how much they look to integrate the passing game in their early season contests. The normal run game stuff is more or less a known commodity.
TCU Horned Frogs: How long is Kenny Hill's leash?
The Frogs' offense is making changes to include the QB more in the run game. That's being sold as beneficial to Kenny Hill, and it is, but it's also beneficial to Shawn Robinson. Also notable is the fact that Sonny Cumbie has been recruiting more dual-threat QBs and seems to have taken from the Trevone Boykin era the value of a running QB in a simple, Air Raid-based system.
Cumbie obviously won the battle against Doug Meacham and it seems that Cumbie and Gary Patterson's preference is for a simpler offense that utilizes the run more, like what they were with Boykin or back in the day with Andy Dalton.
Patterson keeps making the excuse for Hill that the receivers didn't help him last year, which is true, but you also wonder if they're just setting the stage for Robinson to get involved without facing too much pressure and too high of expectations before things get going.
Texas Longhorns: What's the plan for supplementing the run game?
The two ways that teams typically help their spread run games, and that Herman has helped his run games in the past, are to use the QB as a runner in the option or to get a TE on the field to create double teams for the OL.
Texas doesn't have a particularly fearsome running QB with Shane Buechele at the helm and they don't have a particularly fearsome TE either with Caleb Bluiett graduating. So what's the plan?
Texas has the best OT in the league in Connor Williams and maybe the best interior OL as well with Jake McMillon. They can and should run the ball, but how to do it without working at disadvantage against a strong box is the challenge.
There are other solutions they can employ, such as more RPOs than Herman has normally run or stuff like OU's counter-trey/read play. We'll have to see what they settle on.
Texas Tech Red Raiders: Y'all gonna run the ball on dime fronts this year?
Teams were laying out the red carpet for the Red Raider run game at times last year and Kliff Kingsbury wouldn't take the bait. They have to run the ball more this year and run some clock to help out the young guys on their DL if Kingsbury wants to win games and save his job.
They ran the ball decently well in previous seasons so it's not completely beyond Kingsbury, even if it's not his preferred way to do things. They have a longtime back-up stepping in at QB that knows the system, they need to spend more practice reps on the run game this coming season.
Iowa State Cyclones: How close are they to the vision?
Every prospective starter for the 2017 Iowa State OL is in their third year in the program, which is often the magic number that indicates if a team has players that can maintain program standards. Returning starters is awesome, but I think we all learned last year from West Virginia that guys who aren't starters but who have been in the program over multiple offseasons can generally be counted on.
The Cyclones were creative last year with different gap/man schemes in the run game and they have the backs in David Montgomery and Mike Warren and then the receivers in Allen Lazard and co to do some damage when they get into space. It's just a matter of whether this OL is ready to create space for them to work in. I think we'll see a team that's closer in 2017 and then potentially quite good in 2018.
Kansas Jayhawks: What's keeping opponents awake at night?
The Jayhawks have some solid receivers coming back with Steven Sims Jr and LaQuvionte Gonzalez amongst others, their OL is returning some guys that started to figure things out a year ago, and at QB they can keep rolling with Carter Stanley or else mix in JUCO Peyton Bender.
The only issue is that while they are increasingly competent everywhere, they aren't really terrifying anywhere. It's going to be challenging for them to find ways to manufacture matchup advantages from week to week, which is probably where Meacham can help them a great deal this coming season.
Keep an eye out for their TE position as they have some interesting players there that might be helpful in pursuit of this quest.
Baylor Bears: When does the Charlie Brewer era begin?
If I'm Matt Rhule, looking at an OL that just moved TE Sam Tecklenburg to center after the starting center had to retire and has freshman and walk-ons littered across the depth chart, I'm nervous about my ability to run the football this coming season.
RB Terence Williams has a strong reputation around the league but he's a big bruiser that made his living charging downhill on spread out defenses and LBs conflicted by the Briles-RPO offense. That won't be the case this coming season as the system is changing and the quality of the blocking is likely going to be grievously reduced.
Meanwhile they still have a ton of solid receivers and then three different options at QB. The first option is Zach Smith, who I initially had a good impression of from casually watching last season before I soured when more carefully watching his performance against Boise State. For instance, a play like this: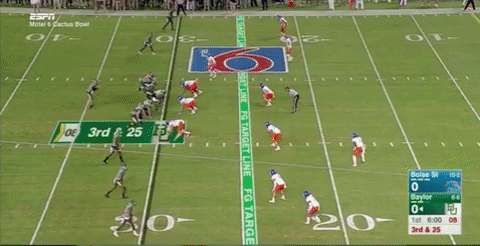 What is Smith seeing here? The CB is in good position so this is going to be a hard throw to beat him on, it'll have to be precise and outside. Instead Smith throws it low and inside. Somehow KD Cannon still snatches the ball away for a TD.
You can see here some of what Art Briles and his staff saw in Zach Smith, which was a strong-armed guy they could mold to be a potent distributor in their offense. But that offense is gone and accuracy and reads on defender leverage is going to matter so much more in the Matt Rhule "revenant" offense.
I think Charlie Brewer is the most talented QB in the program but Anu Solomon was quite good for a few years at Arizona. My guess is that they'll throw Solomon to the wolves this year and groom Brewer to be "the guy" for the future.
West Virginia Mountaineers: On the goal line
This is where I think they may miss Skyler Howard the most is in figuring out how to punch the ball in at the goal line after Will Grier outside throws and Justin Crawford zone runs have swallowed up yardage between the 20s.
With Howard they could run option and QB run game stuff to even up the numbers and their plucky signal caller ran for 10 TDs. They're not gonna want to use Grier in that fashion and they can't always just throw the ball in so they'll need some kind of power set for the goal line.
I'm guessing we'll see either the diamond or some other bigger set that gets more FBs and TEs on the field to aid here or perhaps a Wildcat QB will come in to match what Howard did. Either way, now that they're back to having a pocket passer they have to address this challenge that spread passing teams are always confronted with, how to move the ball when it's just mano y mano in the trenches.