Over at Pistols Firing they're talking about the increasing prevalence of the 3-3-5 in their defensive package. I've mentioned this myself as an explainer for what they're up to moving Ramon Richards to the free safety position that has normally been handled by bigger thumpers like Jordan Sterns and Daytawion Lowe.
What'd I'd be curious to see is them using more "Aztec" type defenses where the "star" is aligned in the middle of the field and can come as a free-hitter. Probably they won't do a ton of that although they've apparently hired Brian VanGorder to their staff and he's familiar with 3-down defense and Tampa-2 coverage.
If they have the guys for it I'm guessing we'll see some rotations like this: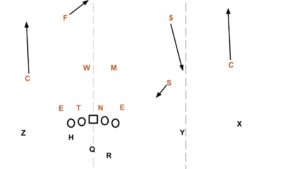 That'd be Flowers dropping down into flat coverage or man coverage on that Y slot receiver, Richards dropping deep, and then the "star" linebacker being freed up to play near the box or blitz.
Speaking of 3-3-5 and sub-packages, I dug a little today on how Matt Rhule liked to defend Air Raid teams while at Temple. I've broken down how he dealt with spread running teams like Houston and USF but I hadn't looked quite as closely at how he would approach teams that would fling it around 50+ times a game like you see in the Big 12.
Rhule had multiple answers, generally mixing between playing some base 4-3 with quarters coverage and then unleashing some nasty dime packages that included a lot of diversity of coverage and blitz. In 2014 and 2015 they were more of a 3-2-6 dime team because they wanted to keep Tyler Matakevich on the field at the weak side linebacker position. In 2016 they played more 4-1-6 style dime to keep their four good DL on the field and because they were using Stephaun Marshall and Avery Williams as LBs anyways.
This coming season at Baylor the Bears will be defined mostly by their lack of great interior DL and also the desire to keep Taylor "Rocket" Young on the field as much as possible. So I anticipate something like this: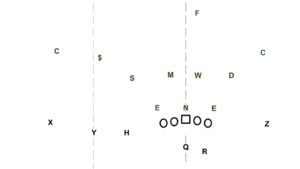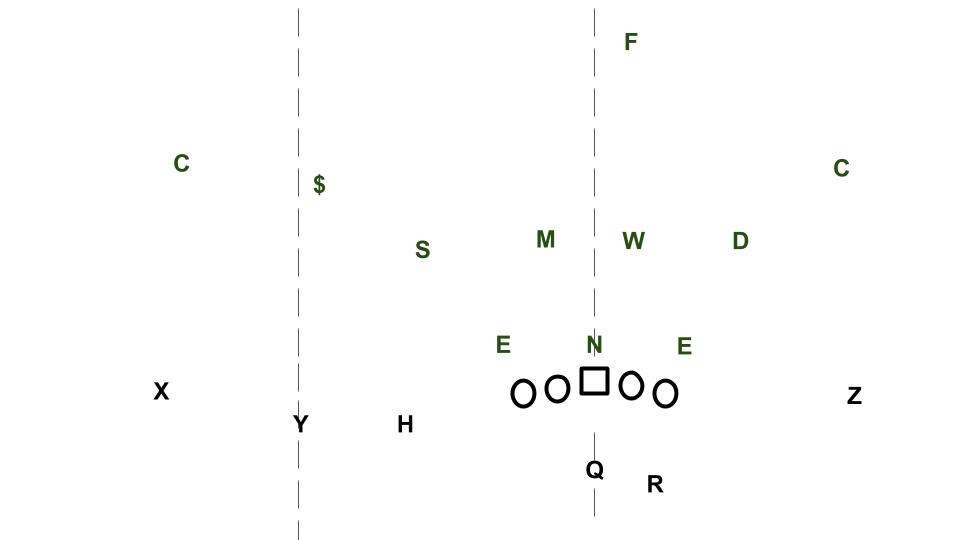 I'm not sure who'd fit into that dime back role but it sounded like Baylor was rotating a ton of guys in and out at safety in the spring and it was probably to find guys that could staff their dime packages. Eric Ogor and Lenoy Jones Jr seem like solid bets to fill those sam and dime LB positions while Clay Johnston and Taylor Young man the middle.
I'm guessing KJ Smith will end up as the field end if Rhule continues to play his nose to the boundary in his four-down base defense while Brian Nance plays on the boundary. Smith, Nance, and the best DT would be the best bets for your starters in this 30 package.
The interesting question is who will play strong safety, a spot that ends up playing in man coverage a lot in this scheme. Chance Waz is not a good fit there, which is probably why Taion Sells has been listed higher on the depth chart. The Bears may be getting deeper at cornerback with Chris Platt sliding over to defense so perhaps Jameson Houston, Verkedric Vaughns, or Grayland Arnold could help here.
My expectations that the Bears might use more of the "Revenant offense" this year have dipped now that they're likely relying on converted TE Sam Tecklenburg at center and are ultra-thin along the OL. They'll surely do it some, but if they can't win the line of scrimmage with their OL that won't go so well.
Recently on Twitter I suggested that their run game is probably in better hands with JaMycal Hasty at RB rather than Terence Williams:
This is what I observed when teams actually got square defenders to the POA against Terence Williams: pic.twitter.com/A5ILtHDIWz

— Ian Boyd (@Ian_A_Boyd) July 19, 2017
I think Williams is a solid downhill runner who knew where the easy candy was in the Veer and Shoot running game but once Boise got their guys to the ball they didn't seem to find him too challenging. Boise plays better D than much of the Big 12, but Williams just isn't that scary if not playing in the Briles run game.
This profile on K-State cornerback DJ Reed was interesting and explains a lot. I was shocked when he locked down a starting role last year so quickly out of summer but it makes a good deal more sense when you learn how much of a film rat he is, as does his fantastic skill in breaking on throws.
The worry for opponents against K-State next year is that the Wildcats are going to get up to their normal tricks on offense with ball control but be more efficient and score more touchdowns. That will make opponents press, feeling the need to be aggressive and score with the opportunities they get on offense, which is dangerous against a pair of cornerbacks like Duke Shelley and DJ Reed.
The Wildcats will need to get a pass-rush to make that work, but that seems entirely plausible with Trey Dishon, Reggie Walker, and Will Geary back on the defensive line.
What's been interesting to y'all as we finally approach the season?