While I've been busy elsewhere this season, I've still kept up regularly with the Big 12. Much of the criticism of the conference or explanations for why it's on shaky ground for the future are all valid and true but that doesn't mean it can't be the most entertaining league from year to year.
One of the more fascinating topics this season has been the Oklahoma defense. For most of the offseason I was HIGHLY skeptical of Mike Stoops getting the job done without big brother around and with so many new, young players across the defense. This culminated in a post questioning whether the Sooners would be "soft" on defense this season. That was quickly followed up by a mea culpa when they beat down the Ohio State Buckeyes.
Then they started playing spread teams and it was clear that all of my questions about their team discipline and coverage options from the base 3-4/4-3 hybrid defense were real. I began to suspect that Texas could punish them in the Red River Shootout, instead the Sooners finally played a 4-2-5 nickel package that took former 5-star LB Caleb Kelly off the field save for in their third dime package. They still struggled, but they did enough to beat Texas.
Then this last Saturday they unveiled a 3-3-5 lifted from Iowa State/West Virginia to try and get Kelly on the field against Texas Tech. After giving up some easy TD drives, they switched back to the 4-2-5 and locked down the Red Raiders for the rest of the game. Wild stuff.
Here's the underlying theme of the Mike Stoops era.
Oklahoma doesn't have an identity on defense
Well they kind of do, but they haven't embraced it, if that makes sense. Can anything fail to make sense in the Mike Stoops era of Oklahoma defense? Here's a summary of what we've seen from this team since he took over.
Year 1 Mike (2012)
4-1-6 dime defense oriented around man coverage. This was actually a reasonable approach to the league by Stoops but he didn't know how to configure their run fits to make it work. So they won some games on the back  of their coverage but also got shredded a few times by teams that could run from the spread, particularly West Virginia and Texas A&M.
Defensive S&P+: 15th
Year 2 (2013)
A 3-3-5 approach that used Eric Striker as a tiny but effective stand-up DE/OL and moved away from dime personnel while leaning on the nickel and dime DBs Julian Wilson and Gabe Lynn to replace a senior safety tandem that were good tacklers/zone players but weak in man coverage (Tony Jefferson, Javon Harris). With those two on the field, OU could play more single-high coverage and leave two linebackers on the field and near the box.
They still weren't amazing at run defense though and were a little weaker against the pass without as many DBs on the field.
Defensive S&P+: 33rd
Year 3 (2014)
This is the year the Sooners went all in on a 3-4 defense and moved Eric Striker to the nickel LB position. If you're counting at home they went from regularly playing six DBs in 2012, to five in 2013, and then down to four in 2014. Not only was the quantity of DBs on the field decreasing but the quality as well. The 2014 CB tandem of Zach Sanchez and Julian Wilson (once the dimeback) was picked apart all season and the safety tandem consisted of Ahmad Thomas trying to stop big plays and Quentin Hayes picking up Eric Striker's man in coverage so the aggressive LB could go hunt plays.
They were much better in run defense this season and good on third down against the pass but very iffy against the pass otherwise.
Defensive S&P+: 33rd
 Year 4 (2015)
This was the best year of the Mike Stoops era of defense. They'd just lost DL coach Jerry Montgomery but he'd left behind some very effective and well coached charges in senior Charles Tapper and rising redshirt sophomore Charles Walker. They stuck with the same questionable 3-4 squad but they plugged in Jordan Thomas at corner opposite Zach Sanchez and promoted Steven Parker to replace Quentin Hayes at strong safety behind Eric Sanchez.
This was the OU playoff team and the best of the Lincoln Riley era we've seen to date, even though Baker Mayfield and the offense were not operating at the level we've seen the last two seasons. The athleticism of Thomas and Parker along with the disruption up front from Striker and fellow OLB Devante Bond along with those star DL made it work.
Defensive S&P+: 22nd
 Year 5 (2016)
No more Striker, no more Zach Sanchez, no more Charles Tapper, and shortly into the season no more Charles Walker either. OU rotated back into a 3-3-5 and replaced Striker the only way they knew how, with a DB in Will Johnson. That's largely been identified as the problem that season but the bigger issue was not that OU was moving back to fielding five DBs but that so many of them weren't very good.
Johnson was solid in the nickel, Thomas was solid at corner, and Parker did what he could to cover for everyone but Ahmad Thomas was an empty uniform and the corner spot opposite Thomas was a revolving door.
Up front the Sooners got very little playmaking or protection for their mediocre defensive backfield and the whole thing fell apart. Particularly when senior linebacker Jordan Evans went down with injury and the Sooners had no idea how to stop the zone-read against West Virginia.
Defensive S&P+: 55th
 Year 6 (2017)
The Sooners went into the season with the idea to revive the limited but effective Striker-style defense of 2014 and 2015. They re-cast Steven Parker as the clean-up man behind the aggressive play of a nickel LB, this time played by Caleb Kelly. At CB things looked more stable with Jordan Thomas paired with Parnell Motley while at safety they've had to plug in a few different players to replace Ahmad Thomas but done so and more, because he was terrible.
Up front the Sooners are stronger than I've seen from them at any other point this decade save for perhaps 2015. OLB Obo Okoronkwo is probably the best defensive player in the conference (Texas NT Poona Ford may have a claim as well). Du'Vonta (Señor) Lampkin is an emerging star up front and Neville Gallimore has also been solid inside. Their play at DE has been better with D.J. Ward and Kenneth Mann playing the strong side end spot well and nose tackle is well stocked with Marquise Overton and Lampkin splitting some time up there.
But they aren't playing very good defense overall, not consistently at least. This is one of the most athletic Sooner defenses we've seen this decade but they are also, at times, the very worst.
Current Defensive S&P+: 103rd
 What's the deal?
This unit doesn't have an identity, they've been a few different things this decade and have typically failed to be great due to lack of DB play, often squandering all-star talent.
Iowa State and Texas are surging on defense right now because they've both found packages that allow them to match the speed and precision of Big 12 offenses AND get their best 11 defenders on the field.
For the Cyclones it was a 3-3-5 that included all three of their LBs from the base 4-3 defense (two of which are 220 or lighter and can run) and basically subbed out the 3-technique DT from the 4-3 (who wasn't that good anyways) for a third safety.
For Texas it's a 3-2-6 dime anchored by star nose tackle Poona Ford that subs out their B-backer (the position Obo plays in OU's base 3-4) for versatile DB John Bonney and features a rotation of four different DEs to play two spots with maniacal effort. They also sub out their middle linebacker for JUCO and converted WR Gary Johnson, who ran a 10.6 in high school. It's a small group but all of the smaller guys on the field can run like the wind, will fight blocks, and hit hard so it's been difficult for Big 12 offenses to run on them or really punish them thus far (you're up next, TCU).
For Oklahoma? This SHOULD be a 4-2-5 team that uses Obo as a stand-up weak side end and employs Johnson or Parker as the nickel over the slot. Here's how that looks: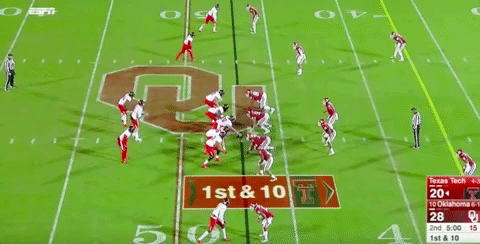 On this particular snap they've got Amani Bledsoe as a 3-technique alongside Obo while Overton mans the nose and DJ Ward plays strong side end. Will Johnson is in the nickel with Parker helping over the top and Kahlil Haughton is at free safety and serving as an extra man against the run.
The Sooners play better team defense from this alignment and it better sets up their players up front, particularly DEs Obo and Ward, to make good on their athleticism. They have a very deep DL in Norman this season so playing an attacking style up front and rotating bodies is an easy way to make hay against all the finesse offenses in the Big 12.
The problem? Caleb Kelly isn't on the field.
The best standard down defensive packages for the Sooners don't include the former five-star linebacker. It's not because he's a worthless player, the dude truly is an athlete, but they haven't put him in a position where his skills can translate to stopping Big 12 offenses.
His future is inside, where he plays in the third down package: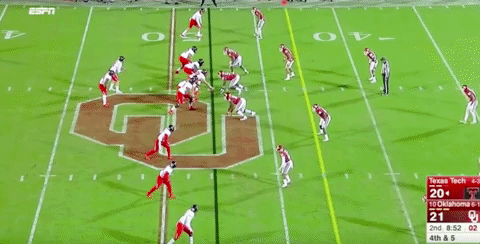 If the Sooner defensive staff has any brains at all they'll move Caleb Kelly to weak side linebacker full time and try to get him snaps there in relief of senior Emmanuel Beal. Kelly's ability to run, cover, and blitz can easily translate to that position and his lack of physicality at the point of attack can be more easily mitigated by the clean-up nature of the position.
I'm pretty sure that's an unsound call there (where's the help over the top??) but his lateral range and athleticism make it work and Tech QB Nic Shimonek never sees him. He can still have a role on third down and in spot duty but the Sooners should be playing nickel exclusively from here on out (unless they play a big, bruising team in the postseason and maybe even then). They don't need his pass-rushing on standard downs with Obo on the field and he's not really offering that much anyways (1.5 TFL and ZERO sacks on the year).
The big plus is that in 2018 he'll have a head start on his new position and the Sooners can play an ultra-athletic ILB tandem of Caleb Kelly and Kenneth Murray behind a DL that returns a lot of promising pieces up front.
I don't know what role Ruffin McNeil has had in any of the various things Oklahoma has attempted on defense this season but the Sooners have looked like they have a multiple personality disorder. They need to zero in on the base, 4-2-5 defense and go from there. If they do, they could still finish strong this season and perhaps even make the playoffs. If they don't, they'll get murdered by Oklahoma State and perhaps lose another game and squander what's left of the Baker Mayfield era.