So I was watching some more Texas high school football recently. I was doing some breakdowns of 2018 Texas Longhorn commits and trying to find full games so I could eval guys off more than the traits they reveal in limited HUDL highlights. You may find that you are wrong about which guys will translate at the college level far less often if you watch them play complete games within a team concept in a competitive game that matters.
Anyways, one of the fun exercises that comes along with this is sorting out what a team's offensive or defensive formations and strategies are intended to be. In this case, Westlake (Braden Cassity, David Neil, Jake Ehlinger) vs Cibolo Steele (Caden Sterns) both teams seemed to be playing 4-2-5 defenses but of different designs and structures. Later on I took in some of Katy vs The Woodlands in order to get a better look at Moro Ojomo and noted Katy playing their normal D, which has essentially become a 3-2-6.
While sorting out the differences between the different structures and considering how useful it seemed to be when I explained some of the key differences between Glenn Spencer's 4-3 and new OSU DC Jim Knowles' 4-2-5 I decided to create a glossary of the different structures and formations that are common across the game today. I'm sticking with structures that serve as base defenses here.
Alright, here we go:
The 3-4 defense
Personnel: Three DL, four LBs, two CBs, two Ss
A true 3-4 defense features OLBs on either side of the formation that can set the edge against the run and rush the passer, a pair of normal inside linebackers inside. The DL might be geared more towards having three big DL to stuff the A and B gaps or it might be a one-gap 3-4 with at least one DE that's more of a SDE that can play on the edge as a 5-tech or a 6 or even 7 across from a TE.
The design of a 3-4 defense is to control the run with the outside linebackers and keep it funneled inside to the sturdy DL and inside-backers and to attack the pass by being able to bring pressure from a variety of angles and places and thus causing confusion and quick pressure without using more than four or five pass-rushers.
Oklahoma has amusingly played a 3-4 defense over recent seasons while typically using more of a "tite" front with a pair of big, 4i-technique DEs and a nose inside: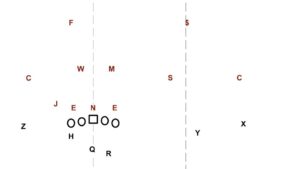 Boise State has actually played a base 3-4 defense from the same tite front in recent years, but they play it as more of a single-gapping defense that shifts after the snap and rolls the secondary around in different ways to create the same quarters coverages with different guys in different roles. Like OU they play as rangy a guy as they can at the sam linebacker spot and last year used a guy that was really more of a safety in that role.
OU would drop guys into different spots but not to the extent of Boise, who will routinely drop corners into safety roles, bring safeties down to replace linebackers, and bring pressure from a variety of angles.
Then there are the 3-4 teams that line up like a 4-3 team but with a stand-up OLB that actually routinely drops into coverage. Some of these teams, like Texas Tech this past year, will blend styles and play a 4i DE with a sam LB outside of him to one side and then a traditional 4-3 3-tech DT and 5-tech DE on the other: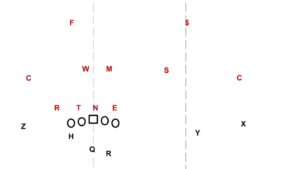 The mark of true 3-4 teams (and true 4-3 teams) in the modern day spread is that they are pretty stuck to either play cover 3 and drop a safety down to help that "sam" linebacker that's being asked to play in space or to play cloud quarters with the safety and cornerback matching pass distributions from the field receivers so they don't get burned over the top if the LB bites on run action and it's a RPO or play-action pass.
Cloud quarters is probably the most difficult to play, imo, and the high school teams that do it well are often the best. The gist of it is that the safety and corner both read the slot receiver, if he goes deep the safety matches him like in cover 4, if he goes shallow and out the corner picks him up while the safety plays over the top of the outside receiver like in cover 2. Everyone has to do their job well for this to hold up properly but when they do, and if the corner plays blocks well and the safety plays with range, it can free up that OLB or nickel to play pretty aggressively against the run.
Teams can get away with playing a true 3-4 defense today IF that sam LB can really cover ground AND the secondary, particularly the strong side of the secondary, plays on a string together and can hold up in 1-on-1s OR the team is filled with versatile guys that can move around and disguise who will be where.
The 4-3 defense
Personnel: Four DL, three LBs, two CBs, two Ss
The main style of 4-3 defense you see today is a 4-3 Over with a hybrid sam linebacker who's light and fast enough to play the edge from the opposite hash. These teams have a pair of true DEs that play mostly on an outside shade across from a tackle, a 3-technique defensive tackle, and a shade nose tackle.
Most teams that play in a 4-3 will keep their "sam" LB to the wide side of the field and their "will" LB to the boundary with the latter chosen for his ability to scrape and play in the box and the former chosen for his ability to play more in space.
The design of a 4-3 is to control the run by generating penetration with the DT and DEs and spilling the ball outside to the linebackers and safeties. Some 4-3 teams are more blitz-oriented than others but most are designed to bring pressure with the DT and DEs in the base four-man rush.
The "over" and "under" fronts are the most common but how they are defined is pretty nebulous in an era of spread offenses. The main gist of a 4-3 Under is that you are controlling the strong side with a nose tackle that can command a double team, a hard, plugging mike inside-backer, and strong force play off the strong side edge from the sam linebacker. The 3-technique DT and weak side end are speedy players chasing things down from the backside.
The 4-3 Over is intended to stuff strong side runs by positioning a 3-tech DT there that will generate penetration if he isn't double teamed and then speed at LB behind him to fly to the ball when he is doubled.
Because so many teams use spread sets, the principles of the 4-3 Under haven't really survived save for in some of the hybrid 3-4 defenses you see, teams that align their nose to the strong side today still tend to do so more to accommodate speedy LBs rather than to force action into the stoutest and most physical guys on defense like the Under was designed to do.
Here's a typical 4-3 Over D like you would see from Spencer's OSU, or like you see from a HS team like Lake Travis, against a spread team using an H-back: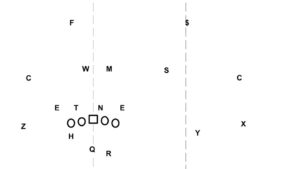 An Under team may actually line up in the same way if they defined the "strength" of the offense as the wide side of the field rather than the side with the TE/H-back. You really see the difference against four-wide teams.
As Coach A at Matchquarters regularly notes, even 4-3 Over teams like to get into an "Under" front against a "trips" receiver set so that the middle linebacker only has to split the difference between the slot and the B-gap rather than trying to split the difference between the slot and the A-gap.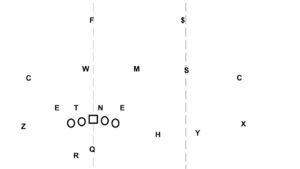 Strictly speaking, a 4-3 Over team would set the 3-technique to the strength so he'd be to the field or opposite the RB so the other team would be running into him. But then your middle LB is trapped covering an A-gap with his assignment in coverage way outside of him, so you'd need to protect him by rolling the safeties over into cover 3 or a type of kick coverage where the free safety helps out.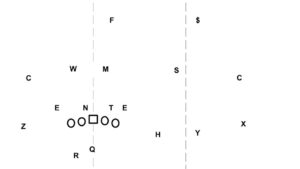 You can read more about this in his book, which is an amazing and detailed journey through modern four down defense.
Michigan State plays a base 4-3 Over and will match trips by sliding over the free safety (although they define that boundary spot as their strong safety) in order to keep their mike LB in the box charging downhill against run action. It's a vulnerable style against the spread though, as we've seen both in some of their struggles as well as the struggles of Pat Narduzzi at Pitt.
North Dakota State also plays more of a base 4-3 Over defense but they'll slide into Under against this look, play the mike backer out wide over the slot, and hold up with a five man box with stunts and/or dropping their free safety down into the box late.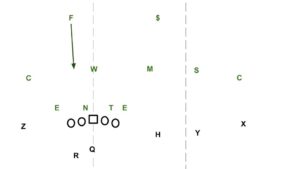 You need a pretty good safety to make this work since he needs to spin down late and cover ground while reading on the run and then he has to be fearless about taking on lead blocks or hitting the back in the hole. Also that boundary corner needs to be able to hold up in man coverage. That's how North Dakota State does it though and it generally works quite well for them. Like most every other 4-3 team, they use a "sam" linebacker that typically weighs in safely south of 220 and is chosen and developed for his ability to play in space.
Alright, next post we'll hit the increasingly multiple 4-2-5 and other "formerly sub-packages now base" defenses like the Katy 3-2-6.