The 2017 Kansas State vs Oklahoma game was a really impressive contest between what I'm now delineating as a "spread-option" team and a "spread-Iso" team. I may have to further adjust those terms but the idea is that OU will create multiple stress points with their scheme and then "send it where you ain't." K-State will spread you out but only to run a lead run, rub route, or deep iso pass to their preferred skill player.
Obviously K-State also runs option plays and OU runs some isolation stuff as well but just bear with me as I try out this new attempt at spread taxonomy.
Anyways, OU trotted out what (as far as I can tell) was a fairly new concept for them, a WR sweep that turns into a flat route read for the QB off their runs. It's kinda hard to explain so here's the link to an article I just wrote breaking down how they used it to attack the Kansas State defense.
X impressions I've had while breaking down Big 12 games that I couldn't watch carefully during the season:
Lincoln Riley is brilliant and the OU offense will almost definitely be good at running the ball with spread-option concepts next season.
Honestly I think they'll run the ball well no matter what. Insert Kyler Murray and boost some of the QB run game responsibilities? Sure, that'll probably work fine although he's a bit small. Turn to Austin Kendall instead to boost the passing game? That'll be fine too, this play is another example that Riley doesn't struggle to add effective constraints to GT counter that don't involve as much from the QB's legs. I'm sure Kendall can pull the ball on the edge if he has to, anyways.
The amazing thing about GT counter is that while it was better when they could mix in Dmitri Flowers blocking on the edge, it doesn't rely on that to work properly because the key blocks are all executed by pulling or down blocking OL.
I'm not sure where things stand currently with the OU battle for starting LT but the three guys they have returning were all good run blockers a year ago. Losing Orlando Brown and Erik Wren probably hurts the protection more than it does the run blocking.
Kansas State probably doesn't make significant changes to their defense under Blake Seiler.
I've noted that K-State's ability to consistently crank out good LB corps suggests that maybe they should tinker with something like the 3-3-5/dime hybrid D that Iowa State trotted out last season. But then you watch them execute their 4-2-5 and it's hard to imagine them having the takeaway that they need to make a lot of changes, they really just need to plug holes.
Depth of talent has been more the issue than scheme, and while my suggestion about the 3-3-5 was aiming to align with where they tend to have depth and where they do not, it seems more likely that they'd tinker with their recruiting strategy than their scheme which is really quite strong.
Kansas State is also going to be excellent running the ball next season.
No duh, right? I'm sure K-State fans aren't shocked by this, maybe no one is, but maybe non K-State fans don't realize that the entire starting 5 on the OL is back next year along with TE Dayton Valentine, RBs Alex Barnes and Justin Silmon, and of course both Alex Delton and Skylar Thompson at QB.
Delton is maybe the most explosive QB I've seen in the second Snyder-era Wildcat offense, it's tough between him and Daniel Sams who was a worse thrower than Delton. Daniel Thomas was technically the best at it because he combined speed and power in a way that no one else could match but…he was a RB and couldn't really throw the ball. Jesse Ertz seemed like he might end up having the best overall mix of skills but he lacked the skill of staying healthy, Klein is still the gold standard for his combination of power, quickness, knowhow, throwing, and ability to absorb hits like a tank. Anyways, I'm rambling.
Delton is a great runner and Thompson is solid, he just lacks power and is easier to tackle (although he's a much better passer). Kansas State is going to run the ball well next year no matter which of them starts, I'll have more on some of their returning pieces in an upcoming piece.
The Kansas State defense is a bit more talented than you may be expecting.
If I were betting on whether the K-State or OU defense will rank higher in S&P+ next year I'd be putting a lot down on the Wildcats. Denzel Goolsby really figured some stuff out last year and next year either Kendall Adams will be healthy or the Wildcats will have a cast of options behind him with more experience.
Last year they struggled replacing Jordan Willis' pass-rush and had to make do with superhero efforts from Will Geary or else blitzes from Jayd Kirby, both now departing, but they got a lot of snaps for some up and coming DEs last year like "Boom" Massie and Kyle Ball so they probably improve on the edge. I believe I noted in a recent article that LB Elijah Sullivan is much more athletic than I remembered (although I noted that about him in my breakdown of his HS tape) and they never lack for good ILBs with Sam Sizelove as the next obvious candidate to lock down the middle.
They just have a lot of young athletes overall that got a lot of snaps a year ago and still some veterans around to make sure things are anchored such as DT Trey Dishon, now Denzel Goolsby at SS, and Duke Shelley at CB. My current best guess of their 2018 D goes: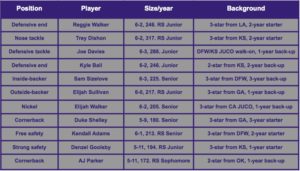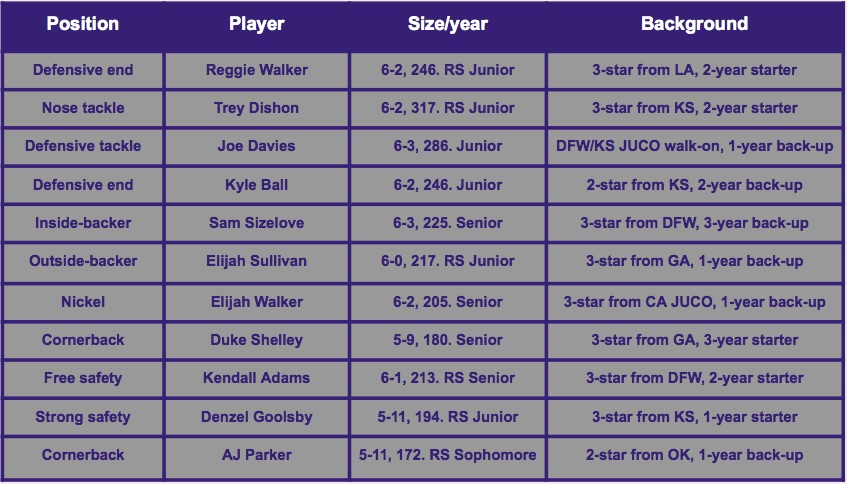 There's a fair amount of experience and better athleticism than normal pending if Elijah Walker figures out the nickel position with potentially even more athleticism than I've listed if Boom Massie can crack the depth chart. The DT spot is a tough call, I think K-State has a really solid transfer from Texas St coming up and then Joe Davies is a track star who had a single sack last year on a nicely executed stunt.
Another big question mark is AJ Parker, who was picked on a lot last year playing as either a CB or a N but he's really athletic. It's just a matter of knowhow and technique. If he can't make it Johnny Durham is solid at keeping defenders in front of him.
They look more solid everywhere than they've been in recent years with better depth coming up in the wings at some weak spots than other years.