One of the very difficult things about prognosticating in the Big 12 is how close the mid-level teams are to one another. This decade has typically included 3 teams at the top that were safely better than most of the league (generally OU plus 1-2 other squads) and then a wide morass of mid-level teams that could all beat each other (or perhaps the top 3) on a given week. Then usually 1-2 creampuffs at the bottom (generally Kansas plus 1-2 other squads) that everyone is counting on beating.
Other than OU who generally stays in the top 3,Texas who has managed to stay in the middle, and Kansas who stays on bottom, everyone else is trading places between being in the top 3 and being in the middle 4-5 or bottom.
Some of the factors that typically make the difference are if a team has a returning starter at QB, if they have a good OL, or if they are playing good defense. Having one or more of those three factors going in your favor typically means a good season in the Big 12.
Anyways, I got this comment from John on the last "scattershot" post where I ranked TCU 7th in my power ranking.
Just curious, but what possibly makes you think TCU finishes outside of the top 5?
Defense will be improved from last year. Likely a top 5 defensive line in the country (most DL talent GP has ever had to work with). Safeties got bigger and more athletic, corner is about the same plus Julius Lewis back from injury, LB takes a step forward especially with depth and Jawuan Johnson transferring in.
Offense is loaded with talent and speed, especially at WR (Reagor, Turpin, Barber, Manning, Austin, Hunt). Playbook is opened back up now that they have a QB who can get the ball downfield. Up there for best 1-2 punch at RB (Anderson and Sewo) in the Big 12 (I'm aware this could be hindered by OL play). Which leads us to the biggest question of the entire team, OL. The size and talent is there at OL, now it's about getting the 5 best out there and letting them gel together.
Defense should be able to carry the team over the first few weeks to let the OL get some chemistry. TCU leaves the state of Texas twice this year (WVU and Kansas). Hard not to see them competing for a spot in the B12 championship game. Let me know what you think!
The first point and the last one by John are the really strong ones, in my estimation. Those being 1) the DL talent and 2) TCU's in-state schedule. The Frogs seem to draw a nearly all-Lone Star schedule once every few years and I don't know that it has a majorly positive impact for them but it definitely doesn't hurt.
The 2018 slate includes at least seven games to my eyes that look pretty tough. First they have did Ohio State the honor of meeting them in Dallas to aid noted cattle-rustler Urban Meyer in his efforts to steal Texas recruits. I think Ohio State looks like your frontrunner for the title in 2018 so I don't think that's a favorable matchup for the Frogs, but it doesn't really matter in the B12 race.
In the B12 schedule though they draw Texas in Austin and West Virginia in Morgantown but then Iowa State, Oklahoma, Kansas State, and Oklahoma State all in the Fort. That's about as good a draw as you can hope for in round robin scheduling.
The first point concerns TCU's DL, which is in pretty good shape for next season thanks to the return of star DE Ben Banogu and emerging star DT Ross Blacklock to say nothing of promising talents like DT Corey Bethley or DE L.J. Collier, seen here: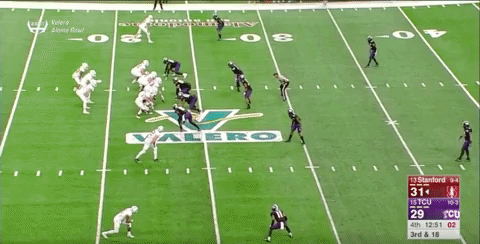 Collier is a different sort of talent than his predecessor Mat Boesen I think, the latter of whom was more of a DE/OLB. Collier is 6-4, 275 and, as you can tell here, power is a much bigger part of his game.
I have a few questions about their DL, in particular whether it's advantageous to have two different talents at either DE spot when the Frogs go so much mileage a year ago from having nimble OLBs in either spot. For instance, the Frogs were one of a very few teams that could handle Oklahoma's GT counter-read play because Boesen and Banogu were fast enough to box the play in or to play both the QB keep threat AND the RB: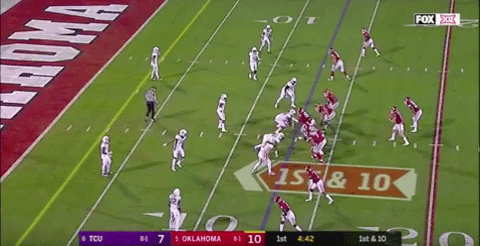 Of course OU still ran the ball effectively with other plays and threw the ball effectively on the Frogs in two victories. Still, you can watch either game and OU is pretty gun-shy about running GT counter-read on the Frogs which was normally a huge part of their offense.
Another question I have is about the OL, which includes two returning starters in LG Cordel Iwuagwu and RT Lucas Niang and then potentially RFR Wes Harris at center, RSR and first time starter Trey Elliott at RG, and either big JUCO Anthony McKinney or RSO Austin Myers at LT. Lots of these guys have some promise but they're pretty green.
TCU won a lot of games last year because they played great defense, they could run the ball with a veteran OL that excelled at combo blocks…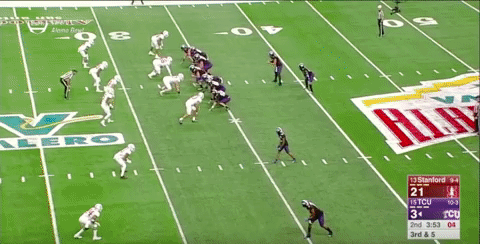 …particularly on the right side where they kept Matt Pryor and Austin Schlottmann in tandem. Then Kenny Hill was good about protecting the football and could pick up third downs now and again with his legs. That was enough to beat a lot of teams. The Frogs had a new OL coach that experimented with some gap schemes but their bread and butter was the outside zone scheme that those veterans had been executing for years.
That institutional knowledge of how to execute those blocks is gone now. Maybe the Frogs will have some promising new OL, perhaps thriving in different schemes or the same OZ plays, but perhaps they'll be a year away from really running the ball like they did in 2017. For as effective as Matt Campbell has been at Iowa State, he has yet to field the kind of OL that Paul Rhoads had in his final year because that year Rhoads had a line of seniors that had received a few years of intensive training in the art of outside zone from noted master Mark Mangino.
Next up…the skill talent. Darius Anderson and Sewo Olonilua are as good a backfield tandem as anyone in the Big 12 has and that's really saying something because there are some great backs in this league. Pairing them with Shawn Robinson in option schemes could be devastating, but they gotta block well.
Jalen Reagor and the WRs were solid a year ago, overall they have a ton of super athletic young guys like Omar Manning and Taye Barber or explosive little scat backs like Kenedy "Mach" Snell and Kavontae Turpin. I don't know if any of these guys are ready to go out and consistently get open on third down against good coverage and even if they are, I don't know how consistently Robinson could hit them.
Overall I feel like this offense is a year away from being as terrifying as the component parts would suggest it could be.
Let's return to the defense now.
The front is loaded, although again it may work differently with Collier playing in Boesen's spot and that may or may not be as effective. Ty Summers is probably the best LB in the conference and he's back, that sure helps. However, the TCU defensive backfield was keyed by four features in 2017.
Everyone involved was an upperclassman who'd sponged up years of Patterson knowledge and teaching on defending Big 12 offenses.
The starting secondary included RS Senior and multi-year starter Ranthony Texada, third-year CBs Julius Lewis and Jeff Gladney, third-year FS Niko Small, senior WS and third-year starter Nick Orr, and then RS Junior Ridwan Issahaku at SS. "Sam" LB Travin Howard was also a third-year starter and senior player.
This next TCU D will be solid on experience but likely breaking in young SS Innis Gaines (sophomore who played regularly in 2017), and featuring new starters at WS (maybe Issahaku) and Sam LB.
Travin Howard was essentially a LB/S dime hybrid that brought a ton of flexibility to the defense.
Patterson's 4-2-5 defense' survival into the modern spread era depended on Howard's ability to essentially be a cross between a box safety and a weak side LB. His replacement this coming fall could be Arico Evans, whom I haven't seen a ton from, Montrel Wilson who was a fellow safety-convert from back in 2015 that has dealt with injuries the last few years and lost his spot to Summers, or Louisianan sophomore Garrett Wallow who's a Patterson favorite and another safety convert. Good chance they end up turning to Wallow here but it's worth noting that it took Howard at least a year and a half before he was Travin Howard.
Nick Orr brought a lot of range and versatility on the back end.
Dude had nine INTs at TCU and defended 20 passes over the last few years. He was pretty solid in the run support role that Patterson normally asks of his weak safety but really strong in the single-high coverages that TCU has relied on the last few years to mix up their looks and allow them to keep six in the box. Here he is making a pretty nice deep drop from an initial quarters alignment.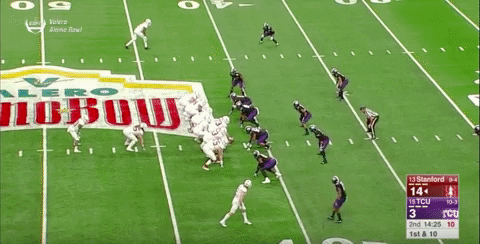 Perhaps if they move Ridwan Issahaku back they can start to lean on their weak safety more for run support and defer some coverage stress back to their corners, but then…
Ranthony Texada was a longtime fixture as a lockdown CB.
Can TCU find a lockdown corner from the ranks of Julius Lewis, Jeff Gladney, or their younger up and comers at the position? Perhaps, but you don't want to take for granted how difficult a position that is or how well Texada played it a year ago.
Basically, TCU leaned on a combination of three amazing talents and then overall experience and competency in 2017 while playing great pass defense (besides the DEs, who were also obviously a major factor) and now all three of those longtime cornerstone players are gone.
I like Innis Gaines, Issahaku has proven he can run and tackle, the front five will probably be amongst the league's best, but there are marginal declines here and there that could be trouble.
Seventh is probably too low, Patterson's bunch will play good defense and probably find ways to run the ball, but it's hard to see how they'll be able to break out of the middle pack and into the top three.