Evidently Lane Kiffin's FAU team may need a few games to put it all together, much like in 2017. They were totally overmatched against the Sooners, obviously, and made an ass of yours truly. My B12 title pick didn't do me any favors either, dropping a road game with a sloppy performance against the Terrapins.
After trying to absorb as much tape as I could, here are some thoughts on what we saw in week one with an effort to be consistent about not overreacting one way or the other to anything that occurred. I've got lots of reactions to the Texas game going up at Inside Texas so I'll focus elsewhere in this space. Suffice to say though, I still think Texas can compete for the B12 title. Fire away if you think that's ridiculous but neither that nor Michigan losing a close road game to a Notre Dame squad I picked to contend for a playoff spot strikes me as conclusive evidence that either Tom Herman or Jim Harbaugh are trash.
Wildcat scare
In my picks I said that Kansas was playing "the wrong South Dakota school" to give them a good scare. I made that statement from a place of A) knowing that this was not the South Dakota State Jackrabbits that have made a habit of contending with North Dakota State in recent years B) knowing virtually nothing about South Dakota. Well, apparently they're pretty good too.
These northern/midwestern FCS programs that are the only college programs in their states are trouble. They often take the game really seriously and have some under scouted players running around. South Dakota had a clearly done their homework on Kansas State and were jumping routes and running hard to the football on defense while testing the Wildcat corners and outside-backer in a fashion similar to how much of the B12 has attacked the team.
It's too early to be definitive but my impression from the game was that the K-State D I had questions about actually looks really strong while the offense I assumed would be a team strength has some real identity concerns.
The big questions are essentially what they're going to hang their hats on, or better still "who" is going to carry the offense? Alex Delton is a great single-wing runner but he made some horrible reads and throws against a South Dakota team that didn't respect him and knew what was coming. I think he might be a Daniel Sams-type bit player that isn't an every down starter. That makes Skylar Thompson Jake Waters, except he's not that good (not yet at least) and he's not throwing to Tyler Lockett.
They do have Alex Barnes, who's a good player and will probably have to become their war horse. They need to call a game against Miss State in which they use every trick and element of the roster they can to constrain the Bulldogs from keying on Barnes all night. Joe Moorhead hired Bob Shoop for that job (stuffing Barnes) and he's a good one. I'm sure Snyder will reveal all kinds of tricks and tactics later while driving this roster to arrive at a better place by league play then they're at currently. However, they don't yet have a strong QB leading the way like we thought they would and K-State hasn't been terribly good yet this decade when they haven't had that.
It's early to make a call like that, especially one that we all took for granted. "I'm sure one or both of those guys will prove to be the next great K-State QB in 2018" made a lot of sense but I have real hesitation about that conclusion now.
Schooner roadkill
My one fear with for the Owls was that they were going to be overwhelmed early and unable to establish their run game against the Sooner defensive front because they were playing catch up and floundering on the road against an overpowered offense. That was exactly what happened and things went south and snowballed on them quickly.
Chris Robison missed everything early while some penalties helped kill the initial Owl drives. Oklahoma didn't punt for a while but instead poured on touchdown after touchdown, quickly making the game 28-0 and virtually out of reach for the Owls.
Nonetheless, I still got to see the Owls work some misdirection with inside zone and other spread run concepts at the new look OU defense. The results often looked like I expected.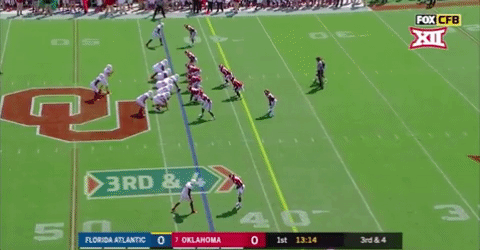 On both of these plays the Sooners are more sound than they were at times a year ago. As in, guys are fitting the right gaps. In the latter example they send the backers to the lead block and ask a safety to clean up the other interior gap, like I prognosticated they would do this season from their nickel package.
However, what you tend to see in each example is just…pretty soft. The Owls weren't afraid to single block the Sooner nose with their Tulane transfer center most of the day and loose the guards to pursue other activities. The first clip features Kenneth Mann getting pancaked while both LBs are washed out, the second clip sees Ronnie Perkins pancaked and then the normal routine where a physical runner abuses the attempts at run support from the Sooner team pursuit.
Oklahoma has UCLA next, who probably isn't terribly physical but may further test their soundness. Then Iowa State, who we haven't seen yet this season but may be a good test on both sides of the ball, then Army who will probably be unable to handle their offense, then Texas. There's a solid chance that Oklahoma goes into the RRS undefeated and on top of the world, or there would be if Iowa State wasn't coached by Matt Campbell. I tend to think the Cyclones will probably at least reveal cracks in the Schooner wheels, whether they're able to beat them or not, and Oklahoma won't go into the Cotton Bowl looking like a top 4 team to the discerning eye.
Early impressions of Kyler Murray are that he's hard to tackle in the backfield and seems to have the ability to reach a lot of areas of the field with his arm. If you can keep him leveraged he's too small to run through tackles but he's as shifty as they come and uncareful angles will lead to someone being made to look silly. I still have questions about how he reads coverages or whether he sees blitzes or diagnosis defenses. The physical talent is what we expected, which is to say that it's very impressive. The A's ponied up for a reason. His supporting talent is fantastic, overall I didn't learn much about them.
Oklahoma is probably the most athletic team in the conference which will be obvious on many weeks in the coming year. They definitely aren't the toughest though.
Rocky top run D
West Virginia predictably gashed the Tennessee defense. It's year one with a new system for the Vols and the area where you'd guess they might have a chance to cause problems (SEC DL personnel) was always going to be less of a factor against the Mountaineers' big and experienced OL.
WVU ran the ball reasonably well against the Vols but they eviscerated them through the air. That's not shocking, although Will Grier definitely played a good game and we essentially got confirmation that yes, this veteran QB with an experienced supporting cast are indeed playing like you'd hope from such a group.
The biggest concern with the Mountaineers is the defense and Tennessee was a decent test of where they're at in that regard. On the positive side of things, this is definitely a very different DL than they were putting on the field in 2017. Their movement and quickness were problems for the Vol OL with Darius Stills, Reese Donahue, Ezekiel Rose, and Kenny Bigelow combining for 7.5 TFL. Donahue and Rose were manning the DE spots with Clemson transfer Jabril Robinson actually starting while Stills and Bigelow were a 1-2 punch at nose.
LB and CB are probably the bigger concerns this year, which is a touch surprising because they've tended to develop those positions pretty well. An issue at LB is the fact that their inside positions are staffed by 6-0, 215 pound Dylan Tonkery and 5-11, 225 pound David Long. These guys will run to the ball and can cause problems when they're covered up or stunting free but if you get a body on them that's it.
After a while with starter Charlie Benton (6-2, 215) they rolled with walk-on Shea Campbell (5-11, 240) at sam linebacker. Neither were very good at all, Campbell doesn't remind me of Justin Arndt in the slightest.
The secondary looked fine in this contest but you know they're thin at corner and that B12 opponents will really get after them on the perimeter. They need to find an 11th guy who makes the defensive backfield better and he could probably play a variety of positions. Got a good ILB? Great, move Tonkery or Long to Sam. A really good safety who can tackle and play blocks? Play him at Sam.
This defense is in decent shape overall and could probably round into a unit that gives West Virginia a chance at the Big 12 title thanks to that talent infusion across the DL. They need some tinkering though and to either develop some guys or figure out different personnel packages.
This run kinda captures where they're at:
The LBs are getting shoved around, Bigelow gets penetration but it's mitigated on this occasion, then when Hakeem Bailey misses the tackle in the wide open cutback lane. Lots of smaller bodies crashing into the line for WVU and just getting bullied. Handle the penetration and the speed and the West Virginia backfield is your oyster, although their safeties will hit and tackle better than say…Oklahoma.
That's all I got for this week. I'm sure most Sooner fans will not be convinced since I spent much of the offseason talking about how FAU might expose them. Careful look at the tape of that game and the Texas-Maryland game though suggest my sense of things heading into the season was right but that various week one issues didn't allow the factors I identified to dictate the final outcomes on the scoreboard. We'll find out in the coming weeks.