Lots of people in the Sooner space have chimed in on Oklahoma's defensive adjustments against TCU, including this good bit by our pal Allen Kenney.
I definitely recommend that piece but I can't resist an opportunity to talk about this blog's favorite topic, OU defense. The Sooners are currently on track to produce yet another historic offensive unit, something they often did in the previous decade as well although not quite to this extent, so how they play on defense typically ends up being one of the most important topics in a given year within the Big 12.
Anyways, the outcome on the field in week one was pretty solid. The TCU main RBs ran the ball 17x for 66 yards while QB Michael Collins added 6-40 after removing a Curtis Bolton sack from the numbers. The six Collins included this amusing run on third down: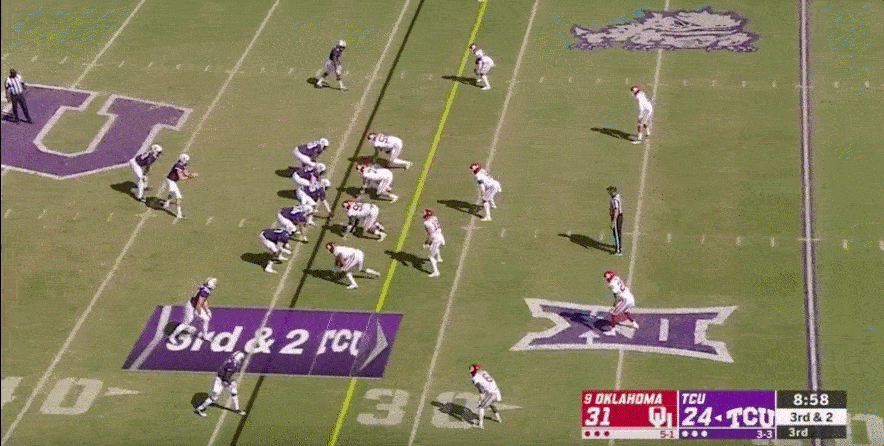 So much for the #JackBoys, lol. Still, solid numbers on the day for the run defense. In the passing game Shawn Robinson was 3-8 for 21 yards before they yanked him for Collins, who went 7-17 for 142 at 8.4 ypa with a 2-1 TD to INT ratio that was very nearly 2-2 with a pick six. The vast majority of that damage came early on a tunnel screen to Kavontae Turpin and then a play-action fade to Jalen Reagor. That was both scores and 88 of Collins' 142 passing yards and both came after the change and before the half.
After the game Kavontae Turpin was kicked off the team for (alleged) villainy of a particularly odorous type while it was announced that Shawn Robinson was going to get shoulder surgery and shut it down for the rest of the year. The Frogs were also without Ross Blacklock this year and then star SS Innis Gaines after he went down the previous game. Like most of the Big 12, TCU can't take on injuries like this and expect to have a good year.
It was a solid performance overall by the Sooners but it came against a TCU team that was evidently ready to fall apart rather than to rally and make a statement win. Here is a snapshot of the sorts of solutions that Ruffin McNeil had on offer in this game:
Solution 1: Get more tacklers on the field
Oklahoma has been a shoddy tackling team for years and I've noted how Mike Stoops' reliance on man coverage and also playing base personnel (four LBs) has exacerbated the issue. If your SS needs to be a guy that can spend large chunks of every game in man coverage and your nickel is the same that means that four out of five DBs were often smaller, corner-sized guys that were mostly on the less physical end of the cover corner spectrum.
Ruffin pulled Justin Broiles (5-10, 181) out of the starting lineup and slid SS Bookie Radley-Hiles (5-10, 190) to his nickel position. Then he slid FS Kahlil Haughton (6-1, 200, third leading tackler) to SS and inserted Robert Barnes (6-2, 207) at FS. They also played the Iowa State 3-3-5 dime package some, including at the outset of the game, and in that package would often pull Haughton for Dellarin Turner-Yell (5-10, 175 but more aggressive in temperament) as the "Aztec" or "robber" guy.
Now the Sooners have Haughton, Barnes, Bolton, and Kenneth Murray on the field at all times, all of which I would describe as being rangy tacklers.
Solution 2: Simpler calls and alignments
OU has bled yards in big games for years because they don't always execute assignments soundly. That was perhaps less of an issue this year in terms of sound play but their execution is still often shoddy. It's easier to nail down techniques and roles if there are fewer of them to master and that was an immediate and predictable change that McNeil brought.
In addition to creating that packaged role for Dellarin Turner-Yell (which will now be ultra-predictable for future opponents if not expanded, btw) McNeil also tended to go back and forth between the three-down and four-down defense based on whether it was Mark Jackson or Ronnie Perkins playing opposite Kenneth Mann. When the 6-1, 235 pound Jackson was out there they'd play three-down and the 6-3, 254 pound Perkins would line up with his hand in the ground. That was fairly consistent with previous OU gameplans but it was noticeable how predictable those personnel tweaks made the Sooners.
That's not really a knock either, consistently having guys in position to execute is the right path to getting a group of good athletes to play like a unit of good football players.
Here's how they played it against TCU, generally: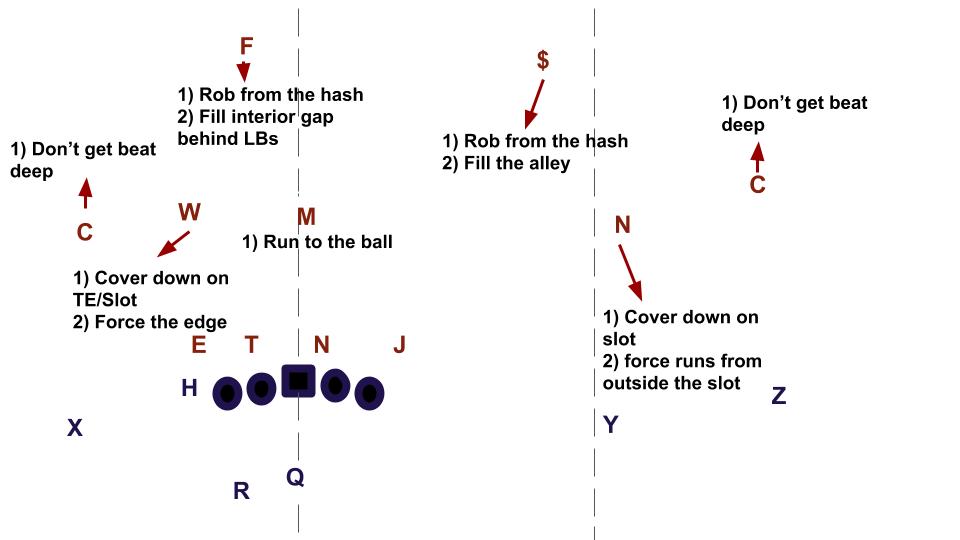 Against the run, Bolton and Radley were tasked with keeping the ball between the hash marks where Murray (supported by late help from both safeties) would clean up. The top three targets of the Frogs would get something close to man coverage from the nickel and CBs but the safeties were both chosen and deployed to help provide more tackling and help in the middle of the field.
Solution 3: Finally some cover 2!!!!
Predictably, OU's CBs were necessarily up for that task outside.
You had one job, Parnell!
But in all seriousness, this is a tough defense on CBs. They get some bracket help inside on a post IF the safety isn't sucked in by play-action or a dig or post route from a slot and they get zero help over the top.
So McNeil did something that Mike Stoops used to do in his younger days. He mixed in some cover 2 calls with Robert Barnes helping over the top on Reagor.
Curtis Bolton didn't get the memo and he helps the boundary CB force the edge rather than playing the inside gap he'd previously been leaving to Robert Barnes. Haughton is still playing in a robber technique and running the alley inside of Radley's cover down/force but Barnes is making sure TCU can't take a shot on the boundary.
This is only good as a change-up because the difference in run support between Barnes and any of the OU CBs is substantial, but it's a simple (although they blew it here) change-up that can help shore up weak spots.
Mixing in cover 2, or a 2-read coverage, on the boundary is a must-have in today's B12 where everyone loves taking the short side deep shot to dangerous targets.
Good stuff overall, the sorts of changes that anyone familiar with McNeil's Texas Tech defenses would have expected.
Caution 1: TCU is bad
Shawn Robinson with a bum shoulder and Michael Collins aren't the same kind of challenge that the rest of the schedule will likely hold. I doubt that Oklahoma can replicate Iowa State's success against the Mountaineers and Texas Tech is a dangerous animal under Kingsbury's direction.
For OU to win out and make the B12 title game seems likely enough but those games won't always look as easy as TCU and the championship game will still probably hold the Texas team that took it to Oklahoma in Dallas.
Caution 2: OU still looked soft at times
If you rewatch the cover 2 clip above you can see TCU's RT Lucas Niang reaching Kenneth Mann's outside shoulder and knocking him off the ball, allowing that seven yard gain. That's not how that defensive call is supposed to work and "hooked" DEs was a reoccurring problem for the Sooners in Dallas.
Spot for me, if you can, a single Sooner DL executing at an admirable level on this clip either: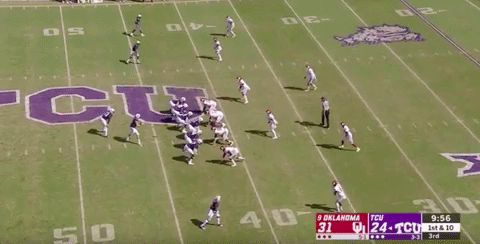 Again, the DE (Perkins this time) gets hooked and ultimately pancaked while Kenneth Mann is handled by a TE's base block. The Sooner DL is filled with guys that can whip by OL at times and inflict some negative plays but if you handle their initial quickness they tend to accept what's coming to them.
Curtis Bolton probably took some flak for this, and he was knocked off his feet, but without his quick scrape to the ball this play carries a worse outcome. Perhaps a similar looking one in which Sewo picks up a first while landing on top of that CB (Tre Brown).
I've been accused in the past of cherrypicking clips to make the Sooners look bad on defense. I don't know if that is still forthcoming given the results of this season but I'll throw in one more for good measure.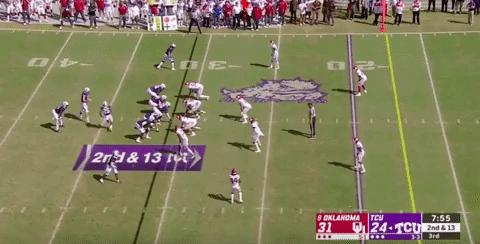 Cover 2 again by the Frogs. TCU is moving at tempo here and watch the effort of Kenneth Mann and note how all of TCU's combo blocks release OL upfield to find LBs. Yes, the first guy to the ball gets run over at the end of the play again as well, but the play of the DL in front of them has to be more concerning.
This drive was ended because the first play of this series was a wildcat run with a bad snap, then this play above, then this third down call: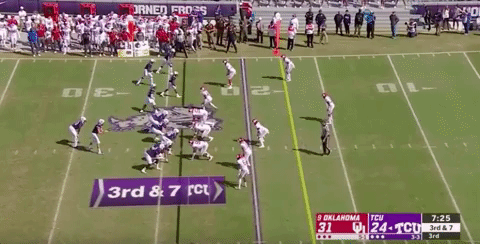 Not exactly high level QB play there. The Frogs would settle for a FG and didn't get up to all that much after that.
In summation
Things looked about like you'd expect. McNeil is hoping to tweak the personnel to get a better mix on the field and he's paring down the calls to a handful of schemes that can allow the Sooners to play faster and have a few counters when teams probe the weak spots. All of that could result in a marginal upgrades that reduce the likelihood of coming up short in a back and forth shootout of the sort OU is likely to find themselves in over the final stretch. If Riley had done this last year it MIGHT have been enough to get over the hump against Georgia.
However, you can't fix a soft and still occasionally unsound unit in a single week. That takes an offseason and a culture change.