Things are starting to trickle out of Norman about the state of the program and issues that were dormant to the public while the team kept winning are now awake. This sort of thing tends to be true of every team, I'm sure Alabama has issues right now that no one would ever guess at that could seem crippling if they were exposed after a loss.
Some of the issues include a report that it was OU's new CEO-style president that dictated the change. Lincoln Riley strongly denied that report in his press conference, nothing that the great programs don't do things that way, yet there's an awful lot of smoke around the idea that Jim Gallogly pushed this on Riley. This report also included the tidbit that Ruffin McNeil wanted nothing to do with the DC title at Oklahoma.
Then Riley made McNeil the man, which I honestly expected to occur during 2017, but bumped Bob Diaco from consultant/analyst to OLB coach and booth man. Some reports seemed to suggest that McNeil will be DC but Diaco will call plays, I don't know if that's right. The two of them have a lot to work on over the course of the season.
The problem is that you can't fix a defense in a few weeks if the bones are bad. Sometimes teams get off to a bad start and they need a little tweak, a position change, or a fire lit under them to help them order themselves. But units that don't know how to play at a high level don't learn it quickly, if the right habits and skills aren't there somewhere in the muscle memory then they have to be built and that takes real time.
Werewolves of Norman
If you watch any of the 2017 Nebraska defense that Bob Diaco was brought in to salvage on behalf of Mike Riley, it's actually even worse than this Oklahoma defense. The Cornhuskers lacked speed everywhere and regularly didn't play with the right leverage up front.
Today's Sooners often blow their run fits but they have speed at every level, their physical issues relate more to size, strength, and toughness.
For instance:
This is Texas' tight zone play, which they ran in this game 10x for 87 yards. It's not a zone-read play, the DE Kenneth Mann is schemed up to be handled by a RT and TE combo that climbs up to the LB (Caleb Kelly here).
Ehlinger keeps the ball because the overhang (Boo Radley) flies into the backfield when he needs to be the contain player. The Sooners have so many weak spots at the point of attack here that it's hard to count them all.
Kenneth Mann, whom OU conspicuously tried to recruit over in the offseason with Notre Dame DE transfer Jay Hayes before he opted for Georgia instead, gets absolutely run over here by Texas RT Sam Cosmi. It looks like he's trying to pinch down into the B-gap but he meets a wall and gets taken for a ride.
Caleb Kelly is hesitant and unsure of his gap fits when he's playing ILB, as was predictable after he spent the last two years trying to play as a LB/DB hybrid on the edge. The TE comes off Mann pretty quickly and hits Kelly lightly five yards down field before Kelly spins off that in order to miss Ehlinger in the open field.
The deep DBs (Kahlil Haughton really) clean up after a sizable gain.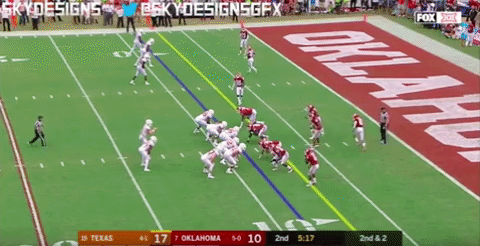 This is the QB stretch play that inflicted three TDs, a short-yardage pick-up, a five yard gain on first and goal from the seven, and two lost timeouts on the Sooners in this game.
Texas is in an unbalanced set and the Sooners aren't at all in good order to defend it. One problem is that they have a CB as an overhang and there isn't a single CB on this roster that you want in that role, none of them are physical or can tackle well. Oklahoma is loaded up with Zach Sanchez's that don't know how to play the ball like Sanchez did.
They also have Mark Jackson as a 7-technique here responsible for withstanding the RT/TE combo that is aiming to secure the edge. Jackson is 6-1, 240 and probably would have been buried by Cosmi alone here without the TE coming on his outside shoulder and driving him into the end zone.
Tre Brown is predictably knocked out of the way by the RB lead block, Caleb Kelly tries to run under the blocks after Jackson is driven back and just hits the wall, Kenneth Murray can't get there in time and even if he did would have then had to tackle Ehlinger running downhill into the end zone. Kahlil Haughton is racing to the trips side because the Sooners only had two defenders over there which would have made the bubble screen a guaranteed score if Texas had taken it. Justin Broiles would have been useful there but instead he's an overhang to the backside that becomes useless.
Oklahoma is dangerously soft on the edges this season. While I've argued for years that they need to be a nickel team, the field-side combination of Justin Broiles (5-10, 181 pound RFR) and Boo Radley (5-9, 186 pound FR) is simply not intimidating and is a big reason why Texas found so many easy yards and push behind the tight zone play. Between that and the lack of strength in the play of strong side DE Kenneth Mann you have a recipe for trouble trying to defend the perimeter.
On the opposite edge, the Sooners also have major problems which manifested most commonly in their defense of Texas' double slants plays: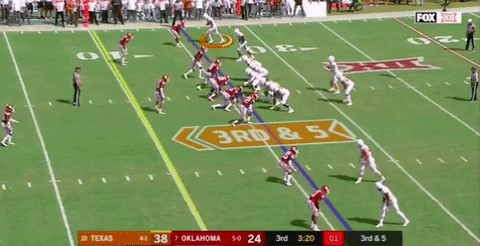 Texas lives in boundary twin sets this season which put the 6-4, 225 pound Lil'Jordan Humphrey in the slot with 6-6, 210 pound Collin Johnson outside of him. It creates all kinds of two-man route combos that are within easy range for Ehlinger and force defenses to either try to defend them with their weak side LB and free safety (normally players chosen for their run defense) or else shift their entire defensive structure.
On this play everyone in the stadium knew what was coming, including the announcers who circled Collin Johnson just before the snap as you can see. This was by far the most credible defense that Oklahoma made on the double slants play for the entire game and they still got beat. It probably would have made sense to try and shift over more help to take away the inside angle for both wideouts but the Sooners tend to live or die in these man2man matchups outside and all of their corners are small and lack high level skill or physicality.
This team is designed to match up with opponents in man on the outside and then to force the ball in on the edges and they just don't have the personnel anywhere to do it right. Even when the force the ball inside effectively, their LBs are still prone to losing their gaps and the DL mix disruptive plays with other occasions where they get taken for a ride.
Is there a silver bullet?
One hilarious change that Diaco and McNeil could try would be to field a sam linebacker against all but 10 personnel sets in order to force the ball inside to Kenneth Murray and Neville Gallimore more consistently. To play base 3-4 defense.
Issues with that approach are pretty extensive. One is that it would make OU pretty predictable in coverage (like last year) and invite precise targeting of a group of DBs that are clearly vulnerable and fairly easy to target. It would also make it harder to execute some of the exotic blitzes that the Sooners have leaned on this season to generate pressure since they've lacked a dominant edge-rusher like Okoronkwo or Striker.
The Sooners are probably at their best when they play nickel but allow the LBs to flow to the ball and fill in behind them with Kahlil Haughton. That leverages the strength of Kenneth Murray's play better but, again it makes them fairly predictable and can leave the boundary corner on an island if Haughton is regularly dropping down to support the run.
Lincoln Riley has apparently pushed for a defensive approach that is aggressive and oriented around generating quick punts or turnovers rather than a bend don't break unit that slowly (or maybe not so slowly) yields gains down the field. When Ruffin McNeil brought some good fixes to Mike Leach's defense back in 2007 it wasn't from that at all, but from teaching the  players to execute a quarters defense and forcing opponents to beat them the length of the field.
Here's the nasty wake up call though, I don't remember the 2007 Tech D but the 2008 Texas Tech defense was more talented than this Oklahoma group.
They had some really good DEs that were athletic and disruptive, nose tackle Colby Whitlock was an anchor in the middle, the LBs and safeties would beat blocks and tackle people, and they had a plan that they could execute together. Namely, to play base defense on early downs and make everything hard, then to bring pressure on third down.
This Oklahoma defense has some guys that are athletic but only a small number of legitimately good football players. Kenneth Murray is one, everyone else ranges from "promising but inconsistent" to "limited." It's hard to build a defense to withstand Big 12 spread attacks in which nearly everyone on the field has to be supported or protected by their teammates and can't hold up in isolation.
There's one plausible solution though, something that Tech utilized against Oklahoma State: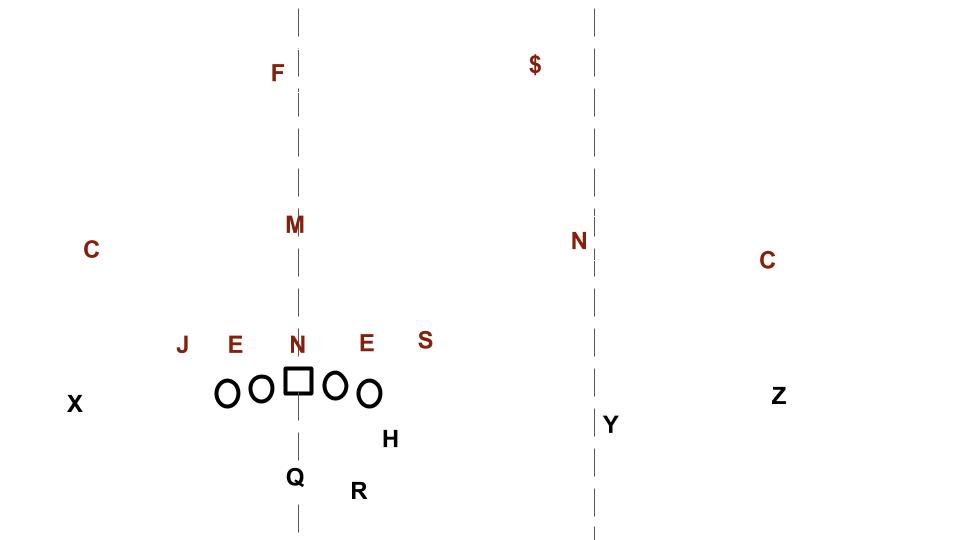 It's a tite front with double 4i-technique DEs, which is normal for Oklahoma. But instead of playing with a will and a mike LB, they drop a guy down over the TE or field side and play with just one ILB (Murray, most of the time at least). The goal is to cover up the gaps and blockers up front and free up Murray to run around and make a gazillion tackles.
They could play things on the back end in a variety of ways, mixing single-high looks with two-high coverages that get help over the top but the main goal would be to keep the ball channeled inside so that opponents would have to consistently get movement against Amani Bledsoe and Nevill Gallimore while avoiding Murray. They could let the safeties bracket receivers from inside out and be late arrivers to the box in the event that things leak.
This would still be vulnerable to getting beat up outside by big receivers and vertical routes but there aren't really any solutions for that problem that the Sooners are going to be able to get going this season. Players need to improve, the goal has to be to give them a simple system that helps them improve and develop skills that play to their strengths and give them a chance in the coming weeks.
Prognosis for the remaining schedule
First the Sooners get this upcoming bye, which is crucial and will need to be occupied with solutions for the gauntlet of spread offenses remaining on the schedule.
Then they head to Ft. Worth to play TCU in a game that I think many on the Norman side are overlooking. Last year was the first time since realignment that Oklahoma has beaten the Frogs by more than a TD and the main factors in those victories were Baker Mayfield and Rodney Anderson. Additionally, this TCU offense is very similar to Oklahoma's in that it can score points in bunches if you aren't sound or don't tackle well.
The other side of that matchup is tough as well, TCU will be the best equipped team in the league to try and contain Kyler Murray in the pocket with a disciplined four-man rush and Gary Patterson has been waiting for this rematch all year.
Next up is K-State, which should be easier if only because the odds that the Wildcats will withstand OU's offense are so low.
Then comes a parade of shootouts. Texas Tech in Lubbock, Oklahoma State at home, Kansas at home, and finally a road trip to Morgantown and potential Heisman showdown between Will Grier and Kyler Murray (although that thing is probably going go Tua Tagovailoa). The Red Raiders, Cowboys, and Mountaineers all have the firepower to light up OU's defense and it's worth noting that the Sooners survived more than their share of these types of games over the last three years because of flawless second half performances by Baker Mayfield.
The Kyler Murray Oklahoma offense isn't flawless, as we saw in the Red River Shootout. They burn you with their speed, which can result in an even more explosive unit than they ever had with Mayfield but one that is less likely to execute a crucial drive because they aren't as precise.
My guess is that the Sooners drop another game this season with the Frogs as perhaps the most likely to inflict the L. They remind me of the 2016 Texas Longhorns, who were really good at running the ball with D'Onta Foreman but not terribly good at anything else.
The 2018 Oklahoma Sooners are overwhelmingly good at hitting big plays on scrambles, screens, and play-action shots and not terribly good at anything else. That's a dimension more conducive to winning games than what Texas had that year but it's not enough to consistently beat more well rounded teams in competitive games.
All that might be a good thing for Oklahoma, if my guesses about the S&C and overall culture of the program are right than a patchwork defense that allows them to skate by the rest of the league won't command the kinds of changes this team needs to make next offseason.
The 2019 Sooners won't have Marquise Brown or Kyler Murray to bail them out, they'll need a defense that is currently poised to return 10 starters to make the leap that some expected and thought had occurred this season. None of that will occur without a dramatic reshuffling of the defensive staff and strategy followed by a highly effective offseason with real buy-in, strength gains in S&C, and a more physical tone.