Playing great offense is primarily about over-stressing an opponent. You need to present more threats than they can cover up, identify where they are weak, and then get the ball to the right spots at the right time. The HUNH spread is ascendant as an offensive strategy because it's the best way to accomplish that aim.
Consequently, most of the Big 12 utilized the HUNH spread offense. In my recent series at Football Study Hall I was breaking down how, against the best spread offenses, defenses need a plan to make sure they can take away an offense's best features and force them to get by on their third or fourth options. Much like the Toronto Raptors, forcing the ball around the horn until it finds Andre Iguodala alone on the perimeter and then trusting in the percentages. Oops, well we'll see how it plays out over a full series.
Now, not every defense in the Big 12 can even competently execute a strategy to give them an effective plus one ANYWHERE. Getting beyond that to a level where they can overshift their defense to force the offense to play left-handed is another challenge still. For instance, RPOs are typically designed to deny that "+1 to the ball" feature of defenses and not everyone can effectively counter them, let alone start dictating terms when the offense gets extra creative about feeding their star players.
But if an offense can check off every part of this list at a high level, then it doesn't matter what the defense can do, the offense is going for 30+.
1. Effective distribution at QB
The QB has to know where the ball should go in the different dimensions of the offense and then reliably deliver it there with good timing and placement. Good defenses make it harder to figure out where the ball should go and narrow the windows that a QB has to hit in order to break down their structures.
2. Effective blocking along the OL
In the run game that means not allowing penetration, making contact on assignments (if they're in position to threaten the play), and getting push when you have a double team. In pass protection that means no free runners inside and making good edge guys work their way slowly so they can't interfere with a three-step drop. An OL that can do all of those things against a sturdy front will set enough of a floor that a team can dominate if the QB and skill players are good.
3. Some kind of plan for blocking a nickel front in the run game
Five OL can handle five men in the box, to handle that sixth and prevent teams from stuffing your offense from a two-deep shell with a six man box, you need a plan to block six. One way is to block him with an ancillary, another is to option him with a QB pass or run option. The former barely counts because if you actually want to run the ball on a nickel front, like on 3rd and 2 for instance, you don't want to count on hitting a slant.
4. Two to three offensive features/specific skill players that can't be stopped without the defensive being +1
This is where the over-stressing occurs, checklist items 1-3 merely set the stage for achieving this result. While they weren't super explosive, Texas was able to achieve the full checklist last season.
Effective distribution? Check. Effective OL? Check. Plan for blocking a nickel front? They could do it with Y-back Andrew Beck's blocking or by involving Sam Ehlinger in the run game. They even did it at times with the pass RPO. Check.
2-3 skill players that could command a +1? WRs Lil'Jordan Humphrey and Collin Johnson were both hard to cover up without bracket coverage while the Texas run game generally commanded at least a 6.5 man box (nickel or safety triggering hard at the snap to arrive in time).
Oklahoma got an A+ for just about every item on the checklist and regularly had five guys on the field at a time (counting Murray as a runner) that needed to be +1'd to really be sure you could stop them.
Questions 1-3 basically suss out the strength of an offense's foundation, the established infrastructure. Question 4 is about setting the ceiling.
So, how does the Big 12 figure to stack up to this criteria in 2019?
The Kansas Jayhawks
Effective distribution at QB?
Probably not. Thomas MacVittie seems the favorite and he threw for 6.2 ypa with a 2-to-1 TD/INT ratio as a JUCO last year.
Effective blocking along the OL?
Probably not. They've yet to arrive here in years and it takes time to get this right. They are better off than normal though with Hakeem Adeniji back at tackle and then a handful of seniors with some starts under their belts.
A plan for blocking nickel fronts?
Uh, not really other than leaning on Pooka to run fast. Last year they used RPOs, which only works to an extent. A reminder that they tried to turn Jax "the destroyer" Dineen from a scholarship fullback into a greyshirt or preferred walk-on so he went to K-State instead. If there's a moment in 2019 where everyone is thinking, "man, if only Pooka could clear the line of scrimmage" reflect on that point.
2-3 skill players that can command +1 attention?
Pooka Williams, that may be it. It doesn't look good for Kansas under Les Miles in year one.
The Oklahoma State Cowboys
Effective distribution at QB?
The big question in Stillwater is whether Spencer Sanders is here yet, because if he's not then they're better off playing Dru Brown who's probably further along in this regard. Especially when considering their answer to question no. 4.
Effective blocking from the OL?
Things are fairly promising here after two years of Josh Henson coaching and recruiting and then Charlie Dickey coming over from K-State. Marcus Keyes and Johnny Wilson guarantee a strong interior and they have a couple of guys that have played some tackle and then a RS freshman in Bryce Bray that's pushing them. I've seen enough of the other two to say that if Bray is starting that's probably a good sign for their team. The answer here is probably "yes, contingent on the quality of the DL across from them."
A plan for blocking nickel fronts?
They have a few options, Mike Gundy always keeps some ancillaries on hand to play FB, TE, or both and then both Dru Brown and Spencer Sanders in particular are also helpful in the option game.
2-3 skill players that can command +1 attention?
WR Tylan Wallace is one of the most proven in this regard in the entire league. Chuba Hubbard is another, you probably can't afford to not have at least 6.5 in the box to stop the OSU run game next season. Then they have Dillon Stoner and Landon Wolf at slot WR and a handful of options opposite Wallace. This offense is stacked if the infrastructure allows these guys to paint the ceiling like they can.
The West Virginia Mountaineers
Effective distribution at QB?
I think they'll be competent here, I also don't think good defenses will be especially concerned about either Jack Allison or Austin Kendall in 2019.
Effective blocking from the OL?
Things are fairly promising here, Joe Wickline seems to have lost his fastball but he didn't leave around just nothing. They still have Josh Sills and Colton McKivitz and Neal Brown was good at fielding physical OL at Troy.
A plan for blocking nickel fronts?
Their plan is to basically use a fullback, which Dana Holgorsen also tended to keep handy for his own RPO spread-I designs. I don't know if they have a particularly good one around or not now that Trevon Wesco is gone but there's some hope here.
2-3 skill players that can command +1 attention?
Marcus Simms is back and he's a real threat, TJ Simmons is probably good enough to do damage if you left him in a 1-on-1 against a no. 2 or 3 cover defender. Overall the sticking point for the Mountaineers is they are borderline with reasons for optimism on all four checkpoints. Sometimes getting them all checked off at the same time can be difficult.
Edit: Simms is in the transfer portal along with half the WVU secondary. Things look grim for Brown's year one with the Mountaineers.
The Iowa State Cyclones
Effective distribution at QB?
Oh yeah, they have pump fake Purdy who was very effective in the RPO game, play-action game, and some in the dropback game as well all while only a true freshman.
Effective blocking from the OL?
They were getting close at the end of last year and return all five starters on the line, with one or two likely to be replaced by more talented youngsters. Still may not be great in this regard but they are getting better and might even be good, plus they have some help in the form of PFPurdy's legs, Matt Campbell's scheming, and then all the TEs on the roster.
A plan for blocking nickel fronts?
Iowa State may flip this on its head and trot out 12 or 13 personnel packages designed to bully nickel fronts and force Big 12 defenses to consider getting more size on the field.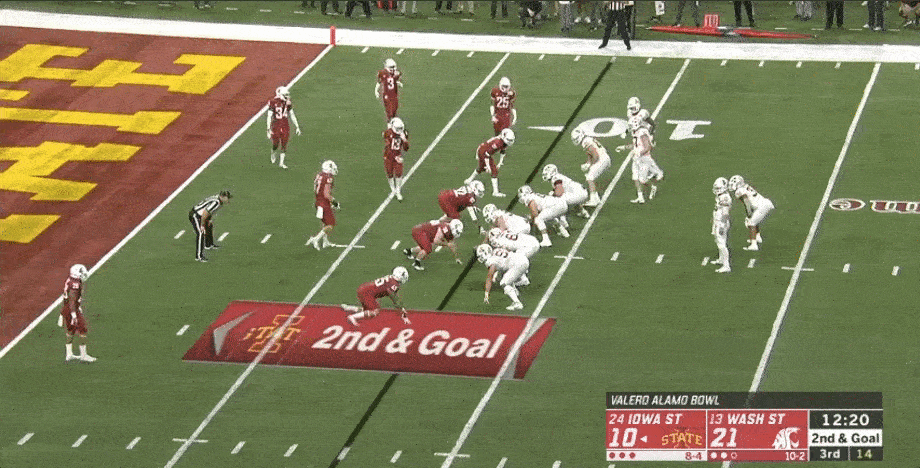 They have like three TEs back next year, one of whom is like 6-6/280, and also a ton of effective QB run schemes involving PFPurdy.
2-3 skill players that can command +1 attention?
The Cyclones have some of the best answers in the league to the infrastructure questions 1-3 and then the fewest for question four. Who's replacing David Montgomery and Hakeem Butler? They have a couple of really quick WRs in Deshaunte Jones and Tarique Milton that will figure in here and then Arkansas transfer La'Michael Pettway who entered via the portal. There are lots of options at RB as well. I'm not saying it's not an issue to replace freaks like Monty and Butler but when everything else is established this is harder to worry about. That said, Campbell's skill player acquisitions over the years haven't blown me away except at RB so we'll see how this shakes out. They may end up with a nice ranch home in the fall, effective and spacious but with only one story.
The Oklahoma Sooners
Effective distribution at QB?
This is one of the trickier spots in this whole writeup. Jalen Hurts was benched at Alabama for Tua Tagovailoa because he wasn't an effective distributor. He was always effective as a runner, often dangerous as a scrambler, and occasionally laser sharp as a distributor when hitting his first read. But his ability to read a defense, figure out where the ball should go, and get it there was very inconsistent. If you look at his numbers, that's not necessarily obvious, his sheer talent and the talent around him at Alabama covered up a lot of warts until they played the better defenses on the schedule.
Effective blocking from the OL?
Certainly effective, probably not as dominant as in recent years. They have tons of talent but there are concerns about tackle and their inexperienced group may not pick up blitzes and movement or handle veteran playmakers along a DL as well. This probably only shows up against higher level competition but that's the standard at Oklahoma. Compared to most of the league they should be well off here.
A plan for blocking nickel fronts?
They can block them with Jeremiah Hall (or maybe also Brayden Willis), option them with the wideouts, or best of all option or overpower them with the QB option/feature run game. I think this will likely be one of the stronger points to the 2019 Sooner offense, especially the QB draw game.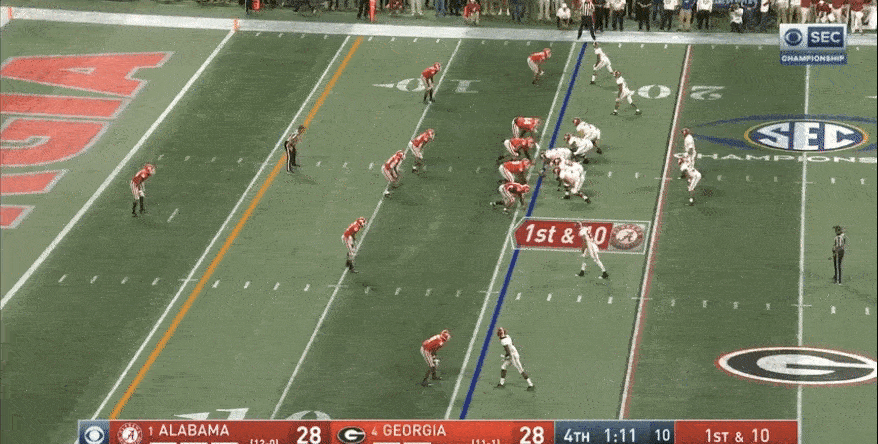 2-3 skill players that can command +1 attention?
Of course, and I think you count Jalen Hurts here for his ability as a runner. Whoever wins the RB job will be another, and then their top three WRs are all in this category (Ceedee Lamb, Charleston Rambo, Grant Calcaterra, arguably Lee Morris and maybe Nick Basquine). Really consistent distribution and blocking are the only big questions and Oklahoma's "problems" will probably only be problems against the toughest competition.
The Baylor Bears
Effective distribution at QB?
The Bears are as well off here as most anyone in the conference. Charlie Brewer is really solid and has shown he can hit RPO passes off a quick read or get through drop back progressions. He can also run some option looks.
Effective blocking from the OL?
The most encouraging thing I've heard on this front is that Baylor is considering moving Jake Fruhmorgen to center, where they already have a solid guy in Sam Tecklenburg. Blake Bedier is a natural at tackle and if he's already showing well enough to start and bump Fruhmorgen inside then that bodes well. Connor Galvin was solid at LT as an undersized freshman a year ago so there's some good pieces to build on here. If those four guys can make up 4/5 of the OL then it becomes pretty reasonable to find a solid guard from the rest of the roster. Last year they had a solid thing going on the right side of the OL and both players graduated, but I think they can arrive at a greater place of overall competency here than we've seen yet from the Rhule era if Bedier pans out this quickly.
A plan for blocking nickel fronts?
Brewer can do the option thing as a runner or passer but they're at their best if Christoph Henle continues to grow as a blocker at TE and then Brewer is executing RPOs on the guy trying to be the 6.5th man in the box after the snap.
2-3 skill players that can command +1 attention?
The run game is a maybe, pending the development of all these pieces along the OL or at TE, I'm sure it'll at least be there against some foes. Denzel Mims commanded a +1 in 2017 and then fell off last year, perhaps he had a nagging injury all season or something. Overall I dunno, I'm sure they have guys that will be showing out when the infrastructure keeps the trains on time but when it's struggling I don't know if they have guys that can lift the team.
The Texas Longhorns
Effective distribution at QB?
Probably the best in the Big 12 in this regard. Ehlinger was very effective a year ago as a sophomore after making an offseason leap and enjoying the benefit of having a good OL in front of him rather than a terrible one. He's more effective than most in the option game because he can run between the tackles, like Hurts, and has been steadily growing in the RPO game.
Effective blocking from the OL?
LT Sam Cosmi took the RT jog from returning starter Derek Kerstetter last year in week one and is now poised to fight for 1st or 2nd team All-B12 in 2019. C Zach Shackleford was very effective in 2018 and heads into 2019 as a four-year starter. To supplement those two, Kerstetter is back now as a true junior, two-time All-ACC guard Parker Braun is transferring in, and it seems likely that the starting five will be very good to start the year. Depth is more of a question, particularly at tackle, but there's potential for this group to be overpowering.
A plan for blocking nickel fronts?
This is the most interesting question of the offseason for the Texas offense. I think we'll see a fair amount of option in lieu of a well established replacement at Y-back for 2018's first team "fullback" Andrew Beck. They have some means though for building a fantastic spread-option attack though, including some likely measures that won't increase Ehlinger's workload in the run game.
Or perhaps Cade Brewer will grow into another good blocker.
2-3 skill players that can command +1 attention?
I think the most under-appreciated component to the 2019 Texas offense is that they return a pair of senior wideouts who had 985 yards and seven TDs and 546 yards and four touchdowns apiece a year ago as the no. 2 and no. 3 option in a run-centric offense. Collin Johnson and Devin Duvernay is a potential 1-2 knockout combo in 2019 returning to work with Sam Ehlinger. Both are deep threats that have rounded out their games and Texas will have lots of explosive if inexperienced young receivers to put around them.
The Texas Tech Red Raiders
Effective distribution at QB?
Alan Bowman seems overrated at times amongst some commenters of the league but he's very solid, knows where the ball goes on a lot of spread concepts, and can deliver it down the field. He was only a freshman a year ago which is also promising, he did have some "deer in headlight" moments against better Ds.
Effective blocking from the OL?
I believe they has as many as four returning starters, essentially everyone but the center, who was solid. Replacing one guy on an OL is generally not too bad. Having returning starters at either tackle spot is a big win.
A plan for blocking nickel fronts?
This is the trick for them, as I've noted. Alan Bowman can't run the option like some other QBs David Yost has coached but their plan is to have a TE on the field that can handle this task for them. They also still have a leftover fullback that was alright a year ago.
2-3 skill players that can command +1 attention?
TJ Vasher is back and he was pretty good last year, Seth Collins also returns after flashing in 2018, and then they have a reinforced collection of slot receivers to utilize in space off the threat of the run game.
The run game is probably the biggest question mark but the infrastructure is there for it, more just a matter of whether speedy little Ta'Zhawn Henry is up for carrying a load what else they have in store for that position. They've taken in a few transfers at the skill positions that could spring to life with opportunities, or not. The more I reflect on this team, the more I think we're probably all sleeping on Tech. There's a lot in place here and the new coaches are good. This is perhaps the most likely of the newly staffed teams to have a good year one, in relative terms at least.
The Kansas State Wildcats
Effective distribution at QB?
Skylar Thompson is solid, he was at his best when Snyder was able to give him easy reads to throw screens or 1-on-1s outside to Byron Pringle. He's not the runner Easton Stick was at ND State but he can run some power-read or better, power-switch (power with the backside end unblocked and the tackle leading around the edge) if that's in the endless number of ways that this staff has to run power (probably).
It's not hard to see Skylar Thompson running this effectively. If he studies up on the new offense I think he'll be good delivering the ball in their play-action game, the question is really more about their skill talent and TEs.
Effective blocking from the OL?
This looks reasonably positive as well. Three returning starters, a few emerging talents, some experience with the power run game (although Snyder didn't run it as aggressively), and a chance at depth from younger recruits. If this unit doesn't hold up there will be big trouble in 2019 but it's hard to see them falling apart.
A plan for blocking nickel fronts?
If the Wildcats can't block nickel fronts next year then their season is going to be rough. Like the Cyclones, they plan on playing with a lot of double TE sets. Unlike the Cyclones, I don't think they will mix in quite as many spread concepts into that equation, they'll be more power oriented, and their QB isn't as good of a runner.
Another notable point here is that their normally great blocking at TE or FB was not present for the Wildcats last year, so manning that position one year later probably won't be a slam dunk. Especially when the plan will involve throwing to those guys pretty often.
2-3 skill players that can command +1 attention?
This doesn't look so good. Chris Klieman and his staff had to hurry in a bunch of transfers to even HAVE a RB room, much less guys at the position they could feature in the power run game. It was bizarre that Alex Barnes left early (only to go undrafted) and unfortunate for them that Alex Delton transferred rather than sticking around and considering a move to RB.
Meanwhile at WR Isaiah Zuber is transferring out and Hunter Rison was suspended and may be gone. Dalton Schoen is actually pretty good but there's precious little here around him and I'm not sure how he'll do as a no. 1 option.
The TCU Horned Frogs
Effective distribution at QB?
The biggest question for TCU this coming year. They have two promising athletes with big arms in Max Duggan and Justin Rogers, two potentially rock-solid game managers in Matthew Baldwin (pending waiver) and Mike Collins, and then also Alex Delton. My money is on one of the game managers taking over and I'm betting on Baldwin if he gets the waiver.
None of them will for sure nail those parts. Duggan and Rogers may each be at least a year away, Collins was okay in 2018 but missed the spring with injury, Baldwin missed the spring competing at Ohio State and may not be eligible. Alex Delton once did this…
Effective blocking from the OL?
I don't think this is a big concern. The Frogs have three guys on the roster that have played tackle at levels ranging from "passable" to "quite good" and the loser of the battle for tackle probably slides inside to guard. The interior has some experience and some rising talent, overall this group appears to be in more of a boom cycle after paying their dues a year ago. If you watch their performance against Cal you get the sense that this unit might even be underrated.
A plan for blocking nickel fronts?
Unclear. If Rogers won the job, and was healthy, he could execute the option attack they used with Shawn Robinson to account for the sixth man in the box. Ditto Max Duggan, or Alex Delton I guess. Collins and Baldwin aren't immobile but they don't offer anywhere near the same threat and you could handle them if you had a DE/OLB quick enough to constrict the cutback lane for the RB but still chase the QB down laterally on a keeper. Sounds like they have a walk-on lined up to be an ancillary here that could help out a lot named Carter Ware from Liberty Hill. That sounds promising enough.
He played a fair amount in 2018, starting against Cal, and a review of his work there suggest he should be able to get the job done here.
2-3 skill players that can command +1 attention?
Jalen Reagor is one, you need to double that guy if they have good QB play on the deep throws. The run game will probably be very strong as well, Sewo Olonilua is solid (troubles with the law notwithstanding) and I'm a believer in Darius Anderson. Then it's just about finding one more receiver that can cause problems if he's left in man coverage. Sounds like that'll be Taye Barber.
Dangerous enough here in space on the screen but Patterson was boasting that their vertical game they've added really unleashes his speed.
The Frogs have a lot going for them heading into 2019, if they had Shawn Robinson back as a healthy and tested passer they'd probably be a favorite dark horse around the league. Instead they aren't, because QB is unsettled, but their infrastructure and skill talent is good enough that if they find a manager then they'll surprise.
No surprise but there should be lots of good offenses in the Big 12 in 2019.