The action is really starting to heat up in the Big 12 now. We got three particularly clarifying games in the second week of in-conference play and then a customary but likely satisfying (for the winner) blowout of the Kansas Jayhawks.
The national scene was pretty interesting too. Mack Brown's UNC nearly upset Clemson before losing when the old man's instinct on how to convert a two-point conversion for the win was to run the classic triple option rather than a more modern variety and the Tigers ran it down.
When you're going for two with the game on the line it's hard to do better than the scheme that West Virginia used against Texas last year and the Longhorns have subsequently added to their own playbook.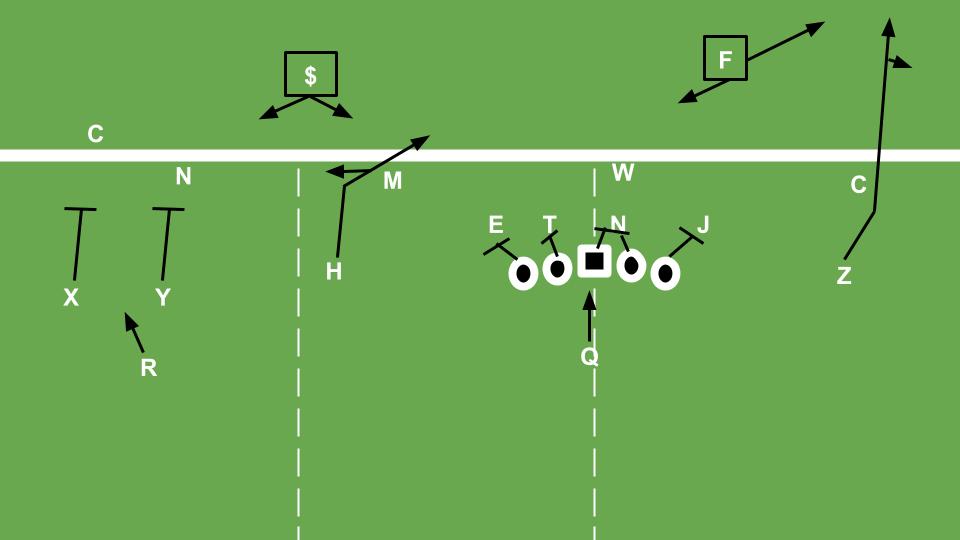 That's a quadruple option scheme. Moving from left to right to illustrate the Texas version of the play they ran against Oklahoma State:
Option 1: Bubble screen to the RB
Option 2: Slant (or whip?) route to the slot
Option 3: QB draw
Option 4: Back shoulder fade (slant if you get outside leverage for some reason) to the X receiver
By using such an unorthodox alignment of the skill players this set creates matchup problems for the defense and clarity for the QB on which of the options is going to find the most space and leverage. It's a great two-point play because the defense has to first have a good plan for matching up and then still be able to go execute the scheme. It's probably an even better weapon at tempo for third-and-1 or fourth-and-2 when the offense can get lined up in it quickly while the defense has to scramble to identify what the heck is going on.
Another interesting national takeaway was the bruising that Auburn put on Mississippi State, which undercut the victory that Kansas State won against the Bulldogs earlier this season. Gus Malzahn finally has that team operating as a proper power-spread squad again with a versatile-enough QB in Bo Nix, an athletic OL, and then a variety of ballcarriers they can mix in from different angles. They're also running the GT counter really well now, thanks Oklahoma! Check out the play where JaTarvious Whitlow collided into Bully the Bulldog:
4×1 unbalanced formation with a stick route to the field opposite GT counter to the boundary. There's a 95% chance that Texas runs something close to this play in an upcoming week after seeing it on film from Auburn. Probably against Oklahoma after lining up in their own 4×1 play that normally pairs a bubble screen with the tight zone run.
Contrar-Ian says the glass is half empty
The evaluation on Spencer Sanders keeps getting clearer and clearer. In his post-game presser Chris Klieman noted that the K-State's staff had decided going into this one that teams hadn't pressured Sanders enough. That was a smart play coming off a week in which Texas had played drop 8 much of the game and kept a double team on Tylan Wallace.
The Wildcats had to know that coming into this game Gundy would have devised ways to help Sanders find Wallace or other receivers, making it the perfect time to throw off his newly rehearsed rhythm with pressure. Even worse for the Cowboys, both of their starting offensive tackles were out for this game.
Like most young QBs, or like many QBs that rely on a combination of running ability and arm strength to create clear reads, if you force Sanders to get to his second read and coordinate that with his footwork from the pocket under pressure he often doesn't handle it well:
Bad footwork, bad read, and then tries to rely on his arm strength to bail him out ultimately overthrowing his man.
He had a fairly pedestrian 6.1 ypa on the day and two more INTs against the Wildcat defense. Of course, as I noted in the preview, Oklahoma State had the most talented athletes on the field so it didn't ultimately matter. Chuba Hubbard had another outstanding day and Tylan Wallace made some plays as K-State refused to play it safety by keeping him bracketed. Cowboys win.
Additionally, Kansas State totally failed to establish their power run game against OSU's defense and couldn't make much of their own defense's success in holding the 'Pokes below 30.
Oklahoma State has an extremely talented QB, RB, and WR. In terms of pure physical gifts, that trio is probably the best in the conference, but Spencer Sanders doesn't yet have enough command of the offense and his craft to play winning, situational football. Assuming that Gundy has more skill players lined up in the event that both Hubbard and Wallace go pro after this season, you have to like the potential for this team in coming seasons. This year I don't think they can be trusted to make the key plays down the stretch to finish in the top two of the conference.
Contrar-Ian says the glass is half full
Texas Tech looked awful against Oklahoma. Like Houston, their new look defense wasn't ready to execute with the sort of precision that is necessary to hold up against Lincoln Riley's machinations.
Thus far on the year, things are going about as well as you'd hope for the Sooner offense (obviously). The hope was that OL coach Bill Bedenbaugh could put together another OL that would continue to blow open holes in the run game and use the threat of play-action to help protection, buy time for Jalen Hurts, and allow a very high level WR corps to execute Riley's deep shot passing game.
This is smashmouth spread football on easy mode. In this clip Tech is in quarters rather than inverted Tampa 2 and they have their boundary corner both in a tough spot AND getting victimized in a coverage bust.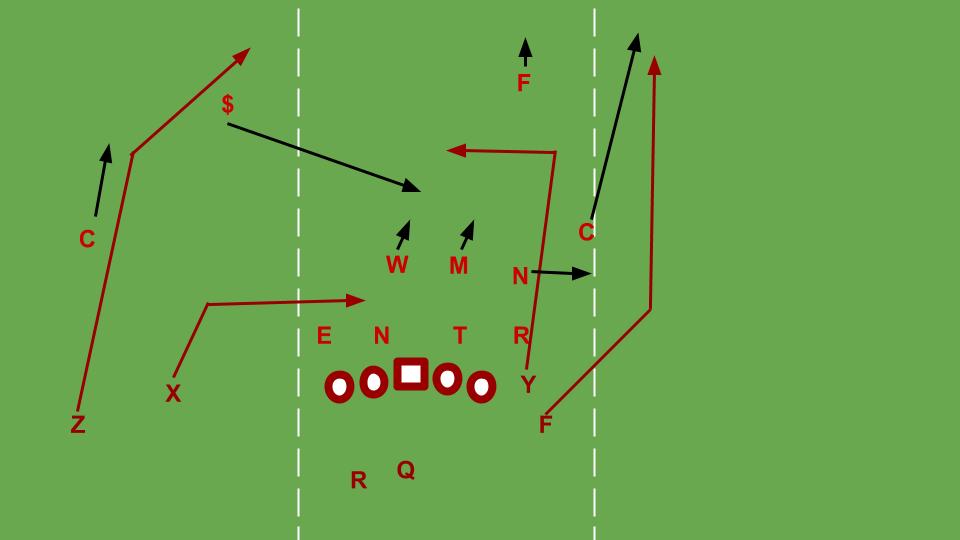 There's an awful lot that goes wrong here for the Raiders. Let's start with Hurts' progression. First he reads to see if the Raiders pick up the wheel route by the fullback, then he goes the strong safety to see if he's helping on the dig route or the post by Rambo that's aiming to get behind him. The Raiders do cover the fullback well, but from there things go haywire. The strong safety is probably worried about the "drag and go" concept, especially since the Sooners have CeeDee Lamb lined up in the slot, so he's chasing the shallow cross even though the free safety is staying deep on the hash (rather than picking up the TE on the dig) and the linebackers are throwing off the shallow.
The corner doesn't seem to have expected that and he's trying to trade the post to a deep safety who isn't there. Neither the dig nor the post are really covered (neither safety really covered anything) and Hurts has four seconds in a clean pocket to get the throw off.
Not long after, Hurts hit another bomb to Rambo.
This is the fear when you rush three and spy. The combination of OU's protection, Hurts' arm strength, Hurts' running ability, and the speed of the OU WRs are all coming to bear on this play. On the chalkboard the Raiders had the Sooners exactly where they wanted them, on the field the Xs didn't get the job done.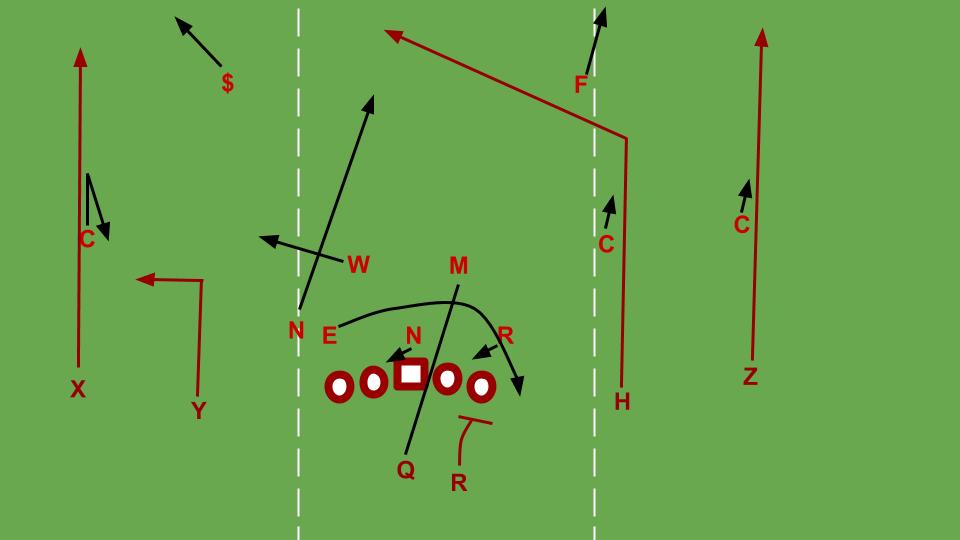 Here's the goal for the Red Raiders. They're long-sticking the DE all the way from Hurts' left to his right. Why? Because you want Hurts to have to roll left, he's terrible throwing the ball moving to his left so any successful attempt forcing him to move that way will result in a scramble or a lob off his back foot. The middle linebacker is spying Hurts so that when he does roll left to scramble he can tackle him and prevent a good gain there, he probably should have been more aggressive though as Hurts had forever.
The nickel starts on the edge and then drops into the deep middle in the inverted Tampa 2 role. His drop is…inadequate, and Rambo runs by him and splits the deep safeties. The coverage should have taken away every option and forced a scramble against the spy but it didn't. Additionally, with better positioning or just more speed the strong safety should have picked off that post route which was completed at the numbers.
We're going to see the Tech gameplan for Hurts and the Sooners again, Oklahoma didn't really demonstrate that the strategy was wrong, they just showed that you better execute at a really high level because their athletes are elite. So the glass is only half full for the Sooner offense, not all the way full. They've still yet to really be tested. There's no doubt it's another fantastic offense, but the question with Hurts has always been whether his limitations in the passing game set a ceiling for an offense and the Red Raiders failed to take away the easy candy.
Who won week 5 in the Big 12?
Alex Grinch had another strong outing coordinating the players that Mike Stoops left for him. To recap, Mike Stoops had been developing the Sooner roster to basically divorce coverage from run support. Stoops inherited a pair of actual safeties in Javon Harris and Tony Jefferson and he played dime around them so they'd be freed up to play zone or drop down and stop the run rather than having to chase slot receivers in man coverage. That job went to the nickel and dime defenders that Mike got on the field (Gabe Lynn and Julian Wilson). It went okay, but the Sooners didn't play good run defense.
From then on out Stoops recruited and developed the secondary to have more of a "four corners" philosophy where one or both safeties were essentially full time man coverage guys like Quentin Hayes, Steven Parker, or Brendan Radley-Hiles. That allowed him to play 6-7 true DL/LBs to concentrate on stopping the run while the secondary focused on coverage.
Grinch wants to get back to running zone and fielding safeties who can diagnose plays, close, and tackle in support. There isn't anyone currently on the roster that can do that at a high level. However, there are some big athletes up front that he's been trying to set up to make plays with his movement and alignments and then the Sooners have worked to help their secondary out where they can.
The plan at the start, going up against Jackson Tyner, was to use Boo Radley in tight coverage on the slot playing press-quarters. Tyner wasn't beating coverage and the Raiders weren't blocking OU's pressures, so in came Jett Duffey to execute more of a spread-option approach. That had some results, but now Grinch rolled back out the cover 3 heavy approach with overhangs that slowed down Houston.
Grinch has done a great job in particular of setting up Kenneth Murray to use his athleticism to attack opponents with the blitz or with simple assignments on the edge where Mike Stoops had him two-gapping and trying to keep gaps closed.
All that said, Baylor definitely won week 5. They stole Iowa State's defense and then beat them with it in a crucial home victory. Baylor's defense was a major offseason topic, for all the talk about them as a dark horse contender in the league there were two big things they had to sort out.
First, they needed to integrate some young talent on the offensive line. Everyone kind of breezed by the challenge here and things haven't been as firm as many expected. LT Connor Galvin is still just a sophomore and RT Blake Bedier has been playing football for like four years or something crazy like that. They may be an outstanding tandem next year though.
The other big issue to sort out was that the defense was terrible in 2018 and needed to be good, not just "okay" for Baylor to really have a chance at making some noise. Things look surprisingly good here.
Matt Rhule's defense was able to keep the Cyclones in check largely because of the play of two players in particular, middle linebacker Clay Johnston and defensive end James Lynch. Johnston led the team with 13 tackles and held down the middle while the Bears played with double 5-techniques, no small matter. Lynch had very little statistical impact but dominated the game, combining explosiveness, pass-rush moves, and power to bully Iowa State's left tackle Julian Good-Jones.
Baylor was often able to get some pressure with three pass-rushers, due largely to Lynch, which changed the game. Iowa State's defense played a great game as well, of course. But the playing field was evened out to an unexpected degree by the Bear defense, mostly because of Lynch.
Don't get me wrong, Rhule has the back 8 playing much more sound football and they've actually had the physical side down for a while, it's apparent what matters in that culture. But the difference between a sound inverted Tampa 2 defense that can take away a spread O's easy explosive gains and one that can dominate a game is having NFL-caliber players up front and Lynch is that. Lynch is basically the difference between the Oklahoma State defense and the Baylor defense.
In his duel with Pump fake Purdy, Charlie Brewer played a solid game, but the biggest difference between these two teams were the Baylor skill players in the WR corps. Denzel Mims and Tyquan Thornton in particular.
Mims shows an inside move against a "cone" inside-outside bracket and uses the corner's hesitation to win past him outside for the score.
On this clip the Bears caught Iowa State in a weird call in which they were playing cover 3 while rushing only three. That gave Brewer time to stare down and complete the double move to Thornton.
Two plays, 14 points, both resulting from having explosive skill on the perimeter. Iowa State has some solid receivers but they don't have anyone that is consistently threatening down the field like these two. Send either Mims or Thornton to the Cyclones and the outcome is different.
Huge win for the Bears, who will now be tested on a weekly basis by a schedule that was argued to be favorable in the offseason but has a flip side. The Bears have to travel to Kansas State next weekend, then play Tech at home, then travel to Stillwater. They finish with a four game slate with no by week that goes @TCU, Oklahoma, Texas, @Kansas. The favorable side of things is that they get Texas and Oklahoma both at home, which is nice of course. The problem is that they get them late in the year when roster depth matters and they get them after a road trip against TCU who's going to be a better football team in November than they are now.
********
I explained why offensive innovations pushed by Art Briles at Baylor led to the development of Iowa State's inverted Tampa 2 defense and explained why it was inevitable that it would take over nationally in my book. Check it out and read up on the history of spread tactics in the Big 12.