Now that the Big 12 season is underway, there's been a few interesting stories and subplots cropping up across the league. I figured it'd be fun to hit on a few of the particularly relevant ones that have been cropping up.
Trejan Bridges to safety?
This one looks like a nothing burger, but in a sense that actually still makes it an important story.
I had a good teacher in AP US history, junior year of HS, named Ms. McShane. Early in the year, one of the first classes, we talked about Leif Erickson and his discovery of the American continent.
McShane: "What was the significance of Erickson finding (modern day) Canada but then not establishing any lasting settlement?"
Us the class: "Umm, none, right? Nothing happened."
Editors note: The horrible movie "Pathfinder" starring Karl Urban as a Viking who's left behind with a Native American tribe and assimilates into their culture ala "Dances with wolves" had not yet been made, so we couldn't list that among the ramifications. That movie had a fun premise, but if you saw it, you know that it was abysmal.
McShane: "No, you see, the fact that he DIDN'T establish a Norse colony that lasted was as meaningful to history as if he DID. Imagine how history would have been different if Norse settlers were established in the New World back in the 10th century?
Us the class:
I was drawn to the Bridges story for a few reasons. Obviously the potential of a blue chip athlete moving to safety on a team that doesn't currently enjoy good safety play was an interesting story, although there was very little chance of Bridges having a big impact in 2019 at complicated position after moving their midseason.
Then there's also been this weird inconsistency in how Lincoln Riley and Alex Grinch have discussed the move. Moving star athletes like Bridges to defense and teaching them to be hard-nosed defenders is EXACTLY the kind of move that a program pulls off when they really value defense and are building a strong culture. Is Riley really interested in doing that? Could Grinch pull it off? Is there a consistent vision between the two of them on how Bridges should best be put to use to serve the team?
The more I hear though the more it sounds like Bridges is a typical blue chip freshman who wants to see the field ASAP and the staff were showing him, "oh you want to play now? We need help on defense, go check it out." As a means of demonstrating to him the reality of the situation, which is "hey you're talented and we believe in you, but this isn't going to happen overnight. College football ain't easy."
This is still something interesting to track, we'll see how it goes. It may go down like Erickson's voyage to "Vinland" though. A "what if" that only holds importance in examining possible alternate timelines.
The TCU QB situation
Here's Max Duggan throwing a TD pass against Kansas:
This is the snag concept. You get a vertical stretch on the defense as a result of running a corner route, the "snag" route which is like a quick in by the outside receiver, and then a flat route which the RB runs this time.
Duggan never looks at the safety after the snap and tries to force this in against a pretty far off corner that nearly picks it off. That deep safety is a middle of the field safety, also, but he's bailing to that all the way because Duggan never looks him off.
All that to say, while he's the best QB TCU has had so far he's not really in full command of their passing game yet.
TCU is heading into a buzzsaw this Saturday, facing an Iowa State team that has their backs to the wall and REALLY need to pull out a win here to avoid being 0-2 in Big 12 play and seeing their chances at appearing in the conference title game virtually disappear. I kinda think that Patterson will start things off with Delton in hopes of surviving the initial wave from the Iowa State gameplan, which tends to include more blitzing these days, before sending in Duggan with play calls derived from a fuller understanding of the Cyclone strategy. In either event though, TCU doesn't appear to be in great shape at QB.
This is a crazy subplot too, because every other facet to this TCU team appears to be as good or better than the rest of the league save for Oklahoma or Texas. If you put Skylar Thompson on TCU the Horned Frogs are legitimate B12 title contenders.
Matt Campbell folds the ace
I wrote a long piece before the season explaining the challenge of utilizing pass-rushers in the inverted Tampa 2 defense. Both Iowa State and Texas had emerging young OLBs on their rosters that they wanted to get on the field but either fit best as a DE/OLB hybrid, a position that doesn't exist within the inverted Tampa 2 defense.
Texas had Joe Ossai, a lanky but explosive OLB that they were cross training at their 3-4 OLB spot and also their pass-rushing inclined weak inside linebacker position they call the "rover." Ossai has ended up playing mostly as a rover this season in order to make room for Texas to play a 3-2-6 dime package as the base defense. It's gone reasonably well, he's 4th on the team in tackles with 21 but also has four TFL, two sacks, and two INT.
Iowa State had Will McDonald, whom they hoped to convert into a sam linebacker. The sam linebacker spot is a tough one for a traditional OLB, essentially the modern sam linebacker has to do all of the things that are difficult for OLBs and are the reason they've been replaced by nickel and dime safeties. Iowa State's inverted Tampa 2 structure makes it much easier for them to maintain the sam as an underneath defender who doesn't have to carry receivers on vertical routes, but he still has to play on the far hash and track receivers in space. It's a tough gig for a bigger guy.
Well, the experiment with McDonald is over. He ended up being relegated to second and even third team sam linebacker while Iowa State unexpectedly moved star mike linebacker Mike Rose to that sam position. On this week's depth chart McDonald is now at DE and he'll undoubtedly spend the next year or so swallowing calories and lifting heavy things so that he can be the next Jaquan Bailey in 2020 or 2021.
So Mike Rose is the one who has to play out in the flats a lot, and he's been pretty effective. I actually projected him out of high school to grow into a DE and in retrospect really missed on how much agility this fellow has. Here he is against Baylor matching coverage underneath:
He's on the top of the screen. The Cyclones inverted the the cover 2 system on the boundary with the corner dropping deep and the safety dropping down to the flat. I don't know why they did that, it cost them though when the desperately backpedaling corner was unable to cover Mims on a double move.
If you watch around the league, you'll see teams get beat deep a LOT when they ask someone that starts the play in underneath coverage to drop at the snap into a deep zone. Just because you turn someone into a deep 1/2 defender doesn't mean that they'll be able to play like one if you ask them to wait to make the drop until the snap.
Anyways, Rose does a good job opposite the play tracking a slot and taking away windows. He's adequate in coverage, which means that he can offer upside with his size and physicality, particularly in the perimeter screen game.
Really brutal concept by Baylor here, pairing a swing pass to the RB with a GT counter scheme for Charlie Brewer, although I don't really understand why the GT counter pullers are headed to the same side of the field as the swing screen and that clearly proved a little counterproductive.
Who made that play for Iowa State though? Mike Rose did, by commanding a double team from two WRs on the perimeter and spilling the ballcarrier to outside pursuit by both the deep 1/2 safety and the middle safety.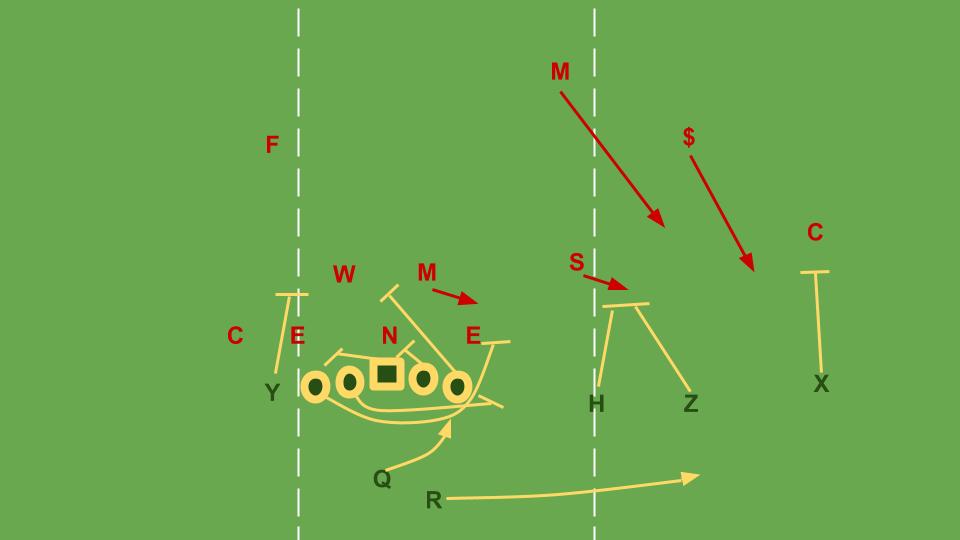 It's not a minor thing to be able to squash perimeter screens without committing numbers or aggressive play because your space-backer is a force that the WRs can't block.
I'm pretty sure Iowa State didn't move Mike Rose out to sam linebacker because they thought they could unleash him there though. I think they did it because he was capable enough at it to allow the defense to work while they promoted another pass-rusher to starting mike linebacker. That's O'Rien Vance, seen here:
You should note that Mike Rose does a great job in coverage again here as one of the three underneath defenders on the blitz, forcing Brewer to hold the ball and giving Vance a chance to turn his demolition of the RB's block into a sack as well.
Vance has 5.5 sacks already this season from middle linebacker. In this dime future that we're all watching unfold before our eyes, your linebackers do it all. They shouldn't specialize in one regard of box play, they should be great pass-rushers in addition to being good at reading run plays and making tackles.
If you're going to protect 230+ pound players to allow them to stay in the box and not have to play in space, they should be good at everything that comes along with playing in the box, much like the Patriots' 2019 Super Bowl tandem of Dont'a Hightower and Kyle Van Noy. Incidentally, both of those guys were star OLB pass-rushers in college and New England converted them into ILBs who also blitz regularly in their nickel and dime packages.
Different teams will try to figure out if they can beat Rose with the quick game, Baylor was able to do so some:
This one is mostly on Vance, who doesn't get out there at all on that quick stick route.
Iowa State is finding ways though to use their 3-deep safety defense to enable their linebackers to star as actual linebackers. That's spread strategic reasoning applied on defense, "how do I use space to move the focal point of the game to an area where I'm strong?" Iowa State has strong LB play, so they use the three-deep looks to force teams to beat them underneath where the LBs are.
********
I have lots more thoughts and notes on spread strategy and evolution in my book, Flyover Football!