I've written about the Wisconsin Badgers quite a few times over the last few years. I may mention them again soon to relate the full story of this exchange I had with Gary Patterson:
The Badgers also came up in this recent piece where I described which teams derive the greatest strength from monopolizing in-state recruiting. Or you can check out this piece where I break down the 2019 B1G West, while researching that one I came across the fact that since the division was founded the Badgers have finished at the top of it in S&P+ every single season.
There's a lot of talent in Wisconsin but it's not very carefully evaluated and one can only guess at why. Distance is surely one reason, although you can access most of the state from Chicago with a drive of four hours or so and surely there's some evaluators in that metroplex. Another is probably the fact that Wisconsin tends to lock down the in-state talent and their program isn't necessarily a big market outside of the state. There's also the state's demographics, which are very white and also often rural, which makes for tough evaluation.
I mention all of this because one of the main characters in the upcoming Big 12 season has a very interesting subplot brewing at sam linebacker. The Iowa State Cyclones need to replace starting sam linebacker Willie Harvey, Jr and they currently have a pair of Wisconsin players lined up in his slot on the depth chart, Will McDonald and Chandler Pulvermacher.
The latter player is exactly the sort of guy you tend to associate with Wisconsin football, he's a developmental kid with a German surname that played at a suburban school outside of Milwaukee. He was committed to North Dakota State (of course), apparently preferring to play football on scholarship rather than seeking out a preferred walk-on spot at Wisconsin, and then Iowa State offered and swiped him. He was a 190 pound safety in HS and is already 220 pounds in college as a RS freshman.
Will McDonald is something else entirely…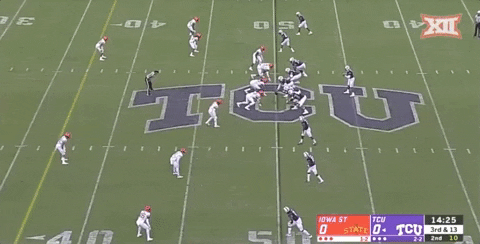 McDonald was 6-4, 210 or so coming out of HS and now already about 6-4, 230. He has obvious explosiveness that you'd figure would see him utilized on the edge as a DE/OLB, except that Iowa State doesn't even use that position and the position they do have him slotted for is a nickel LB spot that spends a lot of time on the opposite hash covering slot receivers in space.
So I brought up McDonald with Matt Campbell at Big 12 media days hoping to learn more about him and their plans for his deployment this coming season.
Ian Boyd:
Your staff is getting to be known as the trend setters for your 3-down defensive structure. Is that something that you guys kinda came upon, or were you watching San Diego State, was this some kind of inspiration, how did that evolve?
Matt Campbell:
No, I don't think anyone was doing it at least how we're doing it, but it was just a matter of we weren't playing very good defense and we had to figure out a way to put our guys in position to be successful. And really the credit goes to Coach Heacock and a lot of credit goes to our defensive staff, you know we were a 4-down quarters team for a year and a half until we made the change and, you know, I think it's just trying to find ways to put our kids in position to be successful.
Narrator pause: Maybe many of y'all already knew this and I suppose it's kinda obvious but it's pronounced "Hay-cock," and not "He-cock" like I've been saying it in my head the last few years.
Ian Boyd:
Do you feel at all that offenses are starting to catch up to it and you gotta stay ahead or is this still something that...
Matt Campbell:
No I think that in our sport, especially on the defensive side of the football, you gotta always stay ahead. You gotta have the ability to be multiple, you gotta have the ability to constantly reinvent yourself, and so I think that's certainly an area for us where yes we'll have a base but we gotta have the ability to be constantly evolving.
Ian Boyd:
One area that seems like an obvious place where you guys might be different is that Willie Harvey…graduating. And right now on the depth chart you have back there (gesturing to info booth) it's Will McDonald as 1st string Sam. Um, what little we've seen of McDonald so far just from HUDL and his limited snaps last year is a pretty different skill set than Harvey. He's blitzing, he's on the edge a lot more, does his elevation in your program change what you guys do or are you guys just expanding his skill set?
Matt Campbell:
Yeah I think really just expanding his skill set. You know, a really incredible athlete that's got a lot of similar traits that Willie had, you know, the ability to play in space, the ability to use his hands, the ability to blitz at times. You know, I think a very similar player just a different body structure but similar skill set. So that's really why we made the move.
Ian Boyd:
Sounds like he's going to have a fascinating season.
Matt Campbell:
Well, he's a fascinating player. I think consistency will be the key for him to have a fascinating season but he's certainly another really good piece that allows us to be unique in what we do and how we do it.
Is Will McDonald the long awaited unicorn?
This is potentially one of the most fascinating developments of the 2019 season and might even have Big 12 championship implications. Here's the list of guys with NFL size or traditional skill sets at LB that have played or tried to play as space-backers in the Big 12:
Eric Striker, OU: Striker was moved to nickel/sam for the 2014 season at 6-0, 220. He was definitely productive there but the 2014 Sooners really struggled against spread teams that could move him out of the box and would become pretty predictable with teams either forcing him away from the action or getting the Sooners into predictable single-high coverages with the SS spinning down to play man on a slot.
Caleb Kelly, OU: The 6-3, 230 pound Kelly is still at OU but may miss much or all of the upcoming season after an injury in the spring. After replacing Striker in the same role, Kelly limited the Sooner defense in the same fashion without matching his production as a disruptor on the blitz.
Malik Jefferson, UT: The plan for the 6-2, 230 pound Jefferson initially was that his 4.5 speed could be effective at Texas in the same role he played at Mesquite Poteet HS, as a nickel/sam LB in space. Charlie Strong didn't use that position though and didn't have good ILBs so he immediately moved Malik inside to middle LB where he could stay in blitzing position. Of all the things Charlie did, this was one of his better decisions and it helped the following staff tremendously. After two bad years here, Tom Herman and Todd Orlando took over and employed the defensive structure that Jefferson had played at Poteet…but kept him at ILB. First as the "rover" or weak ILB and then to "mac" or middle ILB, Malik had a great year and left for the NFL.
Garrett Wallow, TCU: The Frogs moved the 6-2, 210 pound Wallow to strong safety last year out of necessity when they had a rash of injuries deplete the position. As an ILB he offered them plus athleticism and range but at SS he was a bit more limited and at his best attacking off the edge, which left TCU a little predictable and less versatile on the back end much like Kelly and Striker did to Oklahoma.
Blake Lynch, Baylor: The 6-3, 220 pounder for Baylor is definitely unique. He played a touch of corner last year before setting in at sam LB (same position) and was a fantastic all-around athlete in HS that played some WR and wildcat QB for the state champion Gilmore Buckeyes (also had Kris Boyd and McLane Carter) that Matt Rhule has transformed into a defender. Lynch tends to hang around closer to the box though and the safeties behind him can replace him in single high or help him over the top in quarters.
That's pretty much it. People often talk as though the Big 12 has simply lacked the athletes to make something like this work but Kelly and Jefferson were no slouches, it's just really hard to play in that space-backer spot without getting moved away from the box with spread formations (particularly trips) and then targeted on vertical throws, rubs, and option routes while they run roughshod over the box defenders you're no longer positioned to help.
But Will McDonald and Iowa State might be different. Willie Harvey was comfortable in space for the Cyclones when he was bumped outside and he also had his chances to do some damage off the edge, finishing 2nd on the team in tackles last year with 76 while adding nine tackles for loss, 3.5 sacks, three pass break-ups, and two forced fumbles. At 6-0, 220 pounds he was a little closer to Eric Striker (or Shaun Lewis for Ok St) than these other guys.
The big key for Iowa State is their three-safety defense and inverted Tampa-2 scheme. Here's the key detail, against most teams if you play a trips formation, that sam linebacker is effectively transformed into a CB by even the most conservative of pass defenses…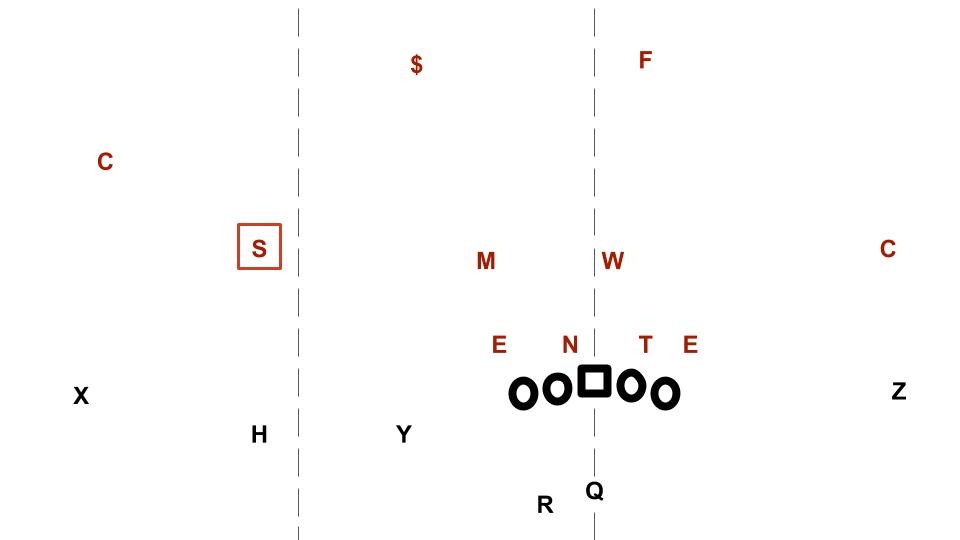 …unless you spin a safety down so that he can slide into the box: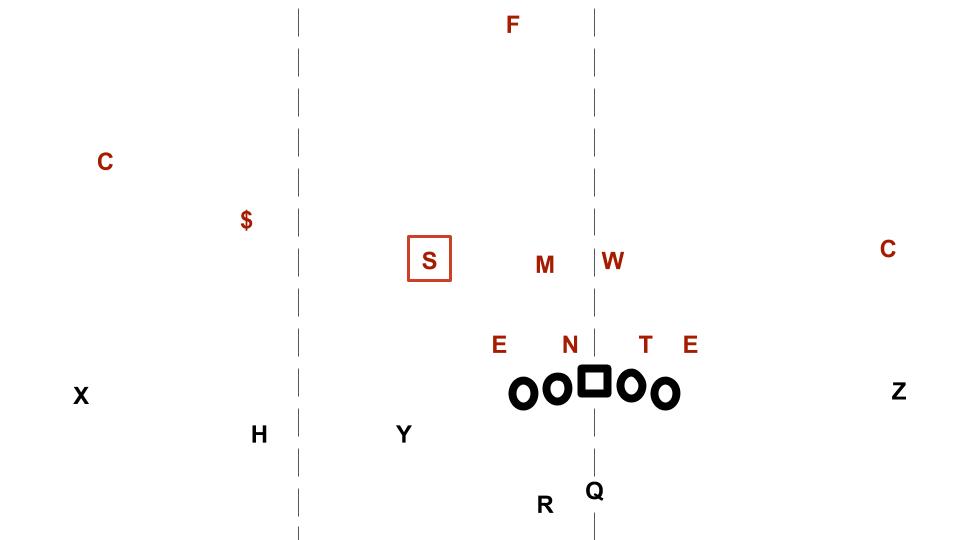 I talked about this a lot when diagnosing OU's problems with Caleb Kelly. You can play a lot of single high coverage or try to spin the safeties but if you're limiting your coverage options in order to keep a guy in the box then he'd darn well better be worth it. Over 2014 and 2015 in this role Eric Striker had 135 tackles, 34.5 TFL, 16 sacks, one INT, and eight pass break-ups. Caleb Kelly's entire career at OU hasn't produced as many TFL or sacks as either of those two Striker seasons.
What's more, if OU didn't have a SS with the coverage ability of a CB, then they were in real trouble with these solutions.
The real trick here is whether or not this guy can carry verticals. In most every four-down defense if your sam can't carry a vertical then you're going to get put into uncomfortable situations by spread offenses. Ever since Art Briles it's become common practice to find ways to force defenses to put guys in position where they have to carry a vertical without help and then to throw fades or adjustable routes on that defender.
But Iowa State plays their drop eight, inverted Tampa-2 scheme, and starts most plays with three safeties in deep coverage before the snap. That means that the CBs often don't even have to carry verticals, much less the LB/nickel positions inside of them. As I broke down in this piece, it's very possible to protect McDonald from having to flip his hips and turn with slot receivers.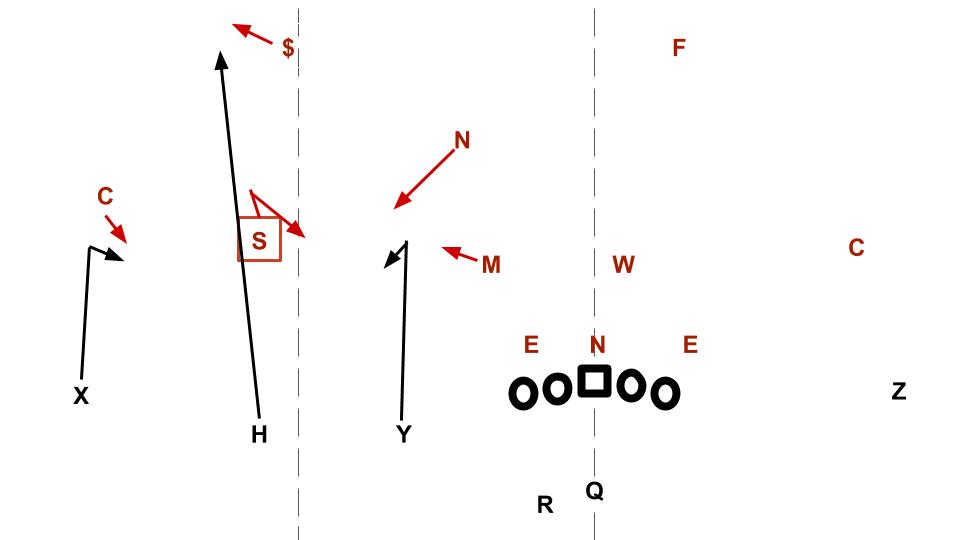 He CANNOT be protected though from assignments that will require that he can move laterally and match routes underneath.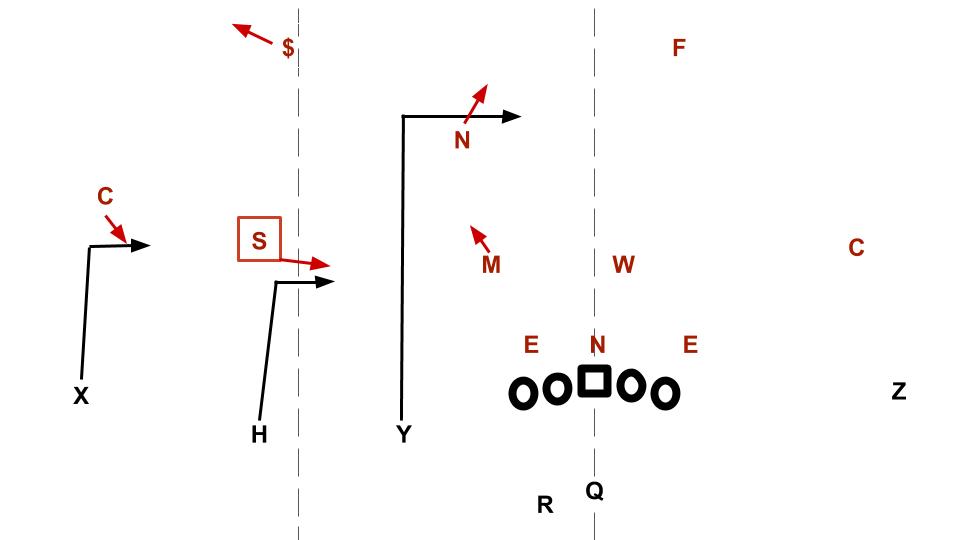 A slot that can get set up a quick slant or stick route underneath with good footwork and real burst out of his cuts is trouble for everyone and even with eight defenders dropping back it's awfully hard to get help outside for a guy like McDonald if he can't handle someone like Dillon Stoner running juke routes underneath.
Of course the Cyclones generally count on tightening up in the red zone and having someone as big as McDonald out there could offer a nice return on their ability to blow up perimeter screens (where Stoner would have to block him). It's possible that they can hold up even if McDonald doesn't excel here, but if he's excellent against the quick game when he's isolated out wide and then can bring physicality and explosiveness to their perimeter defense and blitz package? If he can use his size to match up on flex TEs like Grant Calcaterra or muscle up slot defenders trying to get a clean release to the deep field? Then bring pressure like the one above when they blitz him or drop him into the box on third down? The Cyclone defense could be cooking with gas this season and their IT2 defense may gain new adherents if it can make it easy to turn big, explosive linebackers back into assets.
Of course Campbell found this guy in Wisconsin…