Texas and Iowa State each share a real problem heading into the 2019 season.
Texas' DC Todd Orlando piggy backed off Iowa State DC Jon Heacock's inverted Tampa 2 defense back in 2017 and both had tremendous success with it. The Cyclones made it their new base for 2018 and added more to the scheme while installing transfer DB Greg Eisworth as the new middle/nickel/joker/Aztec safety that serves as the Tampa 2 MLB in this new system.
Texas moved away from their own dime package in 2018 due to a young secondary and a desire to make the most of a pair of senior CBs and a solid DE/OLB that would have been replaced when the joker safety took the field. Consequently they lost the ability to play the pass first in their base defense and took some hard knocks to the Air Raid offenses on the schedule.
For 2019 the Longhorns will return senior safety Brandon Jones at the head of the historically acclaimed 2018 DB class. That group included 5-star safeties Caden Sterns (freshman AA in 2018) and BJ Foster (joker safety in 2018) along with 4-star safety DeMarvion Overshown (prospective joker safety in 2019) and 4-star cornerbacks Anthony Cook and Jalen Green. All figure to start or play heavily in 2019 as second year players. Between those six defenders, there's an impetus to get back to the dime D for 2019.
But both programs have found some incentives to risk abandoning, sabotaging, or else successfully tweaking their formula for success.
Jack backers
The cost of building a legitimate three-safety defense was in sacrificing a piece up front. Both teams essentially traded out having four full time DL/pass rush players and would often lean on four and five man blitzes when they wanted to get pressure. The trade was worth it. As Belichik shows regularly in the NFL you're better off making sure you cover first and then manufacture pressure as needed.
The problem is that both teams acquired players in their 2018 classes that could be impact pieces in 2019 as second year players…and both play the position that was made redundant.J
Everyone is very concerned on behalf of Iowa State what they'll do without Hakeem Butler or David Montgomery around to carry the team with their prodigious talents. Of course neither of those guys were hot commodities when they were recruited out of high school.
Meanwhile the Cyclones have been reloading with guys like pump fake Purdy, a 3-star that other top programs tried to poach very late, and other largely overlooked players that have proven to be studs like LB Mike Rose. Next up is a fellow named Will McDonald.
McDonald has a rather interesting story that's worth your time, he was a latecomer to football that flashed some serious potential in high school while being a fairly raw athlete. He was a 3-star recruit out of Wisconsin that had a competing offer from New Mexico and that's it.
I thought it was obvious enough from film that he had real talent on the edge, but then he also saw some action in 2018 before an injury limited his season to four games. At 6-4/220 they used him primarily as a passing down weapon. Here's a glimpse of what he offers as an attacking piece near the action: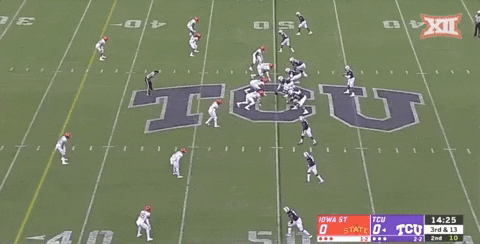 The dude is lightning quick off the ball with lateral agility as well. He's lined up as the DE on the bottom and he stunts into the opposite A-gap and in about three seconds his long arms are wrapped around the QB.
There's already talk from Matt Campbell about tweaking their scheme to get him on the field.
Texas has a similar dilemma with Joseph Ossai, a former four-star edge player who's about 6-4/245 now. Ossai played a fair amount in 2018, filling in for the starting OLB in a game or two when that guy (Jeffrey McCulloch) was moved to inside backer, and then against Georgia when the Bulldogs would use double TE sets. Ossai was the leading tackler for Texas in the Sugar Bowl and also made this play against the Cyclones: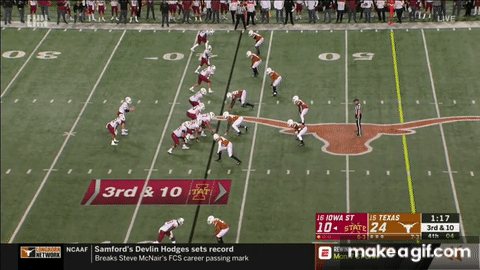 This is potentially the best pass-rusher that Texas has had in the Tom Herman era and certainly the best that plays a DE/OLB position (Charles Omenihu played as a DE/DT). The difficulty is the same as it is for the Cyclones, their breakthrough dime defense doesn't feature a pass-rushing OLB. They traded that in for another true safety on the back end.
The Patriot way
The two starting inside backers for the 2018 Super Bowl champion New England Patriots were Kyle Van Noy and Dont'a Hightower. I'll forgive you if you don't remember Van Noy's college career, he was a 3-4 OLB for BYU, Texas fans can probably recall him more easily than other B12 folks.
At 6-3/245 he had enough size to translate his speed on the edge to go over 15 TFL in three consecutive seasons while totaling 23 sacks in the same period. As for Hightower, he was a 6-3/260 pounder at Alabama who would play middle linebacker on run downs and then serve as an OLB on passing downs.
The Patriots would play them both inside and then use either nickel or dime personnel to protect them from coverage assignments beyond their athletic means. Either could play on the edge, but Belichik wasn't interested in making it obvious who was coming hard after the QB or where they were coming from. When they wanted pressure they could send one or both, when they wanted to clamp down somewhere they'd drop eight.
In an era where dime defense becomes a necessity in order to stop spread offenses, you need your pass-rushing/linebacker hybrids to be able to play in multiple spots and not just OLB/DE because one of those positions is typically erased.
Texas is already partway there, regularly using their "rover" (the weak side linebacker) as a pass-rushing position who blitzes as often as the OLB. The Cyclones are using to using a traditional weakside end/OLB hybrid that's part of a four-down front and they could use McDonald in that fashion, but then it'd be harder to use the inverted Tampa 2 defense. Playing with three safeties deep means that underneath you're either badly undermanned or you only have three on the line.
The obvious usage for McDonald is replacing graduating Sam linebacker Willie Harvey, but the fit is iffy. Harvey served as a nickel linebacker in the scheme, sometimes splitting wide with receivers…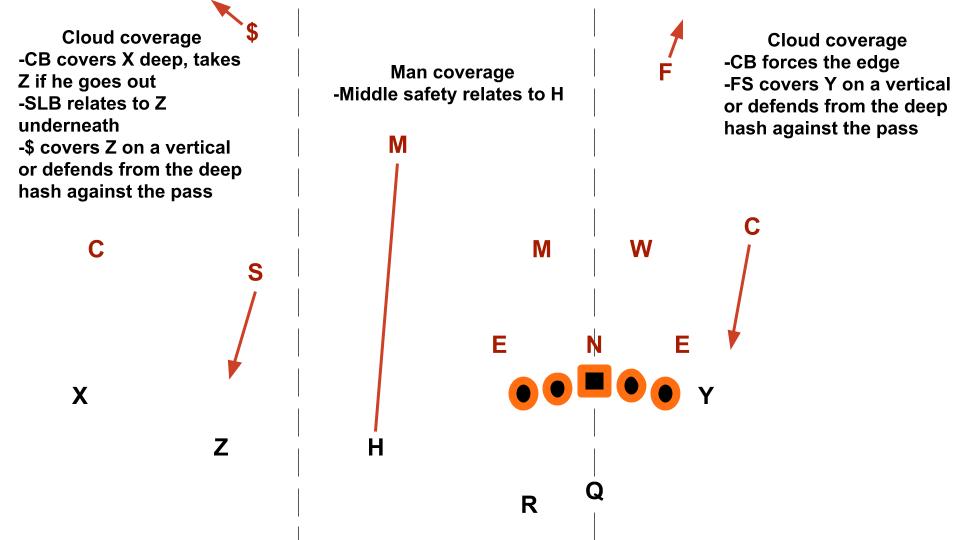 and other times getting protection to play nearer the box.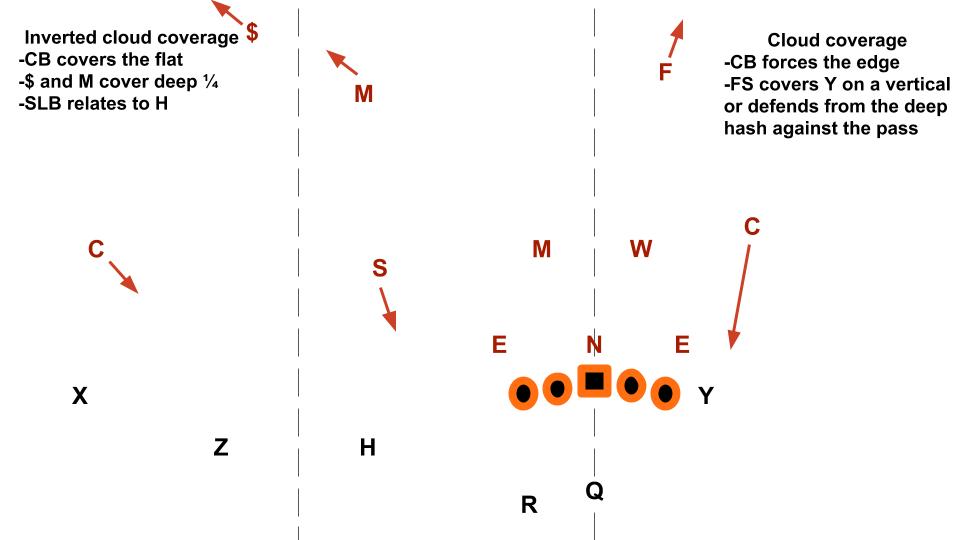 While he did rush and force the edge pretty regularly, with 76 tackles, nine TFL, and 3.5 sacks, he also had to play in space quite a bit and teams could move him out of the box if they wanted. At about 5-11/220 he was essentially a big safety that easily split the difference between being an OLB and a DB, especially with the help over the top that the inverted Tampa 2 consistently provided.
McDonald isn't a clean fit here, in high school he focused on pass-rushing and that's where Heacock initially involved him as well. It's obvious enough that he needs to become a hybrid to make the 3-down structure of their defense work, or else gain lots of weight and play as a DE. The question is what his non-pass rushing role will be that he's asked to master.
Here's how it looks if they play him at Sam like Harvey: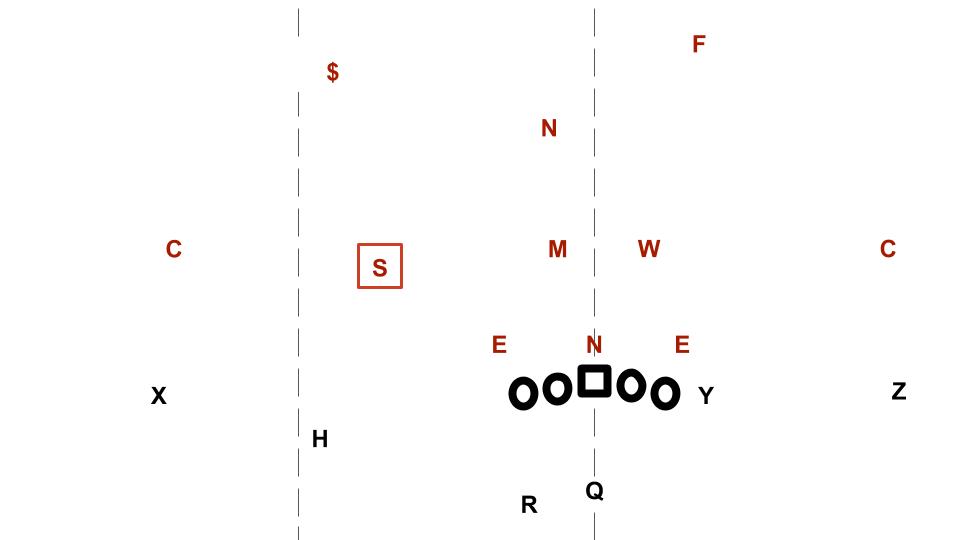 Their three-safety system actually allows them to keep him near the edge as an OLB against trips if they want, they did this at times for Harvey…
…but at other times they bumped him wide.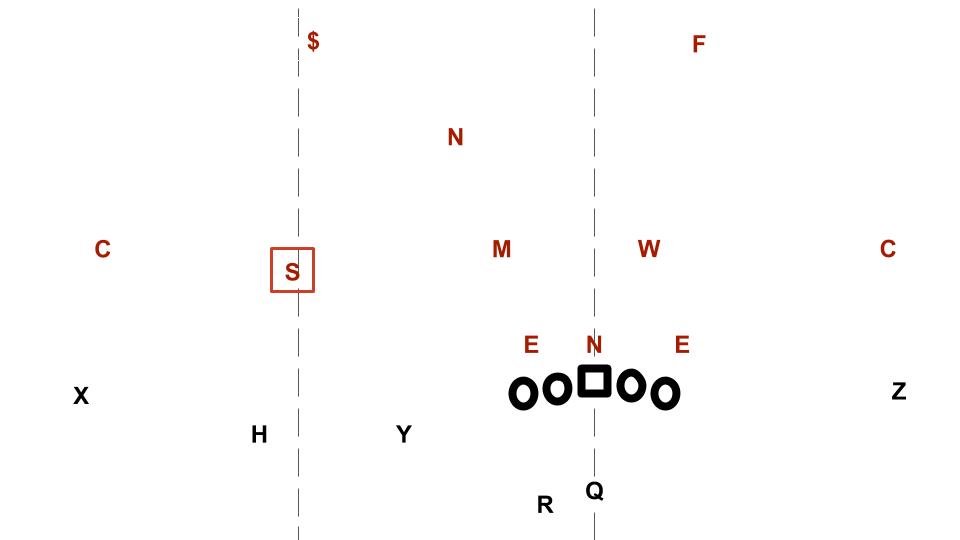 The trick is that when he's inside near the edge, they're not in the inverted Tampa 2 anymore and Eisworth becomes either the outside nickel or a normal quarters safety rather than the free hitting, inverted Tampa 2 MLB. When he's not on the edge…he's not on the edge and your explosive 6-4 pass-rusher is serving as a DB.
There's another fix though, they can roll the safeties over (perhaps with Eisworth starting at FS) and recreate the inverted Tampa 2 structure when they want it by asking their weakside backer to become a sort of DB/LB hybrid and their boundary corner into a CB/S hybrid that can play as a deep 1/2 safety.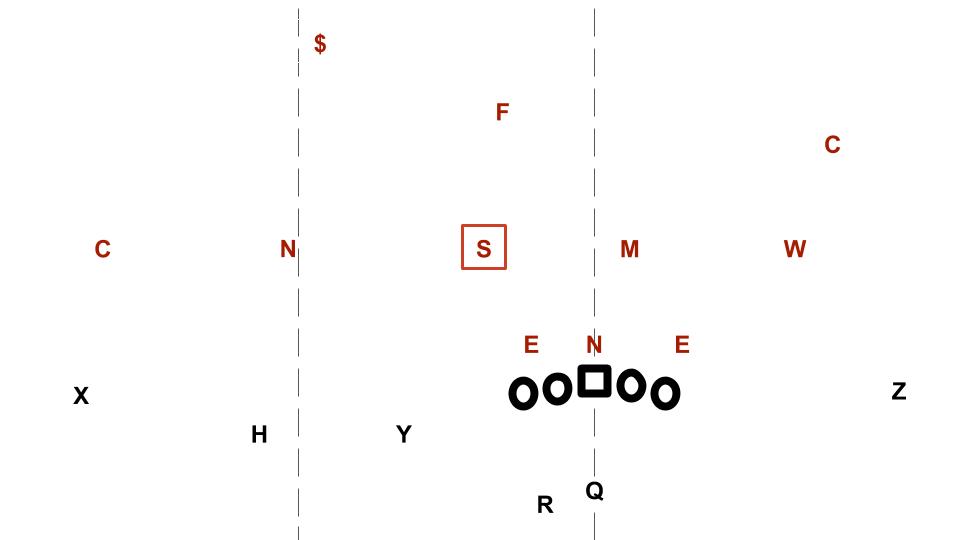 They lose some disguise and versatility with all of this though unless McDonald can occasionally split out wide and apply his absurd athleticism/size combination. There's not much question of whether he could physically, but it's a lot to learn on top of everything else. It also asks quite a bit of everyone else, so he'd better be worth it as an attacking piece around the box. You're trading the offense always knowing that he'll end up around the box and his likely blitz paths for the consolation that at least he's always around the box.
We've seen other teams aim to arrive at this same outcome. Oklahoma was somewhat successful doing this for Erik Striker and wildly unsuccessful doing it for Caleb Kelly excepting the B12 title game of 2018 when they caught Texas with him at Sam like a right hand lead.
Texas has a simpler solution in their defense that's already an obvious path as a result of their inherent hybridization of the weakside linebacker. Their solution is to move their hybrid guy, Joe Ossai, to that rover ILB spot.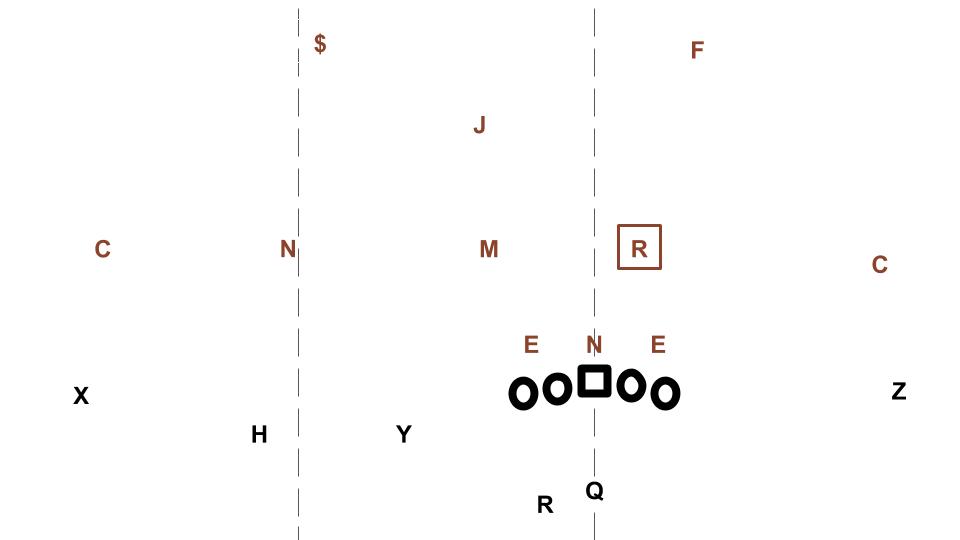 It's a big ask. Playing the flat in a variety of coverages and matching receivers in space is tough, but it's another thing entirely to play in the box making snap decisions while 300 pounders with mean intentions are aiming to put you in the ground. The stakes for the defense aren't even always as high but for that guy individually? The stakes are high.
But with that pass-rusher doubling as an ILB as the Patriots do, it simplifies the roles for everyone else on the field. If Texas and Ossai can pull it off, it'll allow the Longhorns to flood the field with all of their talented young DBs and free them from having to play on islands in coverage or in the box against the run unless they're good at it. When Texas wants to bring pressure they can bring him from the edge or inside and it becomes a four-man pressure. Supporting the run is also straightforward for Texas in this set up because their four safeties on the field are:
N: BJ Foster: 6-1, 210
$: Brandon Jones: 5-11, 208
F: Caden Sterns: 6-1, 210.
J: DeMarvion Overshown: 6-3, 210
Those guys can all run and hit, many of them are even exceptional run support players. If you can stop the run playing dime personnel at depth that's a pretty effective counter to the whole gist of the spread offense.
This option exists for the Cyclones as well. They return their starting weakside linebacker, Marcel Spears, but at 6-0/215 with quickness and feel for underneath coverage it's plausible that he could move over to Harvey's Sam position. The concern here would be in the potential decline in run defense from the ultra savvy and hard to block Spears to noob-backer McDonald.
The question for Iowa State is whether McDonald will take better and quicker to having a simpler role in a lot of space (Sam linebacker) or a complex role in the box (Will linebacker). And then beyond that question, can he have enough of an impact in the pass-rush that it's worth sacrificing some versatility and support on the back end? From years of studying Big 12 defensive approaches, I believe answer to the latter question is "no" but if they can figure out how to maintain their inverted Tampa 2 while he's on the field then that's a game changer. Imagine trying to score on Iowa State's bend don't break defense if they have a pass-rusher on the field that doesn't allow a QB to work through progressions? Sounds like a nightmare.
Both of these teams have had success in the past on defense when they were able to erase space and matchups with their alignment and personnel choices and forced opponents to work their way down the field pounding away at their disciplined run fronts. Both of those teams should have the pieces to utilize that approach once more, but their seasons will hinge on whether they can incorporate these punt producing pass-rush weapons into the existing formula.