Nickel became the standard "base defense" for the Big 12 sometime around the turn of the decade. Honestly I haven't done the research to pinpoint the exact year but Texas went base nickel in 2008, Oklahoma State was starting Shaun Lewis as their "star" LB in 2010, and of course Oklahoma rolled in nickel as early as 2001.
The 2019 season is going to be a very clear transition point for when Big 12 teams built their defenses around dime personnel. Everyone already starts at least five DBs, or 4.5 depending on how you count a nickel vs sam LB, but with everyone releasing their depth charts this week (except OU, LOL) I'm going to take you on a tour. We're going to visit each school and check out who they have listed on the depth chart that will be in the "money-backer" or dime slot.
Let's define a few terms first though:
Defensive back: A player that can and does carry a vertical route by a true receiver OR a player that can play in a deep zone. If you're a "nickel" that is never asked to turn and run with someone down the field without help over the top, then you're not really a DB, just a small and rangy LB.
Linebacker: An off ball player (aligns standing up) that isn't a defensive back.
It can be hard to sort out whether a team is in nickel or dime if they have a hybrid player at different positions. These definitions can help clear things up.
The inverted Tampa 2 teams
Some teams are still playing lineups that are more nickel than dime but they're playing with the inverted Tampa 2 style that Iowa State invented. This style is akin to playing with 5.5 DBs, as I'll demonstrate.
Iowa State
Nickel: Will McDonald: 6-4, 220. RS freshman
Dime: Greg Eisworth: 6-0, 205. RS junior
I've written already this offseason on how McDonald's position as the Sam LB is a sort of nickel/space position. He's on the perimeter a lot but he's really a rangy linebacker. Eisworth is a true safety that gets involved in the box a lot, so you can count him as the nickel or the dime. Iowa State is essentially playing with 5.5 DBs, their deployment of Eisworth as a third deep safety gives them (or anyone else using this scheme) some leeway with who plays the nickel/sam spot.
Baylor
Nickel: Blake Lynch: 6-3, 225. RS senior.
Dime: Henry Black: 6-0, 190. RS senior.
Lynch plays the normal nickel/sam position but the man has also played some corner at Baylor and he can man up a slot without having to be overly protected. Henry Black has played safety and nickel to my memory and is now playing the "robber safety" position which seems to be Baylor stealing the Aztec safety spot from Iowa State. This is a true dime.
Kansas
Nickel: Najee Stevens-McKenzie: 6-3, 215. Senior
Dime: Bryce Torneden: 5-10, 190. Senior
It's not totally clear what Kansas is up to, although LOL at them listing two WRs, a FB, and a TE on their depth chart. I'm here for the Les Miles power sweep with Kansas' personnel.
Anyways, they listed 12 starters on defense and I don't know without further research whether they intend to remove "Jack" LB Azur Kamara (or who that even is) when they play their "hawk" Bryce Torneden or if the "Sam" Najee Stevens-McKenzie will ride the bench. I do know that Torneden will be a starter though so I'm sure one of the other 11 listed starters will be on the bench when the Jayhawks are playing spread offenses.
They used Torneden in the Aztec safety spot some last year, hence my confidence that they'll be utilizing this scheme again in 2019. This is another 5.5 DB lineup.
Oklahoma State
Nickel: Jarrick Bernard: 6-2, 195. Sophomore
Dime: Malcolm Rodriguez: 6-0, 205. Junior
Last year Rodriguez was Oklahoma State's best run support safety and he played in the boundary much of the year. This year it seems that they're going IT2 and will play him as a dime LB and this is reflected directly on their depth chart. This is a true dime, they'll have six guys on the field that can credibly play a deep zone.
Kansas State
Nickel: Jahron McPherson: 6-1, 197. RS junior.
Dime: Elijah Sullivan: 6-0, 210. RS senior.
The Wildcats are going to mix and match a variety of coverages that utilize quarters, man, and some traditional Tampa 2. In their Tampa stuff I'm guessing that Sullivan, the middle linebacker, will drop down the middle like a traditional Tampa 2 mike. McPherson is a true DB that can play deep zone or some man. This is really a 5.5 DB lineup if Sullivan proves as rangy and versatile as his lighter frame and reputation would suggest, otherwise it's a nickel.
The other original dime revolutionaries
TCU
Nickel: Innis Gaines: 6-2, 207. Junior
Dime: La'Kendrick Van Zandt: 6-1, 206. RS sophomore.
It should be noted that SILB Garrett Wallow played some nickel last year. He's like a .5 DB, I don't know that he's ever carried a vertical for them in a base defense or played a deep zone but he's certainly comfortable in space with coverage assignments that leave him underneath. Van Zandt started as a safety for them and has received technical training on how to play that role in the Frog D, now he's their mike linebacker.
Innis Gaines is a true safety that can perform some LB tasks as well. This will be a very fast and versatile D this year, even more so than some other seasons. The Frogs do mix in 3-down looks and the inverted Tampa 2 but their base 4-2-5 basically uses safeties at all five interior spots at this point.
Texas
Nickel: B.J. Foster: 6-2, 210. Sophomore
Dime: DeMarvion Overshown: 6-4, 210. Sophomore
Foster played boundary safety and their "joker" position, which is the dime, last season. This year he's moving to nickel and will have to carry verticals at times but will also get to play as a pseudo-LB at others. He seems solid in the former role, he's a proven playmaker in the latter. Overshown will have to fight for the joker job with fellow safety Chris Brown and potentially Foster down the road, we'll see how things shape out.
Texas plays a fair amount of IT2 but they also move their joker/dime around and mix in some other looks as well. I'm guessing they'll play him as a sort of ILB like TCU does at times.
Left behind by the dime rapture?
West Virginia
Nickel: Jovanni Stewart: 5-8, 197. Senior
Dime: None.
As far as I can tell, West Virginia plans to play normal 3-3-5 personnel and rely on having some flexibility as a result of playing more of a true LB at the "bandit" DE/OLB spot. Or perhaps they have a dime package they plan to use extensively and it's just not reflected on the depth chart. That could be tough though because the transfer portal sucked up some of their better DBs. Stewart is actually somewhat limited when asked to do DB things like play man or deep zone, he's at his best as a nickel LB.
Texas Tech
Nickel: Evan Rambo: 6-4, 220. RS junior.
Dime: None.
Presumably Tech has a dime package but it's not obvious what the make-up or design of that package will be. They have a pair of 240-pound inside LBs that stand to get attacked and hunted by spread teams. They are using 5-11, 220 pound Tyrique Matthews as a "Raider" OLB and I'm guessing they'll just shade the safeties over as needed to protect the LBs like so: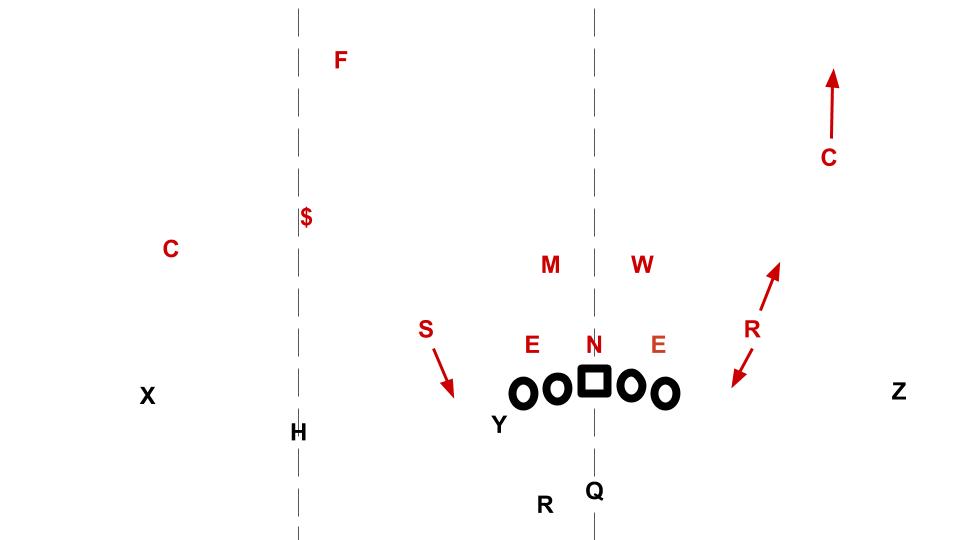 That can work, dime works a lot better.
Oklahoma
Nickel: Brendan Radley-Hiles: 5-9, 180. Sophomore
Dime: None.
I've been writing a lot on Alex Grinch's OU defense and recently have settled on an expectation that he'll play a 3-3-5 with a lot of speed on the field, much like Tech is doing.
Every time I check OU's updated roster, Boo Radley has lost another inch and five more pounds. I swear he was 5-11, 190 when he arrived on campus, it's hilarious. He's on track to be like 5-4, 145 by the time he's a senior. Anyways he's currently the favorite at nickel but Chanse Sylvie is pushing him there, both are smaller DBs that have played some safety and some man coverage.
Grinch may have a plan for a dime package, maybe even one that he'd use a lot although I doubt it, but I don't know what it is. It seems more likely that they'll play a lot of 3-3-5 and rely on confusion and multiplicity at different positions to make this work. The reason that this style is losing ground to true dime or 5.5 DBs in IT2 around the league is that it's impossible to protect more than two of a time out of your two corners, nickel, and slot-side LB.
If an offense is in a 3×1 set then the defense typically has to figure out how to shade help to the nickel, middle linebacker, and the boundary corner all at the same time. If you only have two safeties then someone is going to get left isolated. If you need to outnumber the run game than two guys are getting isolated.
If you roll the coverage like Tech does above…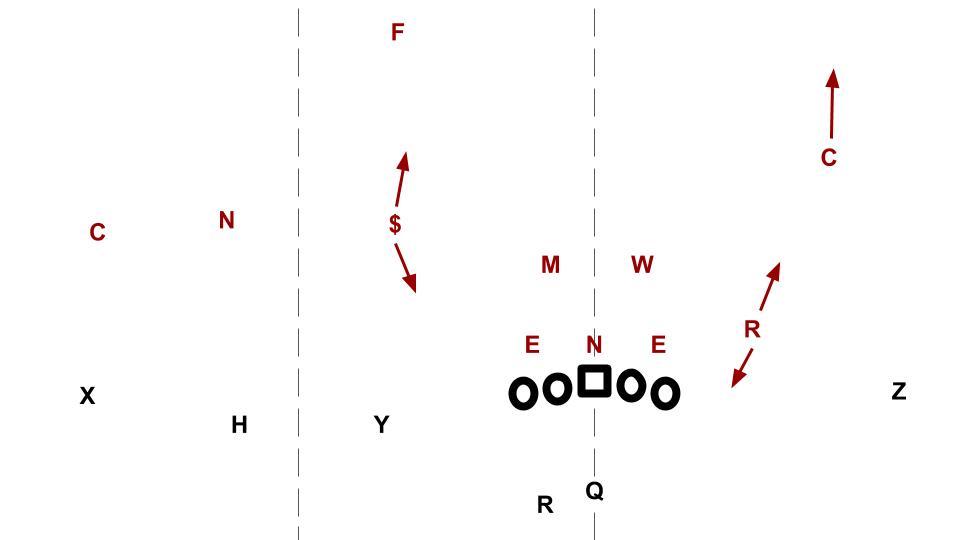 You can help guys out but there are still weak spots.
With Tech's personnel, the nickel here would actually be SS Douglas Coleman and the $ would be Evan Rambo with Adrian Frye over the top and McPherson left on the boundary with Tyrique Matthews helping him underneath.
For OU that's probably Radley over the H with very little certainty in getting help over the top, then Delarin Turner-Yell down on the Y with Patrick Fields helping him over the top. Then Tre Brown on the boundary with Jon-Michael Terry dropping underneath. In both instances these teams are asking a lot of Coleman/Radley and McPherson/Brown. An awful lot, because this gets to be pretty transparent after a while and teams start taking shots at the guys they know can be left alone on a vertical. I know because I've seen it play out multiple times including with the 2018 Texas Longhorns.
But perhaps Keith Patterson and Alex Grinch will have some contingency plans, or maybe they'll lean more towards a dime concept in year two after receiving the Air Raid baptism in 2019.
*********
If you enjoyed this article on how spread strategy is completely defining the Big 12 and leading to base dime defense, you will love my new book.