I was preparing for my Kansas State preview over at Inside Texas (those drop on Thursdays and I believe this one will be free) today and went down a statistical rabbit hole that proved interesting. I was looking up how much of Kansas State's pressure comes from their DL and the DL's share of the total number of team sacks. After I got that number, I looked up Texas' corresponding sack numbers, and decided to look up the rest of the league as well to build a reference point.
I ranked the defenses here SP+, initially I looked at points per play which yielded very similar results except that TCU ranked dead last. Offensive turnovers, imo.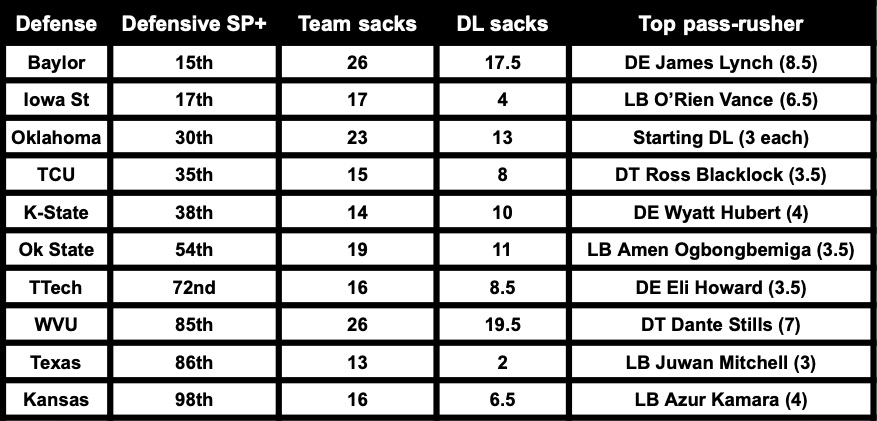 Oklahoma's starting DL of Neville Gallimore, Ronnie Perkins, and Jalen Redmond each have three sacks apiece.
Here are some of the big takeaways, in my estimation:
The top two defenses both base out of the inverted Tampa 2 defense, which is necessarily a three-down defense because it's a drop eight structure in coverage.
The two defenses ranked fourth and fifth are conservatively-inclined four-down nickel defenses (TCU and K-State). Both of those teams will mix in blitzes every now and again on standard downs but the plan on third down is drop back and get pressure with the DL. Oklahoma is unique for their 46 nickel style, we'll see how well that holds up down the stretch of the season.
Oklahoma State and Texas Tech are somewhat mirrors of Baylor and Iowa State but without the same caliber of players up front. West Virginia is figuring out how to be more conservative and trusting the Stills bros (Darius has six sacks). Texas is an absolute mess, Kansas is perpetually in a rebuilding phase.
There's very little correlation between # of sacks, # of DL sacks, and good defense.
West Virginia blitzes a lot, although more conservatively against Baylor than in previous weeks, and they've been getting home but they haven't been getting stops. It should certainly be concerning to Texas that they aren't getting more sacks, because they're blitzing all the time in order to try and achieve that result and instead of getting sacks they're giving up TD passes.
Iowa State is playing the second best D in the league without getting much pass rush from their DL. When the Cyclones want to get pressure, they're bringing Vance and maybe some other guys. Watch for next season when Jaquan Bailey is back healthy and Will McDonald has had an offseason of bulking up and developing pass-rush moves.
TCU is playing decent defense overall even though their DEs are an absolute mess that are neither rushing the passer nor playing the option well. This team can still drop back and cover you, which is worth a lot. Kansas State is dropping back to cover and their DL is rewarding them by getting home at a decent clip.
James Lynch is your DPOY and arguably the most valuable player in the league.
It's hard to give an MVP to anyone other than a QB in this league and I probably won't. That said, the difference between Baylor with Lynch and Baylor with another solid DL like Tech's Eli Howard is five sacks and a big difference in the effectiveness of their three-down D.
What's making Baylor the best D in the Big 12 this season is that they can play inverted Tampa 2 and still get to the QB, whereas Iowa State has had to use more blitzes with Vance or others and the other top defenses are bringing four.
Here's a nice little sequence revealing Lynch's sometimes hidden brilliance this season: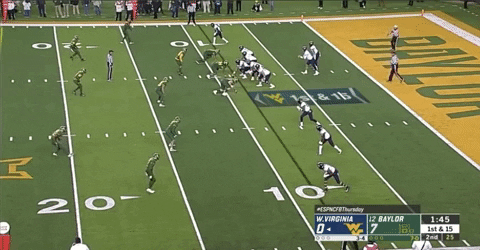 This is the classic 2010's Air Raid staple "stick-draw" from West Virginia. The offensive line is blocking for a draw while the trips receivers are running the stick route combo. Austin Kendall doesn't read it terribly well here because Tampa 2 means that the sam/nickel LB (Blake Lynch) can help the middle linebacker bracket the stick route because the corner will pick up the slot Lynch is on if he goes out.
The Mountaineers were trying to get the ball out in a hurry on most of their plays because they didn't trust their OL to block Lynch and co on the DL. The next play, West Virginia went back to the same well, but this time with zone blocking and a now screen outside.
This time Lynch reads the play and slips under the LT to get into the B-gap to disrupt the zone run. The middle linebacker is too far out to really help on the downhill run scheme and the weak side linebacker is playing with a lot of depth as well because it's 2nd and 15. Doesn't matter, Baylor still doesn't give up much.
The no. 1 defense in the country now per S&P+ is the Ohio State Buckeyes, who are doing it by mostly bringing four pass rushers and relying on Chase Young's brilliance to make that a still potent way to get pressure. Dude has 13.5 sacks so far this year. They have some other interesting dimensions to their D as well I may cover at some point but they mostly center around moving the back seven around.
So what are the steps to building a good Big 12 defense?
Step 1: Figure out how to protect the back end
The first question every DC should be asking is "what coverages and how many DBs do I need to play to not get gashed by passing attacks?" For a lot of teams, that means inverted Tampa 2, at least as a base.
Step 2: Figure out how to get pressure with whoever is left
Iowa State gets a little aggressive with their blitz packages at times but they do it while playing the drop eight base defense on the majority of their snaps. Teams either need to figure out how to feature a particular pass-rusher where he can do a lot of damage or else figure out how to mix in blitz packages from whatever nickel or dime packages they're living in.
Step 3: Field a dominant DL
Because the focal point of Big 12 games these days is often the deep field, having a single dominant DL that can allow you to decisively win the trenches without committing numbers there is immensely valuable. Maybe someday a team will figure out how to turn a lockdown cover corner into a mobile piece that can line up wherever he needs to in order to take away the offenses' favorite receiver. Until that day, the most valuable piece you can have is a DL that the offense can't block.
Lots of people will try to do this out of order. If you don't shore up the back end first then nothing else will matter and you can play decent defense if you can cover, even if you don't have anyone that's amazing at getting to the QB. Just check out TCU, or K-State this season.
If you check off steps one and two you can play really good defense, having a truly elite player up front is hard and not even the blue bloods can really count on that from year to year. It'll be interesting to see how Baylor does without Lynch next season, I highly doubt they have another guy of his caliber on the roster, although Rhule does have a knack for developing these kinds of players.
********
If you're wondering how we reached a place where defenses have to be built from the back end first, I chronicle the development of spread offenses in the Big 12 in my book. By the 2010s, offenses were figuring out how to attack the back end of defenses in ways that forced today's evolutions. Read up!