This is a pretty interesting game coming up between Baylor and Oklahoma. This is our third Big 12 title game since they reintroduced it in the round robin era. Overall the round robin era has been a difficult grind that has served to demonstrate the supremacy of spread passing as Oklahoma has been the only team that could emerge from the format on top.
So far the Big 12 title game has only served to give OU another speed bump on their way to championships and playoff berths. In 2017 they drew TCU, whom we'd already seen give OU their best shot a month or so earlier only to go down hard. In 2018 they got their rematch with Texas, who nearly blew them out in the Red River Shootout before a crazy Kyler Murray rally and got Mike Stoops fired.
In both games, with the focus of postseason play, the Oklahoma coaching staff proved an extremely formidable foe and the difference between their squads and that of their opponents was only magnified by the stakes of a title game. I don't know if Tom Herman ever recovered from the L he took to Ruffin McNeil in the B12 title game and the gameplan that Oklahoma used in that game (lifted from Ok State) was utilized by TCU this season when they picked off Sam Ehlinger four times.
The surface level analysis for this game looks bad for the Bears. They caught Oklahoma with a right hook of an offensive gameplan and with their speed and quality on defense playing at home in a primetime game. Then the Sooners worked out their offense and shut it down in the second half while wearing out the defense in a soul-crushing comeback from 28-3, the likes of which we've only seen once before. All that also happened without CeeDee Lamb on the field. Baylor took their best shot and missed, might that be all there is to it?
Maybe, but let's look a little deeper just in case.
Fending off the Grinch's plot
Baylor had two particularly effective schemes against Oklahoma in round one. They had the QB lead draw and some bunch sets that were useful for throwing hi-low flag/out combos to the boundary.
There was also the RB crosser that Charlie Brewer hit for a score and then a beautifully placed fade to Denzel Mims on an RPO for another. When Brewer is throwing within a <50 yard radius (meaning typically to the boundary or breaking in from the far hash), his HS record-setting accuracy is on full display.
Baylor has two main spread passing formations to create opportunities for those types of throws, 2×2 and 3×1. However, both sets have an obvious solution from Grinch for this game.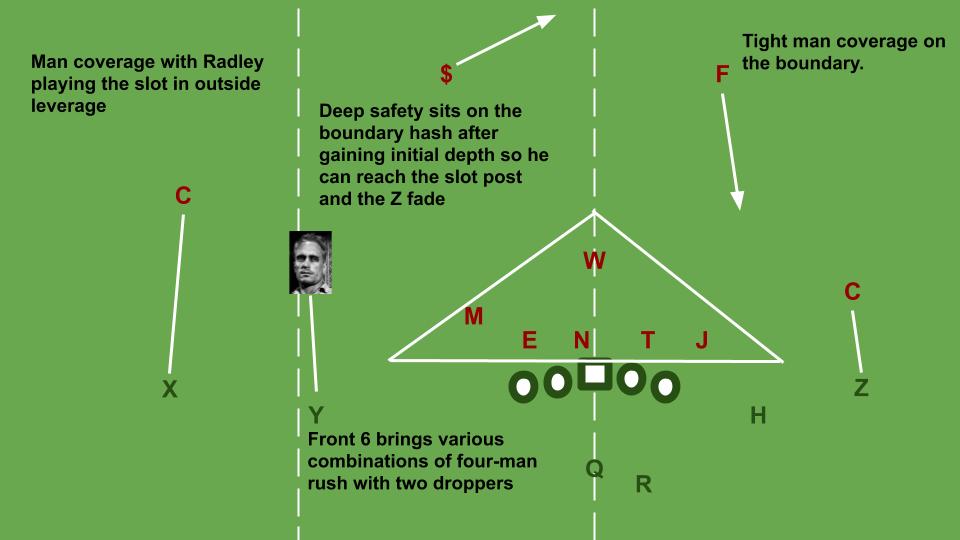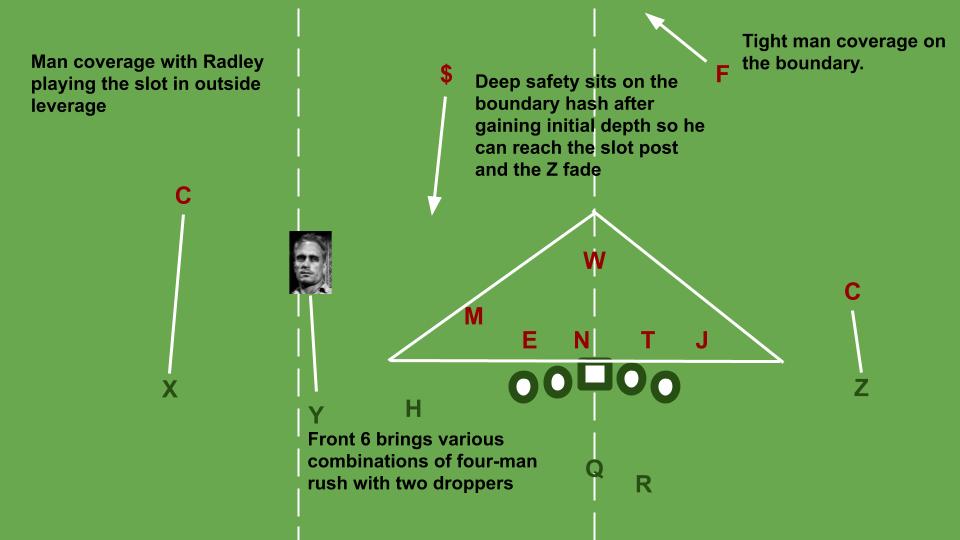 Basically press-man with the deep safety focusing on playing from the far hash to the sideline and ignoring any routes outside of the hash. Most all of Brewer's deep throws this season came on boundary fades or posts and crossers coming across his face from the far hash. If the Sooners match routes tightly in that area with a safety sitting on them, what's next for Brewer?
It should also be noted that Oklahoma played more drop eight coverage in the end with their jack LB Nik Bonitto dropping under Brewer's eyes, which led to a near pick and then the game-winning pick immediately afterwards. Baylor should expect to see more of that.
I've essentially been waiting on a team to employ this against the Bears all season, but postseason play is typically when teams really start to dial up the cheat defenses as they zero in on your strengths and weaknesses. OU played some cover 1 in round one but to have the safeties really cheating towards Mims isn't something we've fully seen yet.
That's not the end of the story here though, there's some man-beating routes that Baylor could try if they can block OU's pressure well enough. There's still also the QB draw, which was effective so long as the Sooners' DL stunts didn't beat the blocking and confuse the rushing lanes for Brewer.
But then there's the double TE sets that Baylor leaned on more in the last two weeks. The double TE set was a major key for Iowa State in attacking Oklahoma's 46 nickel defense and they'd be a useful tool for Baylor as well, though less so in terms of getting a TE open down the field and more for trying to run the ball on Brendan Radley-Hiles.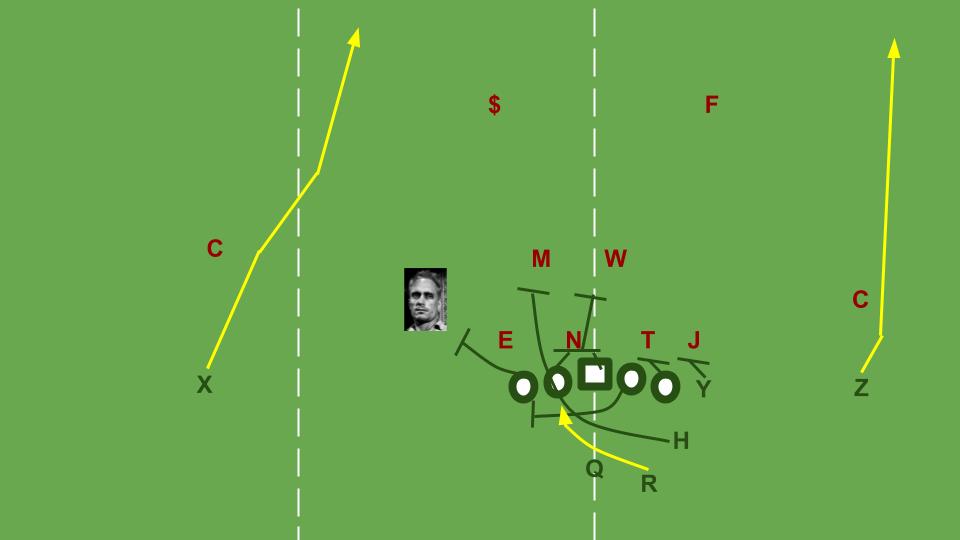 Baylor mixed in this counter scheme against Kansas last week but with the outside receivers throwing blocks down the field. I'd have add the wrinkle of having them running vertical and then taking shots if those safeties are cheating hard on the power run scheme. That's a quick hitting vertical throw of the sort where Brewer can be truly fantastic.
This also has the fantastic feature in which a tackle and guard are kicking out Radley and the edge defender (probably the DE) to open a gaping hole for the lead blocker and RB to go through. Radley is useless at closing a gap like that and OU's inability up till now to protect him in these instances has been a weakness waiting to be exposed.
There's no reason for Baylor not to go for it and run Brewer 15-20x and lean hard into the run game if that's where the best matchups are. A repeat of round one's gameplan will have diminishing returns, they need to keep probing for some weak spots and the double TE power run game may be their best chance at that and getting some 1-on-1s down the field within Brewer's range.
Hurts, the relentless
Jalen Hurts will definitely get at least 20 carries in this game if that's at all necessary to produce a winning effort. I haven't finalized my All-B12 team yet but I think he's my OPOY and then I may cheat and list Ehlinger and PFPurdy as the All-B12 QBs.
Hurts hasn't particularly impressed me with his QB play this season, I know the stats are gaudy but Riley schemes up layups for him. It's like he's a lob artist playing off Steph Curry and Draymond Green high screens. What has impressed me is Hurts relentless effort and hard running. It's like watching a HS offense where they put the best athlete at QB so he's always touching the ball and working from there. It's wildly effective and he's been tough and taken care of the ball just well enough.
Hurts threw 40 passes in round one and ran the ball 27 times, which is an extremely taxing load. That yielded 411 yards at 6.1 ypp with four touchdowns and three turnovers…a fairly mixed performance but one that ultimately earned him the "Hurts, the relentless" nickname. Baylor executed their bend don't break D extremely well and Hurts kept coming, picking up steady gains on the ground and beating man coverage with crossing routes, and draining clock while erasing the lead.
It's next to impossible to get numbers to the point of attack against a QB power run game, it becomes a matter of either beating blocks or making timely tackles. Well, it's hard to get off the blocks by the Oklahoma OL and it's hard to tackle Jalen Hurts. His scrambles are essentially Iso runs that come randomly.
In round one and against Iowa State, teams had the most luck treating Hurts' scrambles as run schemes to be expected and fitted up with run blitzing so as to clog things up and get him down before he can build up momentum. This is where defending the 2019 Sooners becomes very difficult though.
Teams have often opted for man coverage, particularly when blitzing, because it simplifies everyone's assignment and avoids disasters on POP passes where TEs and RBs slip by for TDs or big gains against LBs and Ss triggering against the run. But man coverage leaves teams vulnerable to crossing routes and other man-beating route combinations as well as to Hurts' scrambling when defenders' backs are turned.
To their great credit, while Hurts' range of routes that he tends to throw isn't super extensive the number of receivers that the Sooners will use as targets is. That means that it's hard to gameplan their formations by keying personnel, although it may be possible to key certain routes.
Finally, their OL has predictably been getting better all season and it's difficult to get home on Hurts with the pass-rush.
So how do you gameplan these guys? What are the "make Brewer throw long" tricks to thwarting Oklahoma? Mike Gundy was right that it involves dealing with Hurts in particular, I think you need to make him as uncomfortable as possible. The best way to do that is the unsexy way, playing drop eight coverages: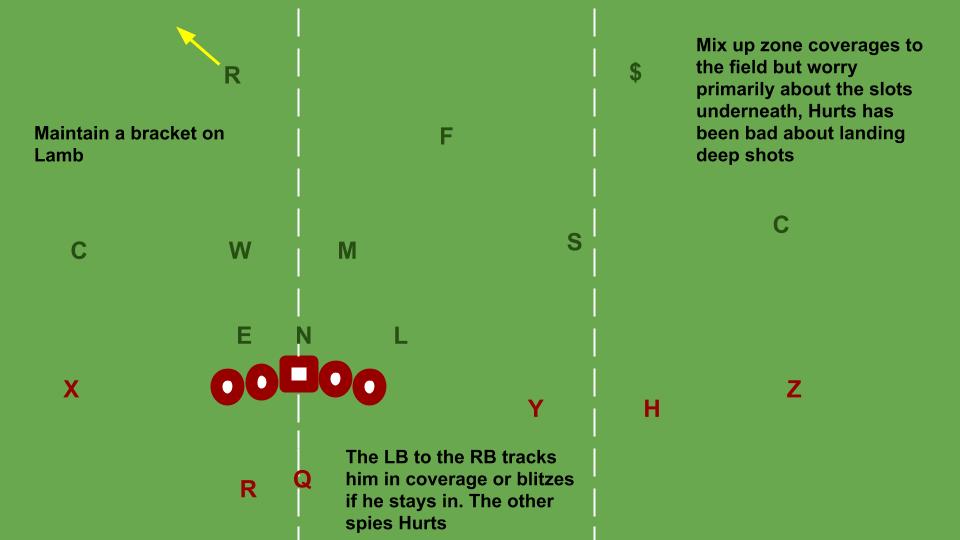 Defensive coordinators always want to attack on third down. They don't want to play passively but instead try to hurry the offense and protect their guys from chasing players around all day. Well, that's just not going to work as well. The way to make Hurts uncomfortable is to keep him in the pocket and make him figure out where the ball should go with crowds around him and his favorite routes.
This method doesn't answer all of Oklahoma's favorite plays but it does force Hurts to repeatedly avoid defenders and encourages him to try and scramble all day. He may get 30 carries in this game on scrambles and designed runs but if he's always have to evade a spy and then eight defenders in zone that's not going to be very explosive. It also helps keep the ball out of the hands of his receivers, who will really kill you.
Oklahoma is beatable when they're a power running team relying on Hurts and Brooks, they're good but they can be had. When they're involving the wideouts it's too much.
I'm not totally sure how Matt Rhule will approach this game but I'd try to turn it into a lower scoring slugfest that comes down to turnovers and which QB lands the most shots in the passing game. Baylor has a chance in that setting, they've had a lot of wins this year in ugly games.
********
If you'd like to read about some more big games between Oklahoma and Baylor this decade, or you're looking for a Christmas gift for a football enthusiast in your life, check out my book!