One of the reasons Ohio State was a favorite (not with Vegas but with many commentators) was the awesome power and ability they had in the run game. J.K. Dobbins had 301 carries this season for 2003 yards at 6.7 ypc with 21 touchdowns, amazing production.
While not as densely packed with "blue chip" talent as other parts of the team, the Ohio State OL was very good this season and certainly not stocked with poorly regarded players.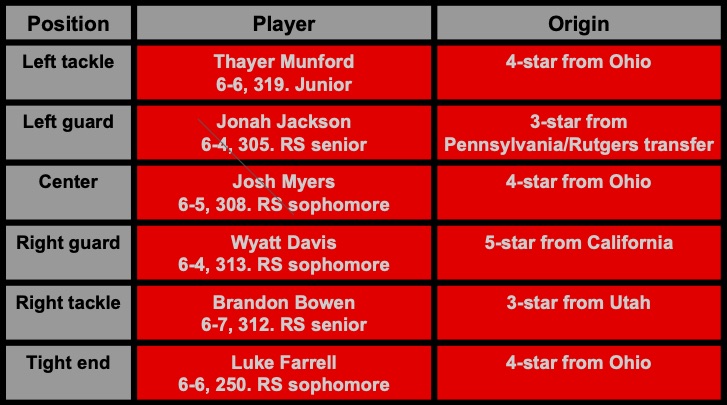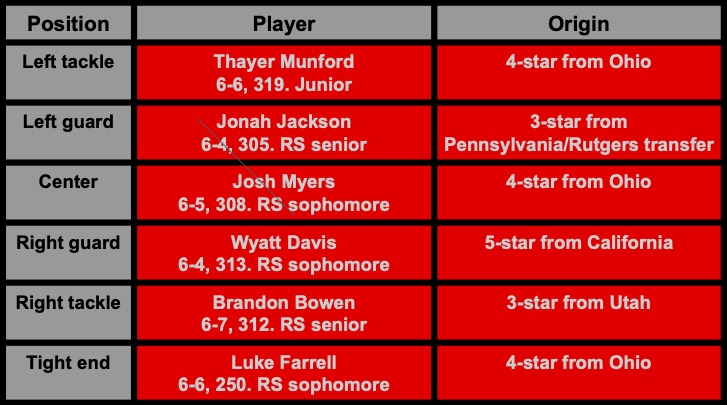 This was a big punishing front who's players proved capable of executing outside zone schemes with the lateral blocks in addition to pounding downhill on schemes like "duo." Between these guys, Dobbins, and then Justin Fields (however limited in the playoffs) the Buckeye run game was regarded as perhaps the superior offensive dimension in the playoffs save for LSU's passing game.
They did pretty well against Clemson, although I noted that their production tapered off substantially when the Tigers switched to inverted Tampa 2, and Dobbins missed some time with an ankle injury.
On the day Dobbins had 18 carries for 174 yards at 9.7 ypc and a touchdown.
Clemson's run game was pretty different, both in the season and then particularly in this game. For the last two years they've been a squad that operates like a smashmouth spread team in the regular season with Travis Etienne running for 1658 yards in 2018 and 1536 yards in 2019.
Against Ohio State, Etienne had 10 carries for 36 yards and a touchdown (on an option pitch that got him to the perimeter), but the team did run 29 times for 158 yards and two total scores on the day.
Ultimately Clemson won the day with how they ran the ball and how they used their RB, neither of which were traditional.
Pass-first offense
A big topic you'll find covered extensively in my book…
…is why spread offenses have veered more and more towards becoming pass-first in nature. I have come to suspect that within 10 years or so we'll question why it was accepted wisdom for so long that a team's best and most durable skill athlete (the RB) should primarily receive the ball in a fixed point behind the line of scrimmage.
Clemson certainly intended that their battle with Ohio State's defense come down to two areas where they expected to have an advantage. One was on the perimeter with their passing game throwing to star receivers Tee Higgins and Justyn Ross. But Higgins missed the first half of the game after getting hit in the jaw by another player's helmet after his own came off and getting evaluated for something like an hour before they gave him his helmet back. Meanwhile Ross was dealing with a shoulder injury from earlier in the season that he still obviously hasn't healed from.
For as long as the Tigers have been a playoff contender, which is dating back to the 2015 season, they've never been a team that was great at imposing their will in the run game. What they've regularly been good at though is hitting playmakers in space. The way they did that against Ohio State?
With the passing game and by using Trevor Lawrence's size and speed to threaten the interior gaps rather than relying on the run game. They scored three touchdowns in that manner.
Touchdown #1
This play is often called "counter-option." It plays off a normal inside zone run with the OL blocking for a zone-read play but then instead of handing off the QB threatens the cutback lane off tackle or can pitch the ball to the RB running an option path OPPOSITE his normal zone trajectory.
Ohio State brings a +1 man blitz and DE #54 Tyler Friday has to play contain. Like many a contain player in this setting, he looks to stay wide of the QB and can't do so AND stay wide of the pitch man so Clemson gets the ball to Etienne outside. Deep safety Jordan Fuller nearly runs this down by it's hard to tackle Etienne in space. Everyone else is either trapped inside by the inside run action or has their backs turned in man coverage.
Touchdown Clemson.
Touchdown #2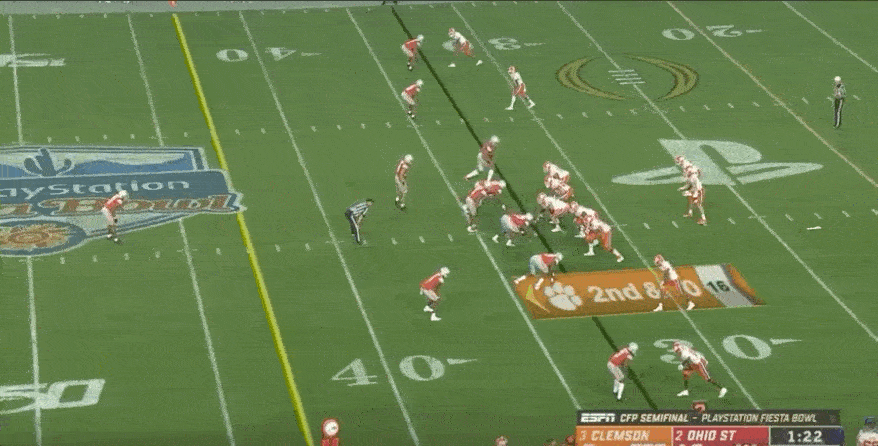 For my money this is the best running play in modern football, QB draw, which I penned a love letter to over at Football Study Hall about a year ago. I also wrote a piece last year that detailed how Penn State managed to tear up the Buckeyes with it.
Once again, the Buckeyes are playing man coverage with the nickel and safety relating tightly to the slots while the linebackers race to track the RB, who's blocking. Who does that leave for Trevor Lawrence? Just the deep safety, Josh Proctor this time with Jordan Fuller matched on another slot.
The Buckeyes didn't cover themselves with glory here for how they covered up the inside gaps but what caught them was the desire to match up with Clemson's skill athletes in space, leaving the interior gaps undefended.
Touchdown #3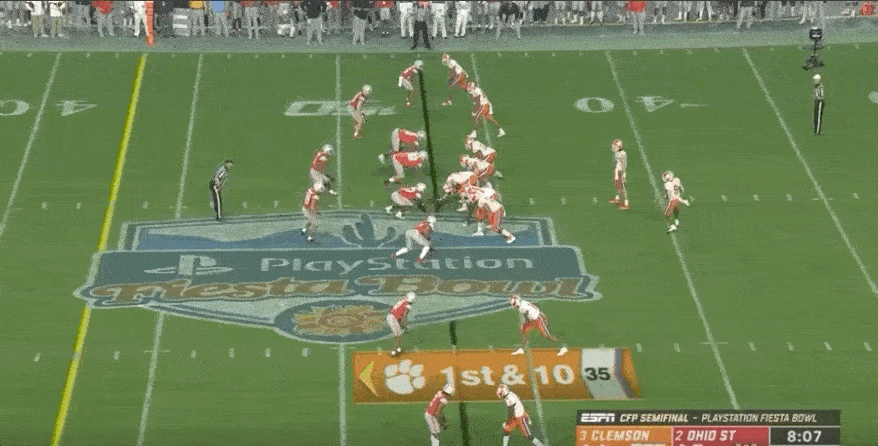 This time it's a screen to Etienne that gets him in space. He started flexed out to the field before motioning back into the box and LB Malik Harrison followed him, indicating man coverage to Clemson. From there Etienne is almost running a route on Harrison, faking pass protection before turning for the ball and hitting the seam under the releasing OL.
The other LB Baron Browning has turned his back to help on double slants from the boundary twins set, the DBs and S/OLB Pete Werner are busy matched up in coverage, and deep safety Jordan Fuller gets blocked by an OL in space. The DEs rush upfield because the OTs are pass setting, it's almost like a draw play for the RB except he gets the ball with a quick toss rather than a hand-off which further obscures the action.
Once again, Clemson isn't allowing Ohio State to defend the run as a unit but are using the pass game to clear out space for Etienne.
Touchdown #4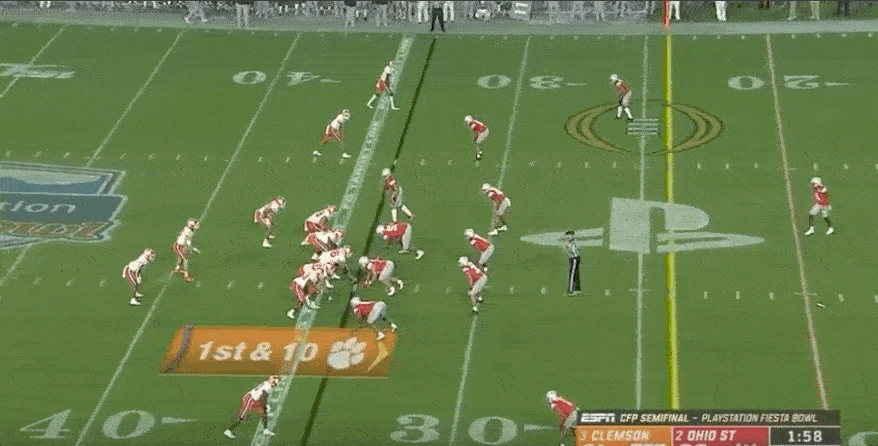 It was Kansas State that really introduced college football to this kind of play, although Florida would run this sort of thing on the goal line at times with Tim Tebow. It's a QB run where he can pull up to throw the ball, K-State used to kill by running lead draw with a FB but then having an option to throw to the FB every now and again after he slipped by the LBs.
Normally if you're taking on a lead blocker and he misses you then your instinct is to say "terrific! Now I can go make the play in the backfield/at the line!" But alas.
This particular play is a QB counter run pulling the center and TE while the RB releases to lead on the edge for the QB. At this point after several Lawrence runs throughout the night, including another gain on a lead draw a couple of plays earlier, Ohio State is all in on tackling him. That allows Clemson to use the threat of Lawrence's inside running to get Etienne in space.
Once again Clemson is in man coverage and once again, their deep safety is in too much space to make a tackle to stop the touchdown.
One of these teams looked to impose their will in the trenches and they did it all year at a really high level. The other team worked to set up their best players to get the ball in space where they could make plays. With just three catches Etienne had 98 yards and two touchdowns, ultimately a bigger impact on the game than Dobbins managed with 18 carries and six catches given that he found the end zone one more time.
Strategy is about setting the terms of the engagement where you're at advantage and more teams need to evolve past traditional ideas about what that means for their RBs and how they use the run game.