Brent Venables' Clemson Tigers defense got themselves into quite a hole against Ohio State in the playoff semifinal. The score was 16-0 midway through the second quarter and the Tiger offense was struggling to find room to breathe against the Buckeyes between a sudden rash of injuries at receiver and Ohio State's amazing athleticism.
The Buckeyes were the darlings of much of the college football commentariat heading into the playoffs, in part because they are a microcosm of the modern recruiting-oriented coverage that drives the sport.
Blue chip ratio indicates the percentage of your scholarship players that were rated as 4-stars or higher by 247's composite average of the three main recruiting rankings (247, Rivals, and ESPN). The Buckeyes embraced a national recruiting plan under Urban Meyer that netted them an awful lot of big time talent and also were able to snag QB Justin Fields from Georgia via the transfer portal a year ago. With Fields (GA), Wyatt Davis (CA), Zach Harrison (OH), Chase Young (MD), Shaun Wade (FL), and Jeffrey Okudah (TX) the Buckeyes had six former 5-stars in their starting lineup.
Clemson had four in Trevor Lawrence (GA), Jackson Carman (OH), Tee Higgins (TN), and Derion Kendrick (SC) and while their 3-stars (or even lower in the case of safety Nolan Turner) were more numerous than Ohio State's, they made greater use of their talent.
Their method? The inverted Tampa 2.
Venables visit to Ames
Venables took a trip to Ames, IA this offseason to meet with Matt Campbell, Jon Heacock and the Iowa State staff about their inverted Tampa 2 defense. It's documented and was mentioned on the broadcast, I noticed this when they busted out the inverted Tampa 2 against Texas A&M early in the season and have hinted throughout the year that it could end up being a significant factor in the playoffs.
The key to the design of the Iowa State scheme is that unlike the tite fronts favored by Texas, Georgia, or Alabama, it often plays with a big bubble inside in order to get a DE on the edge. Against a pistol or under center formation it'll play both DEs in 5-techniques outside the tackles, the DE will also play in a 5-technique if there's a TE, but against a shotgun set it will cheat and use a 4i to the RB while the DE opposite lines up in a 5-technique.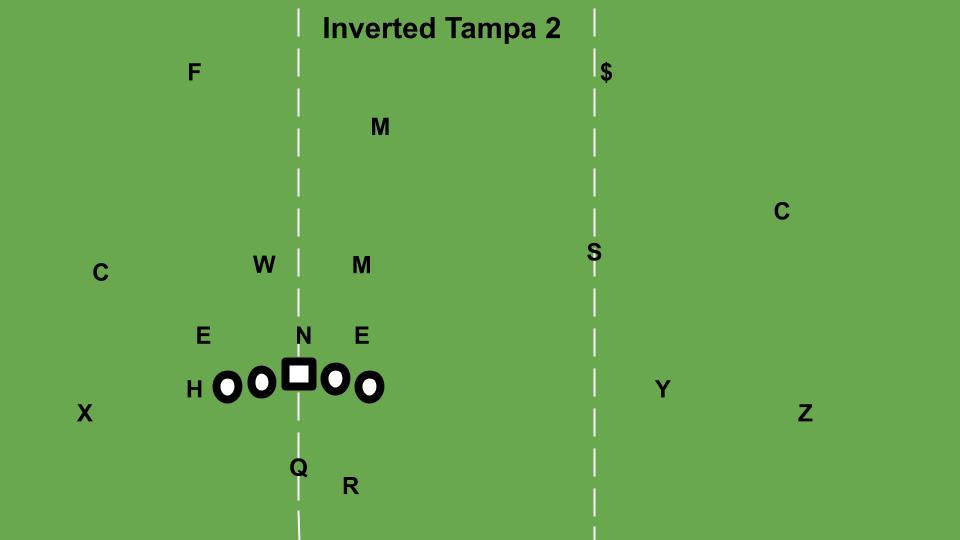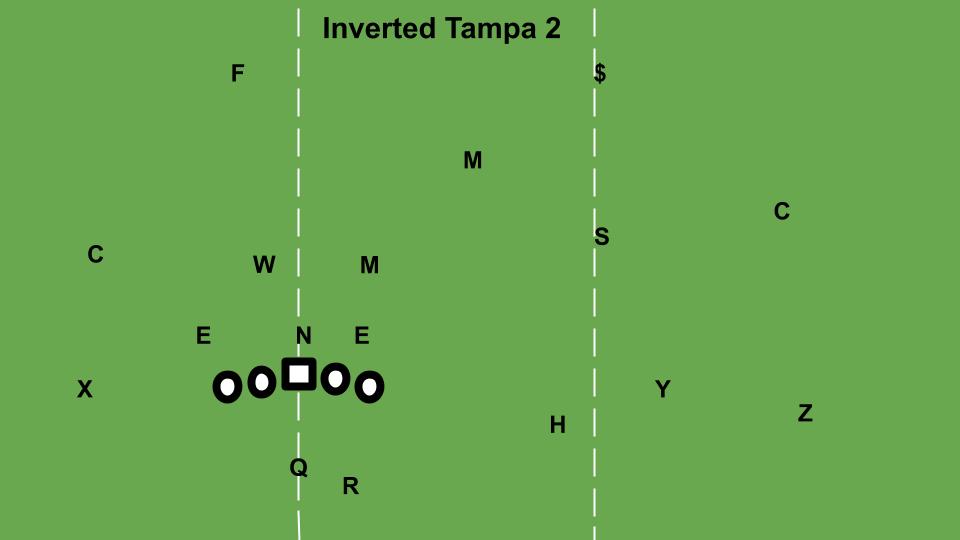 They want to allow the DEs to rush the edge some but more importantly they want to set an edge against running plays and not allow an outside zone team like Ohio State to run wild. They'll their chances inside and both Iowa State and Clemson have good ILB play.
This is a single-gap defense that's akin to a 4-3 Under but with more defenders playing off the ball. As will become clear from the breakdown of how they played Ohio State, I don't think the appeal of this defense for Venables was necessarily the actual "inverted Tampa 2" coverage that plays three deep safeties in the middle 1/3 and then on the hash marks. Instead, it seemed to be a way to add a front and shell that would easily jive with Venables' existing defense and give him a way to get speed on the field and disguise which of his normal coverages or blitzes he was calling.
Both Iowa State and Baylor both regularly benefited this season from how the inverted Tampa 2 front and structure allowed them to bring well disguised blitzes or coverage shifts into multiple schemes besides the actual, drop 8 inverted Tampa 2.
The main needs for this defense are thick, versatile defensive ends that can play the B-gap and on the edge, great nose tackle play, and then that middle safety position is set up to be a real rock star because of how many places he can end up after the snap from his initial alignment. You also need real inside linebackers, not spread-busters that are converted safeties. As it happens, this Clemson roster was well suited to match those roles.
In need of answers against Ohio State
Venables opened against Ohio State with his normal, 4-2-5 base defense and there were some issues. Venables normally likes to play a lot of what my pal Cameron Soran calls "bracket" in which they basically match up in man underneath and the safeties "bracket" the deepest receiver to their side after checking to make sure they aren't needed in the run fit. This is the same scheme that Auburn tends to rely on and might be what Chris Ash is planning to bring to Texas.
Well Ohio State beat them early with a few comebacks against those corners in 1-on-1s but they really got them with a pair of JK Dobbins runs.
What goes wrong here is a combination of aggressive linebacker play and then the 3-technique getting washed down. Because there's a DT in the B-gap and the nickel Isaiah Simmons is matching the slot closely, the DE needs to be the contain player on the QB. But when the C-gap he's responsible for gets blown open by the LT washing down the 3-tech then he's got too much space to fill. FS Tanner Muse and the LBs are all up tight in their gaps pretty hard trying to prevent any openings for Dobbins to accelerate into and it's just SS K'Von Wallace, JK puts a move on him and boom! Dobby is a free elf!
Clemson presented him with clothes one other time in the early goings: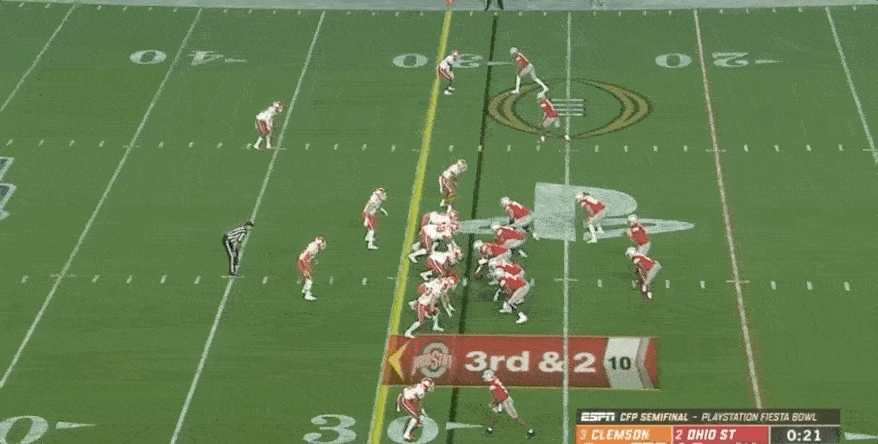 This time they're in a bear front with Tanner Muse serving as a de-facto LB and what amounts to cover zero elsewhere. Again, the goal seems to be to prevent Dobbins from finding any room to accelerate into but what happens is that they get creased by a wide zone play where the LB gets caught peeking at the TE and then there's no run support to clean up and minimize the damage.
That's two runs that amounted to 132 yards and 10 points.
Anyone know of a defense that gets speed on the field and allows safeties to survey the action from depth before closing on the run with favorable angles?
Inverted Tampa 2 to the rescue!
Clemson's 4-2-5 with bracket coverage worked great in forcing Alabama's RPO spread offense to work their way down the field with runs before tightening in the red zone. But that Clemson 4-2-5 featured Dexter Lawrence and Christian Wilkins as the DTs. This year's crew obviously wasn't up to the challenge of eliminating creases against a big Buckeye OL with a future NFL RB darting behind them.
So the Tigers got into the inverted Tampa 2 structure that they took from Iowa State and played the following lineup: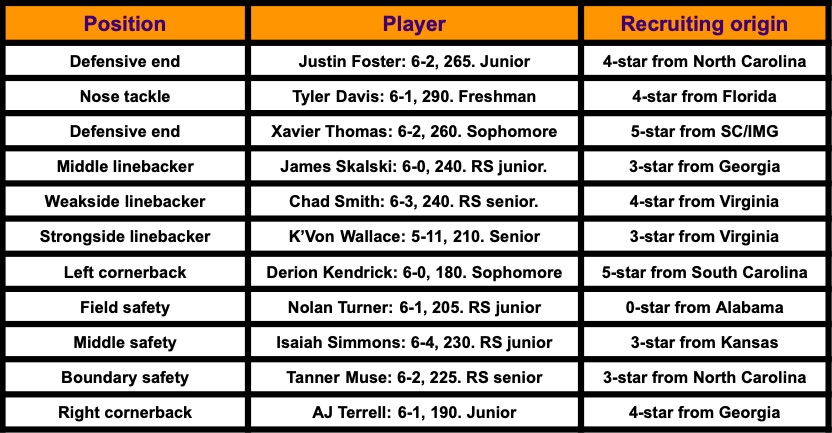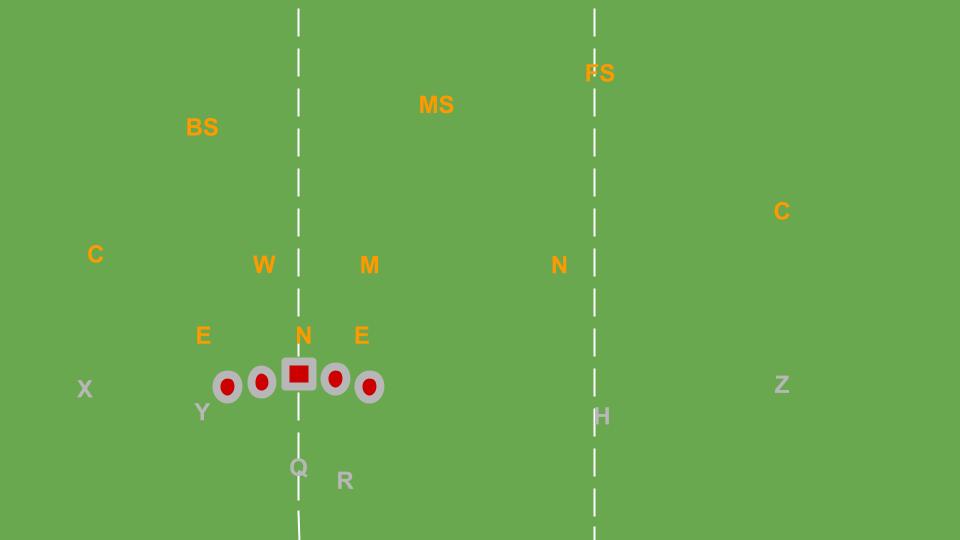 In essence, the Tigers traded out a DT for safety Nolan Turner, bumped normal strong safety K'Von Wallace down to nickel, and moved Isaiah Simmons to middle safety while Tanner Muse stayed on the boundary and the LBs stayed in the box.
Tanner Muse is sort of your stereotypical white safety. He's a 3-star from North Carolina with size (6-2, 225), toughness, heady play (four INTs), but limited lateral range and hips. Alabama pushed him off the field a year ago with their receivers, he's at his best fitting runs in the box from the boundary hash.
Nolan Turner, who replaced the DT, is almost the opposite of Muse. He has great range and is comfortable playing out in space against great receivers. When the Tigers get into sub-packages, like this one, Turner takes on the toughest coverage position at field safety. But he was a no-star and the son of a fullback that was friends with Dabo Swinney, so the assumption is typically that he's more like Muse. Another hard-hitting honky rather than a high level athlete. I guess he got the last laugh ultimately.
Here's the goal with the inverted Tampa 2, particularly as Venables used it here against old friend Kevin Wilson and Ohio State's power run game:
1) You clog the interior gaps and force the game to be played in space.
2) You flood that space with athletes. Wallace and Muse can serve as overhangs to either side of the ball and Simmons is a wildcard, moving all over the place in support.
3) You can rely on movement and speed in the box with your DL and LBs and try to confuse the OL without as much fear about getting washed out or creased because there's more speed and help behind you.
4) You confuse the QB and OC about what coverage you're in and prevent them from throwing the ball effectively with targeted play-calls and pre-snap reads.
Ohio State was completely flummoxed by this approach and really struggled with all four of Clemson's aims. When you're facing a dime structure your instinct is to run the dang ball, especially when that's been your bread and butter all year, but…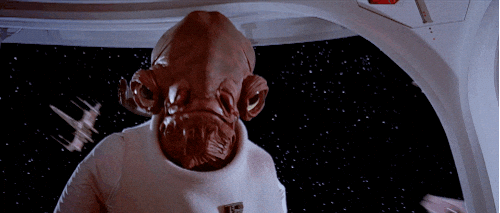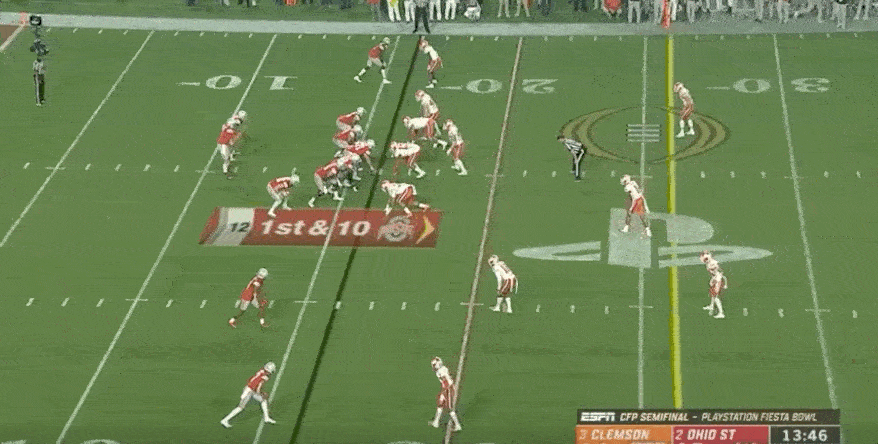 This was a typical play in this game. The Tigers time an ILB blitz well to create basically a tackle-end stunt with Xavier Thomas and Skalski? (or back-up MLB Baylon Specter, who had a tremendous game). On the back end they're playing cover 3 "buzz" with Wallace bailing to the curl/flat zone, Nolan Turner and Tanner Muse playing as hook zone defenders, will LB Chad Smith as the boundary hook, and then Simmons dropping deep middle: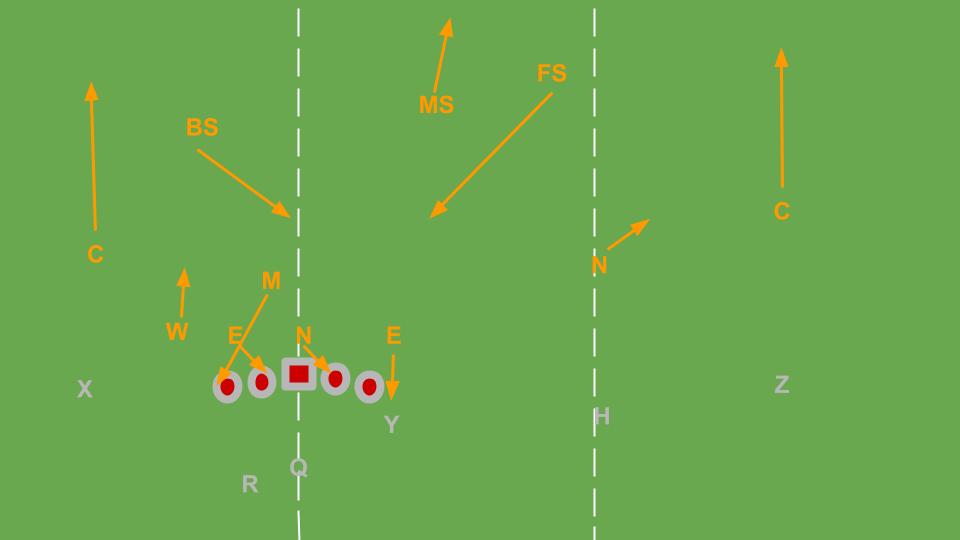 This will likely be a big part of their plan for LSU. Playing buzz with Turner and Muse playing as LBs in the middle of the field from depth to jump quick routes and sit on RPOs. You'll notice that neither are blocked on this play and it's all Ohio State could do to block their front five before taking advantage of getting an OL or TE free to block safeties.
The interception by Isaiah Simmons was a perfect example of goal no. 4: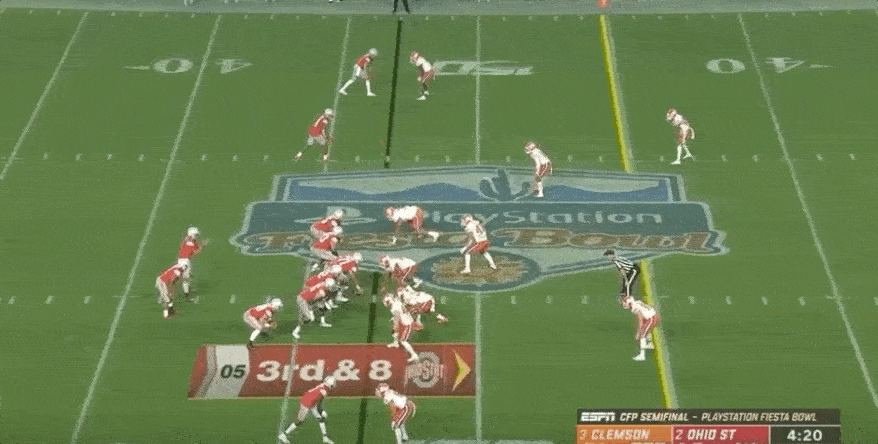 That's the second year in a row that Clemson has picked a playoff QB by blitzing but shifting into cover 2 behind the blitz. The pick 6 against Alabama occurred when they brought Simmons on a nickel blitz, brought Wallace down to replace him and shifted Muse over so that they were playing cloud to the field. On this one, Fields thinks he's getting cover 1 or quarters again because of the boundary corner blitz and takes a shot to his man running a route on Tanner Muse. Seemed like a great matchup, except Simmons was actually in cover 2 over the top. Oops.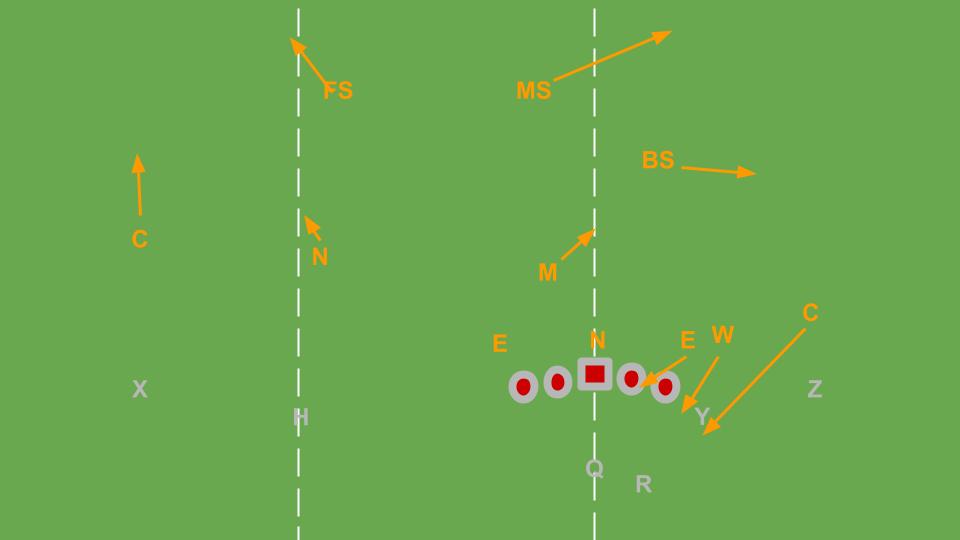 Towards the end of the game Ohio State HC Ryan Day finally figured out how to catch Clemson playing quarters coverage and dialed up a couple of post routes on Nolan Turner to beat them. One of them came on 4th and 1 when Turner was really in more of a cover zero look and they beat him with Olave. The other was at the end of the game where Olave didn't finish the route and Turner did, resulting in the game-winning INT.
Here was the butcher's bill for the day.
Ohio State ran 28 plays for 262 yards and had drives that resulted in 16 points going up against Clemson's base defense. That's 9.3 yards per play and .6 points per play. Dobbins had two carries go for 132 yards against the base defense, otherwise on his (admittedly) shortened day he had 16 carries for 42 yards at 2.6 ypc.
Ohio State ran 57 plays against inverted Tampa 2 that produced 254 yards at 4.4 yards per play that were parts of drives that yielded 10 points (one field goal came with the first half of the drive against base and the second half against IT2). So that's something like .2 points per play.
The story of the game isn't officiating, or Dobbins missing some time with the ankle injury. The story of the game was that Venables went Big 12 defense on Ohio State and shut them down. Remember when Oklahoma pushed this guy out of the Big 12 so they could hire Mike Stoops again? Man…how'd they do in the playoffs this year?
Next up is a much tougher challenge, the LSU Tigers.
********
Read about how the inverted Tampa 2 became the countermeasure against the spread offense in my book!