The Tennessee Titans, who's victory over New England I dismissed as being more emblematic of Patriot decline than Titan ascendance, pulled off a shocking win over the Baltimore Ravens on Saturday night in the AFC divisional round.
I've actually been suspicious of the Ravens all season. I hadn't seen them with my own eyes much but I'd seen enough numbers and highlights to understand that they were running option from the pistol and abusing NFL defenses with Lamar Jackson running for over 1k yards. There were a few fascinating dimensions to that, one was how helpless NFL defenses looked against these schemes and the other was how remarkable Lamar Jackson is as an athlete. Kevin Clark of the ringer had a good piece detailing some of the details of their offense and the way in which Jackson's ability to decelerate is actually what makes him particularly dominant.
You can maybe catch him with a good angle but when he can change his trajectory or angle on a dime? It gets tough.
My assumption though was that a playoff team would figure out a disciplined enough option defense to deny him any space. I've yet to see many option defenses that college playoff teams couldn't figure out so surely the NFL teams with their professional attention to detail would figure it out with time. The hang-up there, as it turns out, was the depth of the Raven playbook. But as I suspected, in the playoffs they faced a focused enough team to take them down, much like how the service academies often get shut down in bowl games.
The limitations of option football
There's an underlying problem with option football that you rarely see discussed. I detailed it when I explained how K-State managed to beat the Oklahoma Sooners. The goal with the option is to make the defense wrong for their choices and read unblocked defenders to figure out where the offense will be at advantage.
The cheat on defense is have the unblocked defender tell the offense to choose option B, and then have the rest of the defense swarm to option B. What's more, you get to choose which option you want the offense to take, so if you want to avoid an outcome like Lamar Jackson running on the edge than you can make choices with your unblocked defenders to prevent that outcome.
Executing option D with consistency gets tricky against the pistol, which doesn't give away the direction of the read-side until the snap. You can't set your front based on where the RB is against the pistol, so both sides of your defensive front need to understand their option rules well enough to execute them on the fly.
Executing this cheat against teams that utilize motion and sweeps is also tricky, and the Ravens use a lot of motion and sweeps. Even the Lincoln Riley Oklahoma Sooners have yet to put together a power-option run game as scary or diverse as what the pro-level Ravens put together this year (with a fair number of Riley's former pupils). Riley's teams have done something else well though that the Ravens don't do that we'll come back to.
The Tennessee Titans had a plan for playing consistent, option-cheat defense. They played with a 2-4-5 Over front in which the OLB/DEs would spill runs to hard-scraping LBs while the D played man coverage…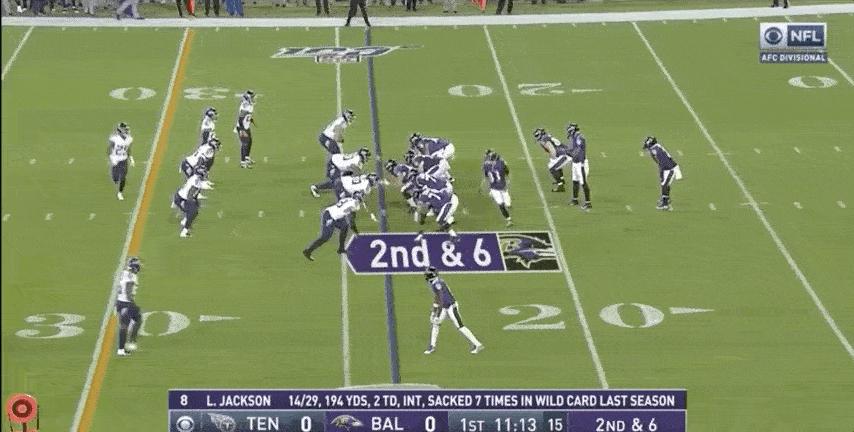 …and then they played with a normal 3-4 in which the OLBs would play contain and funnel the ball inside to hard-charging LBs AND quarters safeties.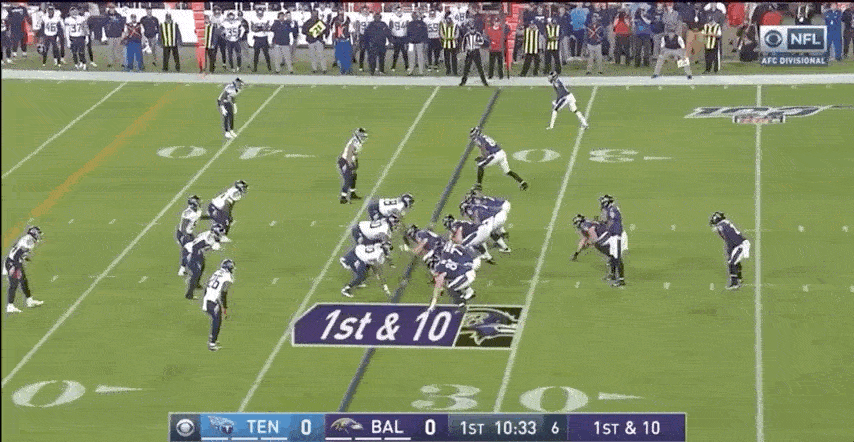 Containing in the 3-4 with quarters generally worked better but they mixed both and had some positive results from each. A major key to their success was that the ILBs included Rashaan Evans of Alabama and David Long of West Virginia, both of whom are much quicker than your classic ILB. I noted a few years ago on this blog that laterally quick ILBs are a must against modern option schemes. They also had Longhorn legend Kenny Vaccaro at strong safety helping to fill behind those fast-flowing LBs.
Here's how that 3-4 contain scheme looks on the chalkboard: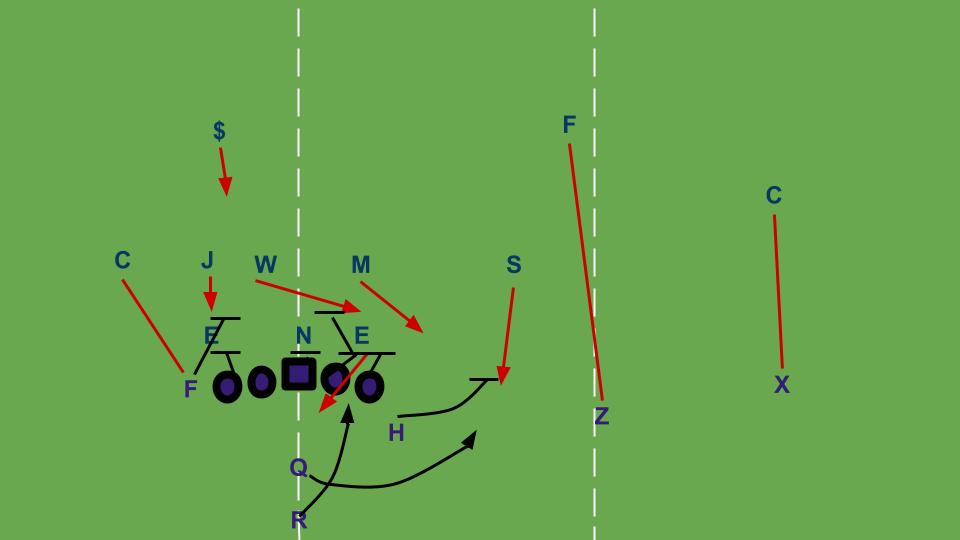 The idea is to read the edge defender for the option and give Jackson a lead escort around the edge if the contain isn't careful enough. Meanwhile, it's downhill power football off tackle with the RT and RG doubling up to the backside LB. The Ravens get into trouble because the OLB plays careful contain to force the ball into the C-gap off tackle and then both ILBs both fly to fill that gap.
There's two three ways to beat this. One is for the double team to reach the LB, which happened a couple of times but not consistently because it's really tough for a 300 pound OL to reach a 220 pound athlete in any amount of space. Another is for the inside runner to cut back, but that wasn't happening because the strong safety, backside OLB, and CB were all sitting on that. The CB relates to the TE "F" here and either covers him or joins the run fit if that TE blocks.
The final way is to take advantage of things like the defense essentially playing off-man with zero safety help on the slot "Z" and outside "X" receivers. If Lincoln Riley was getting this sort of look he would stop worrying about finding angles for the run game and just start chucking RPOs and play-action on that exposed free safety and cornerback.
The Ravens struggled there. Lamar Jackson did end up attempting 59 passes, of which he completed 31 for 365 yards at 6.1 ypa with one TD pass and two INTs. Not particularly good and situationally the Ravens were pretty poor. Without the run game to pick up consistent gains and points they were fighting left-handed and their left hand could land jabs but not knockouts.
The Raven passing game
Baltimore's spread passing attack gets some positive attention from film Twitter, mostly for concepts like 5-verticals where all five receivers run go routes. I don't really get that one, seems like you make things too congested down the field. Is is really better than a slot fade where the receiver can find open grass without worrying about running into a teammate or defender? But Jackson did land a go route to Marquise Brown in the slot on 5-verticals in this game just before the half so what do I know?
What's interesting about Baltimore's passing game is that they mix in a TON of empty formations and play 3×2 and 4×1 sets. Tennessee's solution to these was solid. Basically they'd rush three, drop eight, and spy Jackson with some of the underneath defenders.
The horror of the empty passing game with a dude like Lamar at QB is that your pass-rush can wear down as you face it over and over again (and the Titans did exhaust themselves against it). For one, you have to try and get after Lamar and track him down, which is extremely hard. Comparable to chasing Kyler Murray, and Jackson has some similar range on his deep throws to punish you if your defenders cheat off receivers. Then, if you devote some of your underneath coverage to keeping eyes on Lamar then receivers can find windows to sit in for Jackson to find them.
That happened, a lot, in the game last night. But Tennessee kept the ball in front of them, picked off a few passes, and made some stops on fourth down, so the Ravens didn't get enough out of it. Again, they were trying to win a playoff game with jabs from their left. They may have piled up a lot of yards but you can't win these games on the scorecard, you need knockouts. The power-option game couldn't finish drives or pick up crucial short-yardage situations, so they lost.
Here's my prognosis for the future. The Ravens have two ways to get better on offense and both are highly plausible. One is to include more RPOs and play-action from their power-option game. If you're getting 1-on-1s outside then give Jackson some checks to throw a hitch, slant, or out for God's sake. LSU's passing game is more advanced and gives Joe Burrow more options than what Baltimore is running right now and it's not close.
There are limitations to the RPO game in the NFL because OL can only get one yard down field, but some of the Raven's power-option schemes work like iso football with the OL washing DL laterally while one of their three TEs leads into the resulting crease. They should have more pass options attached to those for Jackson to throw. Or if you know you're getting the sort of quarters coverage that Big 12 offenses have driven out of the league, then run some play-action with the slot and outside receiver running double posts or something.
Lincoln Riley must have spent that game watching the Ravens fail to hit Brown down the field against man coverage on adjustable vertical routes and shaken his head. He won't make that mistake whenever he decides the time is right to jump to the NFL.
The Ravens' other pathway to excellence is to find a good possession receiver and flesh out their spread passing game. In my estimation, that stuff is even scarier than the power-option game. The most dangerous thing the Ravens offense can do is loose Lamar Jackson into space and it's extremely hard to keep a QB from finding space against a wide open passing attack. Against the option you can choose where his path will be and then tell your defenders to rush into that space. Against a wide open passing game you have to defend the full field.
If the Ravens were built around the spread passing attack first with the power-option game a red zone and short-yardage option, they'd be horrifying to defend. Instead, they're currently more invested in that run game.
All that to say, what should surprise no one is that the Raven's ability to break through in playoff games hinges on Jackson's development in their passing game and their front office finding him another receiver. The power-option stuff is fun but Tennessee's solution consisted of schemes that spread-option teams in college figured out how to demolish years and years ago.
********
Read more about the progression of spread football, particularly in the Big 12, in my book: