This has been about as impressive an offseason in Stillwater as I've ever seen, and I can readily recall another recent doozy. Heading into 2017 the Cowboys had Mason Rudolph and James Washington coming off big 2016s and both seemed likely to be NFL draft picks. Instead, they both returned along with a healthy Marcell Ateman and were joined by Cal LT Aaron Cochran to beef out the OL. Rudolph threw for nearly 5k yards
It didn't really mean that much, partly because of the timing of Gundy's good hand. Oklahoma had a senior Baker Mayfield who shot down the 'Pokes in a 62-52 Bedlam classic and TCU paired a super pass-rush with a senior Kenny Hill to overcome them 44-31. A shoddy defense also cost the Cowboys a 45-40 shootout to K-State of all teams when they couldn't cover Byron Pringle on deep flood concepts.
Ultimately the 2017 Oklahoma State Cowboys went down as one of several Mike Gundy teams this decade that fielded exceptional offenses but couldn't find a winning margin in every big shootout and received little aid from their defense.
This team looks a little different.
Wait, who's coming back again???
Things kicked off when Tylan Wallace announced that he was returning for another year. Wallace was perhaps the most explosive vertical receiver in the Big 12 for the last two years, which is saying something because that's a crowded field of contestants. The 2019 Cowboy passing game spent the first half of the season relying on Wallace executing screens and play-action double moves for their passing game to play off the Spencer Sanders/Chuba Hubbard run game. When Wallace went down they got some nice production out of Dillon Stoner in that feature "Z" receiver position and young Braydon Johnson also showed out well with more targets.
Well not only is Wallace back to spearhead this passing attack but those other two guys are also back to work with a now redshirt sophomore Spencer Sanders over the summer.
In my book, that alone made OSU a real contender to win 10 games and vie for a place in the Big 12 championship. But Gundy clearly sensed opportunity and that wasn't it for the 'Pokes.
Next Chuba Hubbard announced that he too was returning. Hubbard had a wild 2019, 328 freaking carries for this guy who isn't that big that he turned into 2094 yards at 6.4 ypc and 21 TDs. Gundy is notorious for not investing ultra deeply in recruiting but that man can do three things like few others.
Evaluate
Develop
Retain
The 2017 Cowboys had a big hole at tackle where they needed guys that could ensure that Rudolph was upright while waiting for Ateman deep outs or Washington posts to develop and pounced on the opportunity to get Cochran, the massive Cal transfer. For 2020 there wasn't a glaring hole at tackle but the Cowboys do need to replace multi-year starters Johnny Wilson and Marcus Keyes at center and guard. To that end, they somehow secured All-B12 guard Josh Sills from West Virginia as a grad transfer, meaning that their 2020 offensive front probably looks like this: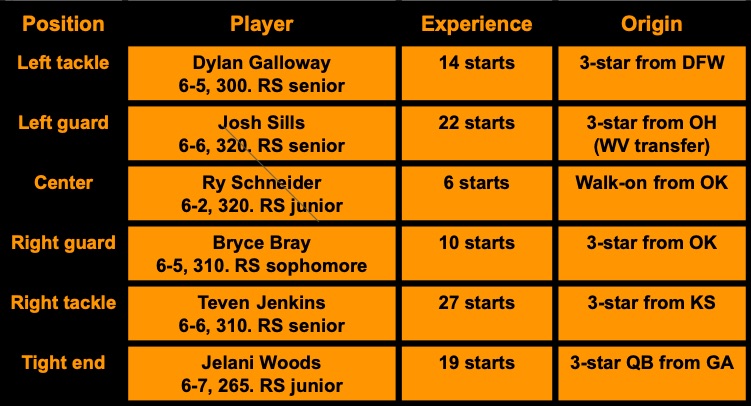 Sills and Bray are not only big guys but they are very talented run blockers and Woods should be filling out at this point into a Dayton Valentine-esque 6th OL for Charlie Dickey. Galloway and Jenkins aren't amazing but they're not bad either and they should be coming into their own now as highly experienced veterans. Overall this is an extremely well blooded group.
If Sanders stays healthy and makes real improvement as a passer this offseason then you're looking at perhaps the most potent Oklahoma State offense yet.
What about the defense, though?
This is actually where things get interesting. The above group is intimidating but we've seen similar units from OSU get to 10 wins but peter out in Bedlam and in one or two other games over the course of the round robin schedule.
The biggest mistake Mike Gundy ever made, which he never gets called out for, was firing Bill Young after the 2012 season. Young claims Gundy told him he was too old and wouldn't be able to recruit and keep up and then he promoted LB coach Glenn Spencer, who moved off Young's very simple "bend don't break" quarters concept and started mixing in a lot more to the play book. Year one in 2013 went great with one of their best Ds yet, but then the dozen or so seniors that made up that unit graduated and they've failed to be very good ever since.
The 2011 OSU team that won their sole B12 title did so with a top defense that included 1st round NFL draft pick Justin Gilbert at CB, a secondary and LB corps without glaring holes and that could sub-package down, disruptive DT Nigel Nicolas, and then DE Jamie Blatnick who had eight sacks and terrorized Landry Jones in their crucial Bedlam win.
The 2019 OSU defense was a mixed bag. They actually fielded a pretty impressive defensive backfield after bumping Malcolm Rodriguez down to weak side LB and finding Amen Ogbongbemiga to be their next impact LB. The defensive front was not terribly good and struggled to hold the point of attack or get a pass-rush without blitzing. But they found a few things down the stretch.
Cameron Murray, Israel Antwine, and Tyler Lacy ended up locking down their three true DL positions. All three are bigger, sturdier guys and each but Murray were also underclassmen a year ago. At their hybrid, shock trooper LB spot they ended up giving more and more snaps to true freshman Trace Ford, who's an absolute blur even though he barely knew what he was doing a year ago. Malcolm Rodriguez gives them a LB that can cover and that they can move into whatever positions B12 offenses try to attack with slots and TEs while Amen Ogbongbemiga is a really smart and versatile athlete that should thrive next year playing behind an improved front.
Really the only big question is replacing longtime starting cornerback AJ Green, and his counterpart Rodarius Williams is back on the other side along with something like four different safeties who've played meaningful snaps for the 'Pokes.
In short, this is the best looking OSU defensive roster we've seen since 2013. Gundy pushed in his chips and managed to lock down all of his big time skill talents, bolster the interior OL with a big time grad transfer (with potentially two years of eligibility left if he gets a medical RS), and do it all in a year when QB and the overall defense has a lot of rising young talent.
Much like in 2017, he picked a heck of a year to do it. Oklahoma is loaded, Texas is loaded and recalibrating their sights with new staffing, and Iowa State looks loaded as well with TE Charlie Kolar announcing his return. However, this looks like a much more complete roster and team that may be ready to fire on both sides of the ball for the first time since 2011.
********
Mike Gundy has always been savvy on offense but in my book you can read about when he decided he needed to make an adjustment and hired Dana Holgorsen to give the Cowboys a chance to compete in an intense and offensively-driven league.