Yesterday I compiled some data from 247sports.com on the recruiting class rankings of the Big 12 over the last decade (2010-19). Btw, that website is remarkably easy to use and a tremendous resource for doing quick research on most anything you could want to examine.
What I compiled was the average class ranking for every Big 12 team in every year of the decade, how many players they signed every year, how many of those players were "blue chips" (4-star or higher), and then their league record over the course of the decade. Here are the results: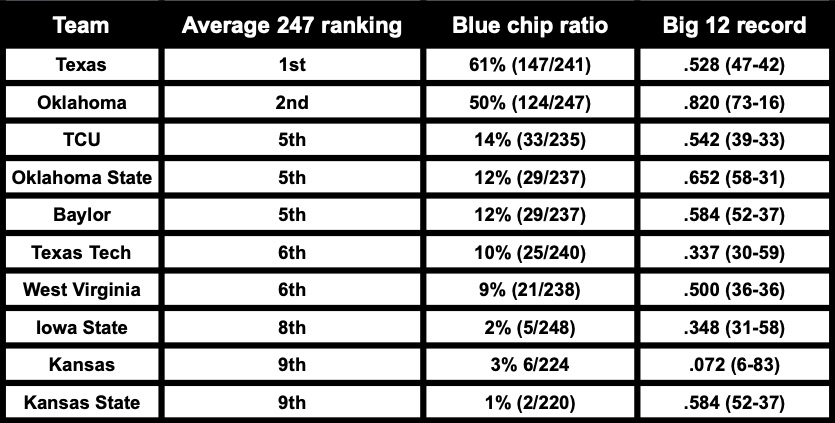 Average 247 ranking was compiled by averaging out every team's finish. TCU, while they scored higher than the other teams listed as 5th, didn't tend to finish as high as third on average. Blue-chip ratio means the percentage of players signed that were rated as 4 or 5-stars, in parenthesis you can see how many players each team signed and how many were blue chips. Big 12 record should be self explanatory.
Some notes…
Two of these things are not like the other…
Texas and Oklahoma obviously enjoy a massive advantage over the rest of the league. Everyone more or less knows this but when you put it all out like this it becomes more apparent the degree to which they're privileged.
You could also argue that this reveals that the gap between 3-stars and 4/5-stars is more marginal than many would have you believe but there's little doubt that the weight of Oklahoma's resources have often been felt on the field.
The Sooners signed about 4x as many blue chips as the next highest team, TCU while Texas signed about 4.5x as many.
Blue chips are essentially the obvious talents that everyone agrees are good prospects. You can end up with a very talented team without recruiting them but it's obviously harder because the consensus regarding which players are most talented is going to end up being right more often than not. Texas and Oklahoma's ability to pull in the most sought after players in the region is a massive advantage.
Two of these things are not like the other…
There are two teams who's actual performance doesn't correlate at all to their recruiting rankings, the two teams at either end of the spectrum. Texas and Kansas State.
Kansas State has punched above their weight through a combination of strong culture, superior strategy and tactics, but then also that their teams tend to be filled out by older players. As frustrating as it often has been to K-State fans to put a low emphasis on HS recruiting and impact freshmen in the era of recruiting coverage, the program has long gained a big edge from having an older team than anyone else in the conference and consequently managing to either play more advanced tactics or to execute with greater precision and fewer mistakes.
Texas on the other hand has really leaned into their identity as Goliath, despite AD Chris Del Conte's insistence that they haven't…
As I detail in the book…
Texas was on the cutting edge of utilizing pro-style passing concepts from the spread in 2009 when Colt McCoy was injured, Mack Brown lost his nerve, and the program wandered in the wilderness for the entire decade. They've repeatedly tried to be a team that imposes their will in the trenches, which is the inferior way to play the game and gave everyone else in the league a chance to keep up while granting Oklahoma a much easier path to the Big 12 title every year.
In the 2010s Texas had three receivers go for 1k yards in a season. Three. Over the entire decade. John Harris in 2014, Lil'Jordan Humphrey in 2018, and Devin Duvernay in 2019. They had two seasons in which their starting QB threw for 3k yards or more, both seasons came from Sam Ehlinger (in 18 and 19).
That's a major reason for Texas' futility this decade.
Are we sure Gary Patterson is good?
This may have to become a reoccurring segment as I've gotten into a lot of debates recently with TCU fans about whether old Gare is slipping as a defensive mind and the Horned Frogs' prospects for 2020 and the new decade.
Who else was surprised that TCU ended up ranking as the 3rd best recruiting team in the Big 12 over the course of the last decade? The narrative around the Frogs has always been that they make the best of smart scouting and uncovering gems in recruiting, and certainly they do that, but so does everyone else in the B12. TCU has recruited more blue chips than any other non-TX/OU program in the conference and have been outperformed by OSU, Baylor, and K-State.
Their main claim to fame from this decade has been their regular thrashings of Texas, which have also started to dry up, and their reputation for defense which is also increasingly questionable.
An easy counter is that with better luck regarding QB injuries the Frogs would be closer or higher than Baylor or OSU. Of course the reason they had to thrust Max Duggan into the starting role this season wasn't injuries so much as how Patterson interacted with Shawn Robinson, so it's not like the staff are helpless victims here.
Texas Tech…
Another team that has benefitted greatly from Texas' malaise has been Texas Tech, who's similar post-Mike Leach collapse has drawn less national attention.
Hypothetically a massive state school with money flowing on rivers from the Permian basin and a large base of alumni in DFW and Houston should be able to recruit competitively with OSU, Baylor, and TCU. At times they have, only to fail to leverage that talent into results. Being stationed out in the ocean of West Texas is certainly a disadvantage in some regards but this is still rather stunning.
I'm guessing that in the 2020s Texas Tech will start to work out this problem.
What are your takeaways from the raw data?