Every now and again I see Oklahoma write-ups for 2020 that have caveats for their offense like, "hey, we haven't see Spencer Rattler yet…" or, "there's not many scholarship wide receivers left on OU's campus…"
Smart prognostication for the 2020 Sooners should largely ignore all that. Last year we saw Lincoln Riley evolve the OU offense into a power-option team that was able to win the league despite losing their two sharpest canines between the vertical pass game and counter-trey run scheme. Jalen Hurts struggled with the former and the Sooner tackles weren't as good pulling as their predecessors. Didn't matter, Riley pieced together what they did have on offense and they were plenty good.
Next year he'll have an improved OL, a much better arm delivering the ball from the pocket, a deep cast of FBs and TEs that will probably only leave room on the field for two WRs at a time, and then plenty of WRs to fill those two spots with high level play. Oklahoma may very well have a more talented offense in 2020 than the dreaded Oklahoma State group Mike Gundy is returning.
The two big questions for Oklahoma are A) how good is the rest of the B12? and B) how good is the defense? For the 2010s, the quality of the rest of the Big 12 was never really an issue. When Oklahoma was good, they won. Typically the years in which they fell short (2011, 2013, 2014) were all seasons in which OU themselves had some shortcomings save for 2011. That season Oklahoma was pretty good, they just got beat down by injuries and a tough league. Oklahoma State and Texas could be good enough in 2020 to demand more from the Sooners in order to win again. Maybe they won't, but it's in play. This is the most talented team I've seen from OSU in a long time and Texas is always talented, just a matter of whether the new staff can actually harness it.
The Sooner defense has always been the bigger issue in the Riley era. The offense has occasionally been good enough to power a National Championship but they've lacked a decent defense to match. The only real exception here was 2015, when the Sooners were pretty solid on D but hadn't put it together on offense yet and came up short there in a few key games, notably against Clemson in the playoffs. The 2016, 17, and 18 offenses were good enough to power a championship if paired with even a solid D, perhaps even the 2015 or 2019 units.
2019's defense was pretty decent, although they were no match for LSU, and the 2019 Oklahoma offense wasn't good enough to power a National Championship. That unit was barely good enough to power another B12 title. Indeed, the Sooners basically won the 2019 title by default as the last man standing. OU's three decisive wins were the Red River Shootout where they sacked Sam Ehlinger nine times, their comeback win over Baylor enabled by a few 2nd half turnovers, and then the Big 12 title where they knocked Charlie Brewer out and then chewed up Baylor's back-up QBs. The OSU game was a cakewalk because Spencer Sanders was out and the Sooners nearly blew their big home game against Iowa State and were frankly saved by a lack of a flag. LSU surely left a bad taste in OU's mouth regarding their D but they only reached that level thanks to that unit.
In 2020, Oklahoma probably needs to be a bit better than decent on defense to win the Big 12 again and certainly if they want to get back to the playoffs and do anything. Here's what DC Alex Grinch is facing in making that happen.
Grinch's Big 12 strategy
Against the Big 12's explosiveness and pass-first orientation, Grinch made a couple of big concessions to make his system viable. One was using mini-nickel Brendan Radley-Hiles in a variety of different schemes in the slot. With a nickel corner on the field, the Sooners could change up the leverage to the wide side of the field and bracket the slot in a variety of ways to keep opposing OCs from hurting them with precise play-calls.
The Sooners also tended to bring hard but late run support from the field, either crashing Radley-Hiles, or better, dropping him deep late and using SS Delarrin Turner-Yell as the run force. DTY got pretty good at it as the year went on and finished second on the team in tackles.
With DTY coming late from deep and robbing in-breaking routes on his way to the QB, a lot of RPOs became risky for opponents. Many OU fans were keen to note how long Joe Burrow had to hold this ball, technically resulting in what should have been an "ineligible man downfield" flag…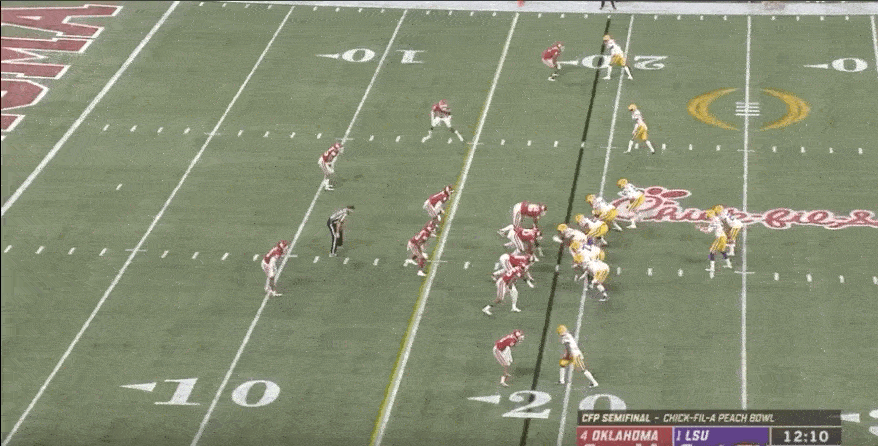 …although it should be noted that normally DEs don't get washed out that fast, which would have kept LSU's OL from getting too far downfield.
The weak spots for the Sooners were in the flats and then down the sidelines, where they tended to leave their cornerbacks isolated in press-man coverage.
Press coverage outside and variety in how they moved the nickel and safeties around paired well with an approach up front that was heavy on movement and speed to generate pressure. NT Neville Gallimore was a load in the middle and all the movement and aggression suited MLB Kenneth Murray and DEs Ronnie Perkins and Jalen Redmond quite well. All three had 10+ TFLs.
The weak spot for OU was the best ones to have, they were vulnerable on run defense or against smart QBs that could beat them throwing the ball outside. It's hard to beat an offense like OU's running the ball, especially if they are still generating TFLs now and again, and the league was down at QB a year ago while one of the best ones they faced spent his afternoon dodging rushers.
In 2020 Oklahoma will have to deal with a much improved collection of Big 12 QBs and passing attacks and they'll have to do so without some of their key weapons. Parnell Motley proved to be a good cornerback as a senior, Ronnie Perkins made a lot of their pressure schemes worked by getting home and could miss the first five games with a suspension (including Texas), and Kenneth Murray is going pro.
Will the Sooners be able to tread water or finally reach the shore on D?
One common assumption about Oklahoma's D in 2020 is that they'll struggle to maintain their 2019 success on D without Murray, Gallimore, Motley, and maybe Perkins. On top of those losses, the Sooners had six defensive players transfer out in 2019 and have had eight more transfer out in 2020.
All of these transfers are losers from the schematic adjustments and position battles that played out after Grinch took over on defense. This isn't an exodus of key players but from back-ups looking for opportunities elsewhere. The only hang-up is whether there's enough left for the Sooners to fill out their depth chart with quality, but I tend to think that things are pretty promising.
Here's an overview of the units and whether they are likely to decline, tread water, or improve in 2020.
Defensive end
The Sooners are nominally a 3-4 defense but they play four-down fronts and just alternate who ends up where. The field DE is like a strongside DE who plays the edge some and also crashes inside into the B-gaps. Ronnie Perkins was the man there last year and he was very effective, behind him OU has sophomore Marcus Stripling who played a fair amount in 2019 and then some even younger guys. They can also slide senior LaRon Stokes here because the other spot is deeper.
The boundary DE plays inside of the jack LB, who's a part time weak side end. So this position is a part time DE and a part time 3-technique. They used Jalen Redmond here a lot last year and he's an emerging superstar, then they have some other bigger guys behind him. With Perkins or a considerably improved Stripling, OU is better here than in 2019.
Nose tackle
The Sooners didn't have to use a crystal ball to realize that they'd be in trouble in 2020 here after Neville Gallimore and Marquise Overton graduated, so they nabbed the no. 1 and no. 2 JUCO DTs in the country. I haven't studies those guys' film but it seems like they have a chance to tread water here, which is a big deal because it was a position of strength. At the very least, I doubt they are bad here, both JUCOs were able to enroll for spring ball.
Linebacker
The Sooners move a ton and use bear fronts quite a bit, often creating a 5-1 front against 10 personnel. Their middle linebacker is a part-time OLB when they slide their field DE inside and their jack linebacker is a part-time ILB when he's dropping back like a will.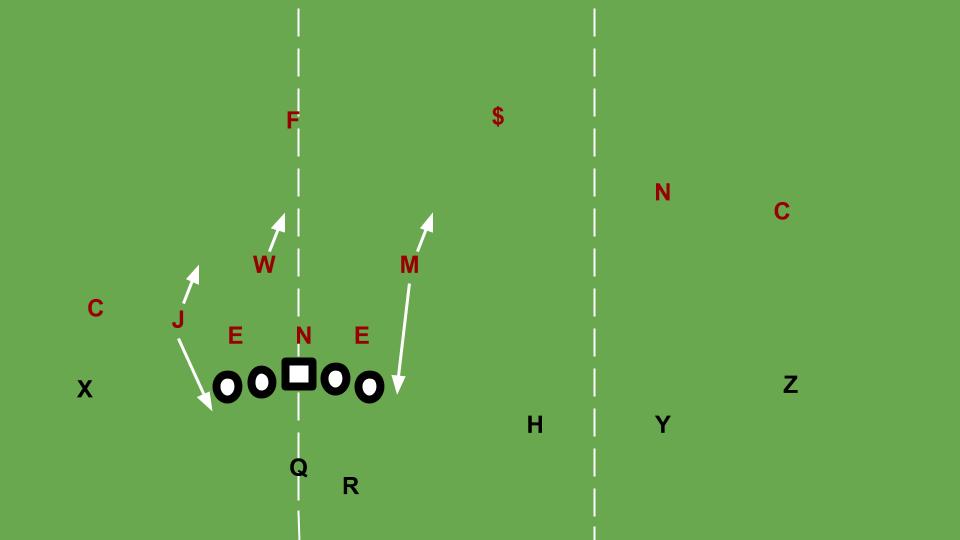 Kenneth Murray had a pretty great 2019 season, but he also got to play on attack mode a lot while young will linebacker Dashaun White was asked to be the true inside-backer and read the RB flow without getting caught in the wash.
At jack linebacker the Sooners started with Jon-Michael Terry, who was solid, and finished with RS freshman Nik Bonitto who flashed down the stretch last year. Bonitto may give them a more legitimate, normal four-man rush than they had in 2019. Currently the plan is to slide White over into the aggro-mike position and ask 5th year senior Caleb Kelly to reflect on all that he's learned in his time in Norman and be their savvy clean-up hitter at the will.
I think that Kelly can upgrade that will position with all of his accumulated know-how while White may show more ability than people are expecting when he's in a more aggressive role that allows him to attack more. Behind these guys the Sooners have David Ugwoegbu and Brian Asamoah who both flashed a year ago as freshmen, and also probably big safety Robert Barnes that I expected to spin down when he was recruited from Southlake Carroll. Ryan Jones was a very promising athlete but evidently that wasn't working out and he's now transferring away.
Overall I expect to see the Sooners get better at linebacker, as remarkable as that seems. White probably can't match what Murray brought but they could remain good at that spot while improving at the other two positions.
Safety
I'm including nickel here since the strong safety and nickel are such tight and mirrored positions. The Sooners return all three starters from 2019 while welcoming back Tre Norwood, who was expected to start at nickel last year and saved their season in 2018 when he slid to SS for the B12 title game.
Norwood is a 5-11, 184 pound DB that can turn and run so they may use him as a cornerback to replace Motley. Or perhaps he takes back over at nickel for Radley-Hiles, who has a lot of unexplored upside but also made some dumb mistakes and business decisions a year ago playing in the middle of the field. They could also play Norwood at strong safety if he shows he can close and tackle and then slide DTY over to free safety to upgrade the run defense at that position.
There's a lot of options overall, a lot of room for growth from the returning starters, and then also some younger talents behind them like sophomore 4-star Jeremiah Criddell or early enrollee, 4-star freshman Bryson Washington. Justin Broiles and Chanse Sylvie also return along with some other younger players who's names I haven't had to learn yet.
Grinch was frustrated all year with the lack of talent and options at safety last year. Technically many of them are now the same, but DTY at least was legitimately good a year ago and there's increasing numbers of young talents chosen by Grinch around to push the incumbents. It's pretty hard to see OU failing to improve at this spot.
Cornerback
There's two dimensions here that have to be explored. One is how well Oklahoma can replace Parnell Motley and develop their returning players, the other is the higher challenge that will come from facing a schedule that probably won't spare them like it did a year ago.
Last season OU faced the following challenges outside:
Non-conference: Negligible
Texas Tech: First game for Jett Duffey, who didn't even start the game. No Alan Bowman.
Kansas: Before they promoted the young OC, also Kansas.
Texas: Couldn't figure out how to block the bear front pressures and had their young WRs drop some deep bombs.
West Virginia: Pre-Jarrett Doege.
K-State: Not that effective a passing team, also OU lost.
Iowa State: All of their punching power at WR was inside with the TEs, RB Breece Hall, and slot Deshaunte Jones. Despite that, ISU scored 41 in this game and nearly won.
Baylor: Featured a Charlie Brewer that struggled to push the ball outside and a bad OL.
TCU: Weak passing game, couldn't maximize Jalen Reagor and preferred to try and run the ball.
OSU: No Spencer Sanders and no Tylan Wallace.
Baylor again: Same story as above only worse.
LSU: Dropped 63 points, probably could have been 100.
Texas was the only real threat to the OU cornerbacks they faced before LSU and the Longhorns wet the bed and tried to attack the Sooners with a transparent 21 personnel package (moving Devin Duvernay into the backfield) that Kenneth Murray sniffed out. LSU went right at OU and completely took them apart.
All that to say, Oklahoma could tread water or improve at cornerback and look substantially worse because the level of competition will be so much higher next season.
They have a senior Tre Brown who's roughly akin to a three-year starter, Tre Norwood or Brendan Radley-Hiles if one of those two moved outside, and then sophomore Jaden Davis who played a ton last year as a freshman. Things are pretty solid here, even if no one is quite as good as Motley was last year, as there is a ton of speed, athleticism, and now some real experience in the new system. The biggest concern is, again, the heightened danger from facing better attacks and then then lack of size.
Here's how OU lists these guys vs what I think they probably are in reality:
Tre Brown: Listed at 5-10, 185 and probably more like 5-9.
Radley: Listed at 5-9, 180 and probably more like 5-8, 170.
Davis: Listed at 5-10, 170, surely no bigger than 5-9.
Seriously, go find these guys on the 2019 film. They are tiny and only Brown has a particularly thick build. Can they play press coverage on bigger receivers without getting bullied or Moss'd? Probably depends on the WR and also how they're officiated.
There's plenty of reasons for OU fans to feel optimistic that their defense can improve upon a very solid year one under Alex Grinch. The problem is that the league is likely to get after their weak spots much harder, between opposing coaches having more knowledge of Grinch's schemes and also having the QB play to make anything of it. Those external factors could result in the overall defense getting attacked structurally in ways that makes them look worse than they were in 2019.
It'll be a big offseason for the Oklahoma secondary as they continue to lay down load-bearing supports for a potential future National Championship while trying to hold off the rest of the league.
********
If you enjoy a historical perspective on the Big 12 you should read my book, Flyover Football, which tracks the conference's history from the beginning in the mid-90s until roughly now while detailing some of Oklahoma's defensive efforts in the 2010s.