Andy Staples collected some fantastic offseason clicks recently with every offseason's favorite topic, college football realignment. His article on "The Athletic" suggested that the Big 12 could absorb the top half of the Pac-12 to form a super conference that would then include USC, UCLA, Arizona, Arizona State, Washington, and Oregon. Here's the link:
Here's the deal, ALL realignment talk is driven by the prospective TV contracts that conferences can command. Recent TV rights contracts signed lead to the following in revenue in 2019:
Big 10: $759 million. $54 million per school.
SEC: $627 million. $43.1 million per school.
Big 12: $373.9 million. $34.7 million per school
Pac-12: $497 million. $29.5 million per school.
ACC: $465 million. $29.5 million per school
The goal of realignment in the future will be for the Pac-12, Big 12, and ACC schools to find ways to compete with the enormous TV contracts that the SEC and B1G have lavished upon them.
Big TV contracts like that come from having programs that command extremely strong ratings. The more big time programs that draw a lot of viewers you have in the conference, the more you can charge ABC/ESPN, Fox Sports, or CBS to carry your games. This is a major driver of conference alignment and it shadows the revenue of ticket sales since the better your schedule is, the better your attendance, the bigger you can build your stadium, and the more you can charge for your ticket.
Here's an overview of Big 12 TV ratings in the 2019 season: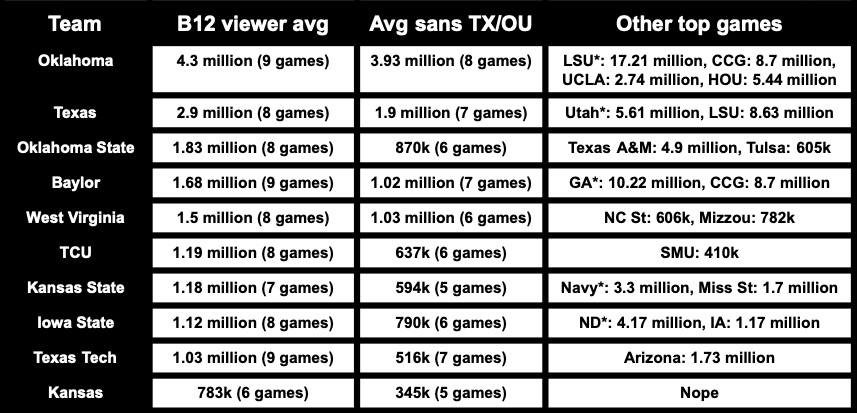 The Big 12 commands big TV money because it includes Texas and Oklahoma. The rest of the league struggles to command one million televisions on a given week if they aren't playing Texas or Oklahoma while those two schools drew almost two and four million every week regardless of the opponent. It was a good season for Baylor, both in terms of their success on the field and the ratings they drew, yet they didn't have the same kind of draw as Oklahoma State primarily because Texas and Oklahoma fans get excited to see their team play the Pokes.
Here's another look, the top 10 Big 12 games by viewers in 2019:
Oklahoma vs Baylor (B12 title): 8.7 million
Oklahoma vs Texas (RRS): 7.25 million
Oklahoma vs Baylor: 6.79 million
Oklahoma vs Ok State (Bedlam): 5.82 million
Oklahoma vs K-State: 4.21 million
Texas vs Ok State: 3.64 million
Oklahoma vs Iowa State: 3.17 million
Texas vs West Virginia: 3.16 million
Oklahoma vs TCU: 3.15 million
Oklahoma vs Kansas: 2.98 million
That last one is the real kicker. A 12:30 game between Oklahoma and Kansas had a higher viewership than any single Big 12 game that didn't involve Texas or Oklahoma.
The Big 12 championship game of 2018 which pitted Texas vs Oklahoma drew 10.16 million viewers, or 1.46 million more than the Baylor vs Oklahoma rematch title game of 2019.
Here's how some of the other rivalries of the Big 12 fared:
-"Farmageddon" between Iowa State and Kansas State had 642k viewers.
-Baylor vs TCU drew 728k viewers.
-Kansas State vs Kansas had 296k viewers.
-Baylor's highest rating games aside from the Texas or OU matchups were Oklahoma State (2.23 million viewers), Iowa State (1.25 million viewers) and West Virginia (1.13 million on a Thursday night prime time).
What does this mean for realignment?
To keep up in the money race, the Big 12 needs to expand by adding more television draws. Remember when there were discussions about adding more schools that aren't currently in P5 conferences and the B12 decided to pass on that opportunity? Check out the highest rated games for those contenders:
Colorado State: 1.28 million took in their rivalry game with Colorado. 794k watched them play Wyoming.
UCF and USF: Their rivalry game, "the war on I-4" had 1.76 million viewers. UCF also had a battle with Cincinnati that drew in 1.44 million.
Cincinnati: Outside of the UCF mentioned above, 2.94 million watched them play Ohio State and they drew 2.51 million when they played Memphis and then 2.88 million when they played them again for the AAC title.
BYU and Boise State: Played each other last year in front of 571k viewers.
In other words, these are all small potatoes that don't bring any real draw. They'd each bring a few hundred thousand views per week from their respective regions but would also collect 1/13th or 1/14th of the share, which likely means less for everyone than they're getting now.
The only way for the Big 12 schools to increase the take home pay for every school is to include more big draw programs, like Staples' suggestion of absorbing the Pac-12 although that particular scenario isn't the most likely.
USC vs Arizona State last year drew 1.63 million viewers, Arizona vs Arizona State got 1.44 million.
Texas and Oklahoma are in the driver's seat
If you ask commentators that closely follow one school vs the other you'll get very different responses on what the future is most likely to hold. Oklahoma folk commonly state that the Big 10 is the most likely future for the Sooners.
Presumably the league would add Oklahoma State as well and bump Purdue over to the east division. Then Oklahoma would regularly play Bedlam, the Red River Shootout, Iowa, Wisconsin, and Nebraska with occasional pulls of Michigan, Ohio State, or Penn State. I don't know what happens to Texas in this scenario but they could probably push their way in just about anywhere.
If you ask Texas people then the most likely future is either some sort of Pac-12 union, although not likely the specific one Staples proposes, or else keeping the Big 12 afloat. The Longhorns are already making more money off college football than any other program by combining their piece of the B12 pie to other revenues.
The rest of the Big 12 has varying degrees of safety
You can tell from the numbers above that West Virginia and Oklahoma State are actually two of the stronger "also ran" programs of the Big 12. It's a state of only 1.8 million people but it's a fixture in Appalachia and a draw within that region. Oklahoma State has a long history of being a part of big time football as a big public school so they not only have their own alumni base and local fans but they also are an exciting opponent for Texas and Oklahoma.
Texas Tech's numbers are pretty bad and Iowa State's decent in comparison, but when you consider where those respective programs are right now in light of their history things look different. TCU and K-State are in similar boats.
Over time the hope for Baylor is basically to try and become what Texas A&M is, a major draw within population-rich Texas. They definitely aren't there yet and it's an uphill climb since they are a recent phenomenon, their enrollment is much lower than A&M's, and their home town of Waco (while growing) is still low at about 136k. Compare that to Lubbock, which is 253k, or even College Station which is around 113k. They're basically following the Oregon or Clemson model, or perhaps more accurately the Miami model.
Oregon and Clemson are public schools though with larger enrollments. Miami has a similar enrollment but is uniquely situated in South Florida, as the only major program in arguably the most talented per capita region in the United States. If you check the ratings above, you also notice that Baylor was undefeated for most of the year but couldn't draw more viewers than Oklahoma State.
Since only 1.15 million people watched them crush Texas, most people took in Baylor while they were giving away that epic lead at home against Oklahoma (6.79 million viewers), losing the rematch in the title game (8.7 million viewers), or getting smoked by Georgia (10.22 million viewers).
So, they're on a pretty good track but there's certainly some work to do in order to demonstrate that they should be included in whatever comes next for Texas and Oklahoma. Best case scenario is probably the one in which Texas and Oklahoma determine that they are doing well enough in the Big 12 that they don't need to join forces with the Pac-12 or Big 10 and the league keeps on.
It's not impossible.
That's where things are currently with realignment though, which is always a popular offseason topic. The B1G and SEC make big time money, but the current B12 set up is such that Texas and Oklahoma basically subsidize the rest of the league on the TV revenue side of things while claiming a bigger share of non-TV revenues than you'll find in other conferences.
********
The Big 12's limited size and demographics are a theme in my book, which explains why the conference was the league where spread offenses have developed the furthest.