The two best defenses in the Big 12 in 2019 shared a common trait. For years Big 12 defenses have been tortured by the conflicts and challenges that spread offenses can create for their linebackers that have to align in space across from a slot.
Iowa State and Baylor both played 3-down, broken stack defenses that I've dubbed the "inverted Tampa 2" which changed the role for their sam/nickel linebackers in defending spread attacks. The Baylor Bears had a big, versatile athlete named Blake Lynch that they moved to that position. I noted when Matt Rhule was hired that Lynch was the sort of guy he was going to need to develop as a defender in order for his program to take hold in putting Baylor back in contention.
Lynch was 6-2, 220 and played as their "sam" linebacker in front of a converted cornerback at field safety in Grayland Arnold.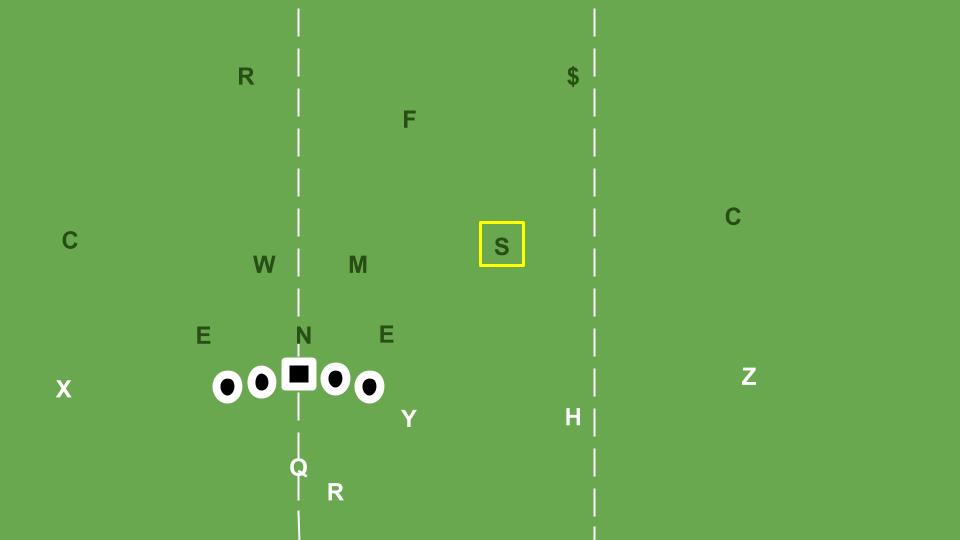 Iowa State went in a similar direction. They already had a sam linebacker position in the inverted Tampa 2 defense, which they had authored and Baylor largely copy/pasted (before adding their own tweaks). But their guy, Willie Harvey, was graduating. In a surprising move, the Cyclones decided to replace him by moving their young star middle linebacker Mike Rose to that spot after his fantastic freshman season.
Rose is 6-3, 240 and basically your prototypical NFL middle linebacker…and the Cyclones moved him to play where most teams align their nickel. By all accounts he's probably going to stay there in 2020 after a season with 77 tackles, 9.5 TFL, 2.5 sacks, three PBUs, and an INT.
This move completes an interesting turn in the development of nickel positions within the Big 12 over the years.
The O.G. Big 12 nickel
As I wrote recently in my piece about the 2000 Oklahoma Sooners and national recruiting strategies, the only Oklahoma team to win a title did so largely because of cutting edge tactics. Bob Stoops did not inherit the most talented team and subsequent Sooner squads had a lot more going for them in that department, but they did have a big leg up on everyone else in the league with their strategies. One of those strategies was being able to play cover 2 with nickel personnel and still stop the run. Their response to spread sets was to drop strong safety Roy Williams, a 6-0, 218 pound thumper, into the sam linebacker position and let him patrol the edge.
Offenses didn't really know what to make of this guy who could float in and attack the edge or stay wide and ravage the perimeter. That was a significant sea change since previous defenses would have dropped the strong safety down on a slot and played cover 3 or man-free.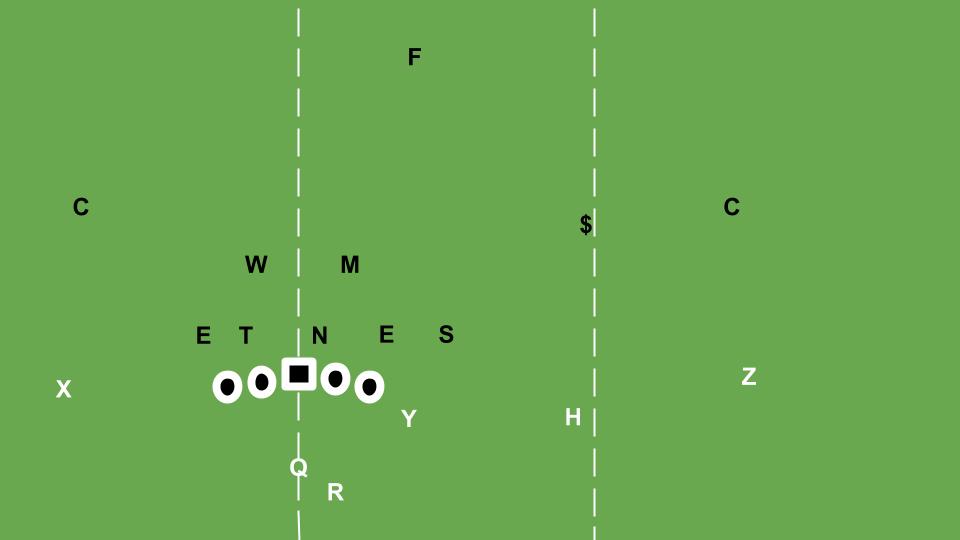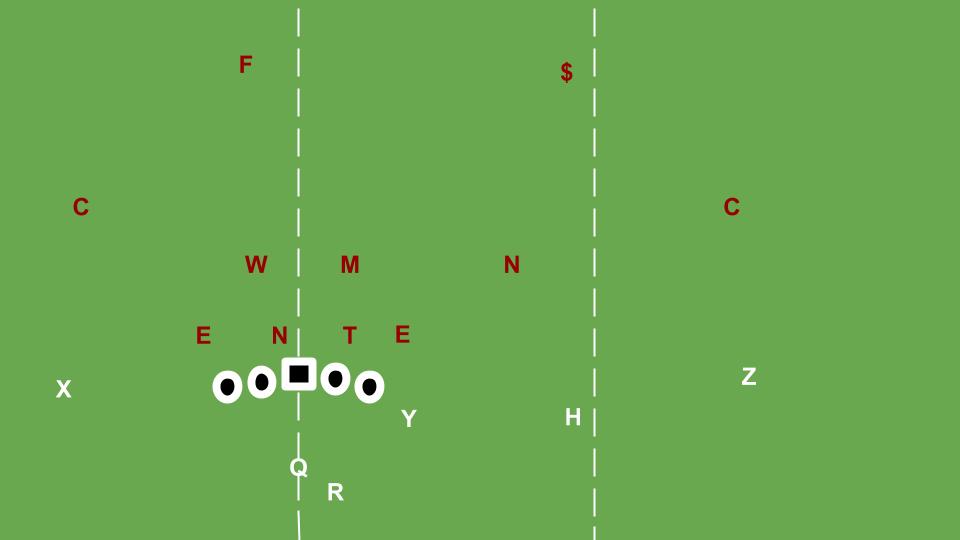 The Sooners had both defenses in their package back then. When they could play cover 2 and keep teams in front of them with a speedy linebacker corps that included Roy Wiliams and Rocky Calmus with future Thorpe winning cornerback Derrick Strait playing underneath in cover 2 it was a real challenge to passing teams.
That adjustment basically defined evolving approaches to Big 12 defense for the next two decades. It took a while before teams were all playing nickel personnel and it was still a big story over 10 years later when LSU played dominant defense in 2011 with the 5-9, 186 pound Tyrann Mathieu in the slot.
Three diverging paths…
Since Roy, the Big 12 has tried three different approaches to playing the nickel position against spread offenses, which have intensified their methods for attacking the position.
The O.G. method
One method has been to continue to try and play stud defenders with versatile skill sets in either coverage or against the run like Williams. That's a big challenge for two obvious reasons. One is that Williams was obviously a pretty unique football player. He ran the 40 in 4.53 seconds at the combine at 218 pounds and was a big and rangy hitter. Not everyone has a guy like that from year to year who combines the range, coverage ability (actually a bit iffy for Roy), and physicality to handle everything asked of that position.
Here's some of the things confronting the nickel/sam in the Big 12 today. First there's all the RPOs which hit him with bubble screens, outs, or slants if he races in to play the run: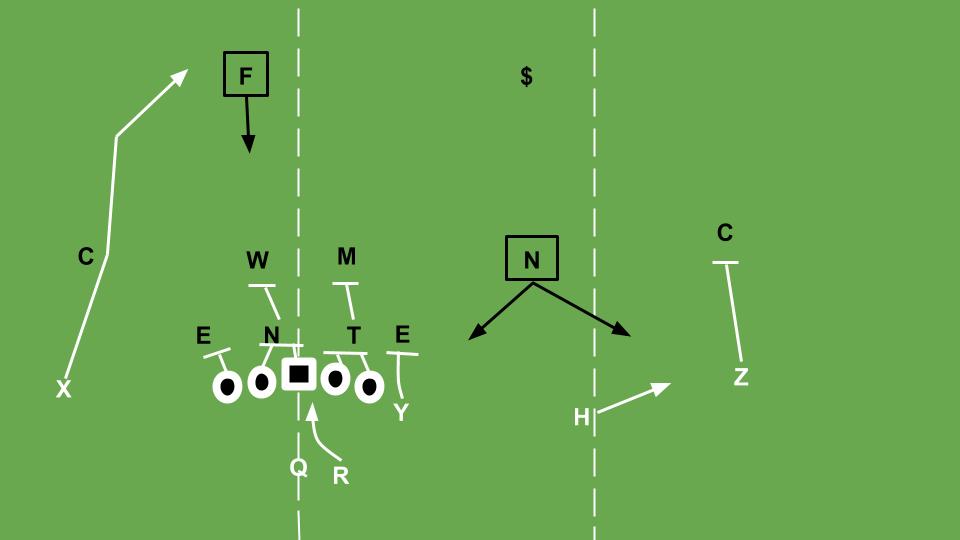 The best bet for plays like this is a guy that can wait on the hash mark with some depth and make the quarterback commit to the run or pass before closing on the ball. That requires some acceleration and open field tackle ability.
Trips formations make this all much worse and move the nickel further away and out into space while also adding to the challenge of his coverage assignments. In a 3×1 set the best nickel is one that can play like a cornerback on one play and cover the slot without safety help: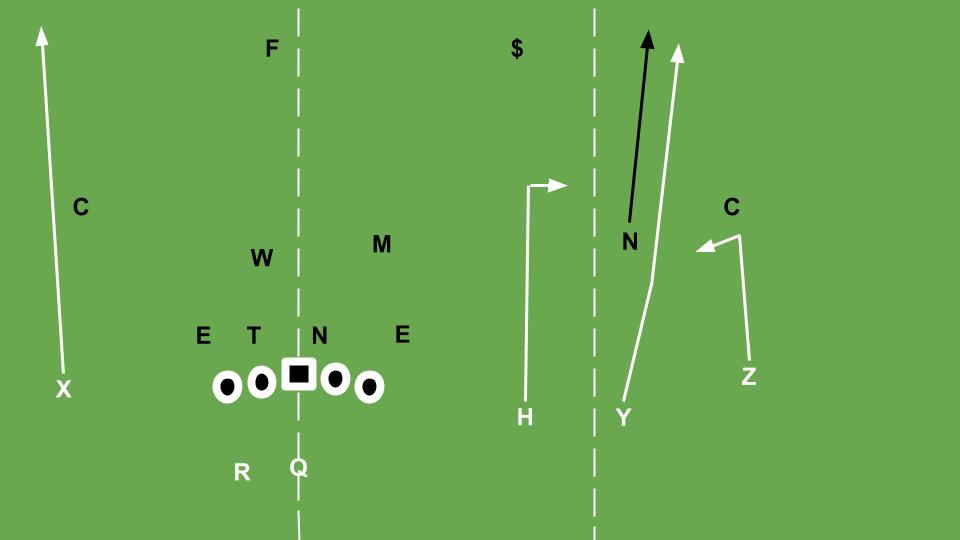 And then on the next navigate the challenge of being responsible for a vertical pass with the need to play blocks on the edge well enough to allow the middle linebacker to stay in the box and the deep safety to stay deep: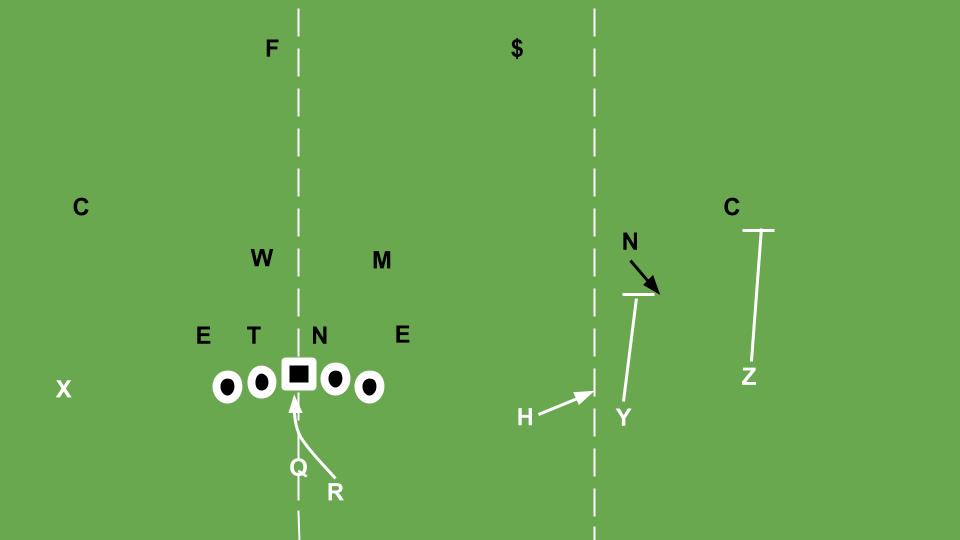 Those are just the more extreme stresses offenses can put on the nickel besides all the switches, crossing routes, and underneath combos that make him stick on agile receivers who have a lot of space to work in.
A team like TCU still tries to play a nickel who can play near the box or against perimeter blocks like a linebacker and then hold up on the perimeter to quick routes and vertical shots. They do what they can to help him out against the vertical pass game in exchange for the physicality underneath.
Consequently, the Frogs get caught at times. Before TCU switched to cover 1 and started causing an imploding Texas team problems, the Longhorns were blasting the Frogs early for their favorite hybrid coverage designed to allow them to play the nickel against the run game by sending Jake Smith and Devin Duvernay on double moves deep from the slot and running by the field safety isolated in space.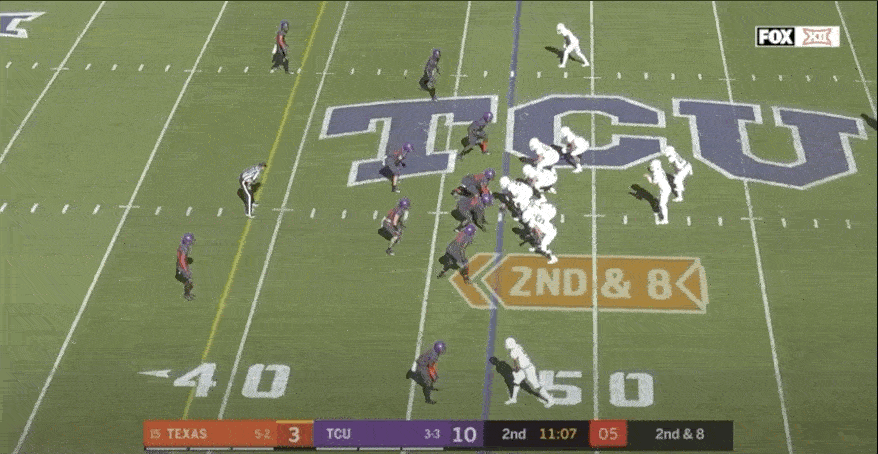 The idea with this coverage was to allow TCU to split the difference between playing quarters and using their nickel in the run game but without having to commit fully to cover 1. The field safety plays deep with outside leverage on the slot and the boundary safety opens to that side but doesn't play in the deep middle, instead he's trying to be positioned to close on anything over the middle but in near enough proximity to flip his hips back to the boundary to help on that receiver. The problem is that it left the field safety trying to guard the 4.4 Devin Duvernay in off man, Duve gave him a move to get separation and then broke open back outside where the boundary safety couldn't reach him.
TCU's approach has really hit some snags over the years. Spread offenses' ability to mix power run schemes with vertical route combinations and deep threat slots has been a tough adjustment.
The matchup method
This method is basically designed to avoid trying to play a jack of all trades at nickel who can process like a linebacker, hit and tackle like a safety, and cover like a cornerback. If the greatest danger is in the need to match underneath routes and vertical shots against a slot, then a nickel specialist would be a smart cornerback that could handle playing multiple leverages and coverages.
This is the approach Oklahoma used last year, forfeiting considerable ability from Roy Williams by deploying the 5-9, 180 pound Brendan Radley-Hiles over the slot. "Bookie" would play a deep quarters on guys, deep outside leverage, force the edge at times like a TCU or throwback space-backer, and also bail to the deep middle or shallow middle to play cover 1 or Tampa 2. He was basically a nickel/safety hybrid who gave Oklahoma coverage flexibility while others were tasked were helping against the run. They always set a hard edge with a different player than Bookie.
This is also akin to how Bill Belichik tends to do things, handling the edge with an outside linebacker, a scraping inside linebacker, or a buzzed down strong safety since he plays considerably more single-high coverage than you see in the college game. That strong safety is their Roy Williams type while the outside nickel is literally often a cornerback.
To go back to our cover 3 Under front defense above, the nickel version basically trades in the strongside end, bumps the 250 pound, edge-enforcing sam linebacker into a defensive end, and keeps the strong safety in position to play the run over the top while adding the nickel corner to handle the slot.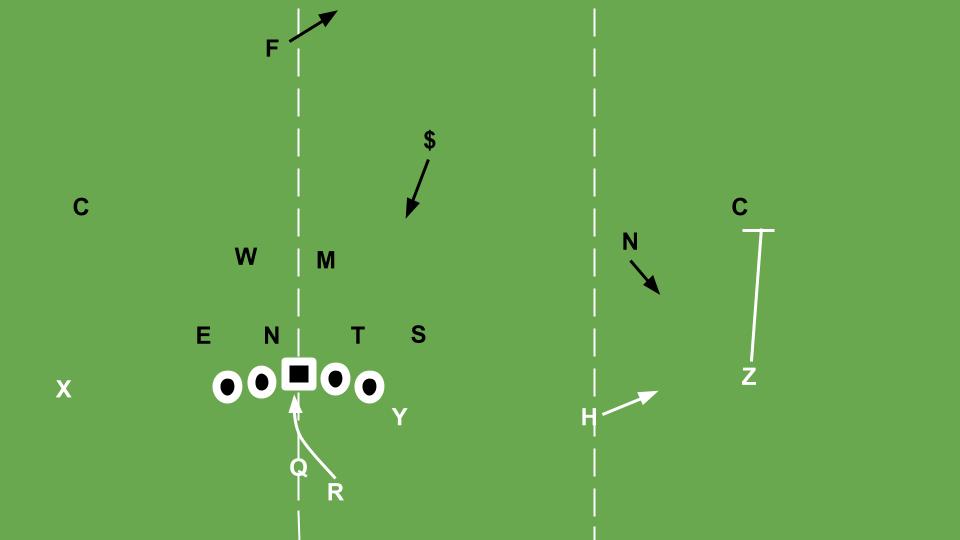 This style is probably going to grow in popularity. Instead of asking the nickel to be a Roy Williams-style run-stopper that can run down and thwart spread run schemes AND a star cornerback that can handle vertical and option routes in space, the defense can play one of each. The trade-off is that they are no longer in a two-high coverage scheme.
The split method
This is what's becoming popular now with the inverted Tampa 2 defense, although this is only one reason for the popularity of this "defense in depth" approach.
What Iowa State and Baylor are doing with their use of linebackers in space backed by over the top safeties is mimicking what made Oklahoma's approach successful back in 2000. What's different between now and then is that opponents figured out how to use trips formations and adjust their personnel and playbooks to over stress the deep coverage…so these inverted Tampa 2 teams added an extra deep safety.
You can't isolate their sam linebacker in vertical coverage because their use of three-safety defenses give them more options for how to avoid asking that guy to have to flip his hips and run with people like a cornerback.
Iowa State also still gets the effect of having a Roy Williams type playing over the top and fitting the run because they only play 3-down and drop eight in coverage. They completely flustered Texas in 2019 by having Mike Rose shutting down the perimeter screen game to Duvernay while having a safety over the top dropping into the box and outnumbering their power run game.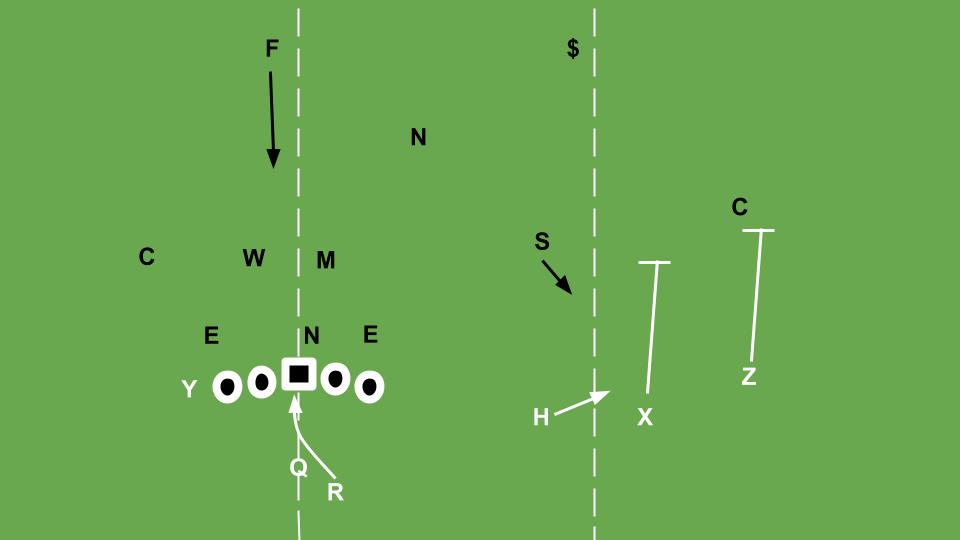 The Longhorns couldn't get anything going until they started playing four-wide and just throwing the ball every snap. Iowa State's defense is less well equipped for that thus far, it's designed primarily to eliminate run/pass conflicts from smashmouth spread teams.
The nickel is no longer a cornerstone
Offenses have too many ways to isolate and attack the nickel now for defenses to give them as many job assignments as they did in the past. Texas tried to give their nickel some of these roles, even intensifying the requirements for edge defense by playing the defensive end in the B-gap, and they got smashed, having to find other solutions and ultimately firing their defensive coordinator.
Nowadays teams are asking their nickel to either be an underneath enforcer and space-backer, or else another cornerback that doesn't have to do as much in the run game. Here's how the Big 12 is shaking out in that regard: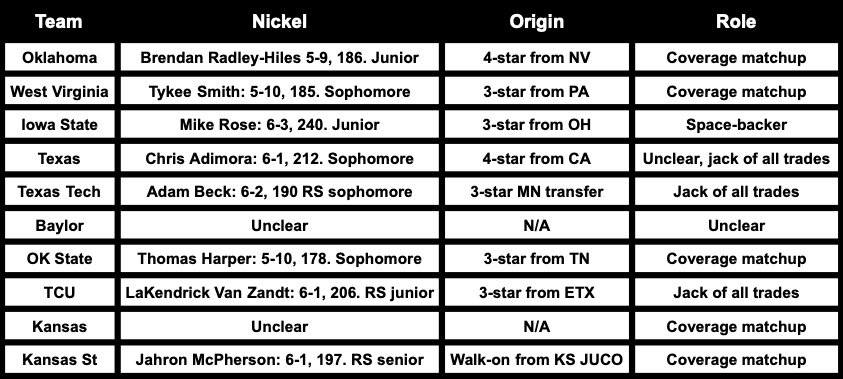 Lots of these guys started in 2019. Radley-Hiles, Tykee Smith, Mike Rose, Van Zandt, and McPherson are basically returning starters. Adam Beck for Tech played a fair amount last year as well.
It's not clear to what extent Dave Aranda will steal what Matt Rhule and Phil Snow had started running, surely some of it will be maintained for continuity's sake. It's easier for coaches locked down in their homes to talk and adjust their playbook then to rewrite all the rules for kids that may or may not be absorbing info on zoom calls.
TCU may move their guys around and not rely on Van Zandt in that position. They have a lot of talented safeties and could go full-bore into the 3-down defense this year now that Patterson has handed off the offense to Jerry Kill. It's hard to tell what exactly they'll do but they have some flexibility with Nook Bradford and Atanza Vongor at safety as well.
How Texas sorts out this position could be the most impactful development in this offseason at that spot. Chris Adimora has not won that job yet and we don't yet know what Chris Ash will run coverage wise and how much he'll ask of his nickel. It'll be much less than what Todd Orlando tried to do but perhaps still closer being a jack of all trades than what others are evolving towards. They need things to go well there to compete for the Big 12.
********
Read about how Big 12 offenses evolved to torture nickel defenders in my book: