Every year there's always a lot of debate around various quarterback prospects. There's a ton riding on these guys, if you pick the right one you may have set your franchise up for a decade and a favorite strategy these days is to take advantage of having a solid quarterback on a rookie deal to spend a ton of money on putting expensive, excellent veterans around him.
Alternatively, if you never find a good one then you set a ceiling on your team that's well below "Super Bowl Champion" and often below "playoff team" as well.
Between the long period of time in between the Super Bowl and the draft as well as the increasing large number of people offering draft takes (yo!), quarterback is always a spot where you get to hear a lot of crazy nonsense. These days there's also a certain sense of, "listen, y'all need to listen to us" from the people who focus on college football after Lamar Jackson was largely doubted but went on to have a huge season last year in Baltimore. Some of this has culminated in Jalen Hurts climbing up the rankings, which is ridiculous, but some of it is also centered around Tua Tagovailoa.
Tagovailoa had a fascinating college career. Fascinating. It was also one of the more poorly understood careers.
Coming to Alabama
The whole Tagovailoa family came to Alabama when Nick Saban secured Tua's commitment out of Honolulu, HI. His younger brother Taulia Tagovailoa, whom I like to refer to as Case, went to school in Alabama and played in a state championship game against Alabama's next (?, maybe not) starting quarterback Mac Jones.
It was a hilarious pairing. There were members on Alabama message boards that questioned how things would go for Tagovailoa in overcoming the language barrier coming from Hawaii. The Tide also had a sophomore quarterback named Jalen Hurts that had already lead the team (or at least been the quarterback) to the National Championship game where they'd narrowly lost to Clemson.
I recall Bud Elliott noting the awkward pairing of freshman Tagovailoa on a team with Calvin Ridley and other talented young receivers stuck behind Jalen Hurts, who operated a spread-option offense in 2016. Bud and others who'd seen him throw in person knew he was at another level from Hurts. I was writing at Saturday Down South at the time and chronicled some of the issues with the 2017 team. The central problem they had was their offensive philosophy.
Nick Saban got fed up with Lane Kiffin at the end of the 2016 season and fired him before their playoff game against Clemson immediately after their game against Washington. He promoted Steve Sarkisian from analyst to OC, but after the game Sark left to take the same job with the Atlanta Falcons (he's back now). So Nick Saban hired one of Bill Belichik's assistants at New England, Brian Daboll, who set out along with Mike Locksley to build out Alabama into more of a pro-spread offense that would de-emphasize the quarterback run game elements that Kiffin had sprinkled in for Hurts' benefit.
Hurts predictably struggled and Tua Tagovailoa hated sitting behind him when it was clear to anyone that watched practices who was the better fit for the more pass-heavy new offensive system. In the lead-up to the 2017 playoffs Saban made concessions and gave Tagovailoa a bigger share of the first team reps and after weak Hurts performances against Clemson and in the first half against Georgia, inserted Tua.
Tagovailoa hit a glance route on an RPO early on and everything flipped on a dime.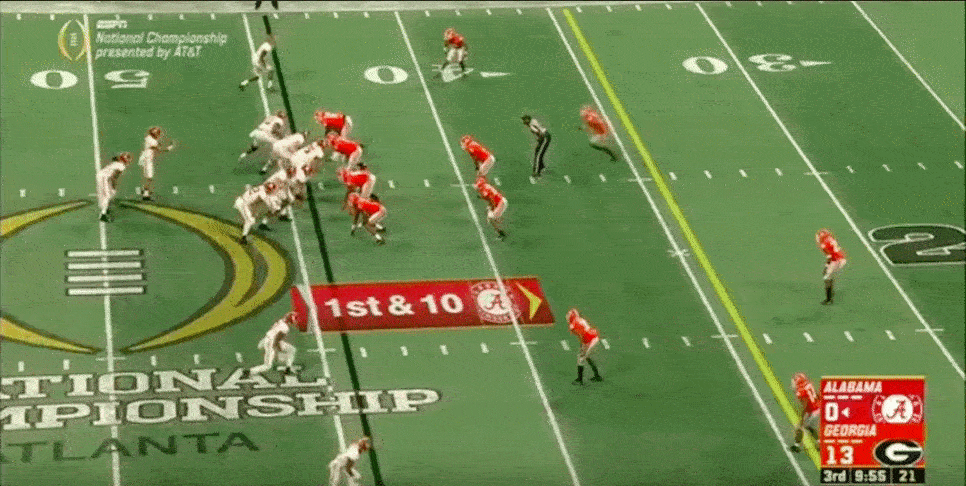 Georgia's gameplan on defense wasn't equipped to handle the high level execution of RPOs and Alabama came roaring back to win.
The short-lived reign of Tua Tagovailoa
Coming off that shocking 2017 title that upended Kirby Smart's near-inauguration as the new king of the SEC, it looked like Alabama was set up to unleash another run of successive championships.
They headed into 2018 with an offensive line that included Jonah Williams (1st round pick in 2019), Jedrick Willis (likely 1st round pick this week), and Alex Leatherwood (current starting LT) and the wide receiver corps of Jerry Jeudy, Henry Ruggs III, and Devonta Smith with Jaylen Waddle off the bench.
Here's what Tua did over the next two years:
2018: 355 passes for 3966 yards at 11.2 ypa with 43 TDs to six INT.
2019: 252 passes for 2840 yards at 11.3 ypa with 33 TDs to three INT.
Here's what it often looked like: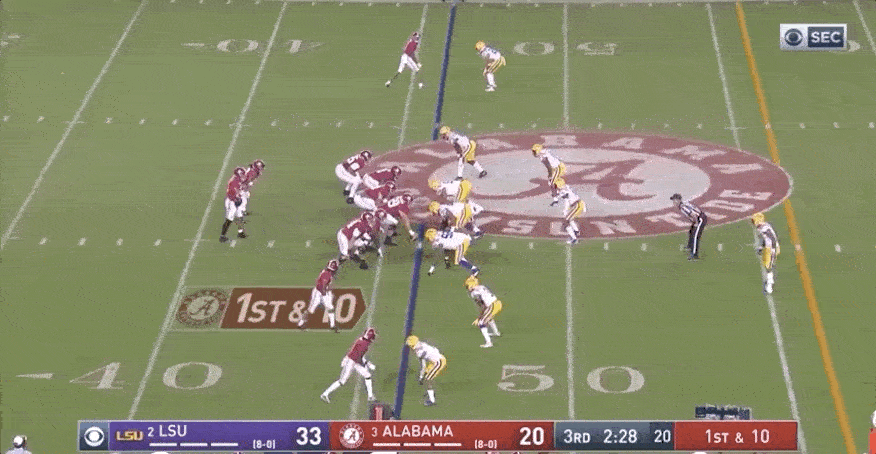 Tagovailoa did two things extraordinarily well, 1) throw with accuracy down the field and 2) make great pre-snap reads so that he could drop back and throw.
His manipulation of defenders in their RPO game was pretty high level, Sam Ehlinger is one of the only other quarterbacks I've seen with a similar mastery of how to read leverage on one side in order to know how to throw to the other.
Four-down defenses run out of defenders to use in order to outnumber both the run AND the passing game after the snap. If you're good at using RPOs you can figure out where they are getting a numeric advantage and make them pay.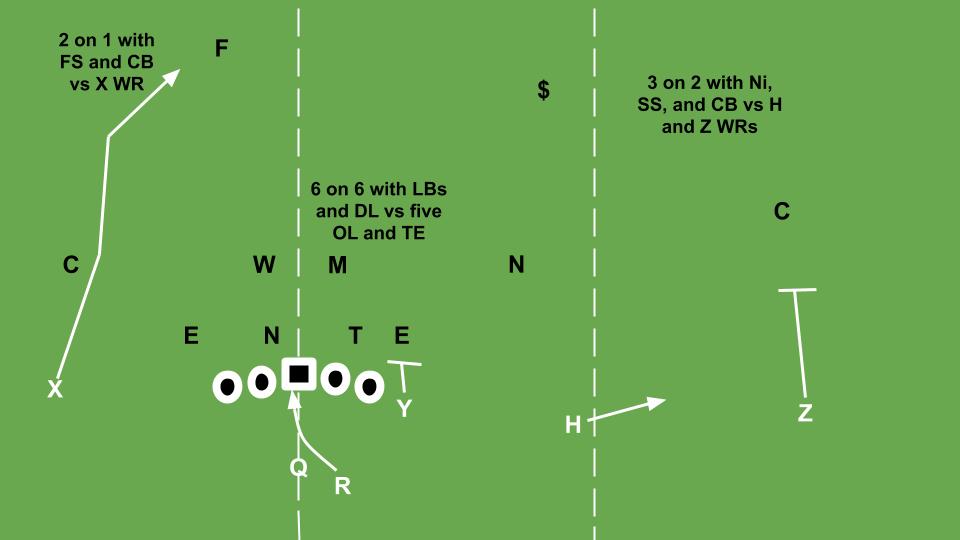 If the quarterback is involved in the run game, then the offense is playing 7-on-6 in the box. Since most teams want to prioritize stopping the run, particularly against a team like Alabama that has NFL OL and 5-star running backs, they tended to involve either the free safety or nickel into the run fit in order to get seven in the box.
Then Tua, as you see countless times above, would flip a slant or bubble screen to one of his numerous 4.4 or faster receivers and watch them run free.
So why didn't this team win two more national championships? Two issues, one is obvious and the other isn't. The obvious reason was Tua's health. In 2018 he banged up his ankle, had it surgically repaired, and then played on that in the playoffs. Oklahoma's defense had no answer for the 4-down RPO math problem and got obliterated.
In 2019 he had to surgically repair his right ankle for the second time in two seasons. He did so, played against Mississippi State, and there that problem lead to much greater ones when he was tackled and dislocated his hip in an extremely serious fashion. The hip injury is a really big deal and if we see Tua drop like a rock on Thursday night you can probably assume that the issue was a physical on him that revealed he may never fully recover from the severity of the injury. We're talking about the injury that stopped the legendary Bo Jackson, after all.
The other issue was less obvious and should be a bigger story considering how high people are talking about trading this guy. I have a friend up here in Michigan who's eagerly reading reports that suggest the Detroit Lions could trade down to some sucker team that wants a shot to draft Tua or Justin Herbert with the no. 3 pick and still get someone like Jeff Okudah plus additional picks. The Lions fans really deserve this, folks.
The other issue is how Tagovailoa responds when you present one of two solutions to the 4-down, RPO math problem. Both Mississippi State and Clemson caused big problems for the Tide by choosing the wrong answer and throwing Saban for a loop.
They chose to play 2 over 1 to the X receiver, 3 over 2 to the twin receivers, and 6 on 6 in the box. So what do you do if you're Alabama? You run the ball. Okay, that seems like great news, until the other team (either of those) has NFL defensive linemen that can make a decent go of slowing you down and you realize that you can't take advantage of throwing to 4.4 sprinters running open down the field.
Stopping Damien Harris or Najee Harris behind the Alabama offensive line is no picnic but it's a heck of a lot easier than stopping Jerry Jeudy on a slant. Think Lando Calrissian directing the rebel fleet into the Star Destroyers in order to avoid the emperor's apparently "fully operational" Death Star.
In such a scenario, you can either run the ball and hope to convert in the red zone or on third down as it comes up, which Alabama did and failed at. Or you can turn to the traditional means of distributing the ball to top notch receivers, the dropback passing game, which is the way teams do it in the NFL where the rules are more restrictive about what sorts of RPOs you can execute.
Another solution to either the 4-down, RPO math problem OR the dropback passing game is to muddy the read for the quarterback so he's not clear on where to throw the ball. Kinda like…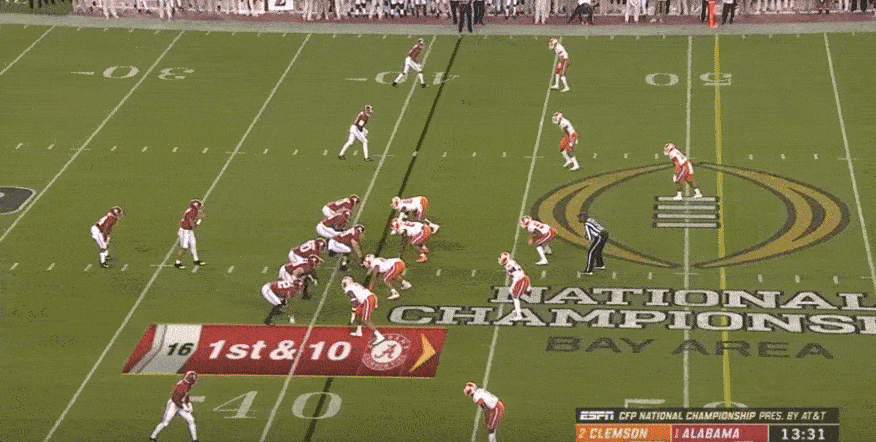 The short of it is that Tagovailoa feasted when he had clear reads on where to throw the ball and sometimes completely fell apart when he didn't. TheDraftNetwork's Benjamin Solak quantified the issue:
Alabama built the ultimate RPO machine, nearly by accident, because Nick Saban wanted to be able to run the ball more efficiently. He never realized that throwing to all of his 4.4 sprinters should actually be the starting point on offense, rather than a constraint on opponents that sent extra hats to the box.
This proved to be a problem when they faced LSU and his defense still had no answers for stopping a high level, pro-spread passing attack. Tagovailoa instead had to try and outduel Joe Burrow with an offense designed to work off the run game. He was outgunned. Even if Alabama had returned to the playoffs they weren't up for it in the matchup with LSU.
When people point to Tua's obscene college production, it needs to be understood within the context of Alabama's system. While Tagovailoa is more accurate, processes more info, and is a stronger thrower than Bryce Petty…the system he operated is similar in nature to the Art Briles system and the numbers inflated for similar reasons. Because he played at Alabama and they put "pro-style" in their language, people don't conceptualize it that way but the reality is that college-style RPOs were a big driver of his success.
In the NFL teams need quarterbacks that can filter through information after the snap and execute broader systems for identifying the defense and getting the ball to the right places. Tagovailoa's experience and greatest success wasn't in that realm of quarterback play.
Between that and his hip, a team drafting him in the first round is setting themselves up to have to draft another quarterback sooner than later.
********
Read more about RPO spread offenses and their domination at the college level in my book, which opens with that Clemson vs Alabama blowout where Tagovailoa threw two interceptions.