The other day on Twitter I kicked off a storm with this comment:
I was actually setting up something I'll publish closer to the season, which is a look back unforeseen developments around the Big 12 that have tended to yield unexpected finishes in the standings. I've used the term "little 8" a couple of times in posts since @MarkRoberts introduced it to me on Twitter. Apparently that used to be a phrase for everyone in the Big 10 that wasn't Michigan or Ohio State in the 70s but today it has obvious application for the Big 12, or so I thought.
As it turns out, differentiating the Big 12 into two tiers and including Texas in the exclusive "big 2" category was an unpopular move. All of the objections followed the same line of argument, that Texas doesn't belong in the upper tier because they haven't been very good for an entire decade. Obviously I'm familiar with this fact, as a Texas grad and writer at Inside Texas who chronicled the entire history of the Big 12 in my book:
Now seems as good a time as any to explain my controversial points about why the Big 12 is best understood as a big 2 and little 8 and why successes of the little 8 will always rightfully be viewed as marginal if they include beating out Texas or Oklahoma when those schools are at the top of their game.
Tiered inputs
The Fort Worth Star-Telegram made a handy chart of what revenues and expenditures for football like across the Big 12. Their point was to demonstrate how precarious the position is for many college athletics programs if they don't have any football revenues in 2020. I've condensed some of the relevant information to this conversation here: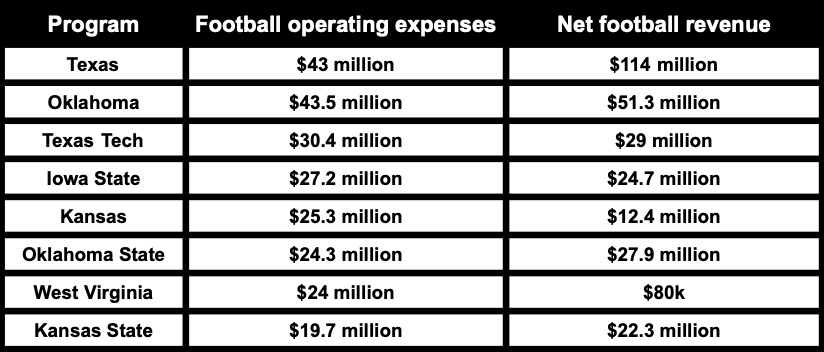 TCU and Baylor weren't listed here because as private schools they aren't required to submit to a public records request. What you see here is a substantial gulf between what Oklahoma and Texas tend to invest into their football programs in a given year followed by an even more substantial ROI because of their larger fanbases and stadiums.
I think it's fairly clear that Baylor and TCU spend pretty big money on their football programs. However, McLane averaged 45,517 attendees in 2019 and the average ticket price on seat geek was $58. Up in Forth Worth, Amon G. Carter had an average attendance of 42.8k in 2019, and the average price was $56.
In contrast, Oklahoma averaged 83k in attendance in 2019 and the average ticket price was $87 while Texas averaged 96k in attendance and the average ticket price was $110. The biggest game of the season for Texas and Oklahoma of course is the Red River Shootout in the Cotton Bowl at Dallas, so they don't have that game boosting their numbers either like everyone else.
The TV revenues are distributed equitably, to the great benefit of the "little 8," but gate revenues, merchandise, etc are areas where Texas and Oklahoma clean up in a way that the rest of the league cannot.
Now, it's common for fans to mock Texas or Texas A&M fans for bragging about their schools higher revenues or expenditures and rightly so. Why in the world would anyone feel great pride in their schools taking large stacks of cash from their wallets while putting out repeated sub-10 win efforts?
But the point here is how much of an advantage Texas can glean as a result of having so many resources. In terms of facilities and equipment they have a big edge with tracking software and high end S&C equipment, but this also shows up in recruiting.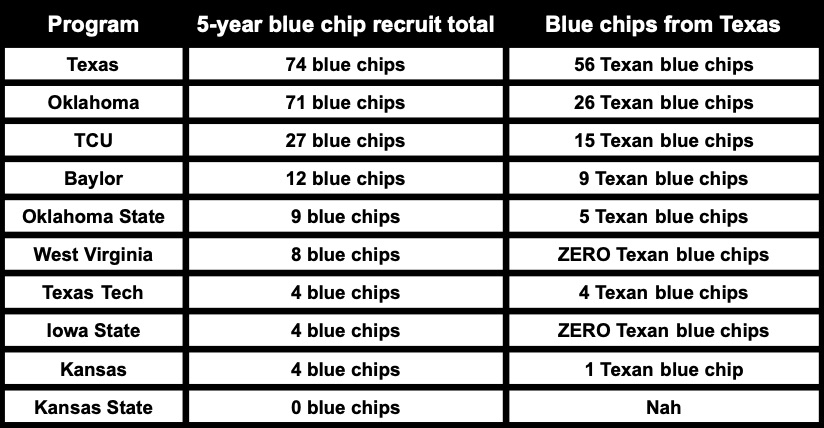 This is per 247. I think it's fair to surmise from this that TCU and Baylor's athletic budgets fit somewhere in between the big 2 and the rest of the little 8.
The gulf here is enormous and it's important to note how many of those players come from Texas, which is the major recruiting territory for most of the league. The teams that don't recruit Texas heavily also mostly rank at the bottom in terms of bringing in 4/5 star recruits.
It's not just that Texas and Oklahoma get a much bigger share of the sought-after recruits in the region, either. Sometimes it's almost worse for the little 8 when Texas or Oklahoma miss on a blue chip recruit, because that often means that they circle back to a promising 3-star they liked who had committed or was likely to a school like Oklahoma State, TCU, or Baylor in the interim. Those who follow recruiting closely know what I'm talking about.
In their 2019 class Texas circled around and picked Baylor's pocket by nabbing Isaiah Hookfin after failing to steal TCU's Andrew Coker. Baylor did likewise to SMU back in 2017, stealing Charlie Brewer with their superior clout. There's a fairly consistent pecking order in recruiting and the strong little 8 schools don't make their bones by repeatedly trying to beat the big 2 or elite out of state poachers for blue chip recruits. Instead their method is often to recruit to a system, pick off a few blue chips that they get in with early or have a good sales pitch for, grab a few more via transfer, and otherwise rely on evaluation to find potential stars amongst the 3-star ranks.
So what?
The caricature of this position, which many Texas fans often embody, is that the Longhorns should be proud of their school for it's elite financial position and high level recruiting. Of course the exact opposite is true, the real story is how remarkable it is that Texas managed to have such a dismal decade despite all of these advantages.
Oklahoma fans have no reason to crow about their investment into the program and success in recruiting because they keep winning the league. In fact, Sooner fans often zero in on their recruiting as being insufficient to the goals of winning a national championship.
The real takeaway here is to note that only two programs in the Big 12 have elite-caliber resources to invest into their football programs AND that everyone else is on similar footing. You could argue that TCU and Baylor have their own tier in terms of resources but I'm not sure it's really that far removed from Texas Tech, Oklahoma State, or West Virginia. If we get a sense of what Baylor's current football budget is maybe that assessment will change.
The story of the 2010s in the Big 12 only really takes shape when you factor in the "big 8 vs little 2" dynamic to the league. There were four dominant themes for the decade.
Spread offensive football took a leap forward and the league was dominated by the teams that did it best.
Oklahoma hired Lincoln Riley, deployed high level spread offensive football, and made their investment felt on the field.
Baylor emerged as a program due to high level investment by their alumni/boosters into the football program.
Texas didn't understand what was going on, foiled their obvious position as the flagship for high level Texas HS offensive play, and had one of the most embarrassing poor decades in college football history.
If you want to talk Big 12 history and understand the decade, the standout stories aren't obvious unless you know what the major factors were being exerted on the season. As frustrating as it is for Baylor or TCU fans to hear that their successes this decade took place in a vacuum left by Texas, it's an undeniable reality to the story.
They understood the times and got a lot right, Texas didn't, and it allowed them to overcome a sizable gulf in natural advantages.
This leaves us with five major forces to track for the 2020s.
Will Texas figure out how to leverage being Texas?
What's the next act for Lincoln Riley and Oklahoma?
How high can Baylor rise through increased investment? SMU? Houston?
How will the upcoming renegotiation of TV contracts combined with the COVID revenue crash of 2020 affect realignment?
Revenge of defense. Iowa State has introduced some new measures on defense that could lead to some significant adjustments on both sides.
Buckle up.