The 2019 Baylor Bear defense that carried the team to the Big 12 championship game and nearly defeated Oklahoma only to fall short twice, was built around the defensive line.
The back eight of their 3-2-6 unit was very good (mostly seniors), but this team could regularly control action in the run game and generate a pass-rush simply by relying on their front three of James Lockhart, Bravvion Roy, and James Lynch. All three of them are now gone, if you hadn't noticed, as is the head coach and defensive coordinator tandem that drew up the defense last year and made the most of their abilities.
However, after researchers in Waco successfully opened the transfer portal, new players have come through that could dominate the Bears defensive identity in 2020.
First they got William Bradley-King from Arkansas State, a 6-4, 250 pound grad transfer who last year had 49 tackles, 13.5 tackles for loss, and 8.5 sacks. Then they were able to land Dillon Doyle from Iowa, a 6-3, 235 pound middle linebacker that had 23 tackles and half a tackle for loss last season as a redshirt freshman. As it happens, what was arguably one of Baylor's best returning players from 2019 is linebacker Terrel Bernard, a 6-1, 225 pounder who had 112 tackles, 9.5 tackles for loss, and 4.5 sacks last season.
All of a sudden the Bears' linebacker corps is the sturdiest looking component to their defense. It's amazing the extent to which new head coach Dave Aranda was able to so quickly and effectively retool the defense around his preferred tactics.
The Dave Aranda philosophy
As I've written on already, Aranda's defensive philosophy is designed less around featuring traditional roles and more around attacking offensive weaknesses. He has a decent sized collection of defensive schemes designed to allow him to attack protections before and after the snap and send pass-rushers at advantageous angles. Such as with this style of four-man rush: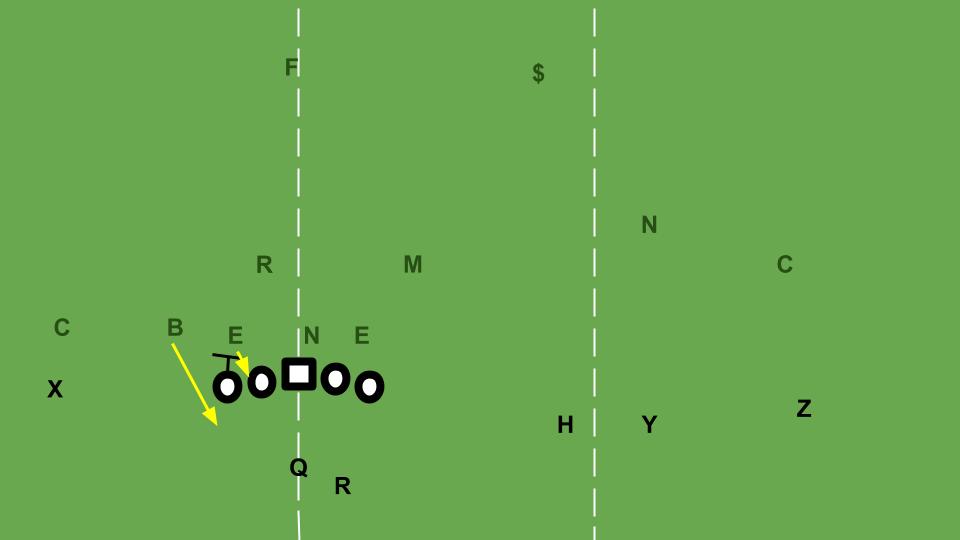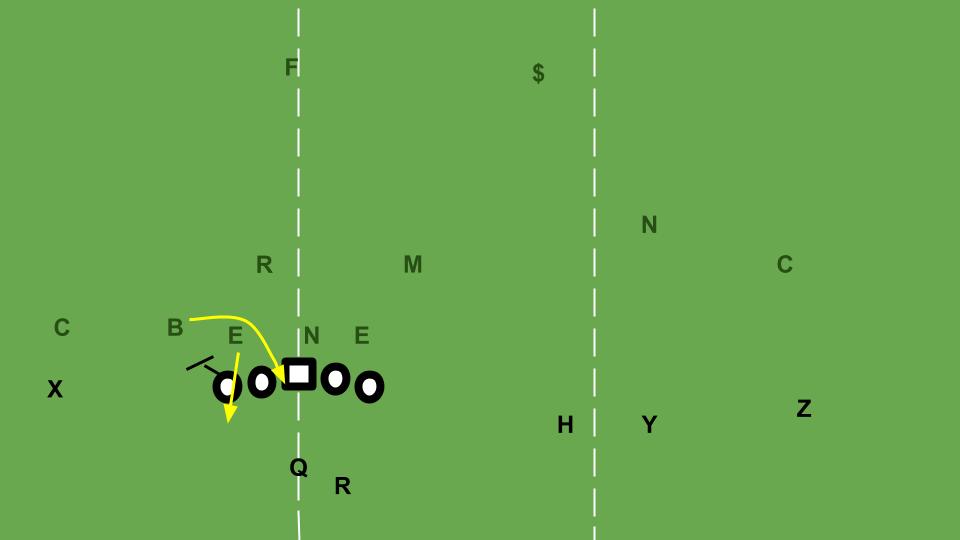 If the tackle sets to the defensive end than the outside linebacker comes off the edge and is the contain player, if the tackle sets to the outside linebacker then he stunts inside and the defensive end works to contain the edge. The goal is to create a base, four-man rush where the defense is always at advantage. Instead of emphasizing a brilliant edge-rusher, the goal is to create options for good athletes to attack the weak spot in the offense.
The upshot of this style is that the linebackers take a large role in the pass-rush and as off ball defenders are typically the guys that get inserted at favorable angles to generate a pass-rush. The Bears need good, versatile linebacker play to realize the vision.
Aranda fashioned this philosophy in part at Utah State and Wisconsin where he always had elite backers on the roster. At LSU the Tigers often had some really high level linebackers but they also regularly mixed in defensive backs into this as well since they had some big, freak athletes there as well.
Baylor doesn't have any big freak athletes at safety right now nor any proven pass-rushers along the defensive line. Up until the transfers, they were counting on redshirt freshman Matt Jones to be a key piece to the puzzle in terms of attacking offenses, but now they have a trio to build around.
Fitting the transfers together
Terrel Bernard's rose to fame in 2019 after he effectively mitigated the loss of star middle linebacker Clay Johnston. They slid Bernard over from weakside to the middle and promoted Jordan Williams to starting will and didn't really have any problems replacing Johnston even though he was an unquestionably gifted player. Bernard brought the same explosiveness and energy and was highly effective attacking the backfield on blitzes and quick reads.
In Aranda's defensive scheme he's well suited to play as the will, which Aranda calls the rover, who is the most commonly blitzed player after the B-backer.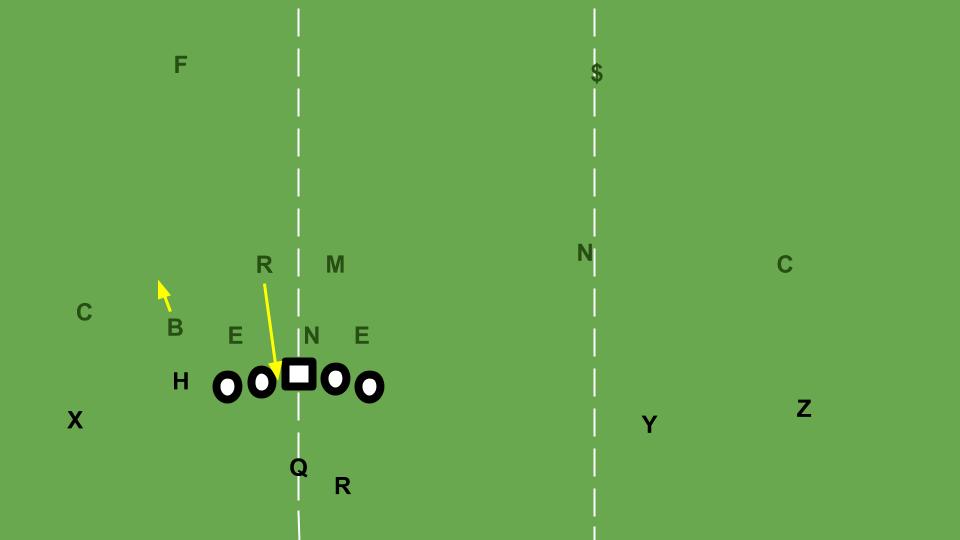 That outside linebacker on the edge is a true linebacker that will spend a fair amount of time dropping into the flat as a coverage defender. But then the defense still often brings a four-man pressure and gives the rover freedom to attack the leverage of the guard like an off-ball 3-technique defensive tackle.
Bernard is an obvious fit at this position. In addition to being good in a traditional role of chasing plays laterally out of the box and arriving to make tackles that traditional linebackers wouldn't reach, he's also good at getting small between the tackles and getting to the ball.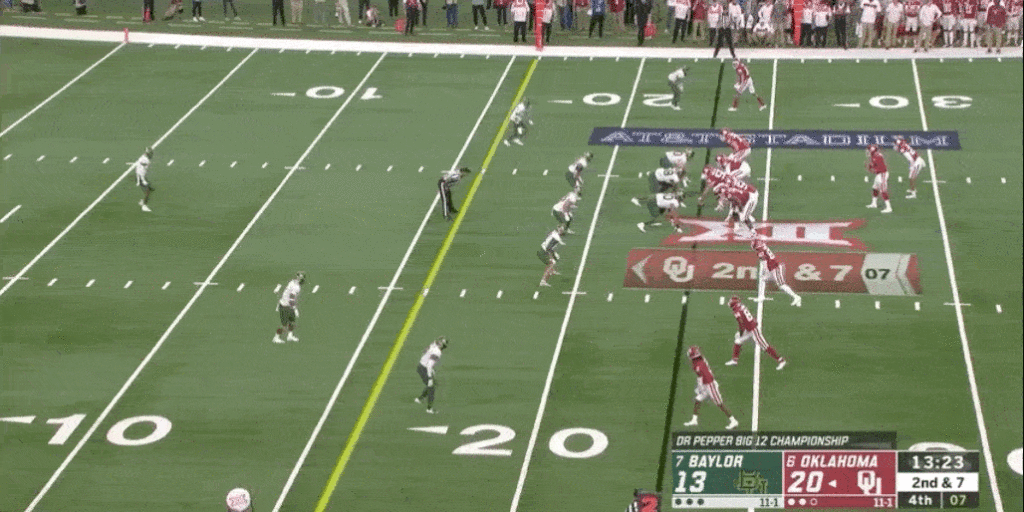 Bradley-King is obviously the B-backer, outside edge guy for 2020. He played there in a similar system and design at Arkansas State, although he tended to working in contain more whereas Aranda often brings that player from a lot of angles.
Long-term he's a stopgap for the Bears while they wait for a younger guy (probably Matt Jones) to be ready to fill that role. Bradley-King is a solid player but 8.5 sacks against the Arkansas State schedule is not indicative of a dominant edge-rusher in the Big 12.
Then there's Dillon Doyle, who was one of the main understudies last year for senior Iowa linebacker Kristian Welch in the middle of their defense. Iowa has been coached by Phil Parker on defense since 2013 and have been consistently strong up the middle of their defense at linebacker. Here's how they've manned the middle during that time: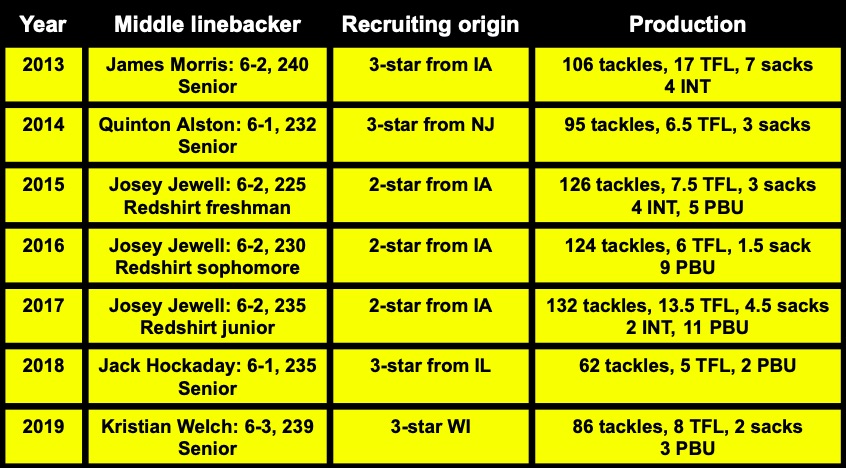 That's seven years of consistent production and obvious knowhow in developing strong players. If you're in line to play middle linebacker for Iowa, chances are you're pretty good. Dillon Doyle might have been next in line, he started two games for Welch when he was injured in 2019, but he was going to have to fight off sophomore Jack Campbell.
The battle never happened. Arguably the most important, long term fixture in the Iowa Hawkeye development program was their strength and conditioning coach Chris Doyle, who'd been there since the 1999 season and was until 2019 the most well compensated S&C coach in the nation making $800k a year. For years the Hawkeyes have been amongst the very best in the nation at turning lanky framed Midwestern kids into monsters with NFL futures.
In the last 10 years of NFL drafts, the Hawkeyes have had 36 players selected (3.6 per year). A considerable chunk of them have been offensive linemen, defensive linemen, tight ends, and linebackers. The sorts of bigger athletes that are often harder to find who can move and bend at 230+.
Dillon Doyle is the son of Chris Doyle and naturally when his father and Iowa came to terms for him to resign amidst allegations of racially-biased mistreatment of players, Dillon elected to move on as well. He'll only be a redshirt sophomore in 2020 and will need a waiver to play immediately but it seems likely that he'll get one.
Baylor jumped on the opportunity to add a strong inside linebacker who'd already received as high level instruction and development as you can get at that position in the college game. The style he's been taught at Iowa is heavy on playing base defense, reading keys, keeping the ball in front of you, and then closing to beat blocks and make tackles. They don't put their linebackers in run/pass conflicts but will prioritize stopping the pass and then rallying to the ball.
In his snaps last year in space, Doyle wasn't one of the more fleet-footed linebackers we've seen from Iowa but he was positionally solid. In the box he was very effective at beating blocks and closing creases.
In the Big 12 the linebackers with the big numbers are often the guys that have the speed to get to the dang ball regardless of how well they read plays and execute fundamentals. If Aranda can protect Doyle from having to chase the ball all over the field and use him as a "between the hash marks" patrol he could be very effective. He'll likely have some upside as a blitzer as well, especially between the tackles, that could come out with the opportunity to play in this scheme.
Can Baylor build around their LB corps in 2020?
Yes, this is a really solid group after adding the transfers to the already very effective Bernard. Bradley-King turns their linebacker situation from one of having talent but lacking depth into something much more robust. Doyle gives them a solid guarantee of strong play between the tackles, and Bernard is already proven to be one of the better linebackers in the league. It was essential that Aranda beef out this unit as much as he could in order to give his pressure designs some weapons.
But Baylor cannot match their 2019 defensive unit with one built around this linebacker corps.
Setting aside the issues of limited practice and preparation time in which to mold and harness the talents of these three young men, there are strategic issues as well. When you can largely control the box and generate pressure with three defensive linemen that creates a lot more problems for the offense and options for the defense than when you're good at attacking an offense with your three off-ball linebackers.
A great example of this effect is the 2019 Iowa State Cyclones. They were pretty solid up front along their D-line in the run game but they couldn't really rush the passer without involving the linebackers. They ended up finishing poorly in 3rd down defense and were more limited in how they could structure their coverages because they would have to choose between getting an effective pass-rush to disrupt the quarterbacks' spacing and timing and denying spacing to the receivers. You really have three options, you can have an ace cornerback, an ace pass-rusher, or you can be vulnerable on passing downs.
Even a four-man pass-rush has to be pretty consistently good to really help a defense out against higher level passing attacks that send four and five receivers into patterns consistently. It's not enough to pressure the quarterback now and again and get a few sacks. You need to consistently disrupt the flow of the offense because every other throw could potentially be a big gain that leads to points. The ultimate example of this was the 2020 Super Bowl when the 49ers' D-line harried and thwarted the Pat Mahomes Chiefs for about three quarters and dominated the game…until they didn't. In a single quarter the Chiefs ended up erasing the deficit and building an 11-point lead, nullifying three good quarters of work.
That's what you're up against on defense these days. With these transfer additions, Baylor has given themselves a chance to go out and compete in 2020 without getting railroaded every week. It's going to take more talent development and additions before they can get back to the level where they getting rolled isn't a regular concern.
********
Read about the Big 12's evolution into a league where offensive firepower is the only sure way to win in my book: