For the 2020 season, the Tigers lose 15 starters from what might have been the greatest team in college football history.
Certainly there's no team from any previous year that could beat them in a hypothetical matchup, the changes in tactics would ensure that. Then there's the resume, which is also astounding and included multiple beatdowns of high level teams. The only "stain" on the resume was a failure to beat Ohio State, which occurred because the Buckeyes were instead dispatched by the defending champion Clemson Tigers. In truth, Ohio State's reputation from 2019 was a popular media narrative that was always doomed to be busted in competition with either Clemson or LSU.
The Tigers also lose both coordinators (basically, technically the OC was and remains Steve Ensminger) and among the players they lose is Joe Burrow who just had the greatest statistical season of any quarterback in college football history.
So this next season, a big step back, no?
Maybe not.
In my book, "Flyover Football" I wrote on when Mike Leach brought the Air Raid to Texas Tech…
…as well as when Todd Dodge brought the spread offense to Southlake Carroll High school. The result in both instances was that those teams were able to crank out statistically monstrous season after season and turn the quarterback position into a revolving door of productive players.
You may not be fully aware, and it's mentioned only briefly in the book, that a lot of this stemmed from the accomplishments of LaVell Edwards at BYU way back in the day. Here's the run of quarterbacks that the Cougars were able to crank out back then during their heyday after installing a passing-oriented system while Leach was both a literal and metaphorical student at BYU.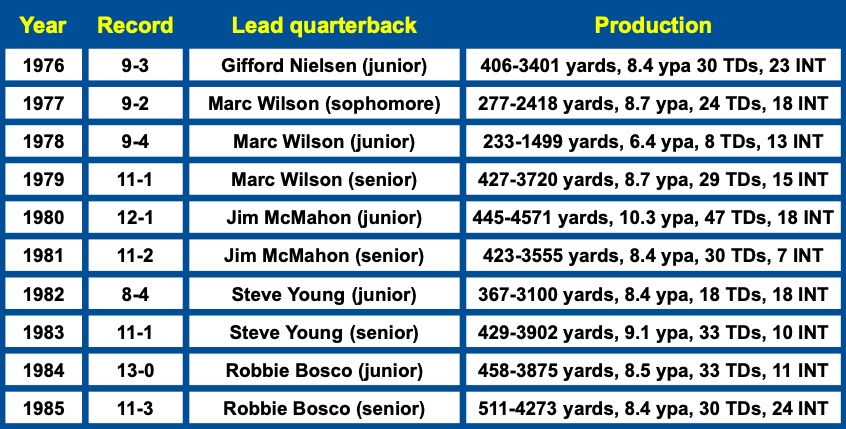 It was unheard of to throw the football around like this and most assumed that BYU was only able to pull it off by rotating in 24-year olds groomed by years of missions and practice. Eventually it turned out that you could do this with high schoolers as well provided they received enough practice and instruction, but that wouldn't be established for a while yet.
Here's a nice sample of the BYU passing game on the play that beat Michigan in the 1984 Holiday Bowl and secured the Cougars their one and only National Championship.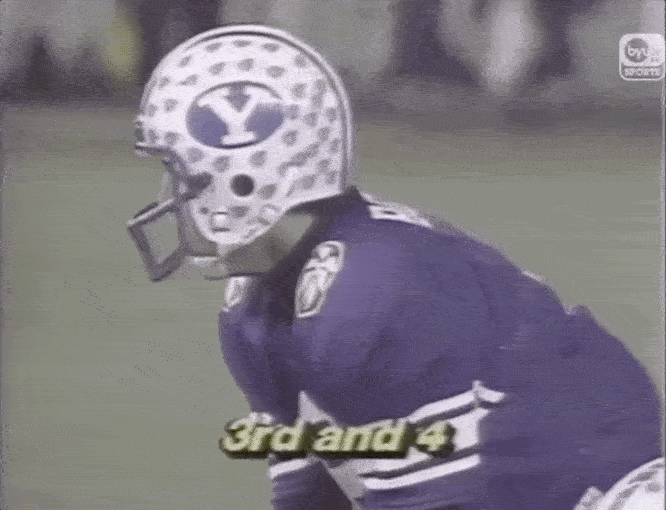 This is the foundation of the modern passing game. The tight end was often a touch flexed and he runs routes up the seam with a two-way go and was typically their leading receiver. In 1984 that was David Mills, a 6-2, 212 pound senior that caught 60 balls for 1023 yards and seven touchdowns. That then clears out space either to throw dump offs to the running backs or hit the receivers vs 1-on-1s. They did plenty of both and hit running back Lakei Heimuli for 31 catches, 242 yards and a score and H-back Kelly Smith for 46 catches, 598 yards, and six touchdowns including the one above.
The only National Championship that BYU ever won came the season after future Hall of Famer Steve Young left for the NFL. Why? Partly luck, but also because their system allowed them to reload. David Mills was also replacing a three-year starter at tight end and all the main engines of the offense were new faces or role players stepping into the limelight.
LSU and space supremacy
What LSU accomplished in 2019 with their strategy on offense was to move the focal point of every game into space on the perimeter, where the Tigers have always had some of the very best athletes of any team in the nation.
Even while running toss sweep for most of the century, LSU has produced four future Pro-Bowl wide receivers and a few others like Brandon LaFell that have had real success in the NFL. In 2019 they finally structured their offense around that advantage with a HUNH spread, 11 personnel offense designed to move the chains with the dropback passing game and the most aggressively-run RPOs you'll find in college football.
They gave opponents no choice but to work out how to match up and stop them in space (which no one could do) before they could even worry about stopping the run game. Sometimes they'd not even provide teams with good options for handling them in space by motioning their tight ends and running backs all over the field to hunt matchups for top slot Justin Jefferson and deep threat Ja'Marr Chase.
Their defense partially played to their advantages in space. Dave Aranda designed schemes that played to the overall athleticism of the team but not always individual players. Derek Stingley did shine playing press-man outside, which was a not insignificant factor in their victory over Clemson.
If you wanted to score on the Tigers you had to be ready to contend with Stingley and Kristian Fulton playing press-man on your outside receivers, Thorpe-winner Grant Delpit helping on the inside receivers, and then big athletes like K'Lavon Chaisson (6-3, 254, 1st round), JaCoby Stevens (6-2, 230), and Patrick Queen (6-1, 227) moving around and trading roles in the box.
The Tigers have always had superior athletes to most everyone else on the schedule but this is truly the first time they'd played to that advantage on both sides of the ball. The 2011 LSU National runner-up team had a historically elite secondary featuring Morris Claiborne and Tyrann Mathieu, but they still relied mostly on toss sweep on offense from 21 personnel.
The 2003 National Champions had a healthier balance on offense thanks to Jimbo Fisher (head coach was Nick Saban) and sent their top two receivers into the following NFL draft. The 2007 National Champions were more plodding on offense (Les Miles) and basically stumbled into the championship based off the strength of their defensive line and a down SEC. Then they met Ohio State in the National Championship and ran their OL ragged with five sacks.
They've always been heavyweights, but opponents have never had to contend with all that weight in the championship rounds, so to speak.
What's possible, year over year, for a space force based LSU?
This could be the most poorly understood and weakly examined question of the upcoming 2020 season for the Tigers and the overall 2020s decade in college football.
History is not lacking in examples of teams that embraced the passing game as the main thrust of the offense not only as a play-action/scoring and passing down measure but as the down to down strategy for moving and controlling the football. The BYU Cougars were the forerunners and a good chunk of their playbook was comparable in style to what LSU ran last season.
Yours truly was skeptical of this style when it became the main thrust of the Texas Longhorn offense in the late 2000's. "Sure this works with Colt McCoy, but what happens when he's gone? Won't it be more sustainable to rely on recruiting the best O-line in the Big 12 and having a great run game?"
Mack Brown thought similarly and tried to pivot in that direction after 2009 while pointing to Alabama's long-run of success during that period. But Mack was wrong and so was I. In truth, it would have been (and very much still would be) more sustainable for a team like Texas to keep plugging away with good, not necessarily great offensive lines that could pass protect well on behalf of the highly skilled quarterbacks and receivers that come up every year from the Texas high schools.
The same is true in Baton Rouge. Take a glimpse at how the wide receiver room in LSU looked, year over year, in the 2010s.
It's been rare for the Tigers to lack a future NFL receiver on their roster. The story of the decade was NFL viewers saying, "wow, LSU really had some great receivers on their team!" While college viewers and LSU fans could only shake their heads in bemusement or disgust.
How consistently good does a quarterback need to be in order to wreck shop when throwing to athletes of this caliber in a system designed to allow them to control games?
Additionally, for all the talk about what the Tigers lost in the 2020 NFL draft there hasn't really been enough focus on what they didn't lose. Such as:
-That absolute monster Ja'Marr Chase.
-Terrace Marshall, Jr, who had a very strong season in 2019 while playing 3rd fiddle to Chase and Jefferson.
-Racey McMath, a unique player at 6-3, 221 that demonstrated some terrifying skill in limited opportunities in 2020.
-Right tackle Austin Deculus.
If teams like BYU, Texas Tech, or other programs over the years could reload with their own limited recruiting base and a strong development program, what might be possible at LSU if they show a similar commitment to the system?