The biggest question that everyone raises about the LSU Tigers isn't the state of their space forces, which are tremendous, but their infrastructure. The decision-makers on the field and the architects of the system.
On offense the space force is unassailably talented. They lose Justin Jefferson and Saahdiq Charles but return multiple athletes that project well as replacements including Racey McMath and Dare Rosenthal. Defensively the Tigers still have Derek Stingley, the most valuable defensive player in the nation, and then the normal collection of up and coming athletes that could be potentially dominant playing within limited space afforded by Stingley's dominance outside.
But the player infrastructure on both sides of the ball as well as some of the coaching was shattered by the inevitable post-championship exodus.
Player infastructure
The Tigers graduated their quarterback, three starters on a good offensive line, and then their safety, linebacker corps, and the edge of their defensive front. That's not a problem if you're raising up the next generation to fill in the gaps and execute the plan, but what kind of shape are the Tigers in? Are the replacements well-trained upperclassmen or dicey, young question marks?
They took advantage of the transfer portal to shore up two particular areas of concern, interior O-line and linebacker. They have Harvard grad transfer Liam Shanahan, a 6-5, 310 pounder with multiple years of starting experience in the Ivy league stepping in at center. At linebacker they'll probably rely on talented junior Damone Clark and then North Dakota State grad transfer Jabril Cox.
Clark had 50 tackles and 3.5 sacks last year playing regularly as a sub or when Michael Divinity was out. Cox played as a nickel/space-backer for North Dakota State for three years and three National Championships while often moving inside in sub-packages. Things look promising here.
The space force areas where there aren't easy answers are left tackle and weak side end. But Dare Rosenthal is a redshirt sophomore emerging at tackle on another big, athletic line and defensive end has a mix of upperclassmen recast in a 4-down structure and then intriguing young talents like freshman BJ Ojulari.
The only serious question is quarterback.
LSU will be promoting Joe Burrow's understudy Myles Brennan to the top gig and there's certainly no lack of questioning around the country as to whether he's up to the job. You can watch some of his 2019 snaps here:
Two things really jump out from these clips. One is that in 2019 he wasn't yet diagnosing and distributing with the same level of speed and consistency as Joe Burrow (shock!). The other is that Racey McMath fellow (#17) is probably going to be a major handful next season.
Here's McMath blowing by Oklahoma's top cornerback Parnell Motley on a weakside option late in the game last year: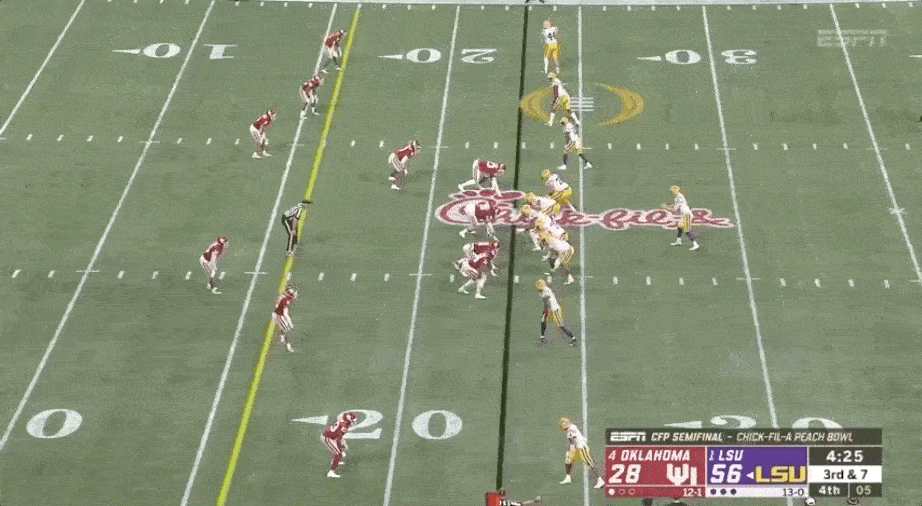 This stuff is hard to defend when done well and when a 6-3, 220 pound dude has that kind of quickness and mastery over the option route it's a problem because he can do it a lot and he's hard to tackle.
There are good reasons to believe that Brennan can be extremely effective based on what we do know about the rising redshirt junior.
-Historically quarterbacks in passing-intensive systems grow up more quickly and effectively than in other systems. Your team will tend to be best at what you practice the most and the most effectively. If your team doesn't practice this stuff extensively, you'll see a steeper learning curve and fewer players will master the material. Our historical examples such as BYU, Texas Tech, etc suggest that a team maintaining this system can expect to field good quarterback play much more often than not. They get a lot of reps and practice because they don't spend time mastering a large collection of running plays.
-Brennan regularly completes anticipatory throws in those highlights. The throw above to McMath is pretty solid, that could have come out a hair faster or just lead him down the field better but it was on point. Here's another one: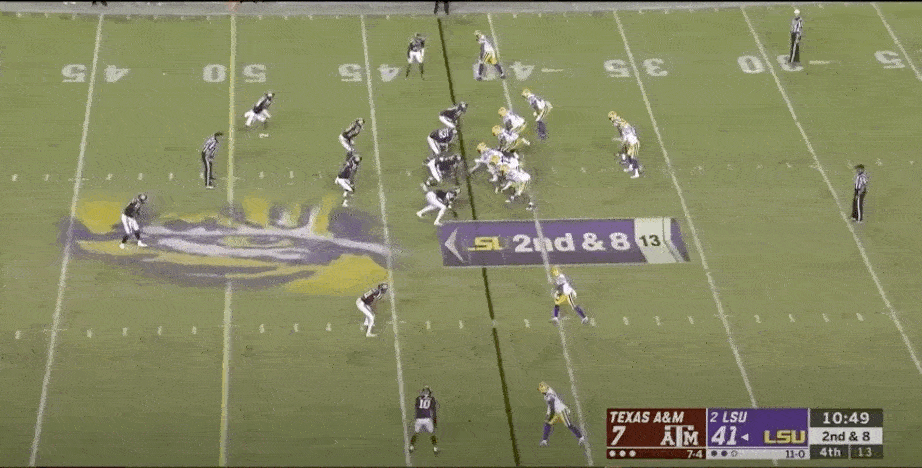 This is obviously a close thing, but he identifies 1-on-1 coverage and throws the comeback on time and in the right spot. McMath didn't really set it up that well so the cornerback has a chance to jump it, but the placement and timing is too good and we get a poor Aggies sequence instead.
-LSU could have pursued other options in the transfer market and didn't. They have never seemed to have any real concern about whether or not handing the baton to Brennan would risk taking step backwards or wasting Ja'Marr Chase.
-Brennan will get all the no. 1 reps in a similar offensive system as last year and have the opportunity to make a leap, just as Burrow did in preparation for last season. That's a big deal. Yes Burrow was smart, yes Burrow was highly talented, but he also practiced all the key throws in this offense very heavily in the offseason before 2019. That's why he made the leap that revealed all the talent lying underneath. Those of us who owned Joe Burrow stock before 2019 can attest that he wasn't considered a known commodity.
Can they do all that again without Joe Brady?
That's been the other main challenge raised about LSU. Joe Brady brought the system that catapulted the Tigers and then he left for the offensive coordinator job with the Carolina Panthers.
Ed Orgeron replaced him with NFL coach Scott Linehan, who doesn't have a sterling reputation from his time as the coordinator for the Detroit Lions and then the Dallas Cowboys under Jason Garrett. There's a lot to say on this topic.
Let's start with Brady and his system. That system was the fusion of the Joe Moorhead RPO game with some of Sean Payton's pro-style passing game from the New Orleans Saints, all packaged in a HUNH spread system that maintained an emphasis on 11 personnel. Much of that, save for the Moorhead RPO stuff, is standard in the NFL.
If you can run all your formations and concepts from 11 personnel then you can hunt matchups for your star players in the passing game by moving at tempo, denying defensive substitution, moving receivers into different alignments, and simplifying what defensive calls your opponent can throw at you.
There's no reason to believe that LSU will move away from that system, nor from their gameplanning system that was oriented around attacking the structure of defenses by formations. Ensminger oversaw that process last year, he can do so again. The question is what Linehan will bring and whether he can oversee a similar process of development.
As it happens, Linehan's experience over the last decade includes raising up Matthew Stafford in Detroit and then Dak Prescott in Dallas while featuring Calvin Johnson, Dez Bryant, and Jason Witten. Both teams had some nice seasons and both teams put a fairly heavy emphasis on the passing game and had success doing so.
LSU doesn't particularly need any help to their existing system when it comes to making the most of Chase's ability. The season the rising junior just had at LSU was an all-timer. However, where Linehan could bring a change is in how they get after opponents underneath Chase's vertical routes.
While the 2019 Tigers had Stephen Sullivan and Thaddeus Moss at tight end, both good players, they didn't make either a dominant feature of the offense. When they wanted to isolate a receiver to pick up steady gains underneath they'd often use the weakside option route and throw to the running back or move a receiver like Justin Jefferson to that position. You can see McMath running the weakside option in the GIF above.
Linehan was part of a system in Dallas that emphasized future HOF tight end Jason Witten, often on something they called "Y-option."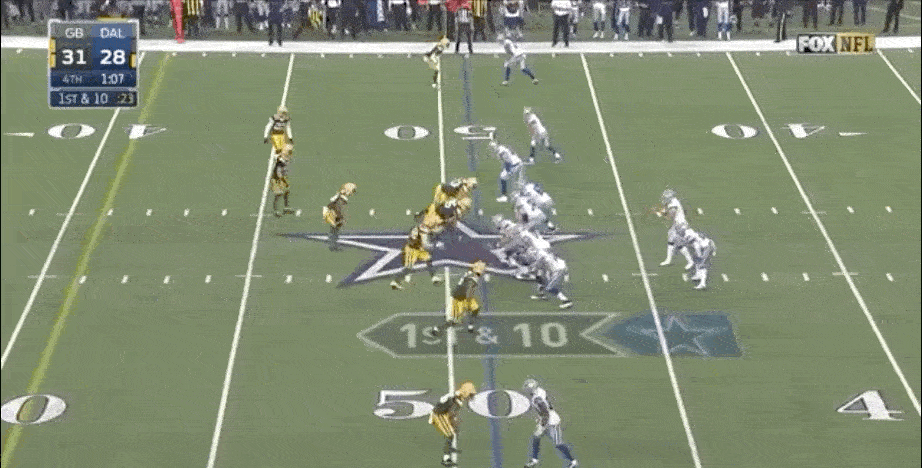 The beauty of the play is in the simplicity. This is the football equivalent of the Houston Rockets clearing out space with shooters so that James Harden can go to work in isolation against a defender.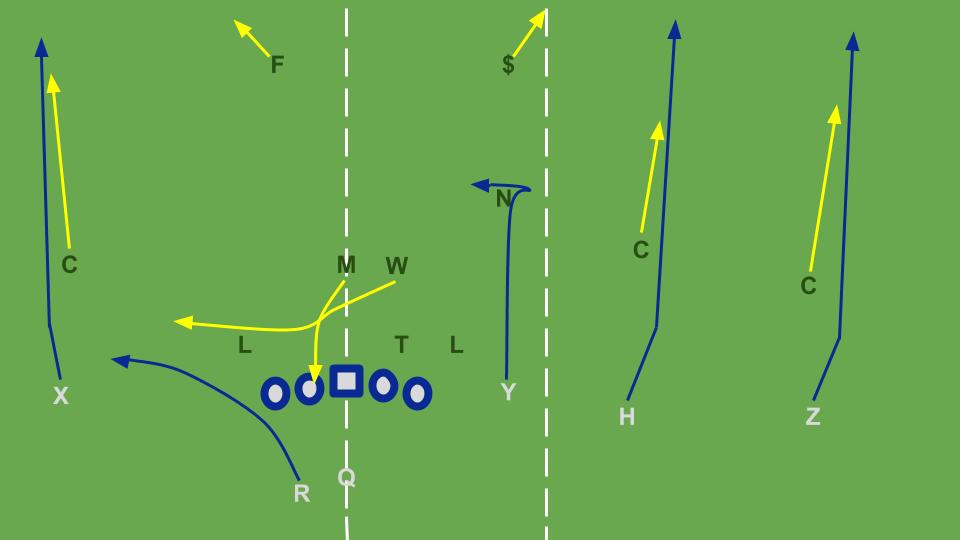 Most of these routes are nonsense, you'd regularly see the receivers get absolutely horrible spacing outside because it didn't matter if they were really open or not, only that they took their defenders as far away from Witten as possible. The X receiver on the backside could be important but once he (Dez Bryant) sees two-deep safeties then his route doesn't really matter anymore either. It's just about Jason Witten isolated in the middle of the field with a two-way go against his defender, within those parameters he was almost always open. If he wasn't, it was because a safety was bracketing him, meaning that Bryant was 1-on-1.
They'd even move Witten into a Y-iso alignment, let a slot run the option route, and then potentially find Witten running an option route on the backside.
All of this is relevant because in addition to big Racey McMath, the other key piece that future LSU teams will be looking to employ is freshman tight end Arik Gilbert.
The 5-star talent is a 6-5, 253 pounder from Georgia with some unbelievable skill and athleticism:
Space force dreadnought. The Tigers will look to involve him immediately in their offense and Scott Linehan knows just the way to do it. Chase and Gilbert could very easily be a young version of Dez and Witten.
The LSU Tigers intend to maintain much of the system that they employed to whip everyone in 2019. However, some of their skill talent is growing and evolving and they could potentially be even more freakish and impossible to match up against. Continuing to emphasize pro-style passing and hunting matchups for players that can't be covered 1-on-1 could be a much easier way for the Tigers to survive the departures of Joe Brady and Joe Burrow then is currently being anticipated.
********
Read about the rise of option routes and pro-style passing in the college football world in my book!