They've been released, here's what our votes amounted to…
Offense
QB: Sam Ehlinger, Texas
RB: Pooka Williams, Kansas
RB: Chuba Hubbard, Oklahoma State
FB: Nick Lenners, Kansas State
WR: Andrew Parchment, Kansas
WR: Charleston Rambo, Oklahoma
WR: Tylan Wallace, Oklahoma State
OL: Sam Cosmi, Texas
OL: Teven Jenkins, Oklahoma State
OL: Creed Humphrey, Oklahoma
OL: Jack Anderson, Texas Tech
OL: Adrian Ealy, Oklahoma
KR/PR: Joshua Youngblood, Kansas State
Notes
The requirements are overly focused on fielding run game personnel and somehow this list veered extra hard in that direction in a year in which the pass game personnel looks particularly potent. Why are there two running back slots when wide receivers rule this league?
You could make the case for having two quarterback slots, but I think ideally it'd work like this. One quarterback, one running back, one ancillary spot we can still call fullback since everyone puts a tight end there anyways, and then four wide receiver spots where you can put a guy like Charlie Kolar who flexes out a ton anyways.
It's normal to have a tackle-heavy collection of first team offensive line selections, but what's interesting this year is that you have two right tackles (Jenkins and Ealy) and a right guard (Anderson). This is always a small sample from around the league but it is the case that most teams look stronger in the realm of play-action passing than the dropback game. There just aren't a lot of obvious, high quality pass protectors around this season.
I'm kinda surprised Sam Ehlinger beat pump fake Purdy. That was my choice and choosing the senior coming off back to back strong seasons isn't too hard, but Purdy finished above him on the 2019 All-B12 list. The league commentariat doesn't always seem to think as much of Ehlinger.
Were I a Big 12 defensive coordinator facing Oklahoma State, my no. 1 concern would be Tylan Wallace playing outside. My no. 2 concern would be "what happens when they can slide Wallace into the slot without substituting?" Then I'd worry about Hubbard.
Now is a great time to reveal something else of great importance.
The Darren Sproles water bug trophy for most outstanding tiny person preseason watchlist!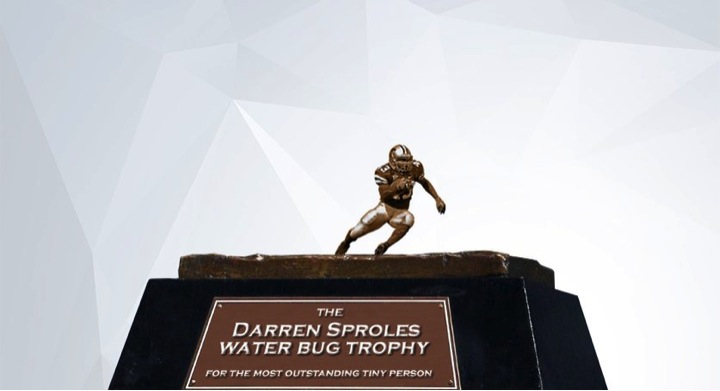 Pooka Williams, Kansas (5-10, 170. 2019 winner!)
Taye Barber, TCU (5-9, 186)
Tarique Milton, Iowa State (5-10, 170)
Joe Ervin, Kansas State (5-8, 177)
Joshua Youngblood, Kansas State (5-10, 180)
Defense
DL: JaQuan Bailey, Iowa State
DL: Wyatt Hubert, Kansas State
DL: Ronnie Perkins, Oklahoma
DL: Darius Stills, West Virginia
DL: Eli Howard, Texas Tech
LB: Joseph Ossai, Texas
LB: Terrel Bernard, Baylor
LB: Garrett Wallow, TCU
DB: Trevon Moehrig, TCU
DB: Kolby Harvell-Peel, Oklahoma State
DB: Caden Sterns, Texas
DB: Greg Eisworth, Iowa State
DB: D'Shawn Jamison, Texas
Notes
Why do we have five defensive lineman slots again? This is the Big 12, lol. Also, Ossai is counted as a linebacker in this so in reality the league's D-linemen get to account for six slots on this list and everyone mentioned never consistently moves further inside than the B-gap and regularly rushes the edge.
Last I checked, nose tackles were actually essential to playing great Big 12 defense since it's helpful to be able to withstand the inside run game from the spread while spreading your off ball defenders from sideline to sideline. Keondre Coburn is the obvious choice there and it'll be more obvious after the season if Texas starts to set the edge in 2020.
The league is filled with a number of quality linebackers that get the shaft as a result of moving Ossai to that spot. Amen Ogbongbemiga and Mike Rose were the two I selected besides Garrett Wallow, neither are counted here.
Note again that while the league didn't have many left tackles that anyone was excited to acknowledge, it DID have basically six legit pass-rushers that ended up listed here and a few others I can name off the top of my head that are likely to be dangerous in 2020.
You could argue that the lack of cornerbacks evens the odds back out but I would disagree. I have a number of thoughts on the defensive back selections.
First of all, listing four safeties and one cornerback shouldn't be allowed. They're pretty different positions and there is an awful lot of variance between what Kolby Harvell-Peel does and what D'Shawn Jamison is doing. It's common for safeties also to compile stats as a consequence of getting to play over the top of tight-matching coverage underneath from cornerbacks and linebackers. Safety interceptions are often more a symptom of defensive health than the particular genius of the given safety. To this point, Trevon Moehrig is a solid player but I'd pick Ar'Darius Washington over him, the latter has more range and great ball skills.
There's a bit of overlap between when Harvell-Peel and Eisworth do, I picked the former and kinda forgot that Eisworth was probably due for a big bounce back season. Like with Bernard vs Ogbongbemiga, reasonable minds can disagree, there's not obvious separation to me.
The big miss was A.J. Parker, who was probably the best cover corner before his injury last year. If I showed you the stats for these guys from last year it'd be clear that most of the media checked the interceptions column on stats tables and made their choices accordingly. Caden Sterns is the exception but he was a 5-star recruit, a freshman All-American, and injured for chunks of last season so his reputation is still pretty big.
Hidden beneath the surface of a glance at this list is the fact that the development of the up and coming cornerbacks at Texas, Oklahoma, and Iowa State is likely to be decisive in determining the league standings next year.
Maybe more importantly is the fact that EVERY team will be highly incentivized to play flyover defense in 2020. If you can stop the play-action pass and RPOs and rally to the run you'll blunt most of these offenses. They aren't as well equipped (with a few key exceptions) to beat you in the spread dropback game.
Offensive player of the year: Chuba Hubbard, Oklahoma State
Defensive player of the year: Darius Stills, West Virginia
Newcomer of the year: Spencer Rattler, Oklahoma
Hubbard was frankly a lazy selection. It's doubtful that he'll end up with another 2k-yard season, that's hard to replicate and OSU will be looking to spread the ball around to multiple weapons next season. Anyways, Wallace is the better player.
Check out Hubbard's game log from a year ago: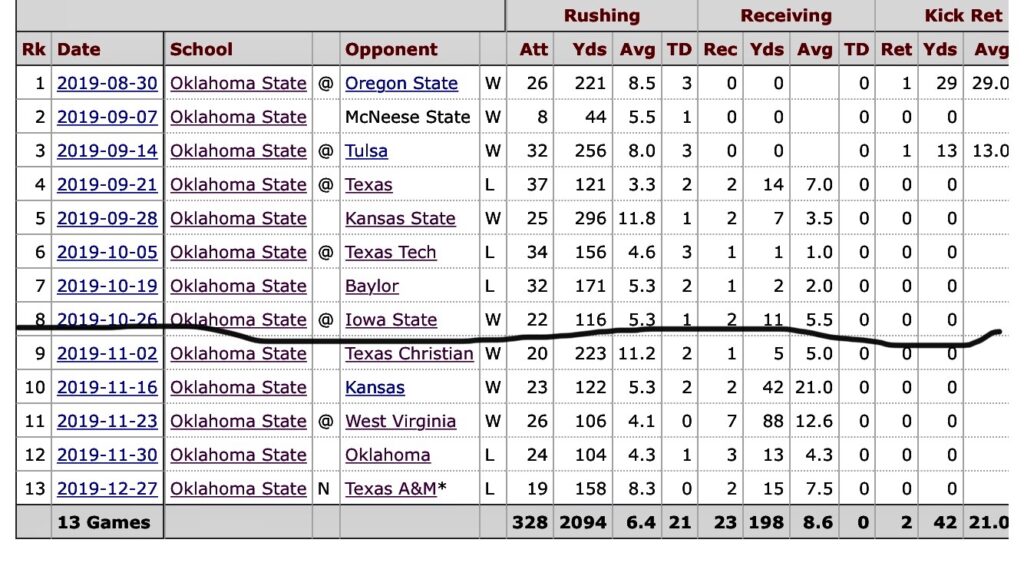 The black line indicates the point at which Oklahoma State lost Tylan Wallace. Now, TCU notably struggled to handle Oklahoma State's zone-option game and A&M had some issues in the bowl game, but everyone else turned Hubbard into an ordinary back when they didn't have to worry about Wallace.
Darius Stills I think is a pretty reasonable choice. I went Ossai in anticipation of him getting some gaudy numbers playing as an edge-rusher in front of a defense playing press-man outside and using DeMarvion Overshown as a weakside linebacker. Darius Stills may prove to be the better player though, that'll be something to keep an eye on.
Spencer Rattler as NCOY is a no-brainer. If he's healthy and they play 10 or more games he should throw for 3k yards, easy.
********
Read up on the history of the Big 12, from Nebraska's I-option dominance to Iowa State's defensive innovation in 2017 in my book!