Over at Football Study Hall I explain why the QB run game at K-State isn't going away and how it forms the underpinning of the passing game.
Too often you read criticisms from K-State fans that seem to think that the success they have here and there in the passing game can be divorced from their style of run game, which it cannot.
The big question for 2017 is whether either Alex Delton or Skylar Thompson can hold up to the punishment that a K-State QB tends to take. Delton is one of the most explosive guys I've seen yet in this offense but he's also smaller and has had a few concussions which always concern you. Meanwhile Thompson lacks the size and power of Klein or Ertz as well as the explosiveness of Delton although he's not slow. Seems like their best hope for 2018 is that Delton can stay healthy unless Thompson can add some real weight and power this offseason.
I think Sammy Wheeler and their new QB John Holcombe are better fits for this down the line because they come closer to matching Klein's size and speed ratio. For now though at least Delton and Thompson are both healthy and more experienced going into 2018. If Delton can stay healthy carrying the ball 15x a game then this team is probably one of the three best in the league because he's a nightmare.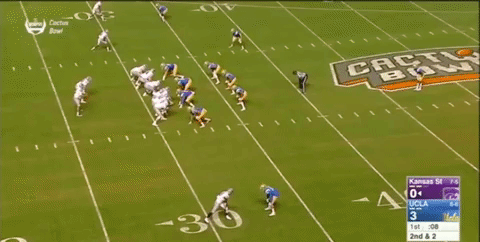 That's their normal sweep play but run as a BASH concept with Barnes threatening the edge and Delton as the feature runner. He's explosive, you don't really want to play him like you did Ertz or Klein with man coverage and extra numbers on the edges because if he blows by the first responders then he can score. There's not really a good way to handle him in this scheme period unless you can count on beating blocks…and K-State returns all five starting OL.