I may have to take back some of my comments about Les Miles' errors in pulling the scholarship from Jax "the destroyer" Dineen. There's two arguments in favor of Miles' decision that have made it an apparently justifiable move. The first is that by accepting the transfer of his own son, Ben Miles, as a walk-on the Jayhawks were already guaranteed a solid fullback on the roster. Secondly, because Miles wasn't on scholarship the argument for Dineen taking a scholarship spot rather than a walk-on position makes more sense. Still a clumsy way to deal with a good player from a family that has given a lot to Jayhawk football, but in terms of on-field results it's probably not going to bite Kansas the way it seemed at the time.
The Jayhawks have arrived at a new level in the Big 12. They are no longer, "woeful on the road, pesky but ultimately overmatched at home." They are now "pesky all the time." They gave Oklahoma just a little bit of a test a couple of weeks ago, then on Saturday they took Texas to the final seconds before ultimately giving way. Health permitting I think they'll find a win or two in the remaining five Big 12 games on their schedule.
There's a chance they could play spoiler with their final two games taking place at Ames and then home against Baylor. It'll probably hinge on the health of QB Carter Stanley and RB Pooka Williams. Stanley is alright, he's tough and when he's able to figure out where the ball goes he can deliver some solid passes. He's also liable to turn it over under duress, I'm curious what they do next year since he's a senior. The best move would be to find a reasonably talented transfer QB that wants to come play for Miles and Brent Dearmon.
Contrar-Ian says the glass is empty
TCU and Oklahoma State are both in a really bad way as programs right now and both lost games on Saturday that spelled final doom for the 2019 season without a whole lot to generate excitement for 2020 either.
The Frogs blew a game on the road against K-State by getting badly outplayed on special teams and at QB. Max Duggan had a nice TD run against a pretty crappy effort by a bad K-State run defense and the TCU RBs had their typical, solid days but Duggan also averaged 4.6 ypa on 29 passes. That is decidedly non-conducive to either constraining the run game nor maximizing off its efficiency.
TCU has been cycling in different characters to play the role of linebacker next to Garrett Wallow from week to week and they had a few costly busts against K-State that led directly to points.
Which is worse? The defense that isn't there?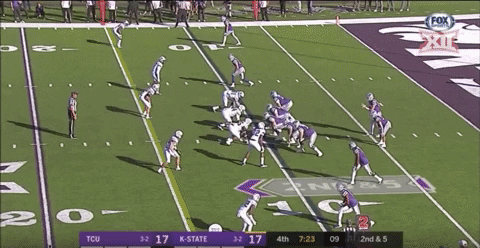 Or the one that looks like they wish they weren't?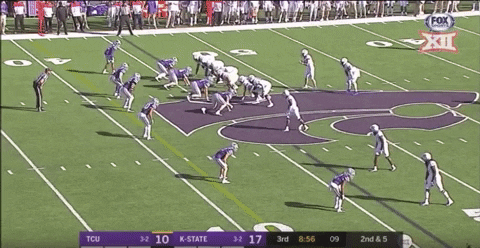 Pretty tough call, which is a bad sign for both squads.
TCU's offense will get a chance to try and cure what ails them going up against the Texas defense at home next Saturday. The TCU defense will get a chance to be humiliated again if they don't clean up their play.
Oklahoma State had their big chance to pull off a season-altering home game win against Baylor, instead they were overmatched by the Bears' explosiveness on offense and sound defensive play. The Cowboys just don't have the players up front on defense to put together defensive gameplans that can give them a chance and Spencer Sanders isn't up for out-scoring good opponents in pressure-cooker shootouts.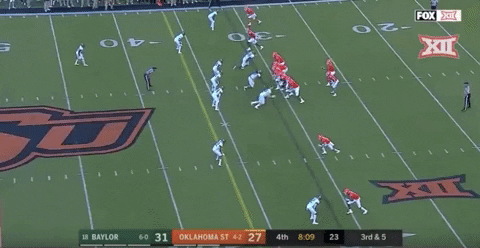 The 'Pokes are running an out-go combination to the field. The outside receiver carries the cornerback if it's man or true quarters and then you can throw the quick out at the sticks to the slot receiver. It's a long throw that requires some arm strength and accuracy but there's a reason OSU called that play, Sanders hits it all the time. But here he balks, and pulls the ball to run because at this stage in his career he'd rather make the play with his legs. The 'Pokes actually have a draw attached to this play, but the opening is elsewhere and the Bears have loaded the box because they know Sanders would love to pick this up with his legs. Also notable, there's a double team over Tylan Wallace. Good job by the Bears here.
Without their defense to carry them, TCU isn't much for 2019, and without the ability to make plays down the stretch in the passing game the Cowboys can't match strategies from earlier seasons of finding ways to win shootouts.
Now here's perhaps the bigger problem, how much is going to change for 2020? Both teams return talented young QBs yet both teams also lose a lot of the infrastructure that was supposed to help those young players thrive in 2019. Tylan Wallace and Jalen Reagor are both likely gone, Chuba Hubbard is probably gone, Darius Anderson and Sewo Olonilua are gone, the TCU OL will be stripped down, and the surrounding teams in the league don't look too far behind.
Baylor and Iowa State aren't going anywhere, Charlie Brewer and PFPurdy will be right back along with many of their best co-stars, Texas and Oklahoma will both probably be loaded (questions are more on the Texas side and really just whether Sam Ehlinger goes pro), and the staffs at West Virginia, Texas Tech, and the Kansas programs may also be in better shape than in 2019.
The only teams that stands to lose their starting QB in 2020?
Texas, if Sam Ehlinger goes to the NFL, which is not super likely.
Oklahoma, who might actually improve despite losing Jalen Hurts pending the developmental track of Spencer Rattler.
Kansas, who have to replace Carter Stanley, a task daunting only in light of the paucity of options on campus.
That's it. It's possible that the window has closed for Gary Patterson and Mike Gundy at their respective locations.
Now Gundy has kicked his program into a new gear before and everything flips if they find some DTs somewhere, but that's typically the hardest piece to come by. The challenges that come about in the hunt for difference makers at DL were instrumental in the collapse of Art Briles' program at Baylor. Phil Taylor, Tevin Elliott, Shawn Oakman, Sam Ukwauchu, Jeremy Faulk, all of those guys came with risks attached and you know many of their names for incidents that occurred after coming to Waco.
Patterson is in better shape. The TCU defense will be better in another year after a chance to get some linebackers up to speed in the defense and with another year for most of the more impactful DL up front to get better. However, their normal formula has been off of late and the competition is going to be tougher in 2020 than it ever has before. Especially if Ehlinger returns and Texas figures out how to play defense with a roster stocked with NFL athletes. Here's a hint for Tom Herman, it's not the zone blitz.
Who won week 8 in the Big 12?
I'm going to say Brent Dearmon, who's had an amazing few weeks. The young author of books and instructional videos on RPOs was installed as a QC coach at Kansas because Les Miles knew he was a promising youngster with a background in the RPOs he wanted to utilize. The goal was always to make Dearmon the guy down the line, when Miles felt he was ready.
Well, Miles didn't seem to think Les Koenning was enough of a reason to avoid locking up the young guy after four games and so he fired Koenning to clear space on the staff to promote Dearmon and hand him a bye week and a six-year (options) contract. As you may have heard on the broadcast, Dearmon was able to upgrade from an 09 Toyota Corolla he'd been driving, saw his wife give birth to a son, and then dropped 48 points on Texas in DKR.
Now granted that Texas' defense isn't particularly good right now, but no one had dropped 48 on them and if not for late game heroics from Sam Ehlinger the Jayhawks also come away with a win.
Dearmon and Miles are a match made in heaven as the former knows how to please Miles' love of traditional 21 personnel football while infusing spread RPO concepts. For instance,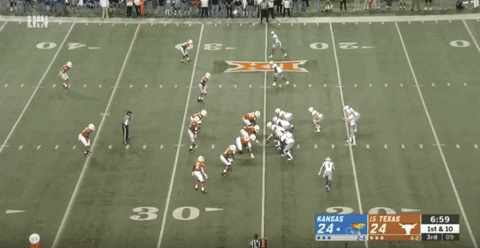 Somewhat transparent yes, but this is 21 personnel with Pooka Williams off the ball in an unbalanced formation. Kansas runs power-read with Pooka sweeping across from receiver with Ben Miles in an H-back alignment and then another fullback at RB, both of whom lead for the sweep on the perimeter.
Texas played a few different coverages over this on Saturday, didn't execute any of them consistently, but they really got caught in this one where the MLB is playing the C-gap when he's the read key for the QB. Stanley sees the MLB play his trajectory behind the guard on power and hands off to Pooka on the sweep. Texas' nickel BJ Foster has to force that facing a lead block from a FB, a block from the slot, and then Pooka coming at him. This play would have been worse but for Brandon Jones' range and open field tackling as a strong safety hawking from deep.
Dearmon has the Jayhawks playing in a way to maximize the abilities of Pooka Williams (25 for 190 rushing in this one) and he'll get that special playmaker back for 2019. Kansas will be interesting to watch in coming years, I may have to start paying them extra attention.
All that said, Texas really struggled to stop stuff that you can literally find Dearmon explaining in free instructional videos online.
So you should apply that caveat.
The other big winners were Skylar Thompson, who took advantage of a weak TCU performance with a big game in the air and on the ground, and then Charlie Brewer and the Baylor program.
For Baylor to navigate their schedule without a loss against a non-Texas or OU team would be a massive step for that program. Going 7-2 with losses to the Longhorns and Sooners would establish them as the no. 1 contender amongst the non-bluebloods heading into a 2020 where they return a lot of essential pieces (James Lynch tho…I dunno). Obviously there's more than that in play, this team is explosive enough on offense and sound enough on defense to have a great chance at the Big 12 championship game. They may need "only" to avoid a loss from the slate of West Virginia, at TCU, and at Kansas and then split against Oklahoma and Texas. That seems pretty doable right now.
Oklahoma State alternated on defense between attacking the two weak spots that yours truly has noted about the Bear offense. Understand the term "weak" here on relative terms, obviously this is a strong offense I'm referring to how you want to play them to have a chance to limit their production.
Those are: Baylor's ability to run the ball or find target no. 3 when Denzel Mims and Tyquan Thornton are doubled, and then Baylor's ability to protect Brewer from blitzes. Oklahoma State was too weak up front to stop the run while dropping everyone back and also got caught by RJ Fleeks for a long TD pass late when they had safeties on Mims and Thornton. The 'Pokes mixed in some pressure and had a little bit of success but Brewer evaded some of it (four sacks overall, several scrambles by Brewer), didn't turn the ball over, and eventually the OSU pass-rush wore out.
Connor Galvin could be back in time for Oklahoma and will likely be back against Texas, which will help shore up both of Baylor's two areas of concern on offense. The other big picture concern I had about Baylor was their ability to stay healthy into November and their interior run defense, particularly without Johnston. Those both remain a concern, but so long as Brewer stays healthy I think they have enough firepower to navigate their way to the final stretch against Oklahoma, Texas, and then that sneaky closer at Kansas.
It's definitely been the year of #RhuleofLaw thus far through 2019.
********
Make sure you read my book, Flyover Football, which tells the history of the Big 12 conference as one in which the league was caught up by forces of history to become a laboratory for modern offense: