I wanted to pass along a few things I noticed from two of the teams that demonstrated that they're actually ready to contend for the Big 12 title, Kansas State and Oklahoma State. I think Oklahoma demonstrated they are also in that group but I gave some notes on their matchup with Ohio State last week and have more on that game at Football Study Hall.
We'll know a lot more about Oklahoma after that contest, although I already feel reasonably confident that they'll be proven to be an explosive offensive team that is still too young on defense to stop the run at a high enough level to win against nationally competitive programs.
Texas is currently on track to have a mixed season in which they might beat anybody but they'll certainly lose a fair number of games. West Virginia might be better than that but unless Josh Jackson really is a stud as a redshirt freshman (possible) I don't think they'll be at the level of these teams.
So here's what I learned in week one about K-State and Okie lite:
What we learned about Kansas State
Isaiah Harris is the complementary WR that's going to take this offense a whole 'nother level, not Carlos Strickland. This is disappointing for the implications for my "strychnine" moniker, but it's typical of Kansas State to turn a 5-8, 166 pound redshirted kid into a god of war.
It looks like a dig-post combo but then Harris breaks out back outside on a flag (7) route and Ertz hits him stride for six point. Kansas State boasting a passing game with two big time WRs on top of what they can already do in the run game should be concerning to the rest of the league. I know it's Central Arkansas but they're just getting started here.
Jayd Kirby is their answer for the outside-backer position and he seems a pretty good one. He can blitz the edge, but that was evident from his JUCO film where he played a space-hybrid position similar to how OU has used Eric Striker or Caleb Kelly. He's not at their level as an athlete but his skill set is comparable if lesser. Overall the Wildcats looked very deep and fundamentally strong at LB. Back-ups Justin Hughes and Elijah Sullivan both played and looked good, Tanking and Kirby seem likely to be very good, especially when they aren't facing a team that springs the option on them when they weren't expecting it.
The safety tandem seems like it'll be strong in time. Nickels Cre Moore and Johnny Durham both looked solid, strong safety Denzel Goolsby showed some range and versatility although he wasn't a big playmaker in this game, and Kendall Adams has taken additional steps in learning the scheme well enough to play faster. They're going to be a team that can execute the bend don't break plan if they get a good pass rush.
The defensive ends looked pretty good and sophomore Kyle Ball seems like he might be one of the next big things at K-State.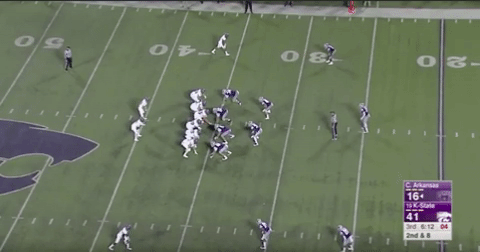 This may not look like much but Ball protects the edge against a TE-OT double team on outside zone blocking and frees up Justin Hughes to get around the edge. Then he actually gets off that block to finish the tackle. He's also a good pass-rusher, which is important playing opposite emerging star Reggie Walker and trying to help fellow DE Tanner Wood replace Jordan Willis.
What we learned about Oklahoma State
This passing game…this isn't going to be fun for their opponents.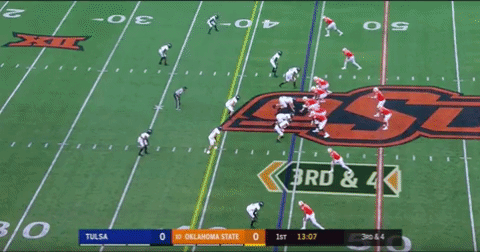 Rudolph has Tyron Johnson on man coverage down the sideline here and just throws it up for him. Touchdown. You'll notice that OSU is playing a Friday night game at South Alabama tonight, I think they are looking to cultivate a brand as the team for southern skill players that don't want to play in boring SEC offenses.
Utilizing Tyron Johnson in this offense certainly won't hurt them in that endeavor.
Here's dig-post to James Washington…
This is like when Brandon Weeden was just throwing to spots on the field that would quickly be occupied by Justin Blackmon. Most (all?) teams aren't going to have a choice but to play two-deep to both sides of the field and take their chances against the run game. But about that…
The two-back run game is still a threat and their lead draw game in particular has become even nastier than a year ago. Justice Hill is a little magician in space and they have a lot of ways to set him up to get into space.
Here's a lead-C run with down blocks and pulling the center:
Here's lead draw with new "cowboy-back" Britton Abbott leading the way: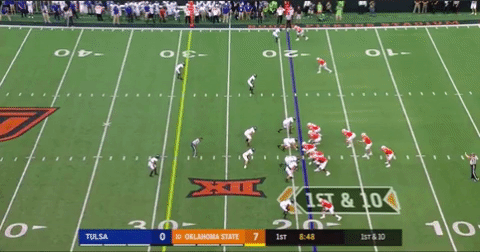 Tulsa is in two-deep coverage to both sides of the field here…so what are you supposed to do against this concept?
Here's spot-draw with Dylan Stoner running a quick spot route and Rudolph handing off when the middle linebacker drops with Stoner rather than minding the run: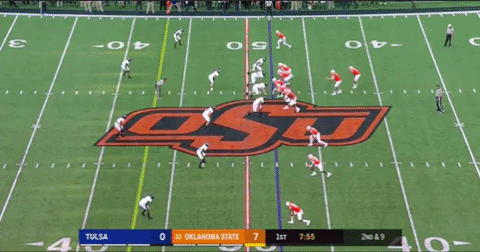 SMH. Two-deep coverage again, but at least it wasn't a touchdown, I guess? This is a very complete and balanced offense. Britton Abbott clearly solves for the "but can we execute a two-back run game?" issue and evidently so does Sione Finefeuiaki because they brought back the diamond formation with both of them in the game:
Mike Gundy and his staff have taken pains to ensure that teams are as de-incentivized as possible to play two-deep and bracket their receivers. They have ways to pound opponents with the run game and get the 1-on-1 matchups they want to throw outside.
So what about their defense?
They're using Ramon Richards' coverage abilities to allow them to run some Narduzzi-style quarters coverages to be aggressive with their LBs in the run game. For instance: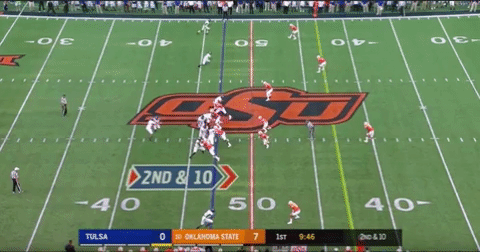 This almost looks like cover-1 but it's actually quarters coverage, I'll diagram it out so that you can see how it allows them to get their LBs flowing hard to the football.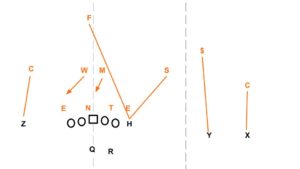 The star LB and FS are bracketing the no. 3 receiver, everyone else else is in match-quarters but it's basically going to end up being man coverage. The LBs are flowing to the ball and if it spills back then the star LB and FS are both sitting there in bracket zone to close on the ball.
Richards' ability to hold up playing this kind of coverage is highly useful for OSU because right now Kenneth Edison-MacGruder! is the better run-support player than Tre Flowers, who's still getting used to supporting the run from the boundary safety spot.
Like most every other OSU team we've seen under Glenn Spencer, this one has a variety of ways they can mix things up to stop the run. The big question is whether they can hold up outside at cornerback, and we still don't know for sure. If they still struggle there, they do still have this 3-3 Tampa-2 "topper" package that uses MacGruder! as the topper.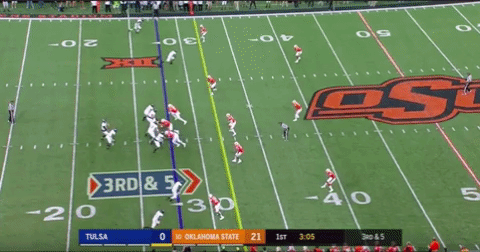 They also showed cover 1 out of that same look with MacGruder! dropping as the middle of the field safety.
These might be the two most complete teams in the Big 12 this season. You're up OU, show us what you've got.