I may have been one of the few people that was surprised by how Texas Tech played against TCU but not terribly surprised to see Iowa State beat down West Virginia.
It's hard to adjust to a player like Brock Purdy with one week of film, normally you see the combination of fatigue and film start to wear down an explosive young player after a few games and not right off the bat. Of course, West Virginia didn't really handle anything Iowa State did and looked like they'd never seen this dime defensive package or the tight zone run play before in their lives.
That game and season are slowly making clear that there are two main trends around the Big 12. First there's the Air Raid stream Mike Leach brought over in 1999. That trend probably reached it's zenith in the 2015 season when the league was dominated by Oklahoma, Oklahoma State, and TCU with beat up Baylor losing their grip on the league and veering towards collapse. Five of the top six teams in the standings that year ran the Air Raid or offenses heavily influenced by the Air Raid, and you could argue six out of six depending on how you want to classify Art Briles' veer and shoot.
Oklahoma won the league with a still decent Stoops defense paired with the first Lincoln Riley/Baker Mayfield pairing. Oklahoma State followed them with an Air Raid/veer and shoot crossover featuring Mason Rudolph and James Washington. TCU played only passable defense for the first time in the decade under Patterson but still won 10 games thanks to Trevone Boykin in the Air Raid. Then Baylor, West Virginia, and Texas Tech rounded out the top six before you reached Texas, Kansas State, Iowa State, and Kansas.
Rise of the Air Raid
The Air Raid is defined by a simplified playbook, rep-intensive install and practice regimen, throwing to set up the run, up-tempo pace, spread sets, passing QBs, and a "let's play good enough" attitude to defense. The Air Raid install and practice systems of the "Raid bro" coaches from that school is known for favoring the offense and the schools that have installed it have often struggled to find defenses to maximize the benefits.
Exceptions were the Bob Stoops Sooners, until late in the Stoops regime when Mike and Lincoln Riley became more involved, the Gary Patterson Horned Frogs who have constantly tinkered to make sure they didn't shortchange the tough, defensive culture, and then at times West Virginia was able to mix in enough physicality and live tackling in practice to put good units on the field. Incidentally, I don't know what happened there because they don't look tough this year.
It may be interesting to know what Texas Tech has changed in recent years as well to finally field a defense that is passable. I bet I can guess in two tries.
The "Raid bro" moniker was devised to describe the "all offense, party time" atmosphere that the various Leach-tree coaches have been known to exemplify. Obviously many of these coaches work hard and produce brilliant, creative offensive units, but go look up Gary Patterson talking about how Air Raid QBs will intentionally hit his players with "errant" warm up tosses before games to get a sense of why "Raid bro" has stuck as a moniker.
Meanwhile, the last few years have seen a distinctive counter-trend. TCU has maintained the Air Raid system to an extent but they clearly place a major emphasis on the run game and still have a practice regimen and offseason program in which only the toughest and most physical players can emerge.
Iowa State, Baylor, and Texas all hired some guys with Midwestern, power football roots in Matt Campbell, Matt Rhule, Tom Herman. All have leaned heavily on tight zone, big TEs that can block a DE, and emphasizing defense as a primary means to victory and not the team's second class citizens.
Iowa State and Texas have utilized three-down/dime defensive structures that flood the field with physical athletes that have laid waste to the Air Raid offenses in the league save for Oklahoma. Baylor is still working to install a multiple defense and regularly give up the ghost when their players muck up their assignments but they are noticeably getting more physical: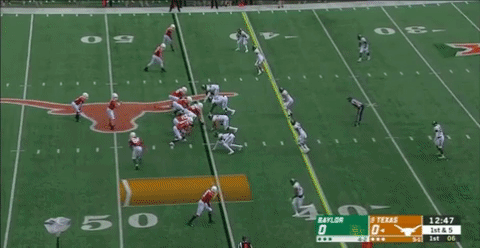 The Bears' DL is pretty well coached, they did a good job throughout the game of keeping their LBs clean against Texas' run game and on this play their free safety (freshman Christian Morgan) makes a good downhill fit after the DE and MLB initially blow the exchange against the zone-read (more on the DE).
Ehlinger has to cut downhill, which he's generally very happy to do, and he ran through them for a first down, but Morgan got a good lick on his shoulder that spelled the end of the day for the Texas QB/FB.
All three teams lean pretty heavily on the "tight zone" play, which is a physical and downhill run concept that relies on having a big TE on the field who can block up a DE: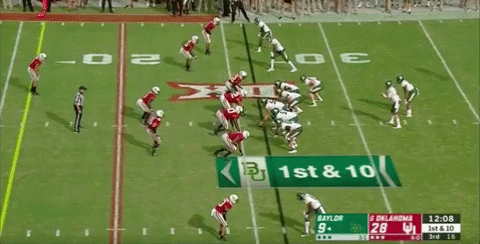 I'll spare West Virginia fans watching their defense try to stop this play against Iowa State and David Montgomery for now. I'll also note that the push that Baylor got on this play against OU was nothing to what Texas did to them the following week in Dallas.
The design of this play is to hit up the A-gap or else to cut back unless the LBs flow to the backside where the TE is located, in that event a good RB cuts back to the play side. Texas' Keaontay Ingram excels at that cut. The backside is where the double teams and the push is, often teams defend it by just trying to spill the ball outside the TE where it becomes a RB coming downhill on a DB that's trying to slide over and make the stop.
If the DB is up for that, it's a 1-3 yard gain, if not then he's laying prone on the ground while the back is rampaging downfield. It's a very physical play and none of the Baylor, Texas, or Iowa State OL this year are as good on the concept as they're likely to be next season when their meaner and hand-picked OL enter year three in each respective program.
People often confuse this as being a zone-read play and the QB CAN keep the ball on the edge but it's much more of a downhill RB concept. The QB will generally get a pass or keep option if the overhang DB I just described is coming down hard off the slot to make the stop on the back in the cutback lane.
Teams usually run the play with a TE or offset H-back to the same side as the RB and then a slot and outside receiver to that side as well. Then they'll generally have the two WRs run a bubble screen or some kind of two-man route combo. Above Baylor is running a switch route combo.
Then the read is on the overhang DB. If he crashes over the edge, the QB can keep the ball:
Both of Michigan's long runs at QB against Wisconsin last week came on this same design, only it was a 12 personnel "split zone" run rather than a pure straight ahead "belly" concept like you see above. Click this link for more details on the concept.
Most teams teach their nickel to come down hesitantly so that the QB DOES hand off and then the nickel is in position to stop the RB in the cutback lane for no or minimal gain. They want to contain it and play it outside in. In that event, the offense could throw a bubble screen or quick route to the slot if the safety doesn't drop down shallow enough to stop it.
In the example well above, OU cleverly has the nickel carry the slot receiver and then uses the safety to contain the cutback lane. The only problem is that they aren't about that "stand up the double team" life up front so Baylor pushes the ball through for five yards anyways via sheer imposition of will.
That's what these Bash Bro teams are all about. They're not setting up the run with the pass, they're not banking on repetition of finely tuned skills in the passing game, they're about mashing it up in practice and then going out and being the most physical team every Saturday.
How does the Bash bro handle the Raid bro?
Here's how the standings currently look: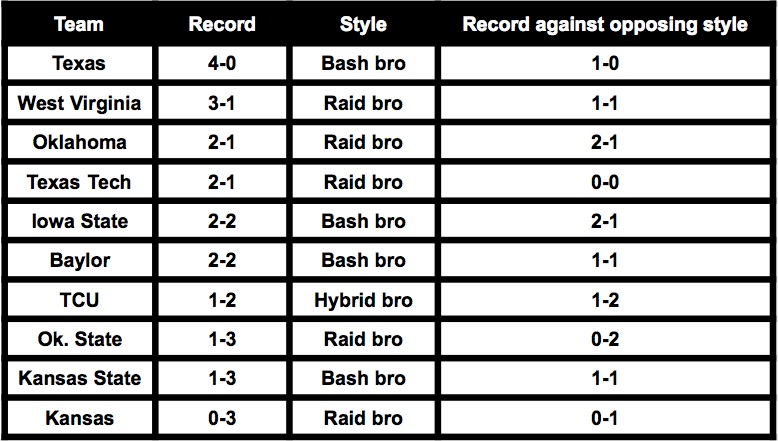 There's a few way to delineate all these teams besides "raid bro" or "bash bro" obviously, but the main factor I'm going off here is whether practices are designed to produce finely tuned passing attacks or physical fighters. TCU probably fits more among the latter at this point but they still have an Air Raid offense and surely honor the practice needs of that system to some extent.
What's notable is that our three new "Bash bro" teams are a combined 8-4 in B12 play and 4-2 against the "Raid bro" teams. My guess is that Texas' upcoming run against OSU, WVU, and Tech will not diminish that record.
People often talk about bruising physical teams having an advantage late in games as they wear an opponent out, but that's actually somewhat overblown. Do you know what wears out a defense and leads to them being useless in the 4th quarter? Running 80 plays on offense and spending the end of the game dropping back and chucking the ball around against a pass-rush that has zero legs and a defense that has run out of disguises and blitzes that they haven't shown yet.
It's in NEGATING that eventuality that the Bash bro teams can gain an advantage over the Raid bros.
For instance, West Virginia ran 42 plays against Iowa State in Ames last Saturday. Forty-freaking-two snaps. Time of possession isn't always a good indicator against teams that really move fast but Iowa State also held the ball for 37:21 of game clock. That's a lot of time in which West Virginia's best players weren't on the field.
When Texas beat Oklahoma the Sooners ran 58 plays and Texas held the ball for 33:50. Now some of that was because Oklahoma scored so quickly in their three TD drives in the fourth quarter. On the other hand, if OU hadn't scored so quickly on those drives, they probably end up running 45-50 plays because their drives would have used up too much clock and Texas would have won with a bigger final margin and likely ended the game in the victory formation.
Even on the bottom end of the scale, in Kansas State's big win over similarly broken Oklahoma State, the Wildcats only defended 63 snaps and held the ball for 37:52.
Another area where the Bash bro teams come out ahead is in situational football. On the scoreboard, you can't match passing output with rushing output, not easily anyways. Georgia sorta did it against Oklahoma in the playoffs except that Jake Fromm also threw for 232 yards, many of which came at crucial moments in the fourth quarter when the game went back and forth.
But you can win in key moments, like short-yardage and the red zone when being the most physical team really counts. Raid bro teams struggle to run the ball when they have to have yardage and to stop the run when the other team is looking to bully ahead for key yardage.
For instance, from that Tech vs TCU game: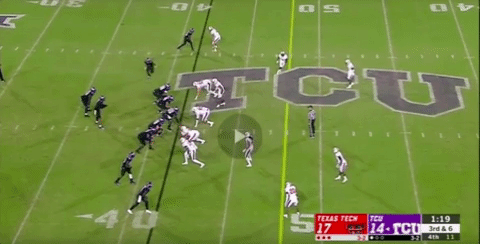 Big third down for TCU, they run a "Hank" type dropback concept utilizing motion to pick up about five yards and end up just short of the marker. Granted that a better throw and/or better positioning by the receiver picks up the first here, but even in a more precise unit sometimes you end up needing just a few more.
What do you want to do here? Well the clock is ticking, the defense is reeling somewhat and looking over to the sideline for the call, and you have a chance to rush up to the line and pick up that yardage while it's easy. Except that you're in 10 personnel…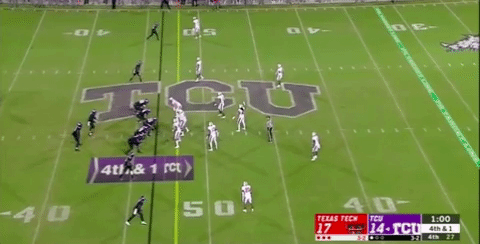 They ended up running another passing concept, Shawn Robinson didn't have time to read the D properly and his eyes ended up taking him away from where they had a decent shot at the first (on the boundary to the quick snag/hunt route from the slot), and he scrambled around for a while before literally losing control of the football. There are things they could have done better here, maybe a QB sneak? But it's hard to pick up crucial yardage through imposition of will when you have a bunch of little people on the field.
Contrast with Texas in a crucial short-yardage situation: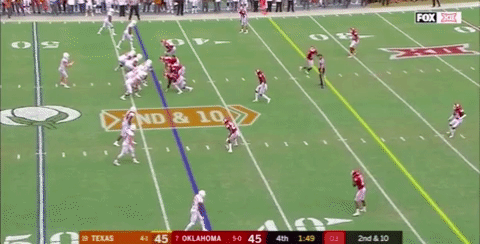 It's second and 10 on what needs to be a game-winning drive. They pick up seven helpful yards throwing underneath to a big, not terribly explosive TE against a conservative coverage. Then, they take advantage of one of the best short-yardage packages in the nation…their own base offense: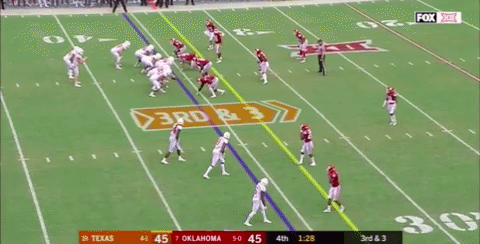 They ended the previous play with about 1:43 on the clock, by 1:35 they're lined up again without subbing and then running QB stretch for a first down. It's a potent short-yardage play where they essentially direct snap it to a FB (Sam Ehlinger) with two lead blockers (the TE and RB) and then they can always throw the quick bubble screen to Lil'Jordan Humphrey if defenses don't play three defenders to the bottom of the formation.
So long as they get hats on hats the play is designed so that the defense can't guarantee that they have an unblocked defender in position to make the stop at the line, a best case scenario is typically that the safety can hit Ehlinger and stop his momentum…good luck. If Texas gets good blocks, the situation becomes even more dire.

Texas, Iowa State, and Baylor all have some solid options for short-yardage scenarios, in large part because their teams are designed to be good in those moments where the game comes down to scrapping over a few yards of turf. It's another big advantage, but it's not the only one.
The main one is their defensive play. When you put on Iowa State and Texas you see defenses that make teams earn their yardage, run to the football, and tackle. You also see QBs that aren't always sure of where to go with the football. Baylor isn't here yet but I think they're trending in this direction and it's certainly their philosophy to arrive at this point.
You don't just arrive at this point by wanting to or by installing a certain style of playbook. Oklahoma has had a dense playbook over the last few years that Ruffin McNeil is now actively paring down, but they don't confuse offenses they just end up confusing themselves. Oklahoma State is carrying disguises and pressures into every gameplan on Saturdays but in every game of theirs I've watched they've gifted the opponent some big plays with assignment busts.
Getting it all right on defense requires a high level of commitment in practice and the offseason program to ensure that the players are being to required to be physical, to be sound, and to engage in the selfless style that rewards in great defense.
The reason that some teams in the Big 12 have defenders that are in the right spots and who actually take on blocks well and get the ballcarrier on the ground and some don't has little to do with recruiting rankings and everything to do with how they orient their programs year round. Texas, and I'm betting Iowa State and Baylor as well, tackle during game week practices. I believe Oklahoma used to do this as well…and Oklahoma used to play excellent defense.
So when these teams go up against the Raid bro teams, they're able to score and control the ball reasonably well because the Raid bro teams struggle with their offenses' physicality and also because the Raid bro defenses often aren't terribly good in general. Then they limit the Raid bro offenses with good fundamentals, disguises that throw off their rote reads and reactions, good situational play, and fresh players in the later rounds.
If you take away the offense that Raid bro teams get from missed assignments against tempo, shoddy tackling, precise play calling on a recognized defensive call, and worn out defenders they can become ordinary or even downright bad. Don't believe me? Ask Matt Campbell.
So who's winning this clash, long-term?
Consider that…
-Iowa State is starting a freshman QB, figures to return all five starters on the OL in 2019, might have David Montgomery and Hakeem Butler back, and are just in year two of a total roster and cultural makeover.
-Baylor is starting a sophomore QB and are just in year two of a total roster and cultural makeover.
-Texas is starting a sophomore QB, returns three starting OL, feature most of their most talented players in the underclassman ranks, and are just in year two of a total roster and cultural makeover.
That's not to say that the rest of the league doesn't have anything going for them long-term. Oklahoma has some dicey changes ahead in the offseason but they also have absurd talent, Oklahoma State figures to be improved at QB, TCU brings back errbody, and Texas Tech figures to retain Kliff Kingsbury and David Gibbs at this point and have a talented young QB of their own.
But these Bash bro teams seem to have the Raid bros pretty well figured out right now and they aren't even fully flexing yet with upperclassmen QBs or fully built out OL. I think what we're going to see over the next few years is that the Raid bros that can hybridize their programs like Patterson has done will survive and the others will fall by the wayside as the Bash bros redefine what Big 12 football looks like for the coming decade.