Texas Tech has officially fired Kliff Kingsbury. AD Kirby Hocutt described the decision as being largely based off Texas Tech's inability to field good defenses, which limited the positive impact from Kingsbury's amazing offenses.
Kingsbury's offenses over the last several years were frankly astounding. He's one of the best, perhaps the best, Air Raid coordinator in the game today and an unmatchable guru at helping his QBs to put up huge stats and crush offenses. Everyone's favorite Kliff at Tech anecdote is the fact that at one time he had Michael Brewer, Baker Mayfield, and Davis Webb on his roster at one time. He lost all but Webb and then plugged in Pat Mahomes II, then he lost Webb and kept going with Mahomes.
Mahomes and Mayfield are both among the 10 best QBs to play in this conference while Brewer and Webb went on to have solid seasons starting for Virginia Tech and Cal respectively. Of course, Kingsbury got this job after coaching RS freshman Johnny Manziel to a Heisman at Texas A&M. Kingsbury's eye for QB talent and knack for coaching them is astounding and will guarantee that if he's happy to be an OC again for a while he'll have his pick of jobs at the collegiate or NFL level.
Here's a snapshot of Kingsbury's tenure at Texas Tech, which almost perfectly coincides with the league's time as a round-robin conference of 10: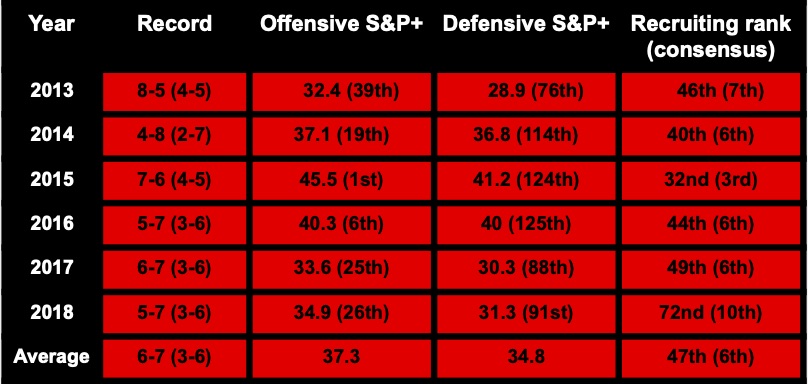 It's a clear track record of consistently getting a lot out of his offenses but then fielding bad defenses that erased nearly all of the margin. With his job on the line in 2018, Kingsbury coached his Red Raiders to a 26th national ranking in S&P+ offense despite relying on three different QBs over the course of the season. That's remarkable.
If Alan Bowman hadn't been injured late in the first half against Oklahoma, it's very reasonable to conclude that Texas Tech would have won that game. Similarly, had Bowman been available against Texas the Raiders may have won that one as well. Kingsbury coached up Jett Duffey to drop over 400 yards of offense on the beat-up Longhorns at home but he also turned it over three times.
Over the last few years the story has centered around David Gibbs' efforts to coach up the Red Raider defense to a level that could allow them to play well enough to allow a dominant offense to carry them. Gibbs' build the defense to be able to create confusion and force turnovers with a shifting, 8-3 style of defense with a philosophic commitment to ignoring yardage totals or anything else and focusing on getting the ball back to the offense.
After a rough start, he eventually started to get them into shape to actually stop the run so as to allow them to set traps for QBs on passing downs, but they never played high level defense regardless of the narratives suggesting they'd become a strong defensive football team.
In my estimation, Kingsbury's commitment to Gibbs rather than changing out DCs over and over again was a mark of a head coach with some wisdom and potential. They just couldn't get the talent to make it work well enough.
Acquisition of talent was arguably the biggest problem for Tech this decade.
Their recruiting rankings weren't terribly high and some of the four-stars they did sign included the likes of DL Breiden Fehoko, who transferred out of the program to LSU. Kingsbury seemed to adopt a similar recruiting style to Mike Leach, essentially trusting his ability to eval and make the most of what he could lure into Lubbock rather than hitting the trail and outworking and outselling the competition.
Texas Tech has also been hit hard in the round robin era by the inclusion of TCU and the awakening of Baylor. TCU is in the heart of DFW and has a historic coach with a knack for evaluating while the Bears have a lot of alumni in the main Texas metro areas and they're a good deal closer to all of them than Lubbock, which is about five hours deep into the oceans of West Texas from Dallas. It's also two hours away from fellow West Texas hub Midland/Odessa and almost two hours south of Amarillo.
People often get lost in the "it's one of the major public schools in the state of Texas!!!" point while forgetting that
A) the state of Texas is bigger than most of the major European powers
B) The vast majority of the state's population is on the other side of the "ocean" from Lubbock.
Could Texas Tech out-recruit Baylor and TCU with a top recruiter at HC? Probably, but it's a tougher proposition than in the previous decade. Their natural range is the sort of low 4-star and high 3-star kids that much of the rest of the league's mid-tier is also targeting.
The shale revolution
One likely reason that Texas Tech has grown impatient with their wunderkind coach is the massive infusion of cash into the pockets of various Tech grads and donors. Because of "the shale revolution," the United States is close to being totally energy independent even to the point that they may no longer need to concern themselves with the various doings of brutal regimes in the Persian Gulf. The Permian basin is close to being the no. 3 producer in the world and no. 2 in OPEC.
On the local "geo-political" scene of Texas football that means that there's a lot of money burning the pockets of various Texas Tech folk. Big money means money for facilities and coaching staff, which are always the go-to thing people point to for how money is spent to improve college football teams, and also more money to be spent on the sorts of under the table operations that tend to coincide with higher level recruiting.
Most importantly, Tech has a lot of programs beat in the "morale" department. It's really important to Texas Tech to be good at football, they don't have much else going on out west and football is THE way that communities in this country tend to use as mascots or avatars to represent themselves to the greater US. There's no pro teams out there and no other athletics program that can match the Red Raider football team as THE representation for West Texas.
So there's a will and a way to wins out in Lubbock if they can hire someone who could marshal it.
What can work at Texas Tech?
There's two conversations to be had about what Tech needs to do. Hocutt claims that they've been "an elite program" in the past and can be there again, I can only assume that means in the latter part of the 00s when Mike Leach would sneak them into the top 10 now and again for stretches before OU or Texas would obliterate them and kick them back down the ladder.
They won the Southwest Conference twice and their best finish in the B12 was in 2008 when they were in a three-way tie for the Big 12 South division crown and lost the tie-breaker to OU, who beat them senseless in the "jump around" game.
A good "ceiling" for Texas Tech to aim for is probably what Mike Gundy has done at Oklahoma State. To be at the top of the non-OU/TX pack and truly competing with the two big dogs in the better years. That's more or less what everyone else is aiming for and that's THE challenge in the league right now.
The route to getting there is the area of contention. An overly simplistic guide to Texas recruiting would say that:
-DFW is where the offensive players are at, particularly the WRs that power the B12.
-For defense, you gotta hit Houston, the Golden Triangle, and East Texas. The pool of African-American athletes out there is bigger and most modern defensive schemes emphasize speed and athleticism that is easier to find in the black community.
-ASA (Austin-San Antonio) has a smaller but hardly insignificant pool of both offense and defense. These areas are growing fast and have a few obvious hubs of talent. Cibolo Steele (San Antonio burb) always seems to have an absurd amount of DB talent, there must be a skills trainer or someone who families are moving over to work with. Lake Travis (Austin burb) cranks out QBs and now so does Westlake (Austin proper) where Todd Dodge is coaching.
-West Texas has a much smaller pool but an important one. The schools out there still take football VERY seriously and many of them are now running advanced spread schemes. Back in the day Tech used to be powered by guys like Zach Thomas, a 5-11/240 pound wrecking ball of a MLB that came out of West Texas.
It's hard to imagine Texas Tech finding success without embracing the spread offense, the question is what style to run, what coaches might be available and interested, and how to play defense effectively enough to have an edge over the rest of the mid-tier squads.
A rumor across the Twitter-verse has them pulling from the Mike Leach coaching tree yet again…
Williams listed Dana behind Brent Venables, Mike Norvell, Jim Leavitt, and Matt Wells. We'll talk more about Dana if that materializes but obviously out at West Virginia he's done comparably to Mike Leach at Lubbock, getting the Mountaineers just under the bubble of the top teams in the Big 12. He also mentioned Mike Leach but I dunno about that one, I kinda think Mike wants out of Pullman.
Weird stuff floats out about Venables every time he's mentioned for an HC job. Like that he interviews terribly, isn't up for being a HC, what have you. Jim Leavitt is a a hard-nosed defensive coach and it's unclear what he'd do on offense these days. He's a great LB coach but his top defenses at Colorado also benefitted from Mike MacIntyre's eye for DB talent and ability to develop them. That was a powerful duo. Matt Wells is a spread guy from Okie-land who climbed the ladder at Utah State under Gary Andersen. The formula out there is pretty different than at Texas Tech though, unless the state is to acquire five more Euless Trinity high schools and the Red Raiders were able to beat everyone else out to build a pipeline from those schools. Norvell has fashioned a nasty spread-iso offense over in Memphis, he'll end up with one of these open P5 jobs, bank on it.
You have to score to win in the Big 12, even if you go the bash bro route you'd better have plan for how to efficiently utilize the high number of possessions you're going to get on offense. It wouldn't be impossible to build something like Wisconsin's offense at Texas Tech (probably close to impossible) but it'd make a lot more sense to go spread and find ways to get an advantage by having smarter QB play than your opponents (or some other structural advantage on offense) and better defense.
Kliff was able to create one of those advantages for Tech as well as anyone in the country but he couldn't figure out the other and he was probably pretty far away from unlocking the defensive side. Next up…