Over at Football Outsiders I've got the stats breakdowns and some thoughts on every bowl game (eventually, with the most recent post breaking down the playoff semi-finals. Over there you can read about how I'm picking an Alabama vs Notre Dame finale, which will probably disappointingly feature a 20 point spread for the Tide.
This is an exceptional Alabama team and there's not as much drama around things this year, mainly because of Oklahoma's annual hangup about playing any defense. But, there are a lot of interesting things about these playoffs that will prove important in the direction of the game and future playoffs so I wanted to break down some of the matchups in this series a little further.
Alabama vs Oklahoma
I like to ask two questions when I'm really breaking down a game in order to figure out how I think it will go. In this instance, first "how would I approach this as Oklahoma?" and then obviously, "how would I approach this as Alabama?" Let's start by thinking it through as Oklahoma.
In the big picture, we gotta score and score a lot. We're not running on their DL and LBs unless they give us advantages by covering up the H-back or playing dime against 10 personnel or we are running Kyler.
Texas has less talented DL and less precise LBs than Alabama and managed to hold the Sooners to 3.2 ypc without a single of their main rushers breaking 4.0. Why? Because the Oklahoma run game relies on a few structural advantages that can be thwarted. One is that opponents struggle to commit numbers to the ball because of the threat of the passing game. From there the Sooner run game is built around overpowering opponents with well-drilled and massive OL executing a relatively small number of concepts, QB pass and keep options to create additional angles, and then the direct snap QB run game itself. Texas committed an extra man and their front knew OU's three main plays (inside zone, GT counter, tackle-lead) really, really well. So they swarmed the run game and made life difficult there. You think Alabama can't build on that success with extra time to prepare and superior personnel?
So if I'm the Sooners, I'm thinking that we need to repeat the anti-Texas gameplan and move the schwerpunkt of this contest out to the perimeter with four-wide sets that make Grant Calcaterra a bigger part of the battle then he often was in the regular season. I'm not saying abandon the run game, but the pass game has to be where Oklahoma's bread is buttered, the Tide are at least vulnerable in the secondary whereas their front is loaded with guys that can put you in 2nd and 12 as often as they allow 2nd and 6 while 2nd and 1 is pretty darn rare.
On defense, we have to stop the run, like against Texas. There's no hope in this game if Alabama is running for 200-300 yards at 8 yards a clip like Georgia did. So we're playing 11/12 in base and 10 in nickel. We want to encourage them into throwing the ball 40+ times and hope we can be more explosive and efficient in a shootout.
Technically this Alabama team is set apart from previous squads for the fact that they are not only good at seizing upon opportunities in the passing game but they relish the chance to throw the ball around and have had some lopsided games where they could have run the ball well but instead opted to have Tua Tagovailoa fling it around for massive gains. The Sooners are going to play Caleb Kelly as much as possible and try to create passing downs where we can move the safeties around deep and over the top so as to get some punts. If they throw for 300 but we force a few punts and field goals that's okay, if they can pick up 8 a pop running counter we're going to run out of answers quickly.
In a shootout, there's a chance that Alabama doesn't handle the pressure of matching points with Kyler Murray and the offense and they make a few crucial mistakes that give us the game. We've been in plenty of shootouts, we have to like our chances of winning another one.
Now if I'm approaching this game as Alabama?
We can't take the bait and try to win a shootout, that's an uncertain outcome and we have too many advantages to be embracing an uncertain outcome. We need to run the ball and blow out their DL so that we can guarantee effective drives in the 4th. If that requires 12 personnel that's just fine, both of our TEs are starting caliber. Short of that, we can always take some shots with Jaylen Waddle or Jerry Jeudy on the SS early and loosen things up before hammering with the ground game from the second quarter on.
On defense, things get tricky. Alabama's dime package isn't their best feature. They'll add Jared Mayden or veteran program guy Keaton Anderson as the deep field safety and play him over the top and Xaiver McKinney comes down to play as the "money-backer". Here's a typical Bama dime set-up, illustrated against Oklahoma in a 3×1 with Calcaterra up on the line at H and then Marquise Brown at Y.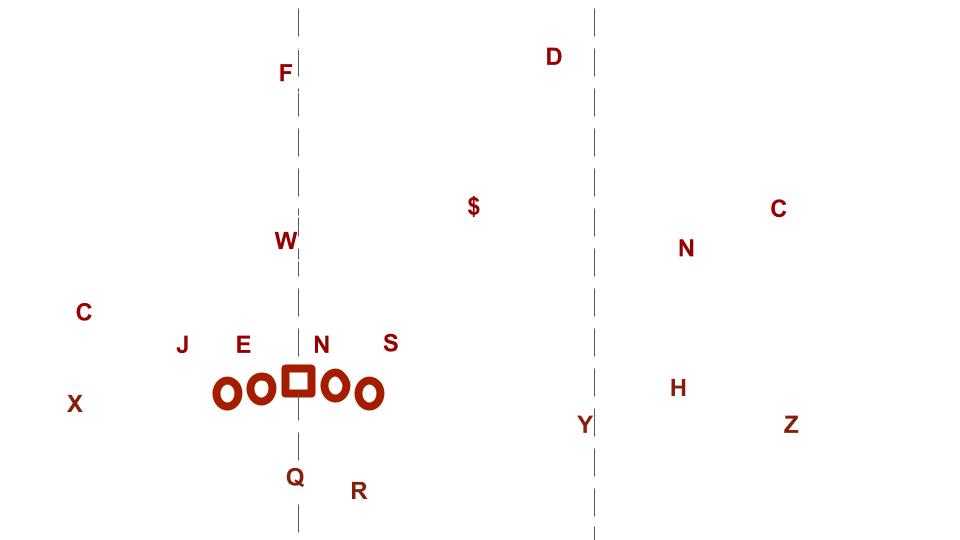 The "weak spot" of Bama's defense, such as they can be found, is that all of their pattern-matching coverages match positions rather than players. So McKinney is covering that #3 receiver, which in this case is Brown, and not a specific player like Calcaterra. So Oklahoma could run a slot fade here to Calcaterra on the nickel if they liked that matchup.
There's also the backside. This isn't a terribly sturdy run front UNLESS they actively involve the free safety (Deionte Thompson) in the fit to help the remaining true linebacker (Mack Wilson). They tend to do that, which is the North Dakota State answer for the four-wide spread as well, but that asks that CB across from X receiver Ceedee Lamb to hold up on the sideline alone.
Maybe they build a dime defense in bowl practices around the tite front but I kinda doubt it. I also think it's better to handle Kyler Murray with the safety coming down and then the OLB/DEs on the edge containing him in the pocket.
Alabama has three big advantages in a contest with Oklahoma.
They can score with the Sooners.
Their nickel package is a problem for Oklahoma. The "mike" in nickel is freak athlete Dylan Moses and their front is a nightmare. You have to get them in dime before any cracks in the personnel show up…of course OU can do that…
They have some athletes on the edge that could potentially play four-down and try to contain Murray in the pocket where he's not always comfortable. Just as importantly, if Murray is kept in the pocket than star nose tackle Quinnen Williams (8 sacks) can hunt him there.
That last one could be the ball game, either that or Lincoln Riley getting gun-shy about playing a lot of dime and allowing Bama to stay in nickel by trotting out Carson Meier out there at H-back and relying on the POP passes and RPOs to try and protect OU's blockers against the Bama front. I know the Oklahoma OL is awesome but Alabama is a different animal up front than any other they've faced this year. The closest was Texas, who gave OU trouble at times.
So long as Lincoln Riley doesn't demolish Nick Saban in the game planning, the Tide have too many advantages in this game to see them losing. I think they'll pull away at some point and then be able to run the ball in the fourth quarter to protect the lead.
Clemson vs Notre Dame
Everyone seems to think that Clemson's advantages over Notre Dame are comparable to Alabama's advantages over Oklahoma. I don't see it that way at all, Clemson's resume is every bit as iffy as Notre Dame's and when you look closely at how they've blown teams away there are some real warning signs for a contest with the Irish. I'm going to focus here on the Notre Dame perspective.
First things first, if I'm Notre Dame I feel good about the interior of my defense against most anybody. Jerry Tillery, Te'Von Coney and Drue Tranquill, and then Alohi Gillman gives me a big, athletic, and physical crew up main street to match up with anyone. They know how your run game works, they know how to get into spots, and they aren't going to be bullied. Then I'm going to look at the box scores for Clemson star Travis Etienne, it's essentially one of him running wild with lots of long runs against defenses that are spread thin by the threat of Trevor Lawrence throwing RPOs to big outside WRs or an explosive slot like Amari Rodgers.
The Tigers have a pretty full gamut of spread run game schemes, they're like Oklahoma with a weaker OL but perhaps a little more variety and a better blocking TE. However they do NOT have the dropback passing game that Oklahoma has. Trevor Lawrence isn't there yet in terms of making progressions and distributing the ball to matchups there, he's only a freshman whatever people are saying about his talent. He's also not 1/4 as elusive as Murray.
So the question becomes how much attention do you devote to the run game? For Notre Dame, that answer could potentially be more conservative than it is for other teams. Why not try and lean on Tillery, Coney, and Tranquill to keep things under wraps while the safeties hang back a little longer to deny passing windows on RPOs?
Clemson is like every other RPO spread team. They look overwhelming if you can't hold up against either the run or pass options without outnumbering them. If you can shut down one or the other honestly and then send numbers to the other? That's it, now they need another trick. In the past the Tigers had TWO tricks to pull from their bag. The direct snap run game to Deshaun Watson (or to Kelly Bryant for that matter), or much better, the dropback spread passing game with Deshaun Watson hunting matchups while they overwhelmed teams with Mike Williams, Hunter Renfrow, and Jordan Leggett. This year's Clemson O has some of the skill personnel they need but Lawrence and the passing game isn't there yet.
If I'm Notre Dame, I'm starting conservative against the run and then amping up pressure there as needed. If Lawrence has to beat me throwing off progressions, I like my chances a lot.
On offense, I look at Clemson's defensive front and I'd rather not focus the game there. I want things determined on the perimeter, where I can cycle through matchups with my absurdly large number of 6-4, 230 pound receivers and just pick on the 1-on-1s wherever they can be found. Is Ian Book ready to shoulder a load like that? I'm not totally sure, but I think there's a good chance of it and that's actually the style that Brian Kelly was utilizing at Cincinnati before he landed the ND gig. It's also why Book was made the starting QB over Brandon Wimbush, a desire to make better use of the 2018 Irish roster's absurdly loaded cast of skill weapons.
Clemson hasn't faced that many good passing attacks and some of the solid ones they have faced, like the similarly big and young Texas A&M crew, really took them apart. Historically Brent Venables' defenses have been better at stuffing spread run games than spread passing attacks which are like the final frontier of modern defense. Still relatively wild and unsettled, even for empires like Saban's Alabama.
If I'm Clemson I don't like this matchup, I don't like the way that pundits are questioning the Irish and leading to people like Pat Forde praising them for being overachievers. It's absolutely the case that Notre Dame doesn't recruit at the same level as Clemson or Alabama, but the difference is marginal and the differences in recruits at that level is often more marginal than the services want you to realize anyways. Notre Dame is always chock full of big freaks and future pros, particularly where it matters along the lines but this year finally also at the skill positions on both offense and defense.
I want this game settled in the trenches on both sides of the ball, so I'm planning to feed Travis Etienne aggressively and in multiple fashions until they really commit to stopping it. Then on defense I'm moving DBs around like wild to try and keep Ian Book confused and to encourage him to just hand off into Christian Wilkins and the LBs, even without Dexter Lawrence. I'm not in love with the idea of this game resting on Trevor Lawrence's ability to navigate the Irish secondary through the air so I'm not trying to allow Notre Dame to turn this into a high scoring affair. I want to settle it with who can run and protect the football, like a classic contest.
That's ironically NOT how Clemson has done things in previous years, nor how Notre Dame has done things. Both teams need to get out of character in order to leverage their matchups in this game, the staff and QB that does it best will win this contest. I like Brian Kelly and Ian Book to recognize how to win this game (move it to the perimeter) better than Dabo Swinney and Trevor Lawrence.
In summation
We're moving towards an era in football where having the overwhelming firepower at the skill positions is crucial and then trenches that can hold up in isolation to allow numbers to be committed out wide. Oklahoma is best suited to that style on offense of anyone, followed by Alabama, but on defense the Sooners are hilariously backwards and incompetent. They have to commit numbers to the box, invite the battle on the perimeter, and then they don't have players out there with enough talent and skill to dominate contests.
Alabama has the best defense for winning in the modern style and the second best offense, and Nick Saban knows all of this. I like them to beat down the Sooners' attempt and then crush whoever comes out of Notre Dame and Clemson (obviously I'm thinking the Irish).