I just recently finished the newest book by my man Coach Alexander:

https://www.amazon.com/Hybrids-Making-Defense-Cody-Alexander/dp/1790429722
It's a phenomenal read both for coaches of the game and also fans and writers that want a deeper and more comprehensive look at how defensive tactics have evolved to the point we've reached today.
Coach A has a few main points he hammers home, typically for the benefit of his colleagues reading the book, mostly centering around the need for a team to be able to play multiple fronts and be built on concepts rather than strict formations. He's proposing a true counter to spread offenses that have hybrid players and multiple types of formation that they run the same concepts from, explaining how defenses are learning to use hybrids to achieve a similar result.
For Big 12 fans there's a lot of reasons to read this book. He explains some of the dominant offensive strategies that defenses have been trying to counter in the league and discusses the styles and lessons he learned from the underrated Phil Bennett at Baylor while also touching on Gary Patterson's defense, what Glenn Spencer was getting up to before Mike Gundy sacked him, and how Todd Orlando and Jon Heacock have been revolutionizing the league's defenses.
Middle of the field stress
I've written countless times about how the B12 is often paced by concepts like dig-post, which allows 20 personnel teams like Oklahoma State or West Virginia to threaten the middle of the field on 3 levels before throwing it over the top to an outside WR on a deep post. That concept was a key one for Steve Spurrier back in the day in his "fun n gun" offense, labeled Mills at that time.
It's remained extremely potent and effective, while also sharing some ground with Y-stick and 4-verticals, which share the trait of threatening the seam with a good slot WR in order to create space and leverage to throw outside for explosive gains. Lots of teams now are falling Art Briles' lead in just finding different ways to attach slot fades to concepts.
Watch Kyler Murray at Oklahoma last year and they'd run a few main concepts that had the obvious intention of getting a particular matchup to throw a slot fade.
In his book, Coach A identifies Y-cross as the main route concept for these Air Raid teams in all of these different schemes. It's basically like a dig route by the slot, but he might be aiming to get behind the LB and under the safeties (rather than cutting in at a specific point) to suck in defenders and make them unavailable to double the post route. What makes it deadly for Air Raid teams is pairing it with 20 personnel and lead runs that can suck in LBs on play-action.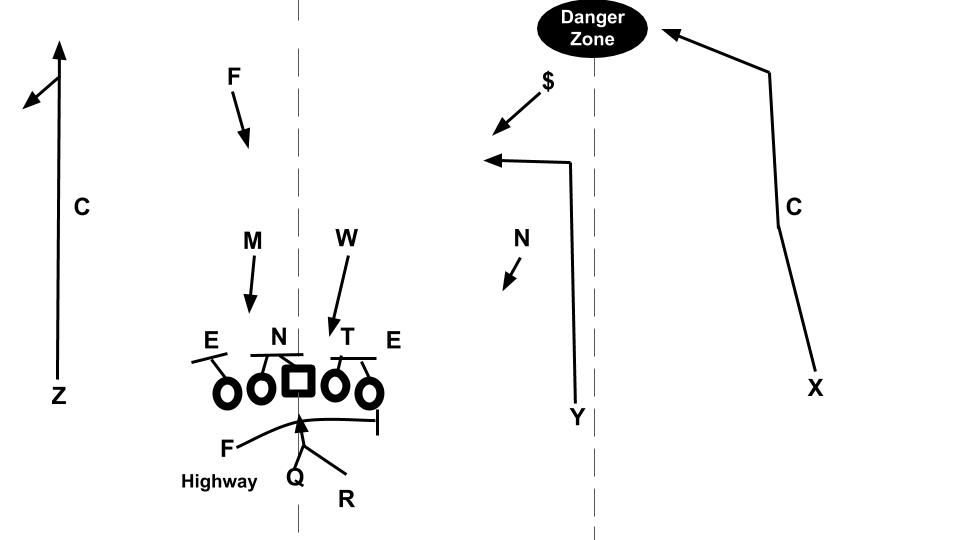 Suck in the LB, then the slot can turn inside earlier which forces the safety to hawk down and pick him up, which then creates more space for the outside receivers with whatever routes they are running. Typically that's the curl, maybe a comeback, maybe a go, or worst of all a post like in the diagram above. Y-cross is the route that is setting up the B12 offenses. At least the balanced ones.
So the key innovations on defense of late have been from teams trying to work out how to defend the middle of the field more efficiently from slot routes in general and the Y-cross in particular.
The major one that Iowa State brought and which Texas quickly stole and stymied Oklahoma State with is the inverted Tampa-2 defense.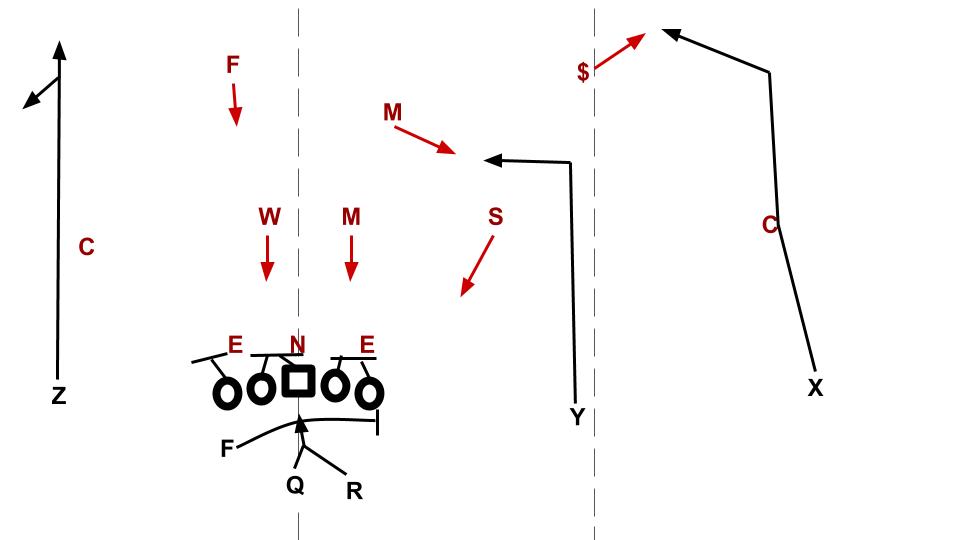 The main key is to have that middle of the field robber who can sit on the crossing route without also being needed elsewhere. TCU tends to use their weak safety for that…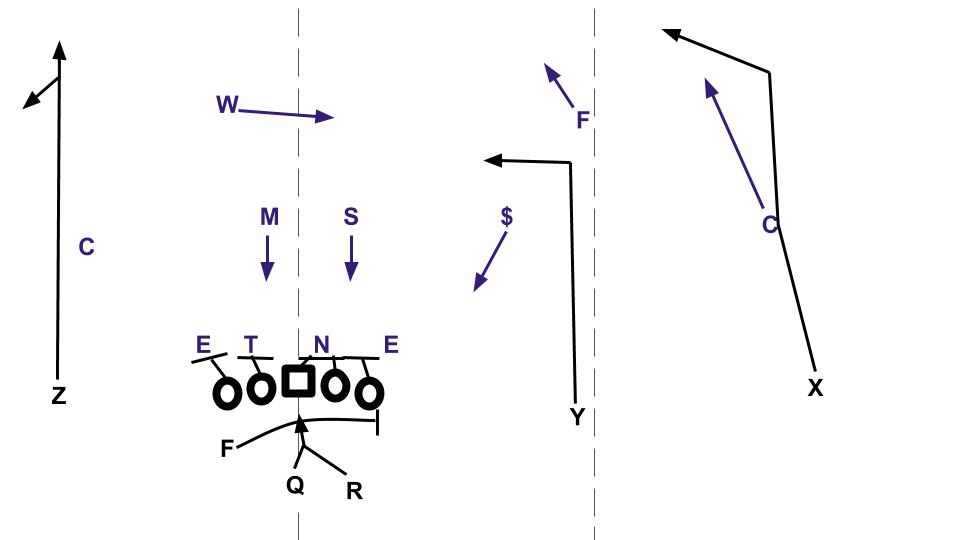 …of course anyone you use there can present a "robbing Peter to pay Paul" dilemma.
Patterson's solution is geared towards addressing the issue without undoing his preferred six man run front. The inverted Tampa-2 solution is more of an acknowledge that the point of attack against modern offenses is there in the middle of the field and that you need to build out from there rather than the trenches. Basically instead of "we need to stop the run and sort things out from there" it's "we need to deny the deep middle and then sort things out from there."
A future of positionless defense
Me and the Coach A are on a similar page in seeing a future to football where defenses build around being able to be multiple in terms of packages and where numbers are allocated in order to address the different stresses presented by the multitude of HUNH spread offenses out there
The pressing need is to match the way in which offenses can be fast, simple, execution-oriented, yet flexible enough to get the matchups they want. To match that you need hybrids, flexible structure, and a way to play the same key concepts in a variety of fashions.
Thing is though, Coach A is out there on the frontlines as a Texas HS coach and understands the details better than myself or most others, go read the book and get a deeper understanding of where things are right now and where they're headed.