Over at Football Study Hall I took a look at what's coming down the pipe from Gary Patterson and the Horned Frogs, in particular their three-down sub-package that they used a lot last year.
It's similar to the defense that Phil Bennett had created at Baylor towards the later years (especially 2015 and 2016) and that Coach A has been explaining in his recent book and articles.
The big key to this scheme was TCU's abundance of hybrid players. Ty Summers could do a number of things within the TCU defense, as could emerging star Garret Wallow…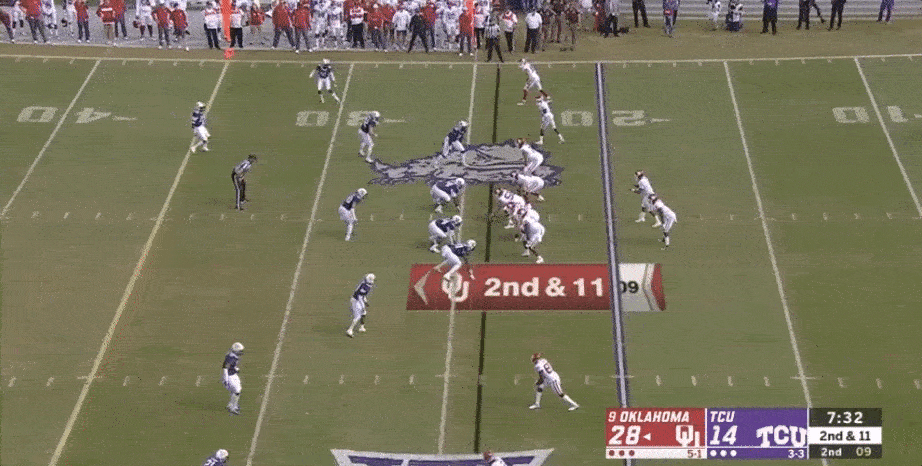 …and then guys like Ben Banogu could do anything while L.J. Collier was as comfortable inside at 6-2/280 as he was on the edge as a DE.
The question for them heading into 2019 though is what kinds of hybrid sub-packages they can build from a reloaded defensive depth chart. Last I heard from a Patterson presser they liked how speedy Ochaun Mathis (6-5, 240) and big Adam Plant (6-5, 270) are looking at DE, presumably those guys could mimic some of what Banogu and Collier did a year ago. They also have Corey Bethley and hopefully Ross Blacklock back, so they may use more three-down packages that keep Bethley, Blacklock, and the best DE on the field.
Wallow is also back and he can do a lot of things, although I suspect that being allowed to roam and clean up from middle linebacker is perhaps where he's most lethal. Not a lot of guys were able to run down Kyler Murray in the open field last year.
The main trick is the other LB spots. The Frogs aren't overflowing with established, star LBs that they need to get on the field after losing Juwuan Johnson, Arico Evans, and Ty Summers. They may find more between oft-injured veteran Montrel Wilson and some of the other up and comers or they may not. What's perhaps more likely is that TCU plays Wallow inside in those packages and flanks the two ILBs with a pair of safeties.
Innis Gaines will be back at SS and there are lots of other DBs on the roster that may prove to be worth some playing time that don't crack the starting lineup.
At any rate, Patterson's willingness and ability to continue to update his defensive structures while keeping good tabs on opposing offenses is as impressive as ever.