I took the chance to watch the press conferences from Kansas State's new offensive and defensive coordinators, Courtney Messingham and Scottie Hazelton as well as some of the players that were made available. There was a lot to glean from their occasionally frank appraisal of the roster and the league.
The big picture standpoint
While much of the talk has been on the quality of Kansas State's wide receivers and how they're better than what this staff had at North Dakota State, Messingham is still talking about being under center 60% of the time and utilizing multiple formations.
There were quotes both from Hazelton as well as some of the players (Walter Neil Jr in particular) about how much confusion and difficulty the offense causes with all of the shifts and motions. Eventually either someone misses their gap or fails to pick their guy up in the literally dozens of variations of power or power play-action that the offense will run.
For instance: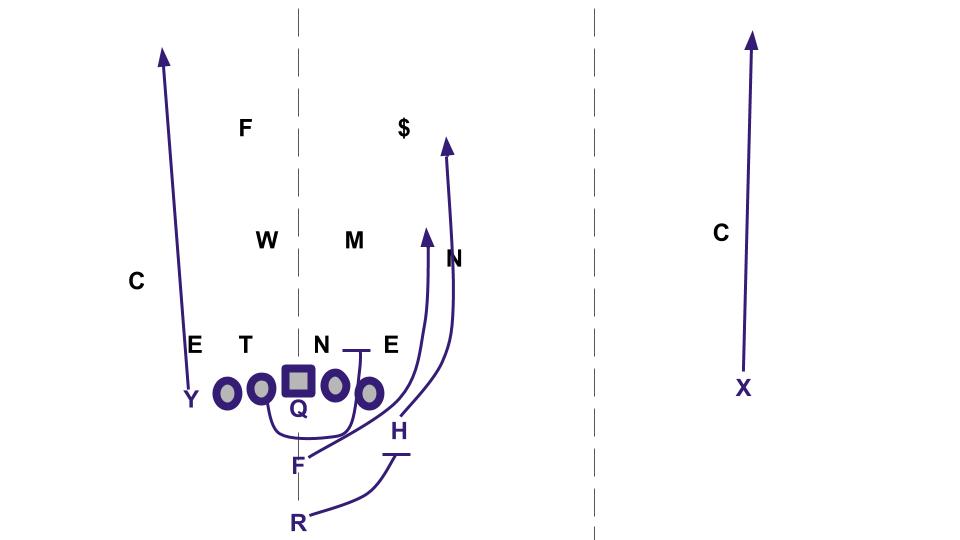 This one is like 4-verticals but from 22 personnel (two RBs, two TEs) and with an A-gap power look.
From the quotes I'm struggling to get a clear picture for what sort of personnel packages the Wildcats will lean on. It's hard to utilize the kinds of confusing shifts and varying run blocking angles they all seem to be describing without at least two ancillaries on the field that can rotate back and forth between fullback, H-back, tight end, and flex tight end alignments. Best guess is they'll lean mostly on something like 12 or 21 personnel with at least two WRs on the field for the majority of their formations. Also, they tend to use blur the distinctions at times between tight ends and fullbacks, having the same guys perform both roles.
Their biggest issue right now is finding depth there, which led them to move my onetime favored QB recruit Sammy Wheeler to the position for spring practice. Wheeler was a great fit at QB for the single-wing style Snyder-ball but now his big frame and toughness is needed to mold hybrids for their ancillary position.
Defensively they all clearly described a 4-2-5 scheme with the sam linebacker disappearing from the depth chart in exchange for a full-time nickel. What's more, they're describing a 4-2-5 with a full cover down for the nickel and that player being akin to a corner who will occasionally have to play as a LB if the offense uses motion to get him into the box.
That's actually how the Wildcats have done things traditionally, both in terms of using a nickel corner rather than a safety-linebacker hybrid and in terms of using zone coverages where that guy can be bumped into the box against motion.
They are practicing exclusively in nickel, meaning that Neil is up against it playing nickel in practice against their bigger sets. Hazelton also mentioned mixing in quarters coverage as a solution for the QB run game.
A common breakdown that runs contrary to what you'd think is that most DCs agree that quarters is better for teams that run the QB and cover 3 (match) is better for passing teams. It's hard to get the needed numbers against motion and read-plays without either safety being capable of reading the play and adjusting the fit. Meanwhile match 3 is good for denying the key routes in the seams.
Hazelton ran both at Wyoming and was overall a touch more multiple than Klieman's ND State defenses were, where quarters was the main call with man and Tampa-2 as change ups.
Also from the big picture standpoint, Courtney Messingham talks exactly like a cop from Parks and Rec.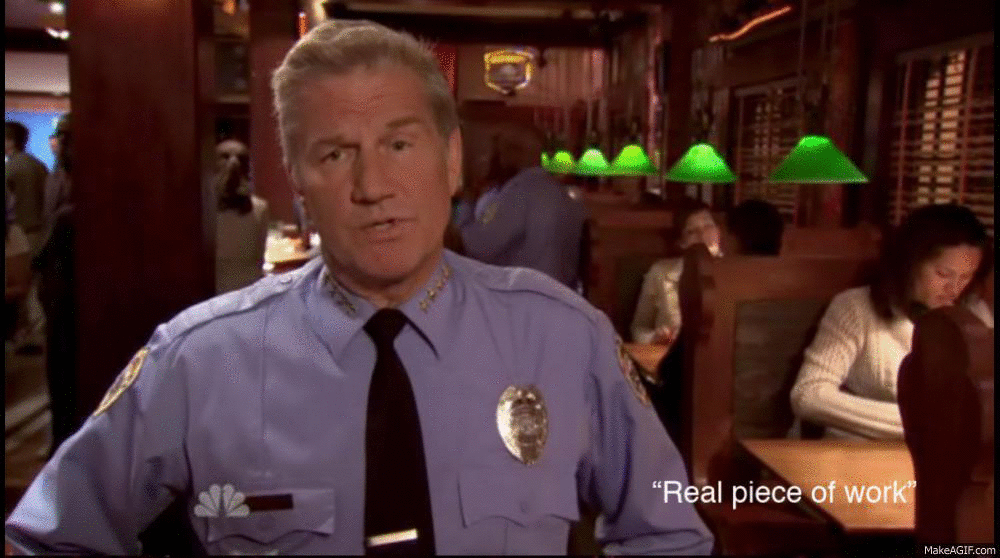 Wildcat personnel
Neither Messingham nor Hazelton seemed too worried about sugar coating the matter when discussing roster depth and quality. It should be no great secret that Wyoming has had better defenses than K-State since Hazelton took over there and North Dakota State has been a better team than K-State for significant chunks of this decade.
As noted above, Messingham was a fan of the WRs he's inherited, although that's not the thrust of this offense, and he also regarded the K-State and Bison OL as comparable, which is actually a good sign for the Wildcats. I should pause to remind everyone that North Dakota State ran over Iowa in Kinnick stadium just a couple of years ago.
At QB I'm sure it's non-controversial to note that Carson Wentz would be no. 1 out of either program's QBs this decade. When you factor in the running, Easton Stick might be as high as no. 3 but Thompson has a chance to surpass him as a passer. The only trick is they need their formations and run game to create the easy reads and vertical tosses that will make him look great.
On defense Hazelton also characterized the DTs as good run stoppers but doesn't seem impressed by their pass-rushing. He also intimated that their speedy DEs aren't really about that "stop the power!" life but that it probably won't matter in the Big 12 where it's rare for an opponent to really hammer a 4-2 DE with a double team or crushing kickout block. They might have a good pass-rush between Wyatt Hubert and Reggie Walker if the latter can adjust to the new system and take advantage.
I'd be willing to bet that Marcus Hayes will play next year and that Klieman has been recruiting him to come transfer for a while. Hayes basically admitted as much to the point where you wonder if there was even illegal tampering (hint, there often is and the transfer portal only encourages it).
Keep an eye on K-State and the transfer portal, they have a good sales pitch to make to defensive players that want to be developed by a great staff that teaches multiple techniques and prioritizes defense. The portal could give them a chance to snatch up savvy, older players that are looking more for substance than flash, as opposed to what draws in high schoolers. They could also add more players from smaller schools like Hayes who want a better jumpstart when they realize they could have NFL potential.
For all that though, Oklahoman Wayne Jones may win a starting spot opposite Denzel Goolsby rather than Hayes. I don't know which spot but the strong safety position is a big key to their defense and they need a great tackler there.
Talking bout the Big 12
The biggest question for every new staff joining the Big 12 is how they plan on handling the league's offenses. As I've recounted before, many a defensive guru has joined the league confident only to be surprised and humbled by what he found lying in wait.
Big 12 fans are likely to take pride in hearing that Will Muschamp was shocked by the superior accuracy of B12 QBs when he took the Texas DC job after having worked in the SEC and NFL and noted that you had to play bend don't break to an extent just to survive. It should be noted that Muschamp had some tremendous results against Big 12 offenses, particularly grading on a curve.
Hazelton's notes and obvious adjustments indicate a solid level of awareness. He's right to give up on the Sam linebacker in favor of a nickel corner, you want the flexibility of having as many players on the field as possible who can carry a vertical without incurring the fight song. He's also familiar with the Tech staff, albeit in part because he faced them in the Mountain West.
Some K-State writer, probably from a recruiting site, asked if they'd continue to use DEs at DT for passing downs. Hazelton responded that it's better to be able to do it all from your base D because a unit like David Yost's offense will play the hurry-up game from 11 personnel and refuse to give you a chance to substitute. Hazelton noted this could be extra damaging if your 3rd down package fails to get a stop and then the offense hurries to the line and runs over them over before they can sub the DTs back in.
Now, plenty of Big 12 defenses still use sub packages and get away with it but it is sure easier if the offense also subs. Texas caused lots of problems for opponents last year by being able to get into empty spread sets or short-yardage power sets from the same 11 personnel because of the flexibility of TE/FB Andrew Beck, flex TE Lil'Jordan Humphrey, and QB/FB Sam Ehlinger. Oklahoma has also wrecked shop with their "21 spread" that employs similar personnel to what I just described from Texas.
It'll be interesting to see if K-State eventually gives up on traditional under center smash mouth football to utilize the spread hybrid version we've seen from Oklahoma or Texas.
Hazelton also didn't seem awed by the physicality on offer from Big 12 offenses, indeed why should he be? There aren't a lot of teams that even use a 3-point stance for their offensive tackles and the most dangerous rushing team has been Oklahoma, who is best defended with athletic hybrids rather than bigger guys. Still, I've heard stories before about DCs that came to the Big 12 thinking that they just needed to teach better physicality than the rest of the league only to be humbled.
I think this staff is hoping to steal some wins next season by virtue of their ability to pound defenses that have smaller personnel that aren't chosen for their ability to withstand classic power football and don't have a lot of instruction on how to do it.
I've written before about how Matt Rhule's Temple once accidentally won a shootout against USF when they got into 22 personnel to help shorten the game and protect their D only to find that USF couldn't stop them and was giving up long runs and scores in bunches.
Baylor has yet to reach that level, even as a physical veer and shoot team they didn't have many of the ancillaries you need to make it work. K-State has recruited and developed more to that style but their lack of ancillaries was also an issue I raised for their team a year ago and is the reason for moves by Klieman such as moving Wheeler to TE and snatching up Jax the destroyer from Kansas.
Whether or not K-State can find enough ancillaries to make that style work is probably the question of the offseason. Take a look around the league and it's regularly the lunch pail ancillary, the savvy linebacker, or the box safety that teams are missing when recruiting from the spread-happy lands of Texas where great athletes are rarely taught to perform such inglorious tasks.