The Sooners will have a different sort of team in 2019, that much is clear. Jalen Hurts will bring a new flavor to Lincoln Riley's offense and Alex Grinch is hoping to transform the Oklahoma defense. The former is likely a one-year stopgap before Spencer Rattler assumes command of the offense and steers it back in a different direction, the latter is a long-term fix that will play out over multiple seasons as Grinch overhauls the defensive roster.
Grinch's defense eventually wants to be something more akin to what Venables built, playing more pattern-matching coverages than straight man and relying on quicker, more disruptive linemen shooting gaps up front rather than big boys trying to two-gap. That should make for an easier time in recruiting over time, but it'll also require that a lot of players unlearn what they sort of learned under Mike Stoops and that they develop chemistry in zone coverage. If you go back and watch Oklahoma play coverage on Texas Tech in the "jump around" game back in 2008 it's night and day to how they looked in 2018 trying to keep up with Kingsbury's route combinations.
But between Hurts' proven durability and quality as a runner, the question has been raised of whether the Sooners could shift their offensive goals to be more ball control oriented in order to protect their defense from being left on the field.
Protecting the defense
Here's how Oklahoma has looked over the last five years in terms of pace and overall effectiveness: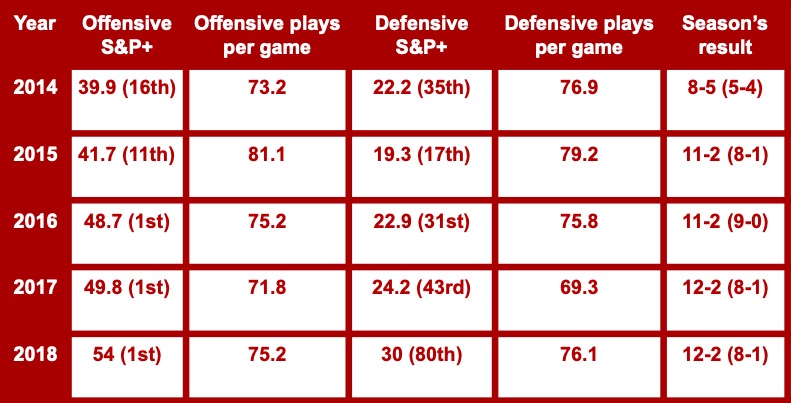 Bill Connelly's recent adjustments to S&P+ were more forgiving to the latter Mike Stoops defenses while also highlighting their precipitous collapse in 2018 that I spent much of the offseason warning was likely. As I noted at the time when they were losing Obo Okoronkwo, Jordan Thomas, Steven Parker, Du'Vonta Lampkin, William Johnson, and Emmanuel Beal, "it can always get worse."
It could get worse in 2019 as well, although it probably won't. It might have been worse in 2017 save for an offense that was a little more deliberately paced and saved their own defense from facing quite as many offensive snaps. The Kyler Murray Sooners scored more quickly than the Baker Mayfield unit, but there's a case to be made that this occasionally hurt the defense by throwing them back out on the field.
An offense with Jalen Hurts figures to be less explosive than the Kyler Murray one as they are trading out a pair of 4.4 burners in Murray and Hollywood Brown for Hurts and either Charleston Rambo (still fast though) or perhaps Nick Basquine who's a quick and savvy vet but not a 4.4 guy.
So the comparison being made is that the Sooners could adopt a more ball control approach with the run game, particularly the QB run game which can make for an easier time picking up short-yardage, and protect their defense more.
Here's a couple of other Big 12 teams that have pursued a strategy of that sort for at least portions of the last five years, the K-State Wildcats and the Texas Longhorns: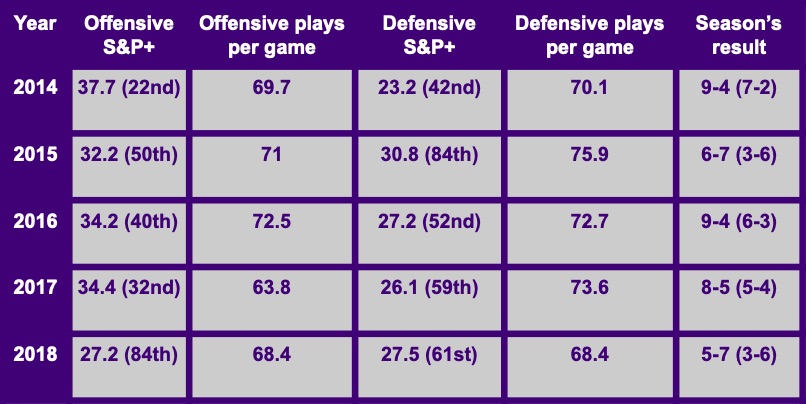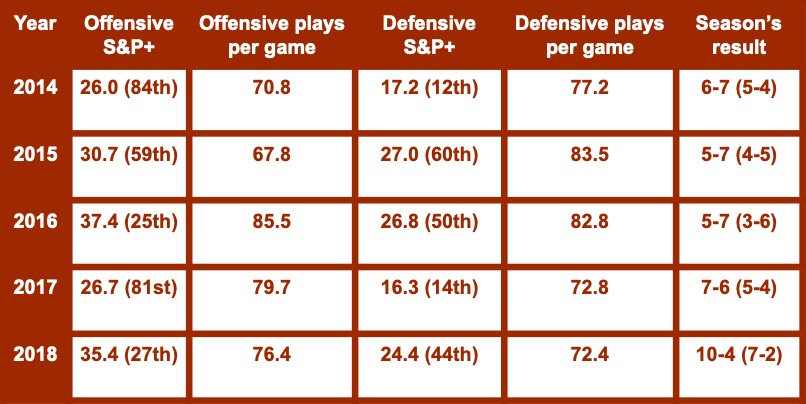 Snyder's teams always tried to slow games down and control the ball, but the most that can be said for that style seems to be that you can give your defense longer periods on the bench to catch their breath or watch their assistants draw up plays and try to slow things back down for them. In terms of total plays defended, it's hard to stop Big 12 offenses from running at least 70 plays per game if they want to move at tempo.
Texas' incompetence here under Charlie Strong is notable. They went slower and used the QB run game in 2015 and their defense still had to stop 80+ plays per game. The following year they embraced the veer and shoot and ultra-quick tempo, which had the effect of at least allowing them to run 80+ plays as well. Herman's Texas moves pretty quickly but they also slow things down at times and are more deliberate overall, at any rate his teams defend only a few fewer snaps per game as Riley's Sooner defenses.
This has ramifications for both Oklahoma and Kansas State in 2019 as both may seek to try and control the football more. Again, this may help a defense to keep their wind for late game scenarios and to get more instruction on the sideline but no matter how slow you go there's nothing stopping the other team from going ultra-fast as soon as they regain possession. It's very hard to dictate the tempo of a game unless you can actually create hesitation and get stops on defense. The best way for an offense to bail a defense out is to score, which is exactly what Riley' Sooners have done and why they've won the Big 12 every year despite fielding weaker defenses.
Controlling the football
The reason that Oklahoma was extra precise and able to both control the football AND score nearly 50 points per game in 2017 was the veteran leadership in the "infrastructure" positions on the offense. Mayfield was a four-year starter with one year of learning from Kliff Kingsbury and three years under Lincoln Riley to help mold an already crafty and well coached football mind. He had nearly the same OL as Kyler but with fifth year center Erik Wren and then Orlando Brown, and then he had the dreaded TE/FB tandem of Mark Andrews and Dmitri Flowers.
Because of the hybrid skill sets of Andrews and Flowers it was very difficult for opponents to match up with the Sooners and with Mayfield's field generalship it was nearly impossible to keep the Sooners off the scent for the best ways to pick up first downs as teams tried to match up. The 2019 Sooners were actually much less precise and savvy, it just didn't matter because they were so explosive and Kyler Murray could often make something happen with his legs whether anyone knew what was going on or not.
In 2017 the Sooners were 42.6% on third down, in 2018 they were 50.7% but rarely even faced third down. One of many testaments to Murray's overpowering athleticism. The 2017 Texas Longhorns were 38.1% on third down, in 2018 with Sam Ehlinger more firmly established they were 46.4%.
On the surface, a team with Jalen Hurts' inside running and scrambling ability seems like a squad that should be pretty good at picking up third downs and keeping the offense rolling. The 2016 Crimson Tide team he quarterbacked as a freshman was 44.6%, his 2017 team after Brian Daboll installed a more pro-style approach than Lane Kiffin's spread option designs was 41.1%, last year they were 51.9% with Hurts scarcely involved.
A closer look at passing downs in particular tells a clearer story. Hurts' 2016 Tide were 5th in passing downs, Mayfield's Sooners were 1st in 2017 while Alabama slipped to 41st, Murray's Sooners were 2nd in 2018 (behind Bama) while Ehlinger's Longhorns were 75th (but something like 75% on third down when targeting Lil'Jordan Humphrey).
The Hurts' offenses had a high beta though, against playoff defenses in 2016 and 2017 he averaged 3.7 ypa through the air. Opponents that could stop Alabama's devastating slip screens or maintain containment on Hurts' scrambling would see an otherwise dominant athlete become completely neutralized. Hurts burned Georgia on a few third downs in 2018, but he did so with the scramble.
Big 12 defenses in 2019 will have to contend with the challenge of taking away Hurts' quick reads in Riley's masterful play designs AND then preventing him from finding escape routes to pick up conversions. They'll also have to balance that with awareness of Oklahoma's deadly array of QB draw RPOs. That's a tall order and many teams won't be up for it.
The question is what will happen against defenses that can confuse Hurts' pre-snap reads, cover up the first option in a progression, and not yield easy escape lanes on the scramble?
Then there's also the infrastructure, which simply isn't what it was for either Mayfield or Murray. The Sooners are still sorting out who will play tackle, with star youngster Brey Walker currently relegated to guard while he works it all out, and then a Virginia guard transfer in R.J. Proctor still due to join the mix for the fall. They have Grant Calcaterra and Jeremiah Hall in those two swing/hybrid positions and the Sooners will need them to be grow into key players to create the sorts of matchup problems and simplified reads that will help Hurts adapt to a totally new playbook and offensive approach against a totally new slate of opponents. There are pieces here but it's hard to be precise on money downs if you don't fully know what you're doing yet.
Big picture strategy for the Sooners in 2019
It was a big breakthrough for college football when the Sooners adopted an up-tempo style back in 2008, they blew away a lot of teams that simply couldn't line up against their different sets or couldn't withstand the OL coming at them with stretch blocking mixed with play-action and misdirection screens for 80 snaps a game.
Nowadays defenses are much better prepared to deal with tempo, but some of the same principles still apply. Hybrid personnel are more dangerous at tempo and talent and skill advantages can take their toll as you up the number of plays that opponents have to out-execute your team. It's a proper strategy for a blue blood program to employ to their advantage.
Being able to move quickly to the line and signal in a versatile collection of formations while empowering the QB to make checks at the line is where things are at these days. The Sooners have the personnel to create problems with that style, the questions are whether they have the knowhow and experience to pull it off. There's a lot that hangs in the balance. The defense doesn't sound like they're about to put it together in the new scheme and there isn't the same kind of margin in the form of the explosive run, Brown breakaway, Murray scramble, or the instance where Murray dances in the backfield before finding someone (often Brown) deep down the field.
Oklahoma needs to be able to control the ball, execute with precision or else consistency on third downs, and try to both slow the game down somewhat for the defense while still dropping tons of points if they want to repeat as Big 12 champions for the fifth consecutive time.
Their ability to win 10+ may hinge on how many play-action shots they can land off the run game in key games. They'll still need to score and getting there with the dropback passing game will be much tougher than putting up points with the quick strike off the threat of the counter-option or even QB draw play-action.
The big fear in Norman will be that this offense has a different ceiling and that they'll lack the experience and knowhow to create and find the matchups they need to execute on key downs when they play teams that aren't overwhelmed by Riley's playbook, Hurts' athleticism, and the Sooner's collective talent. We probably won't know until October 12th in the Cotton Bowl.