Almost everyone runs the spread now. Using multiple receivers, spacing, and the forward pass as the key components to your offensive strategy is pretty well accepted now as a best practice. The hurry-up, no-huddle (HUNH) is also close to being accepted as a best practice. Obviously Kansas State is out here running A-gap power from double ancillary sets and Army is beautifully zagging with their flex bone, triple-option offense. There are some teams out there using alternative styles, but the spread is pretty much the name of the game at every level.
But there are a few main styles at this point and a few catchy monikers that people often use to describe different systems. One popular descriptor that gets thrown around quite a bit is "pro-style spread" or "pro-spread." The idea people want to convey is that they're running the style of spread offense that is ubiquitous in the NFL.
I'm not sure if there's a particularly good descriptor for the other big style that's more of your "college-style" spread floating around. I've used RPO spread-I and I've used "smashmouth spread." The former is more descriptive but the latter is probably catchier and maybe ultimately a little better. Most college teams like to play out of the spread-I, and by that I mean a three-WR set with a TE/FB "ancillary" who tends to line up in the backfield to allow the offense to run two-back run schemes. From there, they do things in a few different ways based on coaching philosophy or personnel.
You also have a few oddballs like Mike Norvell at Memphis who's offense is basically akin to the RPO spread-I system except that he likes to use his TEs in-line rather than off the ball.
I've primarily used "smashmouth spread" for programs that want to use the two-back run game so that they can torch you throwing it over the top in the passing game. Not every school that is running from the spread-I set is interested in lighting up the scoreboard, it's also popular amongst teams like Cincinnati or Kentucky that want to control the ball with the spread-option run game. Joe Moorhead seems to vacillate back and forth based on whether his team has the weapons in the passing game to take the top off or not. Last year he couldn't, so they were more of a "power-spread" team from the spread-I structure.
I figured it'd be useful to more carefully articulate some of these various terms I or others use in order to nail down what is what.
Pro-spread
The defining feature of pro-spread teams is that they use 11 personnel (3 WRs, 1 TE, 1 RB) and aim to create matchups in order to beat you with drop back passing. LSU is now a pro-spread team and the Texas team they outscored is also a pro-spread, believe it or not.
If you watch the shootout these two teams had in DKR last Saturday night, you can see both teams moving their tight ends all over the place in order to create matchups in the passing game and clear up the picture for their QBs so they could identify defenses and get the ball out on time.
For all the stress that the best smashmouth spread teams can put on opponents, the pro-spread is probably the most lethal style of football IF you play it at a high level. Stopping a passing attack that can cause matchup problems, enjoys good chemistry between QB and WRs, and gets consistent pass protection is nearly impossible. It also gets increasingly difficult as the game wears on and the pass-rush is worn out and the QB and OL figure out the defensive gameplan and disguises.
Many teams have some degree of drop back passing in the playbook where they ask the QB to read the coverage and go through a progression. The question is whether the team has that in the playbook for passing downs or whether it's the main thrust of their offense.
As it happens, Texas and LSU both run tight zone or duo as a big part of their rushing attacks. Duo is the popular "pro-style" run right now, it's basically like inside zone but more downhill and designed for the RB to make the LBs wrong rather than reading front level like on traditional zone schemes. Texas plays their inside zone that way and LSU was using duo from a bunch set heavily against the Longhorns. I don't think this play is essential to defining a "pro-spread" but it so happens that a fair number of programs that do carry that description use it.
Smashmouth spread
Lead run games to create space for RPOs and play-action, that's the name of the game here. Oklahoma State tends to fit more along these lines. Oklahoma's breakthrough brilliance, described in my new book, was in using the GT counter-read scheme to allow them to run a power run scheme with lead blockers to suck in DBs without even needing an ancillary blocker in the box. They could run power run concepts from four-wide formations if they wanted to. The play-action and RPOs that Lincoln Riley has been able to draw up over the years thanks to that play have been devastating.
Art Briles was the most deadly practitioner of this style. While Baylor chucked the ball around on everyone, they were pretty simple in the passing game and didn't ask their QB to make a lot of progressions and difficult reads. The power run game, tempo, and spacing did the heavy lifting for the QB and the offense.
The Sooners also have some pro-spread dimensions to their offense that were more pronounced with Baker Mayfield, picked up over the course of the year with Kyler Murray, and are now further diminished (so far) with Jalen Hurts. I bet we'll see those pick back up in a major way once Spencer Rattler takes over.
Using the spread to run the ball and then score with play-action is the preferred style in the Big 12. Oklahoma State uses it, Oklahoma leans heavily in this direction, Baylor prefers this approach, Iowa State tends to rely on this, and West Virginia will probably aim for this style. I haven't seen as much from Texas Tech but they may be a little more pro-spread in their approach. Particularly with Alan Bowman at the head and Maverick McIvor waiting in the wings.
You'd think that "run the ball and win with play-action" would be the "pro-style" designation but the pro-style is actually more complicated. Relying on good reads on the defense, progressions, timing routes, pass protection, and creating matchups is all quite a bit more complicated. It's less efficient but it's harder to defend when you do get it right. Naturally the "professionals" opt for the strategy that's harder to get right but more effective when you do.
The smashmouth spread is a picture of efficiency. There are answers on every play for wherever the defenses chooses to send numbers. It's all pretty simple and comes down to execution and having great athletes in space.
Spread-option and power-spread
Then there are the schools that like to use spread spacing, RPOs, and what have you but they do it in order to control the ball on the ground. The smashmouth spread is a superior option for scoring so when guys run something like Chip Kelly's old Oregon offense either they're leaning into more of the newer pro-style dimensions or they're trying to create an option attack that can allow them to consistently build drives.
Scott Frost's Nebraska offense is more along these lines. They can score, but they like to get there with endless arrays of option schemes that threaten either perimeter before running in the box on a light front. Joe Moorhead's Mississippi State offense has been like this, as has Dan Mullen's Florida system. They're good at manufacturing ways to create angles and advantages to run the football from spread formations.
They may run some of the same schemes as smashmouth spread or pro-spread teams, for instance who doesn't attach perimeter screens to their run plays at this point? Who doesn't take some shots with play-action? But the goal is to clear out the box to run power over and over again and control the ball.
Art Briles would default to running power all day IF you denied him the chance to chuck it deep and score 50+ points. His preference was the latter. Power-spread teams only want to throw the ball deep over and over again if that's what they have to do in order to clear out the box enough to allow them to run power over and over.
This style is popular amongst teams that want to protect and uphold their defense and make it an important part of their winning strategy. The smashmouth spread teams typically aim to win games by scoring a ton of points. They do what they can on defense but their offensive strategy isn't designed to try and set the D up for success.
In summation
Pro-spread: 11 personnel and hunting matchups for the drop back passing game.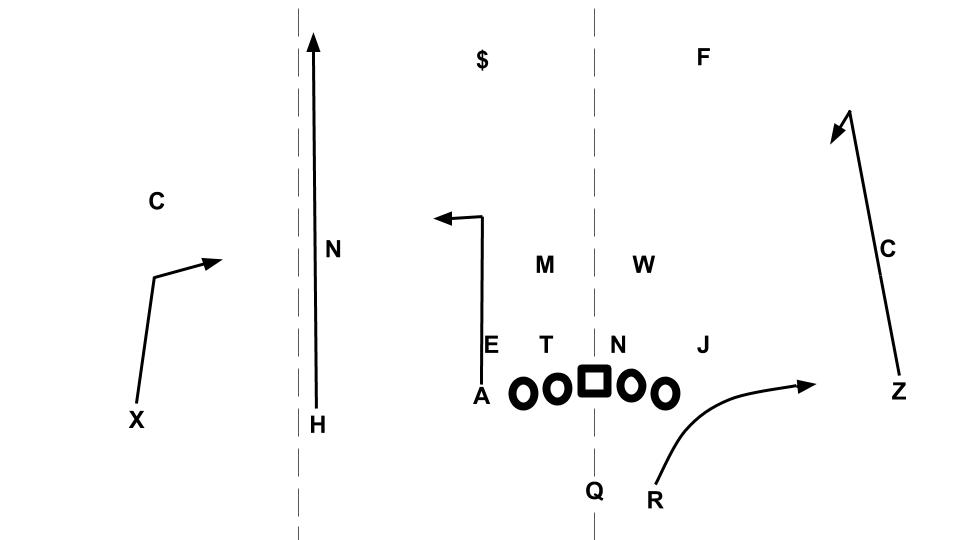 Examples: LSU, the NFL
At this point in time, the original Air Raid is basically a pro-spread although not all of its more hardcore practitioners use a TE to help in creating matchups.
Smashmouth spread: 20 personnel and using the run game as a constraint or means to create space so you can chuck the ball deep and wide for big points.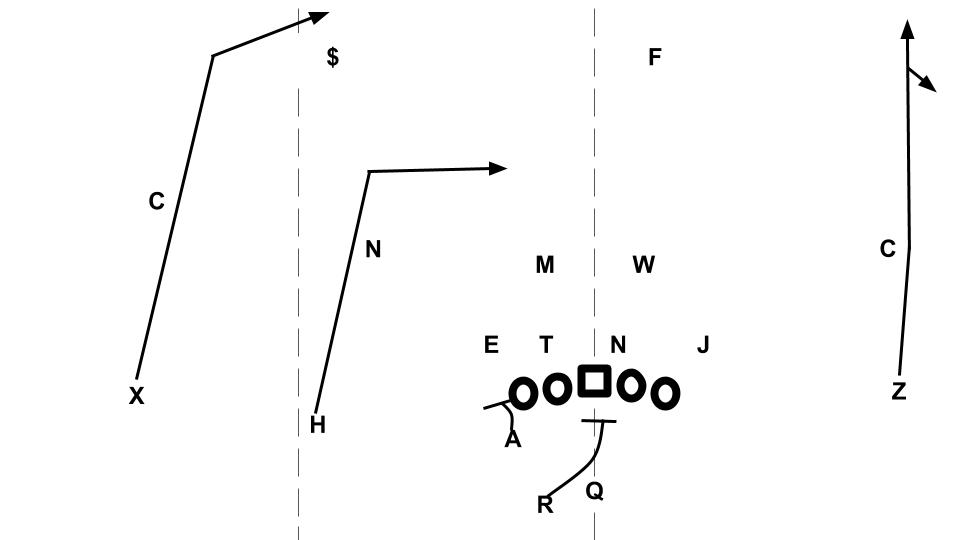 Examples: Oklahoma State, Chad Morris teams, UCF
Power-spread: Using spacing and tempo to create leverage to run the ball and control the game.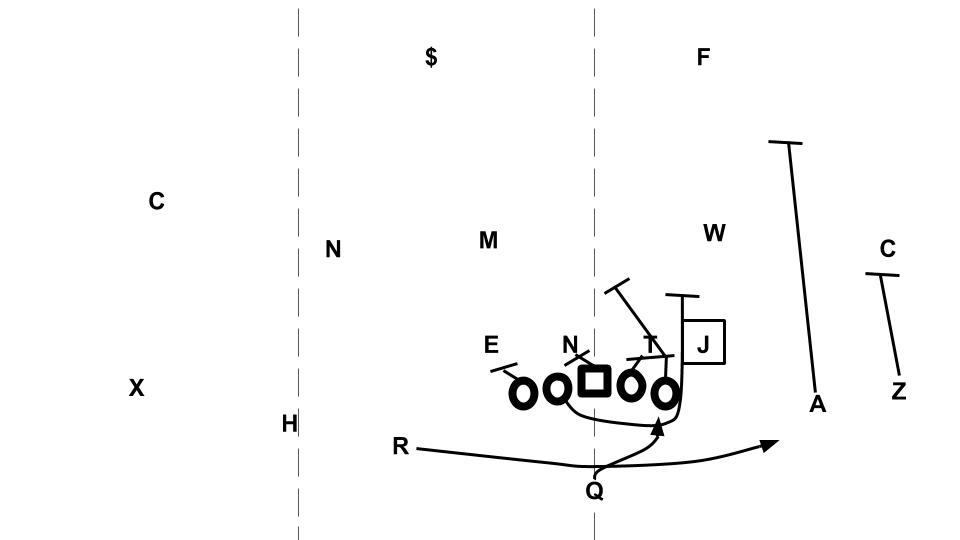 Examples: Mississippi State in 2018, Iowa State
Spread-option: Pairing spacing and tempo with option football.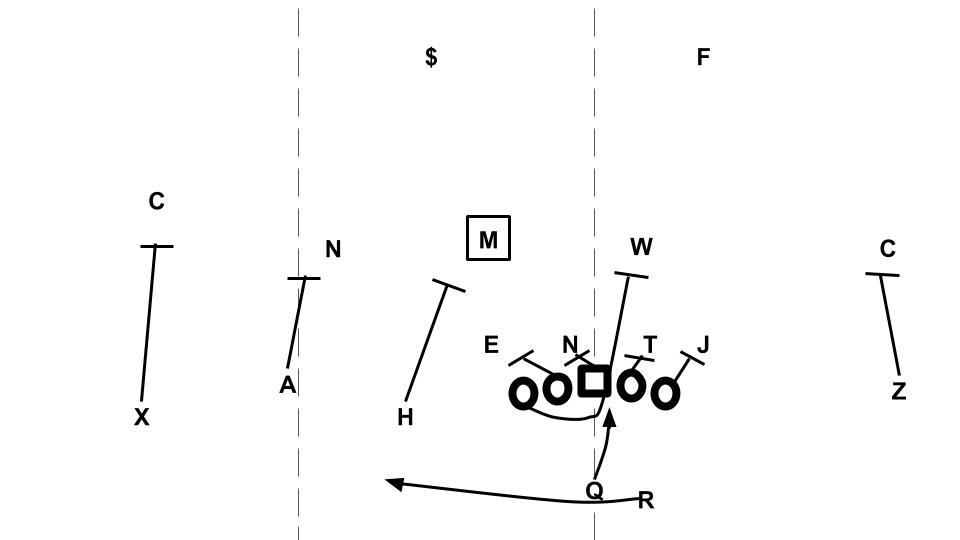 Examples: Nebraska, Oklahoma with Jalen Hurts
The power-spread and spread-option are essentially the same, but some teams are more physical and oriented around a downhill run game while others just want to distribute the ball where there's space and don't care where that is.
Many spread teams will run plays from all four philosophical branches and some teams will vacillate from branch to branch based on who their personnel is in a given season. Mike Gundy has used more pro-spread elements when he's had versatile Cowboy backs like Blake Jarwin and a pocket passer like Mason Rudolph. Joe Moorhead has been more smashmouth or pro-spread oriented when he has Trace McSorley and/or Chris Godwin.
The real key is what the offense wants to do in order to win. Do they want to control the ball with a power run game? Pile up points throwing play-action? Orient the game around key passing game matchups? Or spread you out and just distribute the ball to space?
********
I break down the rise of the smashmouth spread in the Big 12 as well as other trends in HUNH spread tactics in my new book: