LSU vs Auburn, Tigers vs Tigers, was a big moment in the history of the spread offense's inexorable march across the game of football.
We've seen a few big time spread battles in the SEC before. Texas A&M introduced the Air Raid back in 2012 and had a pair of big seasons with Johnny Manziel before collapsing and ultimately capitulating back to the traditionalists with the Jimbo Fisher hire. Ole Miss embraced the RPO spread under Hugh Freeze and did some damage before he fell apart. Gus Malzahn has utilized the power-spread for years now and had mixed results. In the course of some of those trends and events, we've seen some big time games where the top defensive schools like LSU, Alabama, and Auburn have utilized dime defenses to try and counteract the spread stresses of these opponents.
Everything got taken up a notch this season.
LSU was really an 11 personnel, pro-spread offense back in 2018 but it took a long time for everyone to really adjust to that new reality. They ran a lot of RPOs attached to their zone running game and also mixed in zone-option and single-wing QB run game into the mix to try and make the most of Ohio State grad transfer Joe Burrow. Then Ed Orgeron decided to make an adjustment in the offseason by hiring Joe Brady, a young spread wunderkind that the LSU staff learned about when he came from the Saints to do a presentation on RPOs. Brady was joined to Steve Ensminger, who'd already initiated the spread transformation in 2016 and 2018 (with a year of Matt Canada in between), and they fully weaponized the LSU roster as a cutting edge, pro-spread attack.
Heading into the contest with Auburn, Joe Burrow had completed 173 of 218 passes for 2484 yards at 11.4 ypa with 29 touchdowns to three interceptions. Complete domination that had included subjugation of the Texas Longhorns, Florida Gators, Vanderbilt Commodores, and Mississippi State Bulldogs with not a one of them doing much to stop him.
The Auburn Tigers may have been the best bet to handle Burrow. People will hype the Alabama contest taking place in two weeks but the Tide really aren't as well equipped to deal with this offense as the other Alabama school. Ever since taking over for Will Muschamp at Auburn back in 2016, Steele has made sound, base defense the priority for Tiger defense. They finished 16th in SP+ in that first year and have been top 10 every year since.
Their showdown last Saturday was fascinating, here's how Steele tried to take on the LSU pro-spread and what sort of chess games we can look forward to from future SEC spread battles.
Auburn's quarter package
War Eagle came out with a flock of DBs to open this game. As Malzahn noted in a nice 247 piece on the game, the goal was to stop the pass and ENCOURAGE LSU to win by running the football. If you've read my content over the last few years, you're nodding in approval, if not this may be shocking and new to you. For the SEC, it's certainly not the norm.
Here's how that packaged often lined up pre-snap: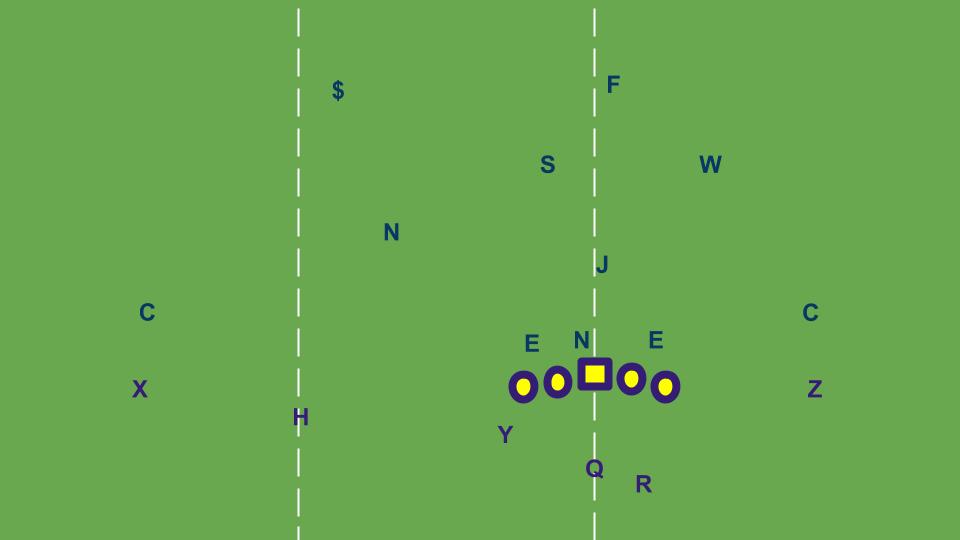 Here's who was playing which position: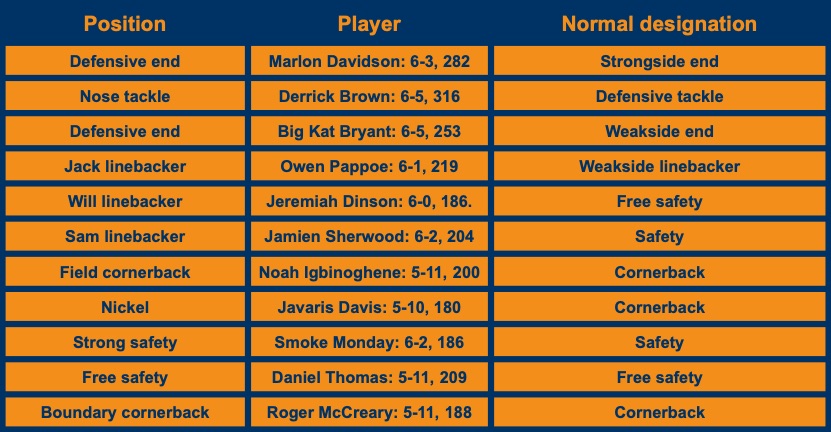 The Tigers rotated their other inside-backer KJ Britt at this "jack" position and made use of their DL depth to basically play with two lines. This was the starting group, the other one made use of Nick Coe, TD Moultry, and their other excellent linemen.
The way I have it labelled in terms of their positions on the field wasn't obvious initially. Especially with the "will and sam LB" initially lining at safety depth and manned by literal safeties from within the Auburn program. But from this look, the Tiger D played a lot of their normal, base defenses with really conservative depth. Here's a great example of what this looked like when it was working well: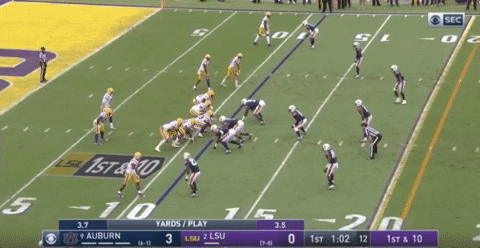 Here's how that looks on the chalkboard: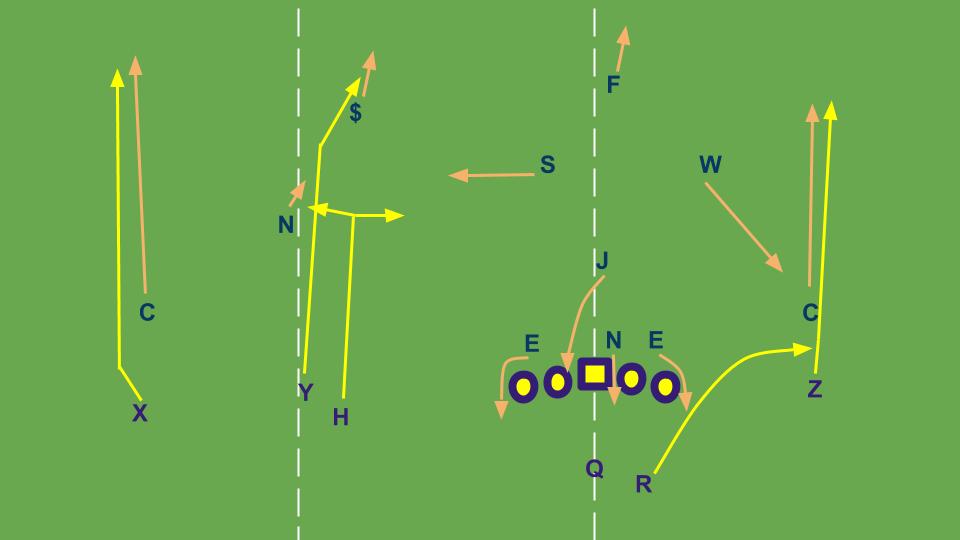 The Tigers are playing a style of trips coverage that Nick Saban has used for years, which is where Kevin Steele probably learned it. He was a LB coach for Alabama earlier this decade. There may be a tweak here, I think the Tigers were probably inclined to play the TE (Y) in man coverage while bracketing the slot (H) when they could because the H is Justin Jefferson, one of the most dangerous receivers in the country. He got up the hash mark and was working to figure out where to break his option route open only to find that the nickel was sitting outside of him and the "sam linebacker" was actually a safety who lined up at depth and was now closing on him.
The key to what Auburn did is in the placement of what I've labelled as "sam" and "will" inside linebackers. They used Jamien Sherwood and Jeremiah Dinson in those roles and they lined them up at safety depth before having them close in on their linebacker assignments at the snap. Consequently, Dinson was always on top of the running back in the flat and he didn't concede any passing windows to throw a curl or slant because he was covering them on his way to the RB. Ditto Sherwood, who was always playing downhill on any option route breaks up the hash marks.
Those routes are always trouble for linebackers who have to drop to depth first and then close on them and to do so with 230 pound bodies that are built to withstand the wars in the trenches. Well Auburn erased the difficulties for their players in covering up those sorts of routes by using safeties and starting them at depth.
The Tigers could also get into a variety of different coverages without being obvious before the snap what they were doing, but ultimately it was pretty consistent that the sole linebacker would join the pass rush or play shallow while Dinson would play the will LB assignment and Sherwood would play the sam LB assignment. The main exception was when they mixed in inverted Tampa 2 with Sherwood playing as the mike safety and then the jack LB underneath playing as a traditional mike linebacker.
The counterpunch
One of the big keys to understanding gameplans and how teams play each other over the course of the game is grasp the concept of schwerpunkt. Which is a German military term for the focal or decisive point. On offense when attacking a defense you want to figure out where the crucial point is, hit the defense there, and then if you're right the rest of the defensive structure should start to fold.
There's a couple of areas of weakness in the main approach you can see laid out in Auburn's strategy above. One is all of the assignments are a little tricky, and maintaining the disguise and multiplicity of calls from a package like that mean that either everything ultimately has to be pretty simple even if it looks complicated, or else you risk some confusion. LSU mixed in some really fast tempo and caught War Eagle scrambling at times. Another weak spot that everyone is probably pointing at and screaming about is the run defense, but that's a trap.
Auburn WANTED LSU to circle back to the run game and trying to win that way. It's really hard to score a lot of points running the football against a DL with Derrick Brown on it and with seven DBs on the field that can turn positive runs at the line of scrimmage into disappointing gains of 8-15 with their ability to close and gang tackle. What's more, if you're running the football you're not throwing it for 10+ ypa with Joe Burrow and all of those receivers.
The other crucial point for LSU to get after was outside, where the corners were still playing a lot of press-man coverage with safety help on the post but not the fade or comeback. You can see LSU utilizing tempo and the fade a lot on this TD as well as some of the preceding plays that made the drive: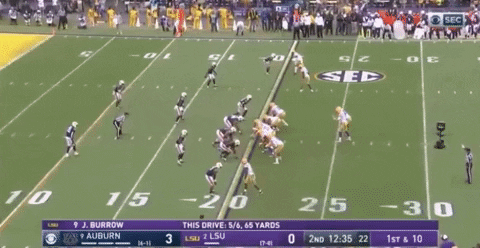 The slot is running free, but Burrow identifies man coverage outside and beats the corner for a score. The flag is for defensive pass interference, which of course was declined.
On the next drive the Tigers circled back to the run game and college-style RPO spread, with their fullback replacing the tight ends.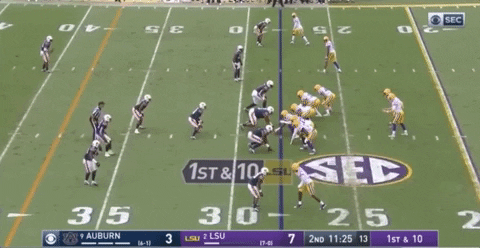 Effective, they didn't take a sack or incomplete on first down, but they didn't get much of a gain here either. Also, utilizing the FB invites nickel personnel or just all the DBs keying the run extra hard (save for the ones that need to cover the pass options).
Another completed fade set up LSU for a goal line try that ended with a fourth and goal stop by Auburn. That set LSU up for field position where they threw a pick to the Auburn goal line trying to land another fade. Then LSU finally scored with the favorable field position that whole saga created but they scored this TD by running the ball on Auburn while War Eagle was in a four-down defense rather than the quarter package.
Finally, the Tigers broke through some with Joe Burrow running, including a QB draw that produced their final points on the day.
Takeaways?
Joe Burrow and LSU's stat line on the day are enough to suggest that Auburn's defense ultimately won the day.
Burrow went 32-42 with 321 yards at 7.6 ypa with one TD pass and one interception. Pretty solid, but also very far off his typical pace. He took three sacks as well.
In the run game, Burrow had 10 carries for 47 yards and a score at 4.7 ypc. Clyde Edwards-Helaire added 26 carries for 132 yards at 5.2 ypc and another TD. Normally we'd call that a good day on the ground but again, this is all relative. CEH running for 132 yards on 20+ carries is better than Justin Jefferson going for 132 yards on 5-7 catches. We've all always known that math but it's taken a long time to accept the reality of what that means.
In fact, Jefferson had 60 yards on seven catches. Ja'Marr Chase did the main damage working against press-man outside with eight catches for 123 yards. Ultimately, LSU only scored 23 points, which gave Auburn a good chance to win.
Auburn probably did themselves a disservice by not playing their quarter package more, the Tigers did more damage in the second half against their four-down look than they did against Auburn's two-high looks from the quarter package. Like Texas, Auburn also got themselves into trouble a few times when they brought fire zone blitzes that didn't get home and left them a little exposed on the back end. These defensive coaches just can't help themselves.
The main takeaways are these:
Pass first defense is the key. Every defensive gameplan against a higher level passing attack should start with the question of "how are we going to stop the pass?" And even better, "how are we going to stop X passes to Y receiver that this team kills opponents on?" You don't want to completely give away gaps in the run game but that shouldn't be the starting point of a gameplan if it's not the starting point of the offense.
Dime and quarter defense is better, playing from depth is better, you need to match skill athletes with even more skill athletes. It's better to play at depth to take away initial pass reads and THEN close on the run.
The way to make the most of a really top shelf defensive line is to make sure the offense has to beat your defensive line. The only way to make sure the offense has to beat your defensive line is to make the QB hold the ball by flooding the backfield with coverage defenders and to make your run defense the more appealing target. Only then will the QB hold the ball long enough for the pass-rush to get home, or the offense start to try and test your superior DL in the run game.
In two weeks we'll see how many of these lessons Nick Saban has successfully internalized. My guess is that the answer will be, "fewer than you think."
********
Read more on how we got here with modern offense in my book "Flyover Football" which examines how and why these strategies developed in the Big 12.