The weekend slate before the Red River Shootout is often a strange and overlooked one within the Big 12 conference. Even though Texas has been truly good in only one of the years since the exodus of Nebraska, Colorado, Missouri, and Texas A&M, it was clear when that happened that things were shaping up to make this into a leagued dominated by Texas vs OU. These are the two "blue blood' programs in this league that have the resources to consistently compete for championships and now they're both clicking at the same time.
Both Texas and Oklahoma also drew fairly weak draws in the weekend before the Shootout. Texas had to go on the road against West Virginia, which would have been terrible fortune in most seasons but Neal Brown's Mountaineers are still building that program and despite a strong showing they were ultimately plowed over. Oklahoma played at Kansas, which is often a sneaky tough game because teams in this league routinely go into that stadium without much enthusiasm or focus, but while that game is often tougher than teams would like…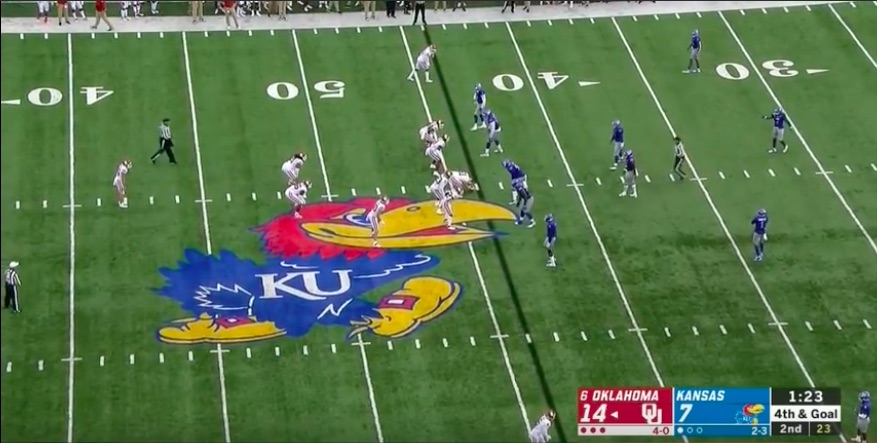 …it's still virtually always a win.
We did get a few interesting games and strong matchups though. Iowa State predictably showed up strong hosting TCU with their own (the Cyclones) hopes of a Big 12 title on the line and whipped the Horned Frogs. Baylor welcomed Chris Klieman and his staff into the realities of Big 12 football with a 31-12 victory on the road in Manhattan. Finally, Texas Tech sent Oklahoma State fans crashing into a tailspin by picking themselves up from the dusting that the Sooners gave them to beat the Cowboys 45-35.
My assessment of Spencer Sanders once again bore out as he threw three picks. I'd also noted that the Cowboys were going to run the tread off Chuba Hubbard's tires if they kept up their current pace and he was evidently pretty gimpy by the end of this game, which was yet another 30+ carry day for him. I well recall the 2016 Texas Longhorns, who gave D'Onta Foreman five >29 carry games in a row down the stretch as Charlie Strong was fighting to keep his job. That hit its peak when he got 51 carries on the road against Kansas because Texas hadn't developed trust with any other skill talent on the roster and the Longhorns still went down. Six days later he got another 31 in a loss to TCU and that was it for Charlie.
I don't think Mike Gundy's job is in danger yet, nor should it be given the upside in coming seasons for his program with Spencer Sanders growing on the job. However, the Cowboys are likely facing a second consecutive season where they fail to meet expectations and the questions about Gundy's drive to keep up the grind in Stillwater are going to get really loud. As will the ever present frustrations with his recruiting efforts.
The fresh fish pool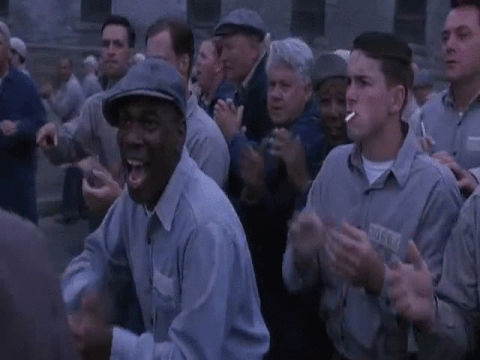 One of the big takeaways I've had from the early Big 12 conference games has been which head coaches really understand the league they have found themselves in and which are in for the rough shocks.
Baylor's Matt Rhule is a fantastic test case in this whole thing. He came to Waco believing in being physical on both sides of the ball and introducing the HUNH spread teams to a taste of smashmouth football. Then his defenses were absolutely shredded for two consecutive years while even potent offensive performances regularly failed to allow the Bears to come out ahead in shootouts. Since then, he's been maintaining his beliefs in recruiting raw talent and fashioning them in a physical culture while adjusting his schemes and strategies to match the best practices in the league.
Here's a snapshot of where I think each coach is in terms of understanding and adapting to survive in the league in which they've found themselves in.
Matt Wells
Things have been mostly positive for Wells and Tech to my eyes. David Yost understands the league and how to score points in it, Wells seems to understand the need to keep the ball in front of you and not try to attack every play. I think the win over Oklahoma State occurred in part because the Cowboys no-showed, but it was still a nice win for the Red Raiders.
When this team has developed some DBs and OL to play football the way Wells likes to play their ceiling will be much higher than it is now when he's trying to win with Kingsbury's roster. The new staff inherited a solid roster but not one with OL and defenders that had been chosen and developed to play their style. The execution against Oklahoma was truly sloppy.
Early assessment: I think Wells will probably prove effective at Tech, we'll know how things are going to go there when they have a TE and either a healthy Alan Bowman or Maverick McIvor at QB.
Neal Brown
As I expected, Brown's run game emphasis at Troy has given way to more passing game emphasis now that he's coaching Big 12 skill talent at receiver and QB. Texas took West Virginia's best shot, no doubt, it was homecoming and the Mountaineers best chance at a big signature win at home in Brown's first season as head coach. That shot had some weight behind it.
The Stills brothers at DT for the Mountaineers are pretty good, the overall WVU gameplan was smart for attacking Texas on both sides of the ball, and the physicality of the effort was there.
We'll see how they do at game planning opponents from week to week, many coaching staffs and teams can put together a good effort going up against a top 10 team at home off a bye week. Dana Holgorsen could scheme up how to isolate and attack defensive personnel on a weekly basis. However, at the very least Brown's ability to embrace the style and strategy of the Big 12 while maintaining a physical and balanced program in all three phases seems to be checking out.
Early assessment: This might have been the best hire, let's see if they can sneak in a signature win this year.
Chris Klieman
Klieman and his DC Scottie Hazelton definitely seem to understand how to defend Big 12 offenses. It's not as clear whether they know how to approach this league with their own offense. The Bears showed them some lighter fronts at times but would often forego the run game in order to try and attack with Skylar Thompson, who was 22-34 with 218 yards at 6.4 ypa, one TD, and one INT.
That's such a bizarre way to attack the Bears and it came a week after they took a similar approach with the Cowboys. Kansas State has a veteran OL, a few capable backs, and a bunch of big TE/FB types. It seems like they think that the strength of their team is spinning the ball around with Thompson, but while he's probably their best player there isn't the supporting cast to get things done that way. The receiving corps lacks a top line player and the pass protection saw him sacked six times by the Bears.
You'd have guessed that the struggle for K-State might be a lack of respect for Big 12 pass game potency and a stubbornness about trying to lean on the power run game in a league where you need to score early and often. Instead the D has been fine and the issue has been a hesitancy about trying to run the ball 30+ times every week and stealing wins by hammering some of the league's smaller defenses.
Early assessment: I'm not sure if Klieman has a plan for the offense or if he'll be able to adapt. The answer may be negative and he could still figure things out, but right now it doesn't appear that the Wildcats had a good feel for how to grind out wins with that roster.
Les Miles
The mad hatter has had the Jayhawks looking friskier than normal. Whether that's a natural progression due to multiple seasons of thankless work by David Beaty or a result of Miles instituting better fundamentals and habits is hard to say. Of course Miles has already moved on to yet another offensive coordinator. He missed his initial hire when he got a better opportunity elsewhere and ended up hiring fellow Les, Koenning, to run the offense while also stacking the support staff with FCS offensive wunderkind Brent Dearmon. This guy became a FCS head coach insanely quickly, after working as a championship HS coach and then an analyst at Auburn, so Miles savvily got him into the program before his range of opportunities surpassed the chance to work at Kansas.
At times Miles has seemed old, past due, and eager to cash in with his various media appearances. However, he has the Jayhawks 2-4 and competing hard despite an abysmal roster. I'd say the jury is out here until we see what kind of recruiting class he brings in and how the offense develops under Dearmon's management.
Early assessment: Miles is almost doing the "David in Gath" act right now, appearing insane while quietly lining things up in Lawrence to give the Jayhawks a chance at becoming a respectable program. This is almost certainly an easy cash grab for Miles, who has half the family on the roster, but he's not sitting back making comfort hires but seems to be giving this as good a go as he knows how.
Who won week 6 in the Big 12?
The biggest winner was pump fake Purdy and the Iowa State Cyclones, who totally whipped TCU and re-established themselves as potential contenders in the Big 12. Getting down 0-2 in league play would have crushed that dream but instead they were able to mix in smart doses of PFPurdy running (12 carries for 102 yards and two scores) and throwing to TEs (two TD strikes to that group) in order to finally translate their offense into red zone success.
The Cyclones get a road-heavy slate over the next few weeks that will test their consistency but it's pretty manageable if they can continue to finish drives with points. They'll travel to West Virginia and Texas Tech before facing Oklahoma State at home. Then if they are still in the mix they'll get @Oklahoma and Texas at home in the decisive month of November.
It's very difficult to cover up the Cyclones in the red zone when they mix in good POP pass concepts to the TEs with the QB run game.
Here's Iowa State running what appears to be tight zone on the goal line with pass options on the perimeter: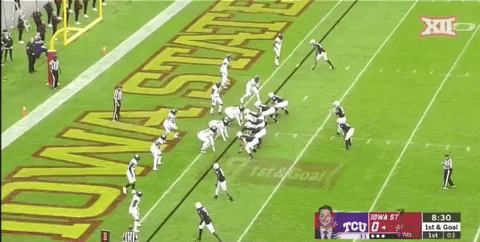 The Frogs cover up the two split receivers and the outside safety is keen to protect against a QB keeper while PFPurdy stares him down. Then he pulls the ball and makes the nonchalant toss to the TE who's slipped past and is all alone in the end zone.
Here's one where they pack in tight for the direct snap QB run:
QB power with a nice hesitation move by PFPurdy to win the edge against the free defender. Notice how the Frogs double the side with the double TEs and the single receiver as the Cyclones often throw POP passes that way or hand off to the RB going in that direction. Instead ISU hits the weak side with power (literally).
Another winner was Tyquan Thornton, who is officially a rising star in the Big 12 conference. You knew coming into the season that Denzel Mims would likely be a centerpiece to the Baylor offense this season, but the common assumption was that the Bear run game would be the other main facet.
The Bears did find some creases with the run game against K-State, but Tyquan Thornton has been the 2nd most dangerous component to the offense overall. Check out how smooth and skilled he is on this scramble drill: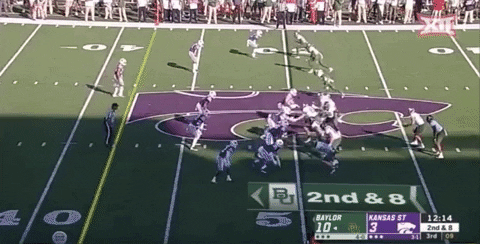 At 6-3, 176 he's pretty much all legs and not particularly thick anywhere. He's best as a downfield weapon, which points to one weak spot for the Bears down the stretch.
Eventually Baylor will be challenged by teams playing off and daring them to maintain drives by running the football. Texas will approach them that way, perhaps Oklahoma State and Texas Tech as well. You want to maintain safety help over Mims and Thornton, unless you have an ace cover corner or cover nickel/safety, but if teams play sound deep coverage can the Bears maintain drives throwing underneath to RJ Sneed or handing off?
The Bears get Tech at home next, then @Ok State, WVU at home, @TCU, and then back to back home dates with Oklahoma and Texas. Tech will be interesting if the Red Raiders can play the OU gameplan with some discipline. Texas will test the theory I laid out above, Oklahoma will test whether the Bears have the depth to make it till November.
There's really just two teams that look like they have a shot at really being in the conversation for the Big 12 championship come November that aren't Texas or Oklahoma, those are Iowa State and Baylor. The Bears have the tie-breaker in that game, over the next few weeks we'll see if these two teams have the consistency to stay in the hunt.
The worst case scenario, in terms of a fascinating Big 12 season, would be a final finish that looks something like this:
Texas: 8-1
Oklahoma: 8-1
Baylor: 6-3
Iowa State: 5-5
TCU: 5-4
Ok State: 3-5
Tech: 3-5
WVU: 2-7
K-State: 2-7
Kansas: 2-7
Not much intrigue down the stretch in this scenario, just everyone waiting around for the Texas-OU rematch and possibly wondering if the winner will be included in the playoffs.
Btw, the playoffs are almost assuredly going to go:
SEC champion
SEC West runner-up
Clemson, B1G champion, B12 champion
Clemson, B1G champion, B12 champion
The SEC WILL get two teams in, the best bet is that whichever of Alabama and LSU gets into the championship game will have a chance to be one if they can beat Georgia or Florida and then the other (LSU or Bama) will get in by default. Then it's just a matter of which two teams out of the above three have the best resume. I don't think any Pac-12 team will be able to get a resume together for inclusion, nor Notre Dame unless they're 11-1 and the everyone else has lost twice.
Obviously Ohio State is a heavy favorite to be one of these teams with the way they're playing right now, although they have a tough schedule this year. Clemson hasn't looked that great yet but they play in the ACC and have a lot of margin to figure all of this out. It's quite possible that neither Texas nor Oklahoma will have a great playoff resume and that they'll be primarily playing for the Big 12 title, we'll know more after the Shootout on Saturday.