One of the most impressive and interesting storylines in the Big 12 this season has been Oklahoma's evolution into a really high level, power-option team.
Since Lincoln Riley came to Norman the Sooners have been much more run-oriented than certainly I would have guessed considering Riley's Air Raid background. From the start of the year, Bill Bedenbaugh turned a GT counter scheme that Riley brought from East Carolina into a primary concept rather than a check available to the QB if he saw certain types of light boxes. That story was nicely detailed in the Athletic earlier this year and in my book I discussed how Oklahoma's development of a GT counter-read scheme gave them a power run game from 10 personnel.
That said, Oklahoma hasn't been able to use GT counter particularly effectively this season. The problem has been their tackles, who've been beat up for much of the year and also frankly not all that great on the move. Turn on a Sooner game and you won't see much GT counter save for as a constraint attached to a sweep or swing screen moving opposite the pulling OL.
Not only has Lincoln Riley had to tinker with his offense to make the most of Jalen Hurts, the relentless, a power back playing QB, but Riley has been doing this without his best spread run scheme.
Some coaches have a system or scheme they come up with that makes them famous or lauded as geniuses but then they struggle to adjust when it stops working. The brilliance of Riley and Bedenbaugh is that they routinely adjust to their players and don't get tied to specific tactics that emerge on that journey.
Overpowering Baylor
The Sooners had a few clever schemes in place for attacking the Bears, including a clever series from their two-back sets that landed some nice shots on Baylor's defense.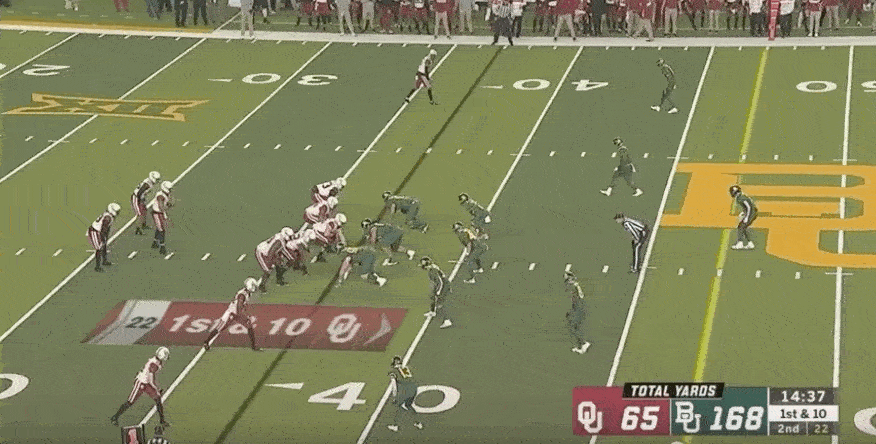 They do pull a tackle here, and he does alright, but the really brutal dimension to this scheme is what takes place on the backside. The RG Tyrese Robinson initially blocks James Lynch before turning him loose to climb up to another target. That ensures that Lynch stays put and doesn't contain the edge, freeing Hurts to burn them on the backside.
That helped set up some of their other schemes, like this sorta split zone/trap play that made a crucial gain later in the game: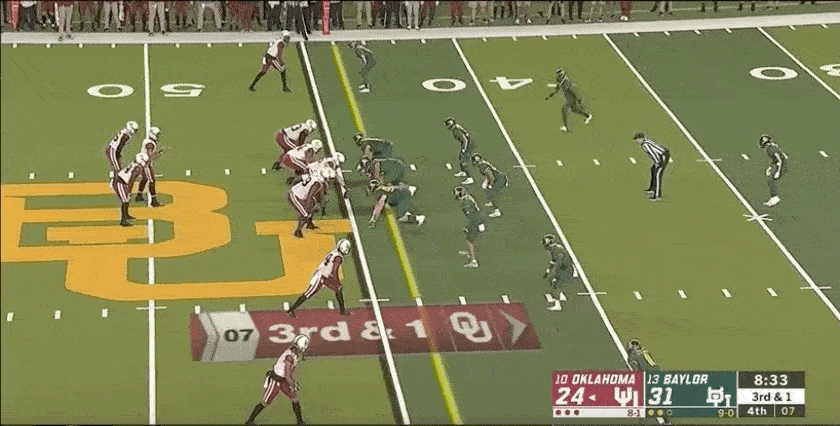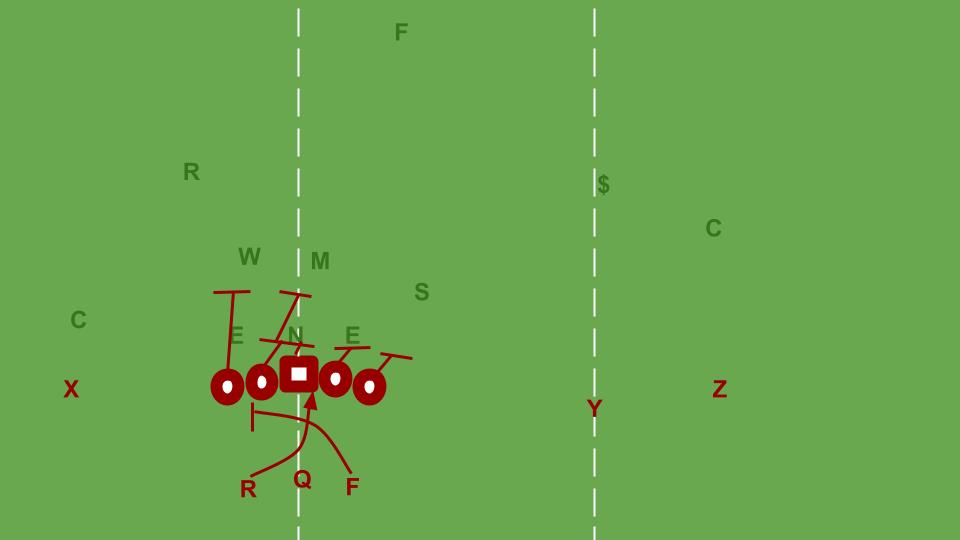 One of many plays that's shown how adaptive and clever Riley is with his personnel. They get Rhamondre Stevenson on the field, a 6-0/236 pound bruiser, by giving him some fullback detail from their 20 personnel set. The LT feigns a block on the DE like on the dart-read play above, but then instead advances to cut off the weakside LB. The DE, after realizing that he's being unblocked (or so he thinks) tries to get eyes on the mesh to contain Jalen Hurts on a potential keeper.
WHAM!
Steven plows into him and opens the crease between him and the double team. Like on many of Oklahoma's plays, the blocking by the OL isn't necessarily even very physical it's just a matter of big, dancing bears hitting guys at angles and then creating walls and lanes that are impassable.
Riley has used a lot of read schemes and trap plays beyond the GT counter stuff this year, aiming to set up his younger, less talented (in spots), and more beat up OL to execute easier blocks. The Sooners have also run more traditional power, with just the guard pulling, particular the power-read scheme.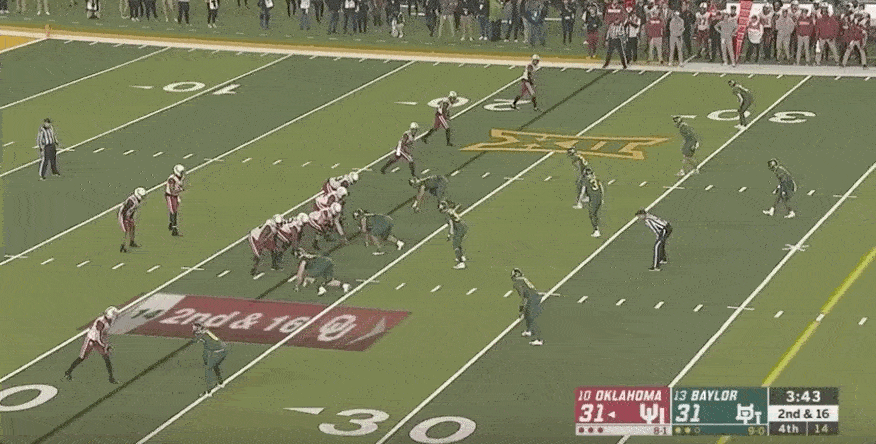 Kennedy Brooks is hell on wheels running to the perimeter like that, but then Jalen Hurts running downhill behind a guard is also a concern. It's hard to have a preference as a defense, neither are great options. On this scheme the DE steps inside to take away QB power but Baylor is caught in a blitz with the middle linebacker making sure he's square in coverage and then the free/middle safety Chris Miller gets caught taking a blitz angle and he can't recover to set the edge against the quick-hitting RB sweep.
The constraints that Oklahoma has run on power-read make a big gain like this possible, Riley is always mixing in POP passes for Hurts to hit that force defenses to hesitate before closing on the run schemes.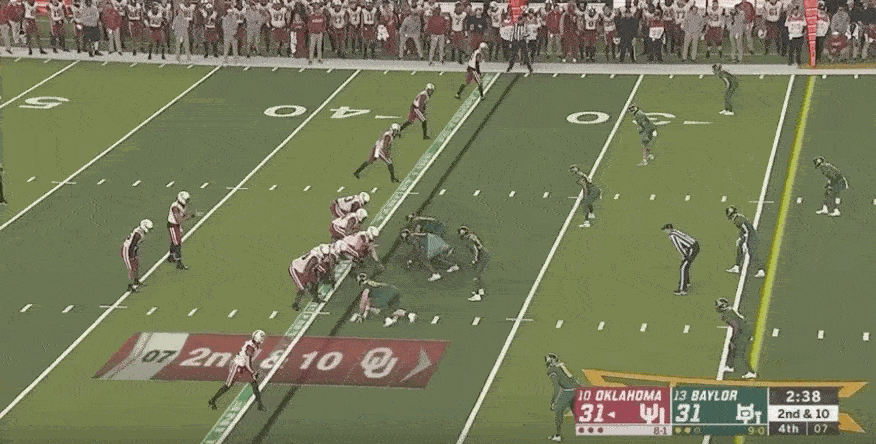 This time the Bears are playing base, inverted Tampa 2 and they just get caught when both the middle linebacker and the middle safety get eyes in the backfield and don't mind the quick stick route run by the #3 receiver up the hash.
This is play-action by the Sooners, Riley has a knack for play-calling and dialing these schemes up when he knows that defenses aren't being mindful of the constraint. Had the Bears covered this up then Hurts has to either go through a progression or scramble, probably the latter, which also tends to work out okay for Oklahoma.
Riley rarely allows defenses to really cue in on what Oklahoma is doing or to successfully swarm the ball with numbers. He's always got layers of constraints attached that create hesitation, then you're having to get where you need to be in your run fit with a 330 pound OL advancing to get in your way. Oklahoma's OL techniques almost play out like defensive warfare tactics at times, with their occasionally wide splits and two-point stances. Riley creates hesitation for the defense and the OL focuses on getting where they need to get, then even on run blocks it's almost like they're playing pass protection and simply holding the high ground.
Not to say they never push or flatten people, you'll regularly catch them taking advantage of that "high ground" to drive defenders off the ball and God help defenders that get caught by the Sooner OL on screens.
These sorts of tactics combined with Hurts' power running are what allowed for their multiple, sustained drives that choked the life out of Baylor in the second half. It's really hard to inflict negative plays on the Sooners because it's hard to diagnose their schemes quickly, then it's hard to get by their OL, and then it's hard to get their ballcarriers to the ground.
Gary Patterson takes aim once more
The TCU defense is all about using team speed, broken up units, and careful scouting and preparation to swarm offensive tendencies. They have split field coverages, the front six operate independently of the secondary, and their head coach is a scouting master who is constantly looking to download his encyclopedic knowledge of opponents into the minds of his players.
Lincoln Riley has thoroughly owned him since joining the league in 2015.
The Oklahoma offense is designed to stop a defense from doing the exact sorts of things that make TCU's philosophy work. The constraints and run/pass balance all work to frustrate Patterson's efforts to get hordes of sub-220 pound athletes flying to the football.
Baylor and Iowa State have had some success against the Sooners because they've asked the DL to survive up front while giving fast back eights time to diagnose and then get to the ball. They didn't try to swarm and stuff Oklahoma's offense, they just tried to contain it, or else blitz it and hope to thwart the designs with pressure. The former tends to work much better than the latter.
As I've chronicled on this site, TCU has struggled with QB-read schemes this season. After watching more of the Frogs in subsequent weeks, I think what they're trying to do is use their DEs consistently as force players rather than playing by normal 4-down rules against the option. Patterson is now playing athletic ends on both sides, pairing Ochaun Mathis with true freshman Colt Ellison from Aledo, so that the Frogs have guys on either side that can reasonably contain something like Brooks working to the edge on power-read.
The issues with that approach include the requirements on the inside linebackers and on the weak safety. Against OU's power-read from 3×1 that we GIF'd above…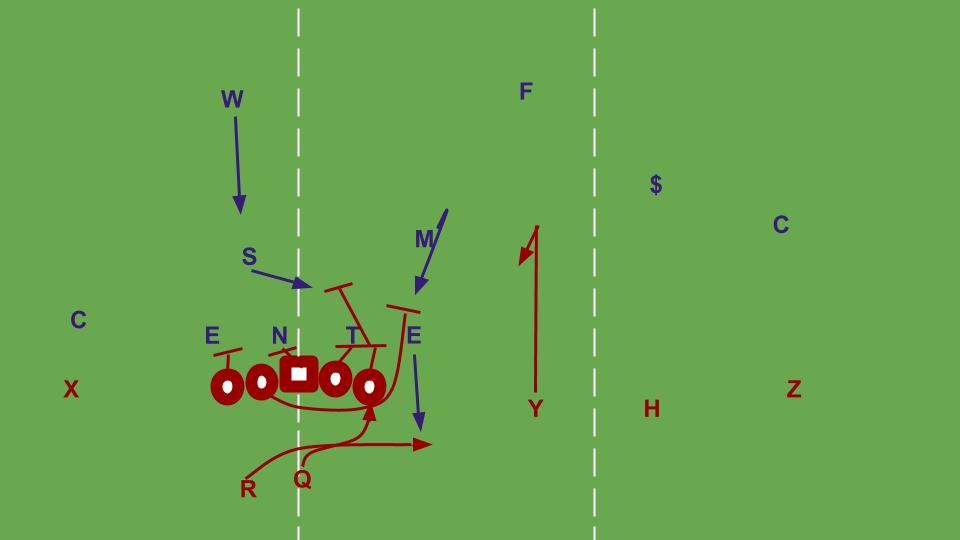 By aiming to contain the ball in the box, TCU is playing right into the hesitation games and matchup schemes that Riley wants. If the DE took away the QB run then the middle LB could sit on that quick route by the Y receiver here and then be in fine position to contain the sweep by the RB who'd be coming his way. Instead the DE is going to take the sweep and the play will hinge on the DT withstanding the double team and the MLB coming late to play the lead block by a pulling guard.
TCU's aim is to keep the ball contained inside the hash marks so that their speed can close but OU's aim is to create hesitation so that their big OL can open up creases in that same space. Eventually the Frogs are flying downhill extra hard because they know that if they don't they're going to be caught by a 330 pounder and only be able to wave helplessly at one of the Sooner backs cutting downhill for a massive gain. Then the play-action will hit.
There doesn't seem to be any sign that Patterson will handle things differently this time, but I've also speculated for about a year that he's going to go all out in this contest. If he has the means and ability with his system and this roster to beat Riley, this will be the year for it. Despite the clever adjustments by Riley and Bedenbaugh, this just isn't as difficult a unit to handle as the ones led by Baker Mayfield and Kyler Murray with their ability to kill you over the top. If not now for Patterson, then when?